Even on a bad night, Timothy Bradley (32-1-1, 12 KO) dominated Jessie Vargas (26-1, 9 KO). Because of end-of-fight shenanigans, Vargas may get another undeserved appearance on HBO.
We begin by making light of the blatant racism of Jessie Vargas. After his weigh-in, Vargas told an interviewer that he expected Bradley to come forward an brawl and that "...You're going to see who's going to back down. The Mexican fighter is always the stronger fighter, he always has the stronger will, and I'm going to show it."
It is good practice to avoid demeaning the abilities of athletes, for they all take themselves seriously and all desire to succeed. That said, being objective, let me say outright that Jessie Vargas is not a good fighter and is not worth a television appearance.
For all his boasting of ethnic supremacy in body and soul, he was beneath Bradley in both respects. Even the HBO commentators stated that Bradley showed a greater will to win than Vargas. Bradley was the aggressor, forcing Vargas backward the entire fight. In the later rounds, "strongman" Vargas was wasted mentally and physically, lacking the will to throw punches much less win. This would have been acceptable if he were the more active fighter, but that was not the case.
Some perspective. Vargas struggled for twelve rounds against Antonio DeMarco before Bradley, whom Adrien Broner stopped in eight non-competitive rounds. Bradley himself is a small welterweight who lacks punching power.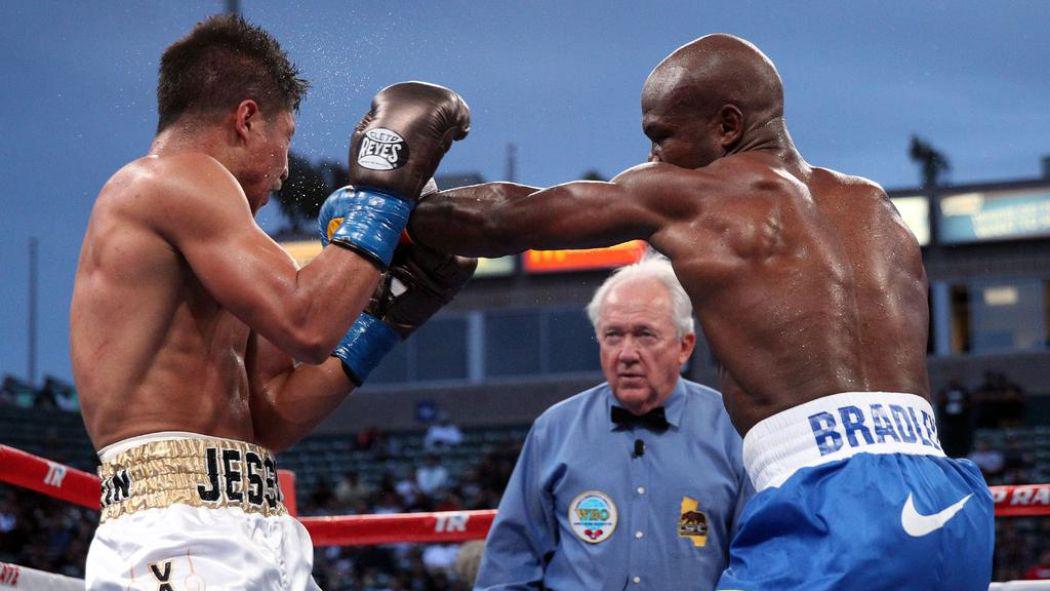 Some more perspective. Vargas was the taller man with the longer reach. For his part, Bradley was absolutely terrible – no angles, no jab, no combinations. Big right hands and left hooks, from distance, that was all Bradley had to offer, and he landed. There was not a moment where Bradley was open to counters and he was often off-balance after throwing punches. With around fifteen seconds left in the fight, Bradley walked into a clean right hand from Vargas, thrown as a counter as Bradley tried to land a touch jab-right hand. Though hurt, Bradley never went down, able to parry a left hook to the body before tying up Vargas with less than ten seconds left. At this time, referee Pat Russell stopped the fight mistaking the ten seconds warning for the bell. Jessie Vargas assumed that he had won by TKO and jumped onto the ropes in celebration.
Because of this gaffe Jessie Vargas may end up being granted a rematch against Bradley when he really does not deserve it. The truth is that he did not have enough time to finish Bradley – realistically, he only had a few seconds to work with upon the break. Moreover, the only reason he hurt Bradley was because Bradley was aggressive when he was winning the fight easily. Bradley could have stayed away and conceded the round and still won unanimously. The final scorecards were 116-112, 117-111, 115-112, all for Bradley.
Bradley looked beatable and Vargas simply could not win because he is not as physically strong or willed as he claims he is, and technically is not good enough to land punches on an opponent who is wide open.
I see nothing in Jessie Vargas other than the fact that his racism is bad for the sport and he does not deserve to appear on television ever again.