With four total knockdowns, David Lemieux captured the IBF Middleweight title on Saturday night. The final scorecards were 115-109, 115-109, 114-110. N'Dam showed resolve in getting up, out boxing Lemieux for long stretches, and finishing aggressively while Lemieux fatigued.
The immediate context is that WBA and IBO Middleweight champion, Gennady Golovkin, wants other titlists in his division. Miguel Cotto, the WBC champion, will likely drop the title prior to signing a contract to fight Saul Alvarez, contending that he is not a middleweight.
This leaves David Lemieux.
Here, in regards to Lemieux's prospects going forward, the intrigue was not the effect that Lemieux's power would have on N'Dam. His knockdowns should have come to no surprise. On paper, Lemieux was excellent, but the reality is quite different.
Only in the later rounds did Lemieux flash a consistent jab, from too far away. No combinations were landed, only one punch at a time. All of Lemieux's power consisted of wide, swinging shots that were frequently missed because they were telegraphed. Full exertion on every punch thrown resulted in him fatiguing, as well as allowing his opponent to brace for the impact. Rarely did Lemieux land anything to N'Dam's body: he fought tall and head hunted against a tall man in N'Dam. His lack of head movement resulted in N'Dam repeatedly landing right hands around Lemieux's gloves.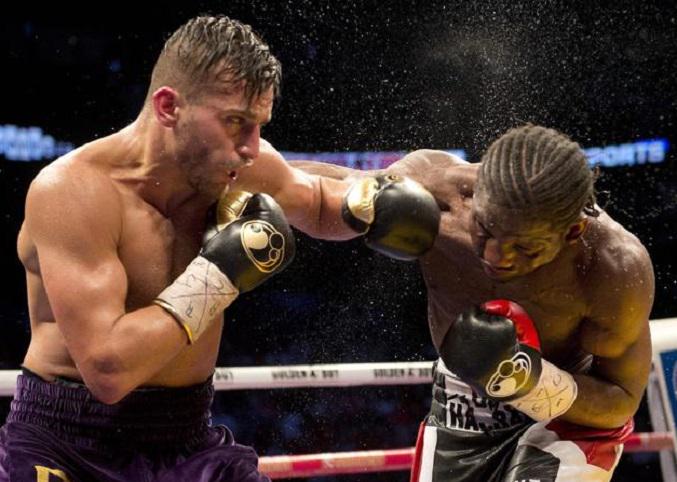 The inability to finish N'Dam was largely a credit to himself, but he was also assisted for the aforementioned reasons. I felt N'Dam was coasting along in the latter third, treating Lemieux like a sparring partner. By the way, Lemieux's knockdowns only occurred when N'Dam was against the ropes, which did not result from Lemieux cutting off the ring. N'Dam likewise took rounds off that allowed Lemieux to outwork him. Erase the knockdowns and N'Dam's lack of work in a round or two, and Lemieux loses. In addition, if N'Dam were a more devastating puncher, combined with Lemieux's progressive fatigue, he may have stopped Lemieux.
Perhaps Lemieux takes it in stride as a blessing. That is, as someone with a history of endurance problems, he went twelve rounds without showing Gennady Golovkin anything that was his best. For this version of Lemieux would have walked right into Golovkin's leather, the fact that N'Dam is a faster, more athletic fighter than Golovkin notwithstanding.
Lemieux's greatest asset, his power, is diminished by his lack of surprise. Wide, poor technique, no feints, telegraphing, all one speed, always top effort, and fast hands means nothing when he needs to arc every punch 180 degrees. If he is going to beat Golovkin, he needs to pulverize his body.