WRITTEN BY ALEX LEE (@AlexIsTheeName)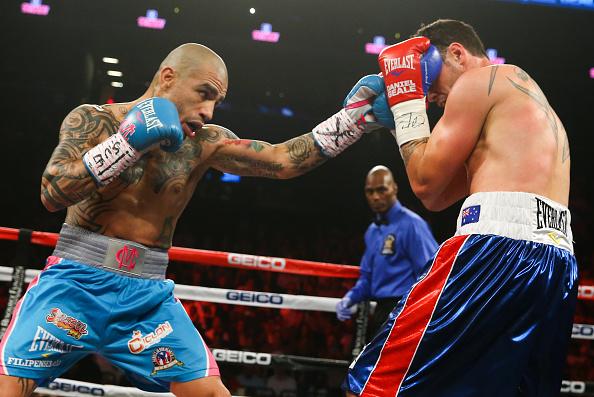 Image: Getty Images
Miguel Cotto ended matters quickly by finishing Daniel Geale by way of technical knockout inside four rounds. The win looks better on paper than in fact, however.
Let me preface by stating that Cotto's official weight was 153.6 pounds while Geale was emaciated at the 157 catchweight limit. HBO analyst Jim Lampley stated that Geale rehydrated to 182 pounds in street clothes on the night of the fight. Media interviews revealed that Geale was complaining about the catchweight for the past two weeks. That Miguel Cotto was able to knock out a man who was probably fifteen pounds heavier than himself was impressive, although it is unclear how much the weight drain affected Geale's punch resistance.
— HBOboxing (@HBOboxing) June 7, 2015
The win comes with an asterisk, for the above-mentioned as well as other reasons. Cotto was expected to force a close quarters style that prevented Geale from having any distance to box. On the contrary, Cotto primarily boxed on the outside, taking advantage of Geale's inactivity and lack of movement. Was Geale stationary and non-busy from having to make weight? Or was it that he rehydrated too much? In any case, Cotto was not obliged to have to overcome any obstacles to land punches, and so this match cannot properly gauge how effectively Cotto will manage spacing with larger, more mobile, opponents. Generally, Cotto landed one punch at a time, usually the left hook, only throwing combinations when Geale was hurt in the final round. Mere activity would have given Cotto problems. In the first and third rounds, Cotto was caught cleanly by overhand rights, exchanges which occurred while he was moving in to land on Geale. But there were several other exchanges while Cotto was coming in, and Cotto was untouched on those occasions. What are the chances that he can keep getting the best of an exchange? Saul Alvarez or Gennady Golovkin might have hurt Cotto with those overhand rights.
We never saw Cotto have to feint, jab, or slip on his way in so this night is no barometer.
To recap the final round, Geale went down from a right-left on the nose (literally) at approximately thirty-five seconds into the round. Cotto immediately went for the finish and threw combinations inside for the first time, catching Geale with an overhand right that sent him down again with approximately 1:43 left in the round. Geale got back to his feet but the fight was waved off by the referee as Geale looked wasted.
Image: Sky Sports
In the post-fight interview Max Kellerman asked Cotto about his weight and if he felt that he was truly a middleweight. To which Cotto responded: "I weighed in at 153.6 pounds. Do I look like a middleweight to you?" There is a good chance that Cotto will relinquish the middleweight title prior to facing Saul Alvarez, as it is rumoured that he would have to pay his mandatory, Gennady Golovkin, step-aside money with a guarantee to fight Golovkin anyway if he wins.
Cotto-Golovkin has no merit, as Cotto is not a middleweight. Cotto's harasser seems to be HBO, which is rumored to have forced Cotto into an Alvarez-Golovin sequence if he is to get further dates on HBO. The World Boxing Council does not have much pull since Cotto can just drop his belt. Moreover, should Cotto defeat Alvarez while not having the belt, he would look credible forcing a catchweight on Golovkin if Golovkin truly wants to cherry pick the smaller Cotto who really is not a middleweight. And Cotto could always point to the fact that Golovkin has been trying to cherry pick a fight at 154 pounds with Floyd Mayweather.
Junior-middleweight Miguel Cotto improves to 40-4, 33 KO. Daniel Geale falls to 31-4, 16 KO.