WRITTEN BY ALEX LEE (@AlexIsTheeName)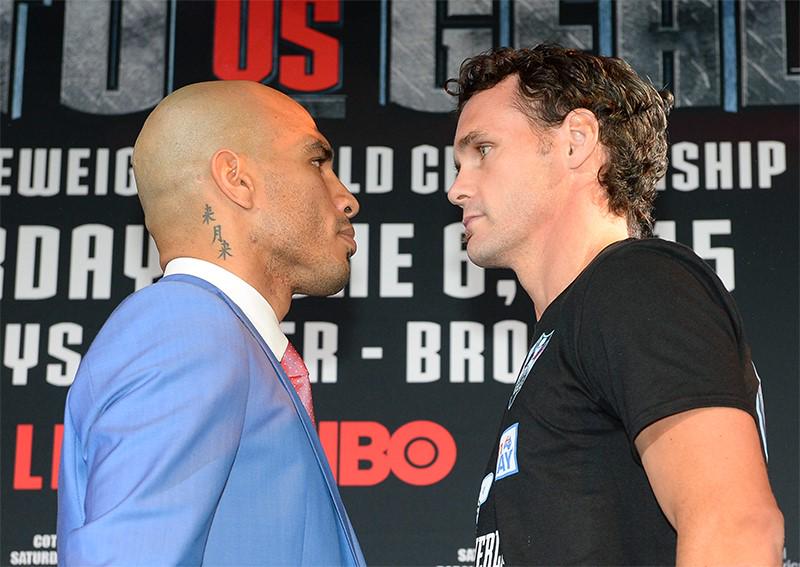 Image: Sherdog.com
Lineal middleweight champion Miguel Cotto (39-4, 32 KO) versus Daniel Geale (31-3, 16 KO), the fight will air on HBO, Saturday, at 10:30pm US Eastern (BoxNation in UK).
This is Cotto's first fight in year since capturing the middleweight title from Sergio Martinez.
Though he has fought once since, Geale was most notably seen in his loss to Gennady Golovkin. Cotto is the favorite here in what is intended as a tune-up for a fight with Saul Alvarez later in the year.
Should Cotto win, Geale is good preparation, for I do not expect him to submit within just a few rounds unless Cotto is spectacular. It is tempting to think the contrary given Geale's defeat at Golovkin's hands. But Geale, who is significantly taller and longer than Cotto, was almost similar in stature to Golovkin. Lacking power, Geale attempted to box Golovkin from the outside, whereas it is now believed that Golovkin is not physical or powerful inside. Yet, Geale held his own until he admired his own work after catching Golovkin with a right hand that left himself open for a return.
Cotto will stalk Geale, as did Golovkin. However, Golovkin, unlike Cotto, does not bounce around on the outside; he is constantly moving forward. There is something to be said about how Cotto could not finish Sergio Martinez – a small and injured middleweight - within three rounds and had to rely on a corner stoppage at the end of ten. Or his inability to stop Paul Malignaggi at his prime weight when Shawn Porter ended affairs within four rounds.
Cotto is a boxer-puncher, with too much emphasis on "boxing." While he is bouncing on his toes, his opponent has time to move. More, I think this reflects a dependence on rhythm that makes Cotto slow to initiate and have to reset himself. This coincides with a lack of head movement, which is partly why he gets hit with uppercuts. It is easy to imagine that the constant movement that Geale did against Golovkin will reduce Cotto to a low punch output, landing only one or two punches at a time. If nothing else, Geale has a good chance to last the full twelve rounds. Since Cotto also does not throw punches when offense is coming towards him, Geale might do well if he combines constant movement with a high punch output. Specifically, Geale needs to land while he is moving. If Geale is ever cornered against the ropes, he should smother Cotto, tie him up, and walk him back.
Daniel Geale is a good opponent for Cotto. He has the ability to go rounds and, however challenging he may be, force Cotto to be the aggressor. If Cotto displays quick legs in applying pressure to Geale, he can do the same to Alvarez or Golovkin. In particular, he needs to use his small stature to his advantage by fighting accordingly – getting low, into Geale's chest where he can work the body, dissipating Geale's energy so he becomes more stationary over time.
I expect this fight to be more competitive than many might assume.
More:
Brook, Joshua victorious as Brits stand tall in the capital
Boxing:
Amir Khan overcomes spirited Algieri