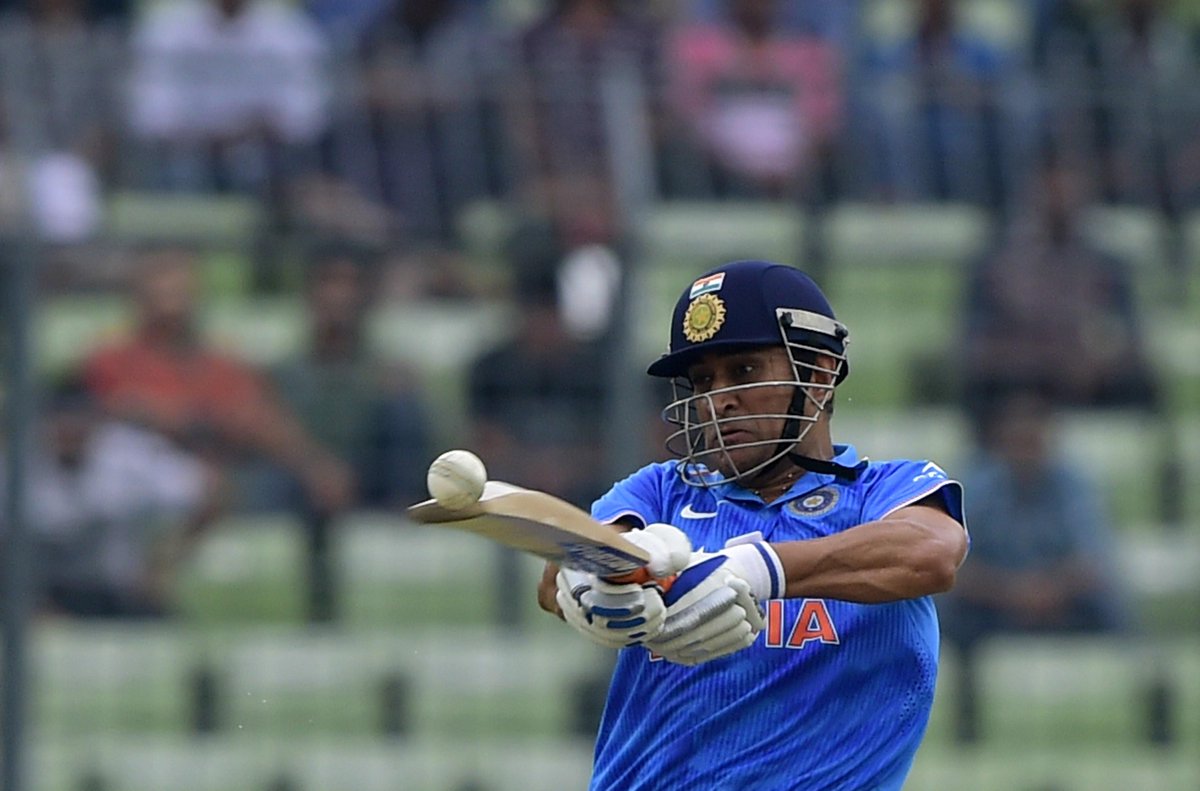 Image: ICC
The Men in Blue shined in the match for pride—outshining the Bangla Tigers and gaining a victory finally in the outgoing tour to end it on a positive note, defeating the hosts by 77 runs.
India showed a good fight back after a dismal performance in the first couple of ODIs.
Their reputation was at stake losing against the side whom they considered as Minnows & facing a counter attack from them but emerging as winners in the eventual clash.
Getting a go at the toss, Bangladesh opted to field first. India had to make their score big keeping in mind the growing power of the batsmen of the opposition. While Rohit & Virat failed to create an impact & fell early, Dhawan stood out & went on to play a handsome knock of 75.
What followed next was a step which came as a surprise for everyone & but proved to be successful. Captain Cool came in at 4 and after much criticism, he had to give it back to his critics & as the fact is known to all, Dhoni performs the best in such conditions. 69 runs came from the bag of MS & with the support of Rayudu & Raina, India reached to a decent total of 317.
In the period of this tour, Bangladesh has witnessed some really amazing talent coming up & outdoing the performances of some big players of India. According to that, Indian bowlers had some serious work to do to restrict them as early as possible & not letting this series end with a Whitewash.
Soumya Sarkar who has provided some great starts to his team did fairly well in this ultimate encounter too but did not succeed in converting his score into bigger numbers.
Mushfiqur, Shakib, Nasir faced similar crisis & Rahman who tried to push the total, entered into 40s but was departed before he could create any serious damage.
Suresh Raina picked up 3 wickets & impressed with his bowling skills & accompanying him in dismissing the hosts were Ashwin & Kulkarni who each got a couple of wickets. Eventually the guests bowled out the Bangla players to clinch a good victory at the end.
Jadeja was dropped in this match after getting way many chances & Binny got a game instead.
Though this change did not have a great effect but a win came alongside.
Bangladesh have been real tigers at home beating some greats here but India losing against them was a fact which many couldn't digest.
The biggest package of talent & entertainment came from Mustafizur Rahaman who made his debut in this series but performed like an experienced player.
This series may not bring out any major consequence but it was successful in testing the support of the fans.
One fact is for sure that Bangladesh did outplay India & they deserved this victory but the tour involved some negatives like the behaviour shown by the fans of the hosts which was disgraceful & in some way overshadowed the wonderful performance of their team.
Well, there was another matter which was brought up in this tour involving the captaincy of MSD. Dhoni has usually maintained silence when people have blamed him but for the first time the world got to see his other side when he reciprocated back & not only did he just answer back smartly with his words but also put his bat at work & silenced his critics to some extent.
So, it has been an eventful tour for India with some biggies failing but eventually team getting a win at the end.
Due to Zimbabwe tour being cancelled, Dhoni & company will get much needed rest as there has been too much Cricket for them since last December.
For Bangladesh, they have a big series coming against South Africa.