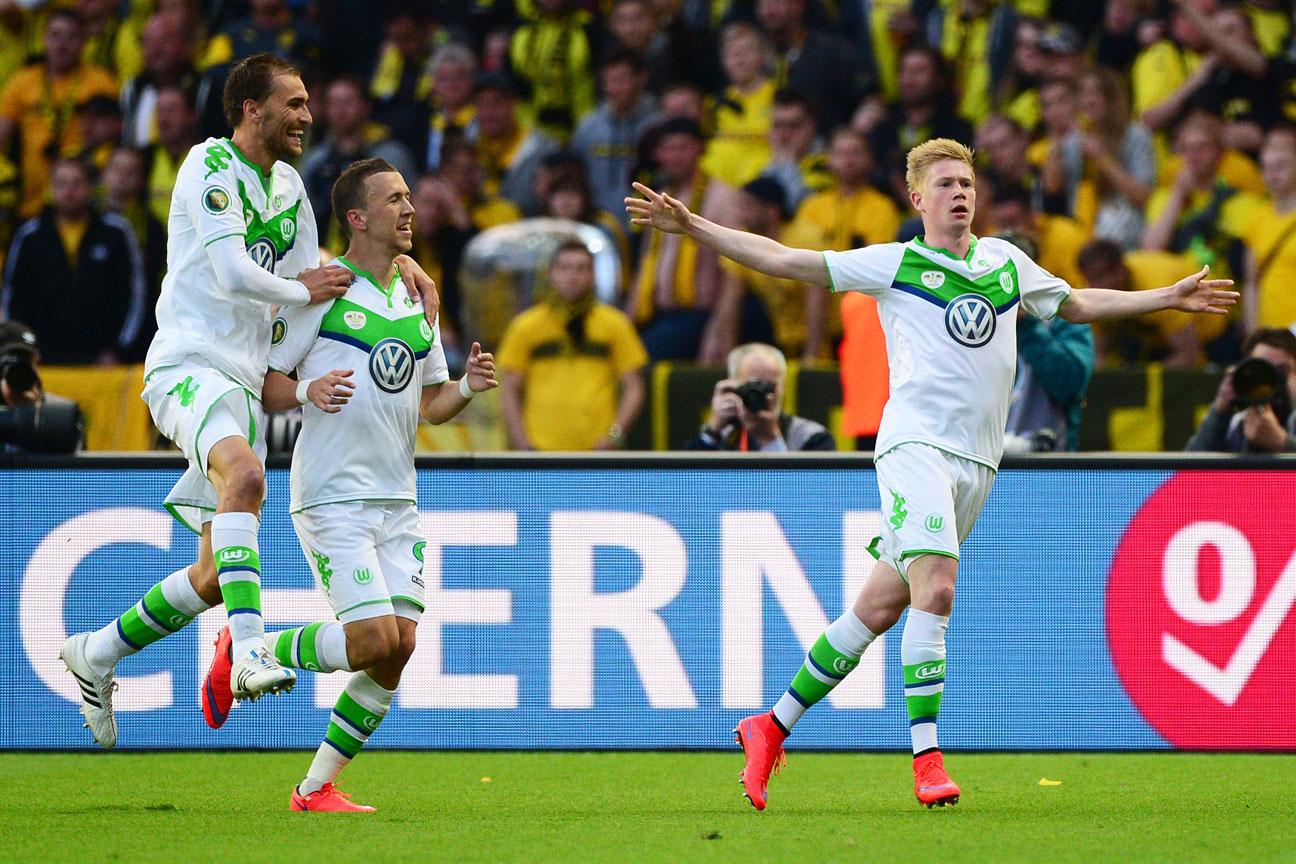 Image: ESPN FC
Wolfsburg captured their first ever German Cup as they turned the tide on Borussia Dortmund in an epic final in Berlin's Olympiastadion.
Die Wölfe spoiled Jürgen Klopp's final game in charge of their opponents too, as his counterpart Dieter Hecking concluded Wolfsburg's season on a huge high—overcoming Aubameyang's early goal before firing three of their own in the very same 45 minute spell to all but win the DFB Pokal.
Image: All Football News
With smoke lingering around the ground after Dortmund's fans weren't hesitant to make themselves known, a frantic start to the game was highlighted by Luiz Gustavo's foul on Ilkay Gundogan, landing high and forcing a word from the referee.
That would do little to dent Dortmund as a whole cohesive unit, though, and they made Jürgen Klopp proud early in his last game in charge, through Aubameyang from a well-worked goal. Durm employed some trickery to find his way through, before off-loading to Kagawa who in turn found Aubameyang to volley home and spark jubilant celebrations from the yellows.
Flying High: Aubameyang scored another goal in a season where he has thrived for Dortmund.
They had little time to savour their early advantage though, with Langerak palming away Perisic's attempt fantastically. Dortmund were doing all they could to extend their lead—Reus first saw his cross lack accuracy to trouble, before the German blazed over on the counter-attack linking with Kagawa.
Soon after Klopp had urged his players to be more intense came the equaliser. Naldo's free-kick had the opposition out of sorts, and provided an opening for Luiz Gustavo who—after failing on the first attempt—finished to make it 1-1 and get his 4th goal of the tournament. The game would soon take another sharp turn, when Dortmund were caught out appealing for Reus who was wrongly judged offside, allowing Kevin de Bruyne to sting hard on the response with a powerful half-volley.
A hectic and entertaining first half wouldn't end there, either, as Perisic found Dost five minutes later with an incisive pass for him to clip away and take a huge advantage into the interval.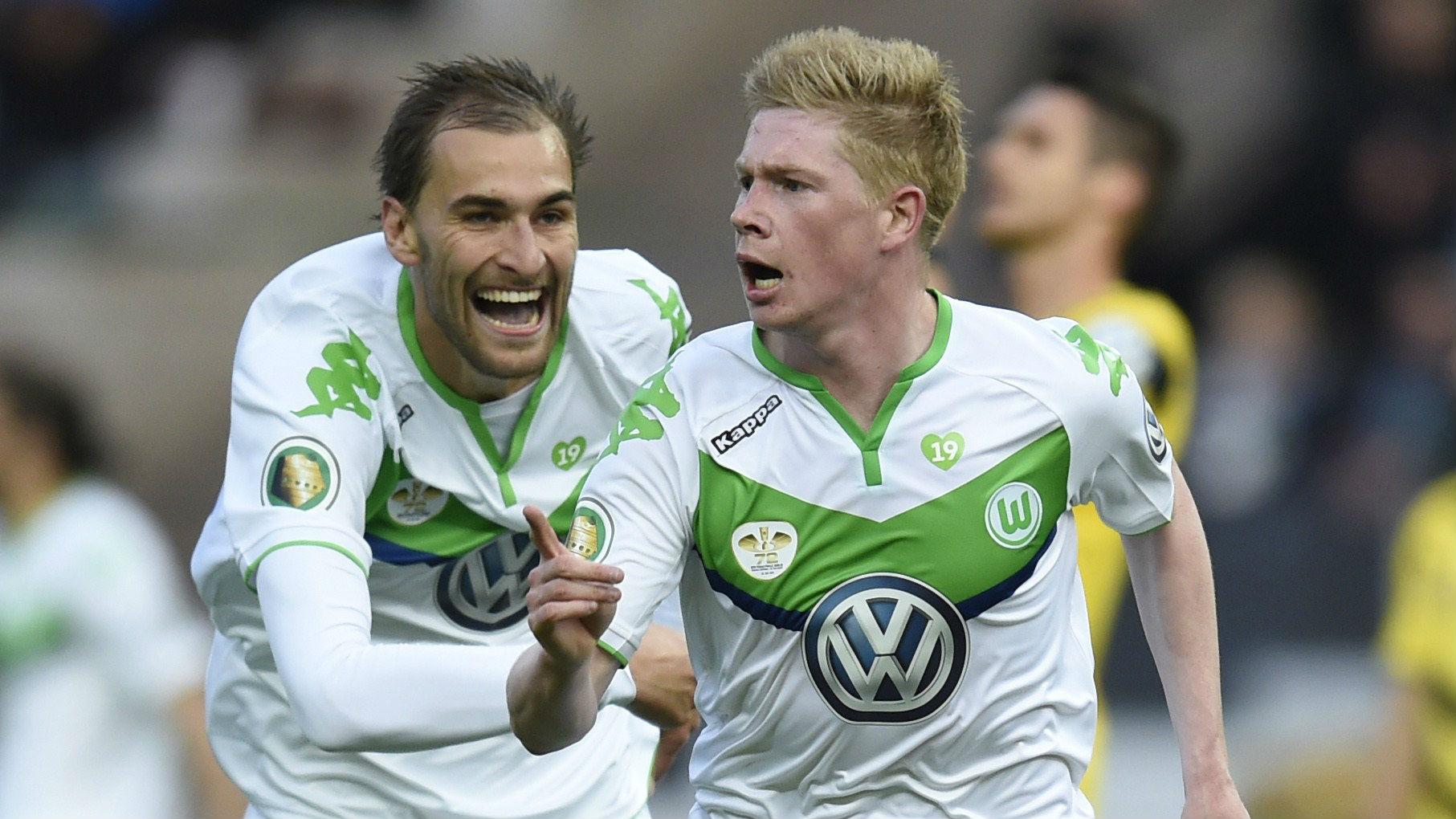 Image: Omnisport News
Bas Dost almost cut the game dead when he nipped in on to Durm's touch, but it was off for a corner. Awakening themselves once more, it was the Kagawa-Reus tandem producing plenty of trouble; with the former clipping the outside of the post in the 50th minute.
Poor defence remained a huge issue for Dortmund, and it was something they couldn't fathom, this time it was a hesitated clearance that stopped Durm getting a look at goal.
Chances began to dwindle in their size, but the prospect of Wolfsburg's victory grew in prominence. Fans were on their feet, unapologetically applauding and it was a first German Cup triumph for the up-and-coming club who had exemplified their spectacular season.
— beIN SPORTS (@beINSPORTS) May 30, 2015
Wolfsburg win their first ever #GermanCup, what a season for them and a great tribute to Malanda too.

— Nisar (@iNisarKhan) May 30, 2015
More:
Arsenal thump Aston Villa to win FA Cup