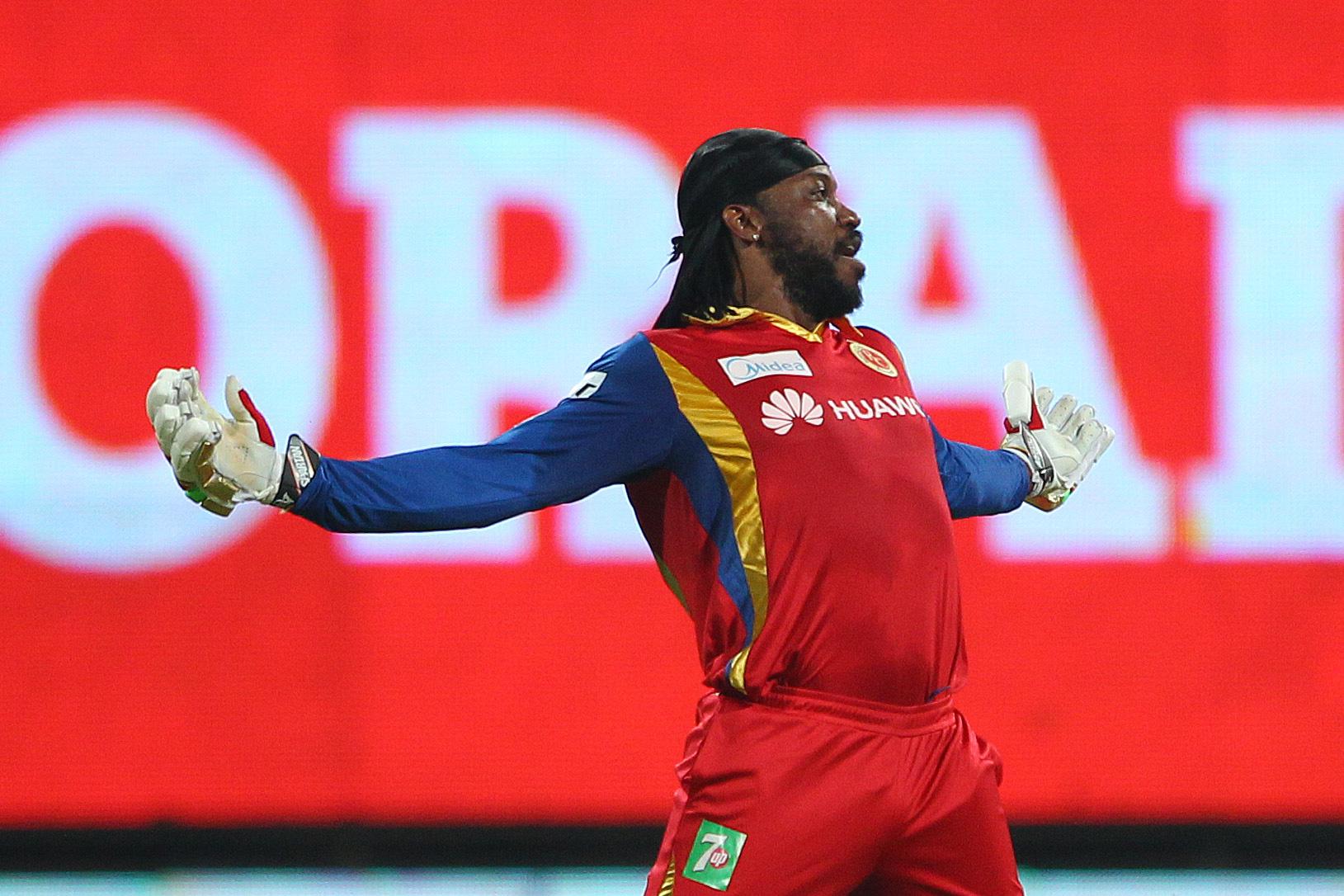 Image: CricketNext
After excelling in all the departments, Bangalore see off George Bailey's Kings XI. Royal Challengers Bangalore posted another win by hammering Kings XI Punjab brutally at the Chinnaswamy Stadium, move up to third place.
Bangalore surged up to the third spot on the points table after posting a total of 226/3 and posted a thrilling victory over the Kings XI Punjab by restricting them to 88 for all out.
With the Royal Challengers Bangalore batting first, Chris Gayle and Virat Kohli's rollicking start led to a 69-ball-119 partnership between the opening duo. Gayle was as brazen as his approach as he smashed 57-ball-117, while punishing all the bowlers. Skipper Virat Kohli was clean-bowled on a yorker-length delivery by Sandeep Sharma. Kohli was dismissed after scoring 32 runs off 30 balls.
After his dismissal, although AB de Villiers smashed 47 runs off just 24 balls and carried on where he left off. Dinesh Karthik(8 off 3) and Sarfaraz Khan(11 off 7) helped Bangalore reach 3-226 off their 20 overs.
Bangalore brought in Sreenath Aravind for the first time to strengthen their bowling. He ended up with figures 4-27 while Mitchell Starc's 4-15 was enough to make Kings XI realise that the damage has been done.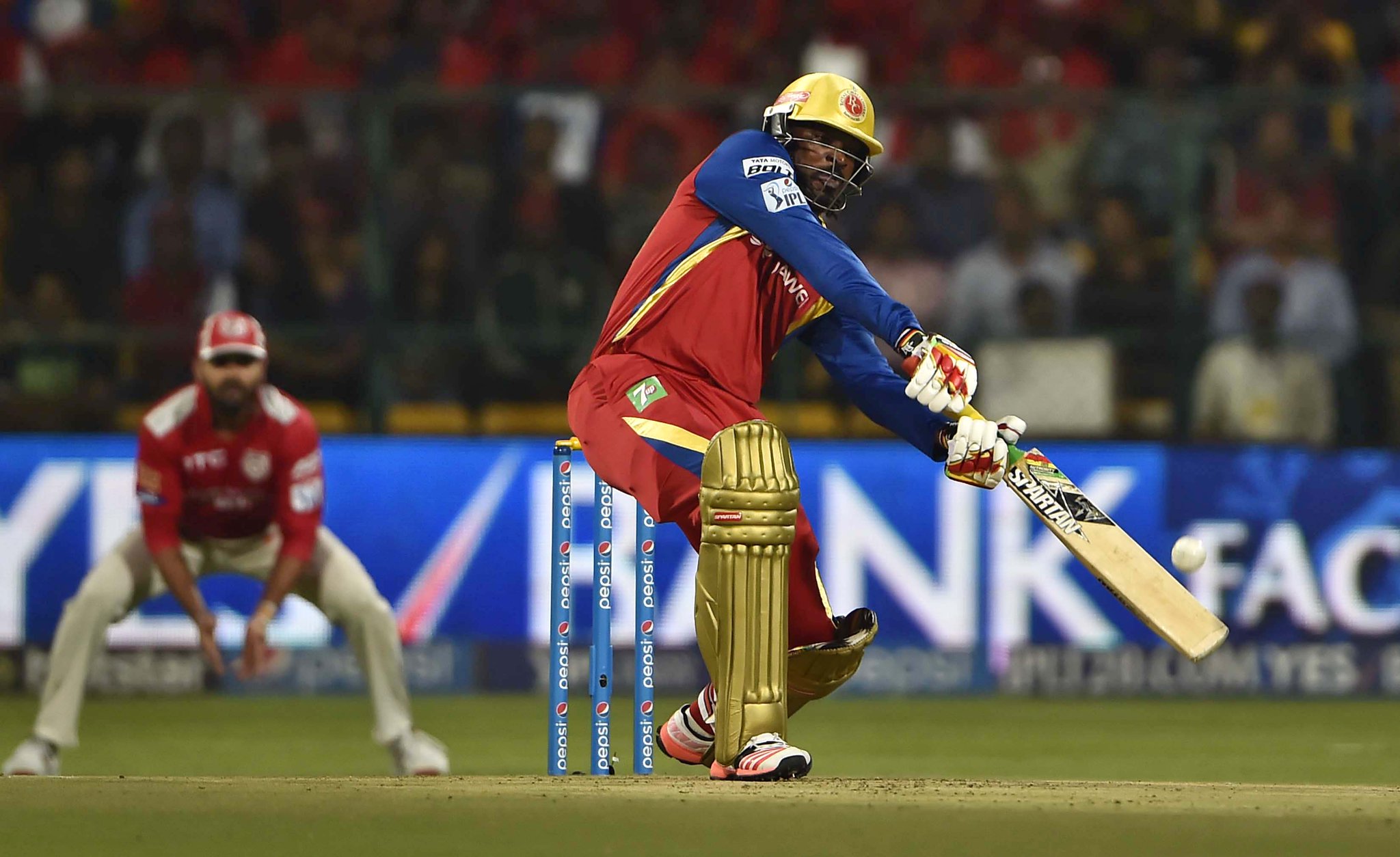 Image: HT Sports
Punjab's batting imploded dramatically to hand over a win to Bangalore. A sensational bowling effort by Royal Challengers Bangalore saw them defend a heavy total as they crushed Kings XI Punjab by a great margin of 138 runs. Such was the dominance of RCB bowlers at the back end of the innings that KXIP lost all their wickets for 88 runs only in the 14th over. Axar Patel's 40 and Wriddhiman Saha's 13 runs were the only double-digit runs scored by batsmen from the Kings XI's side. Maxwell's poor form continued once again and there was no Miller show for the night. Skipper George Bailey also failed to contribute some runs.
"We created a couple of good chances. We have a loyal bunch of fans and we're letting them down and that's hard to live with. I guess we talk about looking forward, we had Anureet bowling absolutely superbly, Axar batted well, but we have to put it together. In many cases, I think we're trying too hard. We've talked about getting the enjoyment back in the game. We'll keep trying," said Kings XI Punjab skipper George Bailey in the post match interview.
Chris Gayle won the Man-of-the-Match trophy for his thundering storm of fours and sixes.
"Just want to thank the crowd for their support. Overall, it was a great team effort. We discussed in the team meeting that Sandeep got the better of us last year, so e had to look at the new ball and then take on from there. Got some momentum in the Mitchell Johnson over. Managing the back well. Just take some rest in between, travel is the big issue. But I'm really happy to be back on the field. Crucial time now, every win will matter."
More:
Indian Premier League