Sevilla defeat Dnipro 3-2 in a thrilling Europa League final to win their fourth title and make history.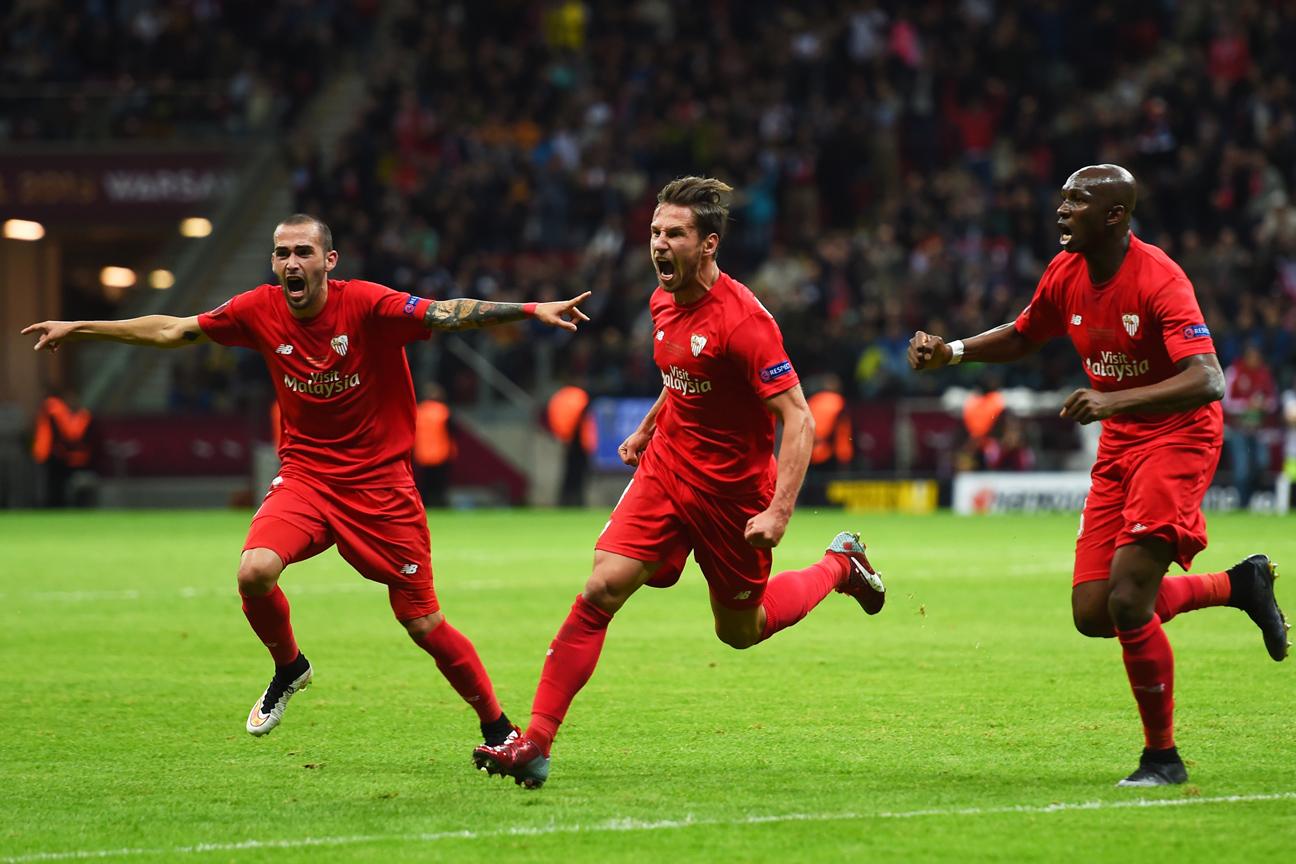 Image: ESPN FC
Dnipro 3 - 2 Sevilla
Nikola Kalinic (7'), Grzegorz Krychowiak (28'), Carlos Bacca (31', 73'), Ruslan Rotan (44')
UEFA Europa League Final
Wednesday 27 May 2015
7:45pm BST Kick-off
Warsaw National Stadium, Warsaw, Poland.
Referee: Martin Atkinson
Sevilla won their record fourth Europa League title, more than any other team in the competition's history, as they overcame Dnipro in Warsaw.
It also meant that five Spanish teams will now feature in next season's UEFA Champions League, thanks in part to Carlos Bacca—overwhelmed crying tears of joy as the full-time whistle sounded.
After all, it was the Colombian who fired a double past the Ukranians, but not before they made the first dent as Kalinic thwarted them on a counter-attack out of nowhere. Krychowiak's equaliser then Bacca's strike gave the Spaniards the lead, but a Ruslan Rotan free-kick found the net to equalise once more. Bacca would dart forward to meet a through ball and eventually sweep the winner in the 73rd minute.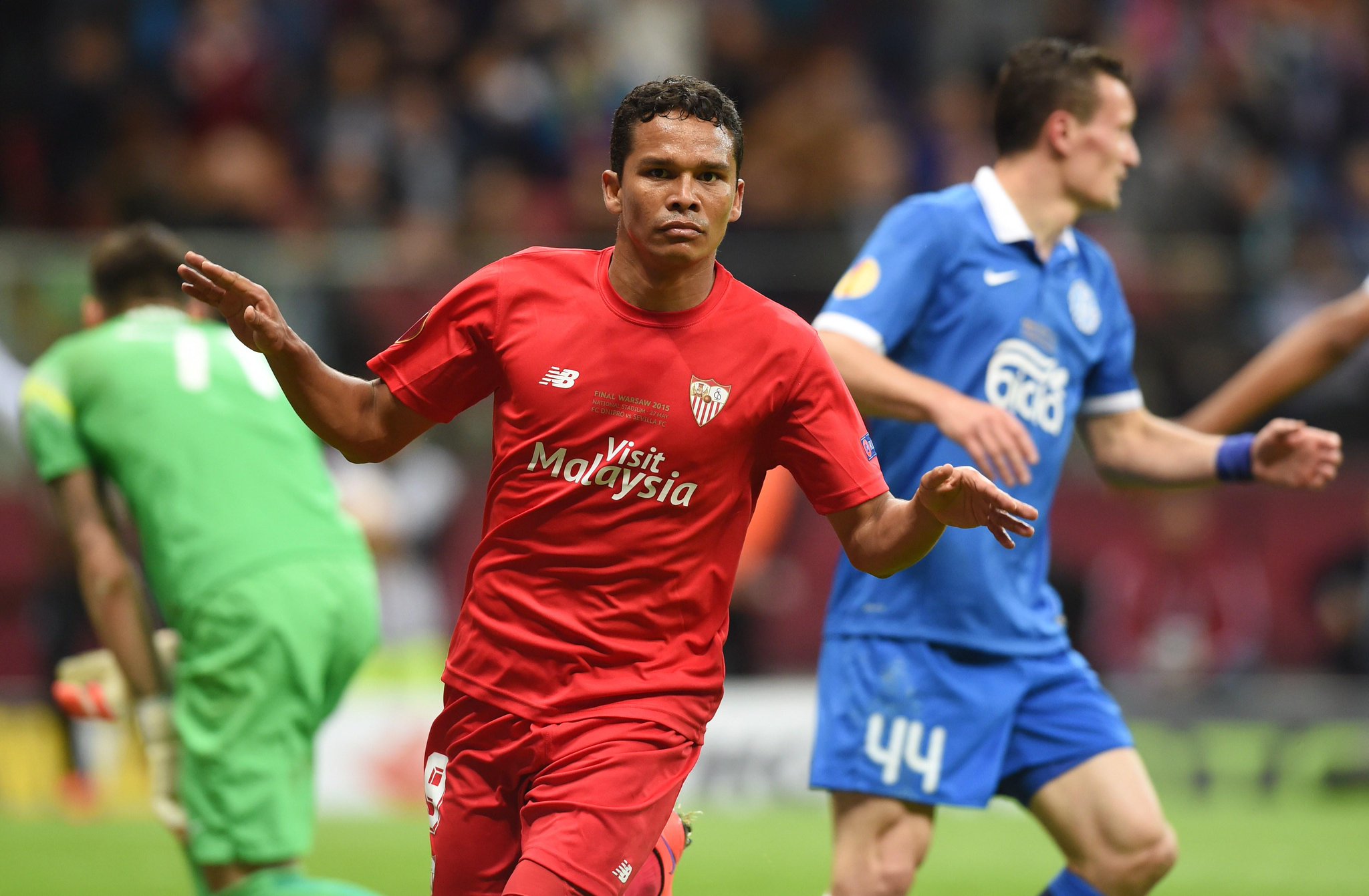 Image: FOX Soccer
With a thunderous atmosphere emanating from the Polish capital, Martin Atkinson's whistle was hard to hear as the Englishman called for a start to the proceedings. Carlos Bacca would register an early attempt for the Spaniards, though it was nothing more than that, chesting to control on the edge of the area and firing well off target.
Éver Banega then saw his free-kick cleared after some hassle from Dnipro, overcoming Vidal's burst to hold their lines. The blue-clad Dnipro were pushed back early, and may have even had a pinch of luck go their way, with Jose Antonio Reyes going to ground from the challenge of Ruslan Rotan, with no penalty being called.
As if it was a sharp turn of events, Dnipro would take the lead after just 7 minutes. The Ukranians needed just one opportunity to make an impact on the final, and took it with both hands as Nikola Kalinić typified the perfect counter-attacking goal, rushing on to the return cross of Matheus to head past Sergio Rico to open the scoring.
Somewhat sucked and dejected from the sucker punch that had emerged out of nowhere, nerves were settling in Sevilla, while confidence was booming from their counterparts, moving the ball around with surplus comfort.
After a strange attempted shot, Benoît Trémoulinas crossed excellently but Vitolo who he found was thwarted with a firm block. Sevilla wouldn't let themselves dwell on trailing for too long, coming close to equalising through Bacca's flick on to his fellow South American Banega, but in what was establishing itself as a theme in the game by now, the attempt was once again blocked.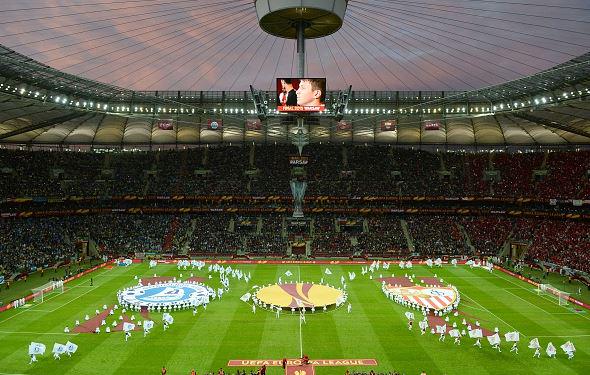 Image: Getty Images
Kankava would be the recipient of the first booking when he fouled to end Sevilla's counter, but Dnipro would set out to stop similar future occurences, with Douglas helping the bodies piled behind the ball to keep the Spanish side out, forcing Reyes to have an off-target go from long range, and beating away Trémoulinas' cross.
From open play, Dnipro seemed confident—but the tale was a polar opposite from set pieces. Kyrchowiak was first to pounce on a failed clearance from a free-kick, and he escaped the stranglehold of Matos to get a shot off low into the bottom corner, celebrating a goal in the European final, in his home country too.
Just 3 minutes later and Sevilla were deserving of all the plaudits for adding yet another goal to their sizable tally in the tournament. Reyes passed from deep, finding Baacca who surged past the keeper and slotted the ball into the open net to give his side the lead after half-an-hour of football.
With the wind out of their sails, Dnipro weren't letting things go at the back but they certainly lacked any flair or inspiration on the drive forward. Konoplyanka did eventually show signs of a potential fightback, running in from the left and forcing a stop from Rico as he let fly from over 20 yards.
The winger would continue to provide optimism for his side, once again having space down the left wing, and aiming a pass into the box that pressurized Sevilla into taking down Matheus to keep the goal out.
With half-time quickly approaching, Dnipro slyly upped the tempo to try and wrestle something back from the contest. Through a free-kick by Ruslan Rotan, they found their way back into the game. It found its way over the wall, and Sevilla's keeper was palming at air to keep it out, alas in vein as the teams went in level at the interval.
Despite Dnipro's attempt to rattle the cages of Sevilla from the second-half whistle, it was Carlos Bacca who posed a threat once again. The Colombian breached into the box and was taken down in the area, before finding out there was no penalty since he was offside—a decision incorrect in hindsight.
Despite Dnipro's attempt to rattle the cages of Sevilla from the second-half whistle, it was Carlos Bacca who posed a threat once again. The Colombian breached into the box and was taken down in the area, before finding out there was no penalty since he was offside—a decision incorrect in hindsight.
For the many minutes that followed after, Sevilla saw no need to go forward as if to pick apart their opponents; instead awaiting the opening, even though the crowd weren't pleased, booing Sevilla as they held on to possession.
Things wouldn't stay like that for too long, as Dnipro began to embrace their own possession game much more. But ultimately some uncertainty would lead to their undoing. Carlos Bacca once again was the difference, breaking through and blasting into the net from 15 yards to score what surely was the winning goal.
With Sevilla zeroing in on victory, the stadium would quickly silence in concern after Matheus collapsed to the ground with no-one near him. He was stretchered off eventually with nothing too serious hopefully.
As stoppage time winded down, Sevilla were appearing to prepare the champagne, holding back and breaking down any Dnipro attempts to salvage the game. When a free-kick was given to the Sevilla keeper, that was the end of it. The full-time whistle blowed, and Sevilla's players flocked to the pitch in celebration—while Carlos Bacca cried tears of joy, since Sevilla had won their fourth Europa League title, making history.