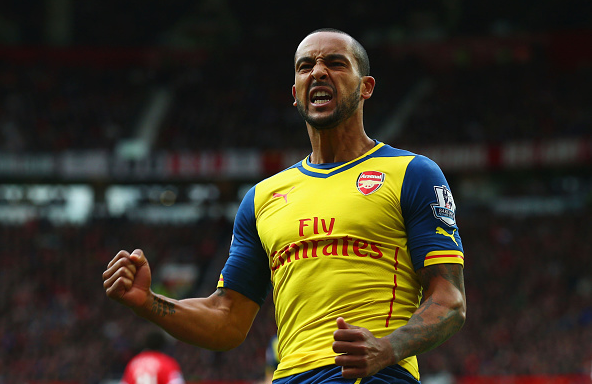 Image: Getty Images / BBC Sport
Manchester United 1 - 1 Arsenal
Ander Herrera (30'), Theo Walcott (82')
Barclays Premier League
Sunday 17 May 2015
4:00pm BST Kick-off
Old Trafford, Manchester, England.
Referee: Mike Dean
Gameweek #37
A late equaliser from Theo Walcott helped Arsenal snatch back a point for their efforts as they overcame a strong Manchester United performance at Old Trafford.
Manchester United's bright start was highlighted by Ander Herrera's fantastically struck opener. The Spaniard awaited Ashley Young's cross to sweep away at the first time of asking and halt a subdued performance out of the blocks by Arsenal.
But, as the Red Devils became more comfortable, Arsenal grew in belief. After Olivier Giroud was thwarted by an outstanding save from David de Gea, Aaron Ramsey sent Theo Walcott into the box, where his shot took a deflection off Blackett, beating debutant keeper Victor Valdes.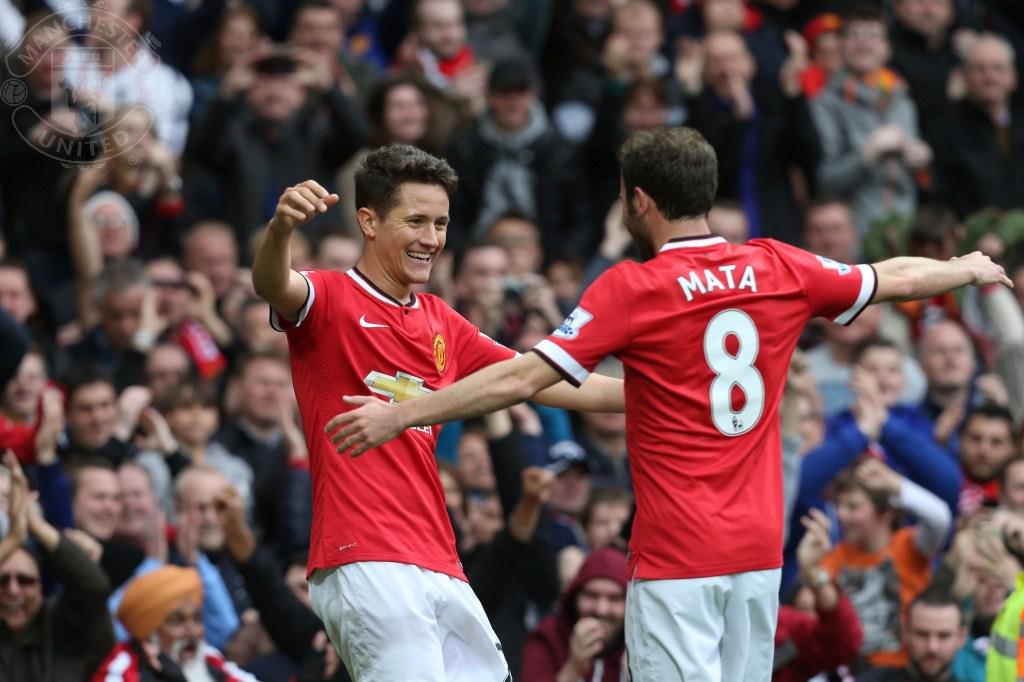 Ander Herrera scored a terrific opening goal.

Image: ManUtd.com
On a perfect surface at Old Trafford, Ander Herrera and the selected striker Radamel Falcao got the ball rolling with an opportunity to leapfrog the Gunners in the league table. Arsene Wenger's men were guilty of overcooking things early; with too much saturation on the passing and surrendering possession.
While it would do little to seal the fates of either side, with Champions League football secured and things above them locked up, neither side looked lethargic to start. Instead, there was plenty of pressing, even if, at times, it didn't all go to plan, as Alexis Sanchez was just a split-second away of darting through on goal as he surged away from the Red Devils' back line.
As teatime approached in England, it was only fitting that neither side was given the time of day to pass the ball around the back of their setups. Manchester United were rushed—but so was Sanchez, who was forced back and dispossessed by Radamel Falcao, but thanks to some cohesive misjudgement, nothing would come close to Ospina's goal at that period.
Setting out to eradicate the problems that saw them slip to Swansea on Monday night, Arsenal started much quicker but even so, while Van Gaal's side didn't settle their own form on the game, they found openings, with Ashley Young blasting off-target as he encroached on the box, and Falcao blocked on the near post—before the stand-in captain Chris Smalling saw his half-volley once again impeded by the abundance of yellow shirts in the area.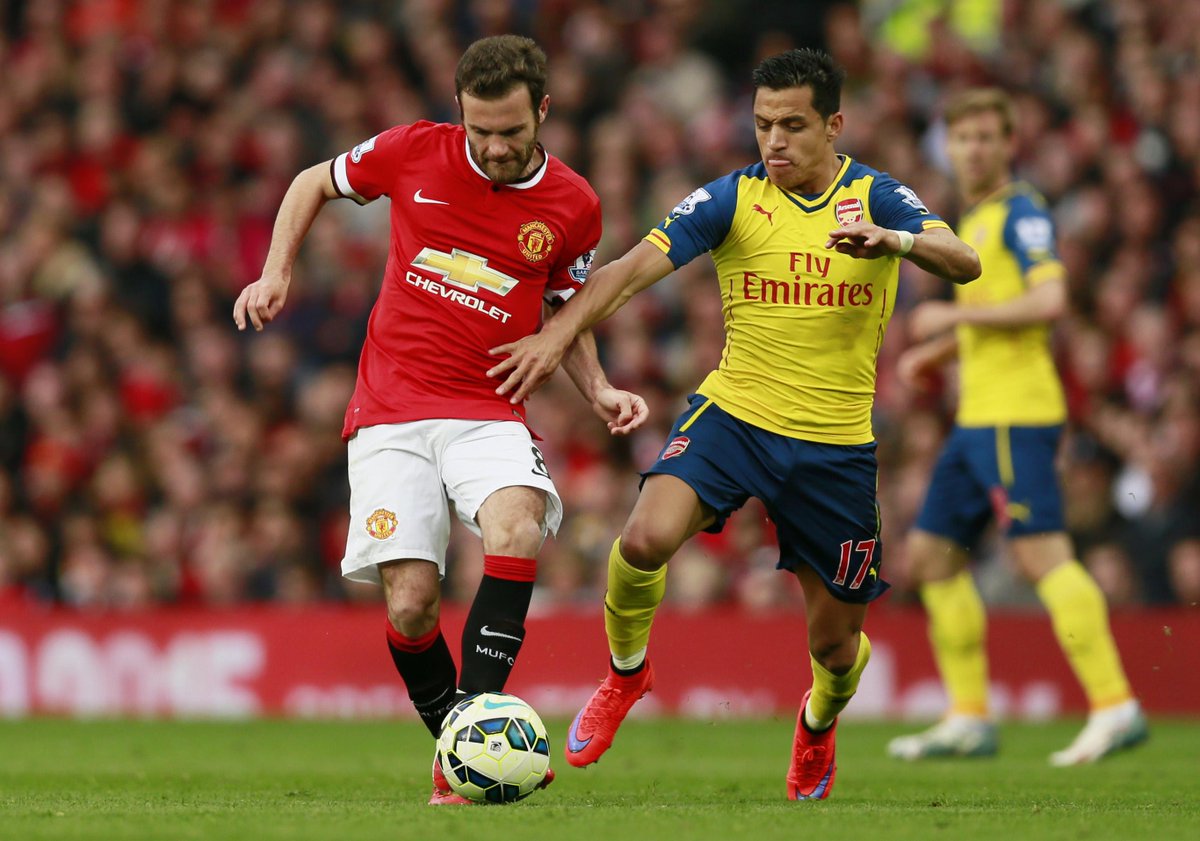 Image: Squawka Football
Most attempts for Arsenal to break seemed half-hearted. What definitely wasn't for the half-hearted, though, was the challenge that swept Juan Mata off his feet, as Francis Coquelin recklessly slid in just outside the area. The Spaniard was able to get the free-kick up and over the wall, but not past Ospina, who comfortably saved to deny him of his 50th goal in England.
Things ironed out from the initial one-way traffic. There was restricted space and a few more 50/50s, some worse off like Per Mertesacker who clattered into the head of Marouane Fellaini, wining a free-kick. Possession was exchanged, and it was a long search for width but when it did come, it was not sufficient to work with.
Olivier Giroud was trying to get on to as many knock-downs as possible, but soon Manchester United hearts would be racing after a muddle with Phil Jones and David de Gea. After a long ball couldn't find the Frenchman, Jones looked to find his keeper, but the shot-stopper, running towards the ball had to act quick and beat it away and silencing the gasps.
Those gasps would very soon turn into ecstatic cheers, courtesy of a marvellous strike from Ander Herrera. Some excellent work by Fellaini unlocked Young down the left wing, and his inch-perfect cross found the awaiting Spaniard, who didn't wait for the bounce, and swept cleanly into goal from the far post. Within half-an-hour, the hosts were ahead.
Young has been terrific so far. Leaving his marker for dead, entering the box with real intent. Another goal coming if he continues this.

— #TeamLesnar. (@LesnarSupport) May 17, 2015
Now appearing drained, Arsenal's long balls over the top were inert, and their defense was unravelled by swift play between Young and Mata. The latter made a perfect run to evade the Gunners, but as Monreal closed down the angle, he scooped a cross back to Falcao who got the header off but was penalised for a foul in the process.
Failing to inhibit the edge, free-kicks were off the mark and again they were prone to counter attacks. Encouragement was running through the hosts, egging on Falcao to take a shot, but the Colombian waited too long for his opportunity as the ball hovered a few feet from the area.
Mike Dean's halftime whistle couldn't come sooner for Arsenal. Daley Blind ran on to a corner kick but it didn't make its way to goal, blocked by his own player in Chris Smalling. The Dutchman's confidence was high soon after, as he attempted to fire in from long range but to no avail. Through the 1 minute of stoppage time and residual seconds, United put their foot on the gas while their opponents did the polar opposite.
After 45 minutes, Manchester United were in front, having been the first team since New Year's Day to score in the first half against the North Londoners—of who just weren't playing their football. They failed to register even a single chance or shot, per Squawka.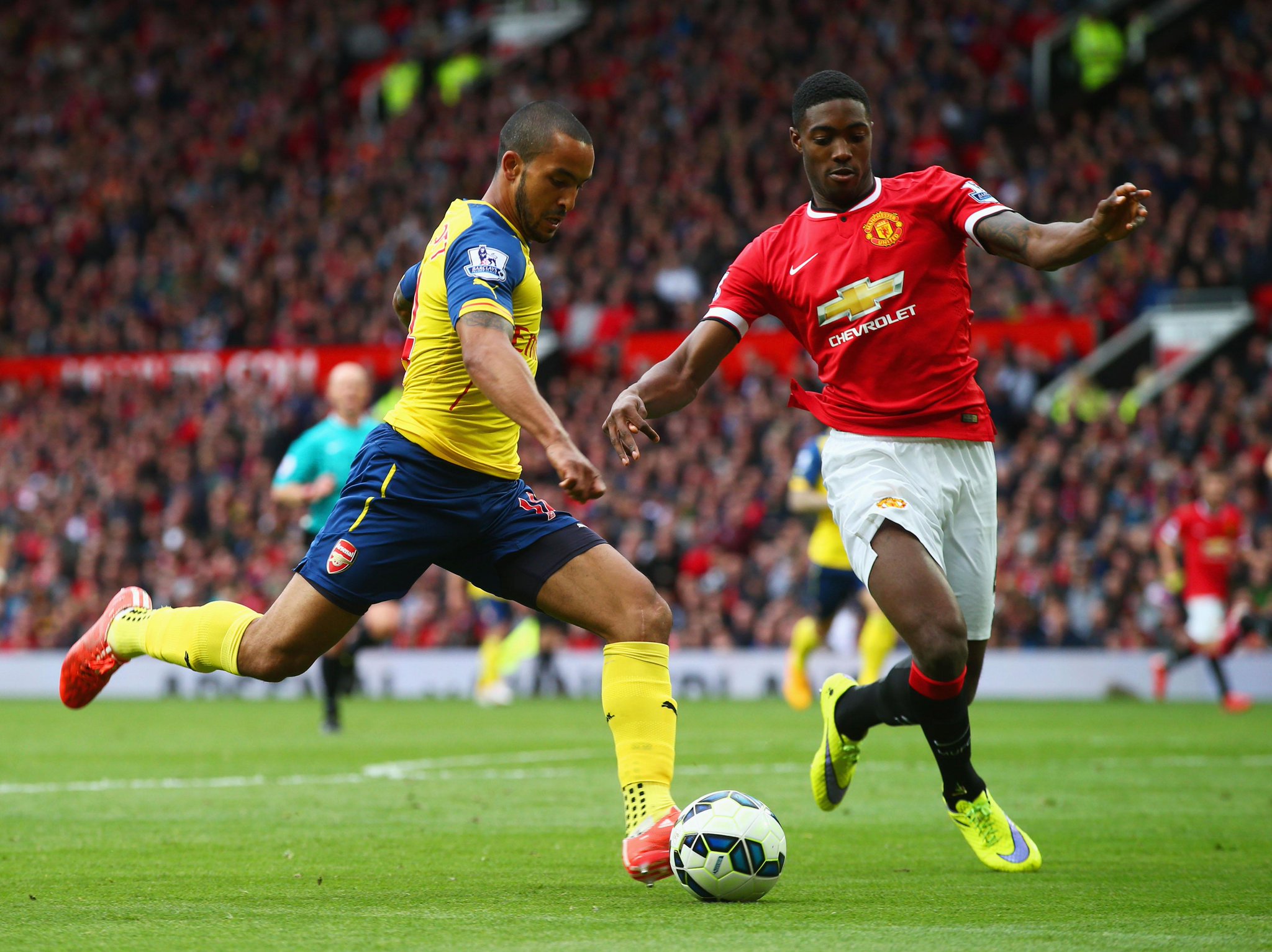 Arsenal were contained well in the first half.

Image: ManUtd.com
Getting the second half underway, Arsenal were almost undone once again, this time on the right wing through Antonio Valencia. His cross was ultimately shallow as Fellaini couldn't make clean contact on the header, while any counters just didn't click.
Looking far more hungry, Manchester United were simply in the mood. After Falcao couldn't spearhead the latest in a catalog of counter-attacking opportunities, some nicely worked play between Mata and Herrera would have lead to a threatening chance at goal, had Ashley Young's cross not sliced into the hands of Ospina.
Soon after, Arsenal would win their first corner, one step forward. That would lead to a header, knocked on to Sanchez, for Arsenal's first shot. But what we didn't mention was that the Chilean's effort was woeful, well off-target and rather than taking them forward, it was a continuation of their woes.
After Rojo's shot fizzed wide of the post, there was some glimpses of Arsenal's positivity, exemplified by the "Come on Arsenal" chants from the travelling fans. Determination to improve would only be fuelled further by the introduction of Robin van Persie, who replaced Radamel Falcao. It was another subdued performance in what could have been his final game at Old Trafford, waving to the fans.
It certainly ushered in the spell that Arsenal wanted, as they finally gained a foothold in the contest. After Ozil headed on Ramsey's header to find no-one, Giroud would come incredibly close, as the German pulled it back to Giroud only to be stopped by the extended De Gea with a cracking save. Rojo would come to the rescue of his side time-after-time, first stopping Ramsey's shot, then lob, as he ghosted in behind and the Argentine cleared his lines.
Arsenal improved over the game.
Victor Valdes was then granted his first opportunity to prove he can replace David de Gea, should his Spanish compatriot depart at the end of the season, after an injury to the No.1 bought some time for the ex-Barcelona shot stopper. But it was the keeper at the other end, Ospina, who would be forced into action as Young once again darted away.
By the way United approached, they were in total control, waiting for their chance to open. But, they would be stunned when Arsenal found the equaliser out of nowhere seemingly. A fantastic pass from beyond the halfway line from Aaron Ramsey found Theo Walcott, who looked to skip past Blackett, but instead his cross took a big contact of the defender and beat Valdes for the equaliser.
All of a sudden, Arsenal were going for the kill. Valdes stopped a shot from long distance but now it became a case of Manchester United taking a point with a hint of satisfaction, even though it could've been more when van Persie fizzed over just seconds earlier.
Manchester United and Arsenal would both evoke further cheers in the depths of stoppage time, but none to alter the outcome: A 1-1 draw.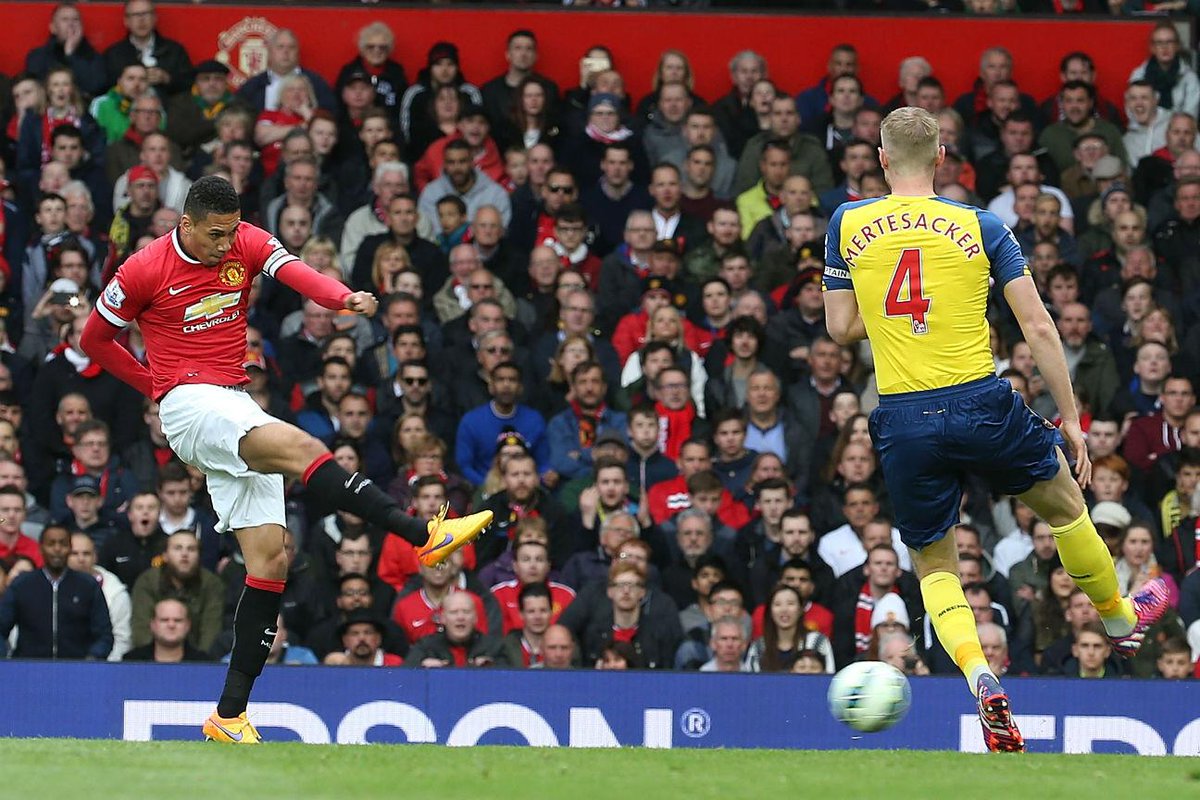 Image: ESPN FC
Farewell, for now
Following the game, Louis van Gaal picked up a microphone and spoke to the home fans:
"I want to say thank you to you fans. You were amazing! I want to thank you for that! Next year we see each other again!"
In their last appearance at Old Trafford this season, the players made their rounds of the ground, hoping for bigger things in the future.
Player ratings, analysis
Man of the Match:
Ashley Young
Once again, the English winger showed more signs of his vast improvement under the leadership of Louis van Gaal. Assisting Herrera's goal and proving a constant threat throughout the game down the left wing, his movement was top-class and he was always willing to turn on the burners and leave the Gunners stagnated—whether it was in defeat, or awe.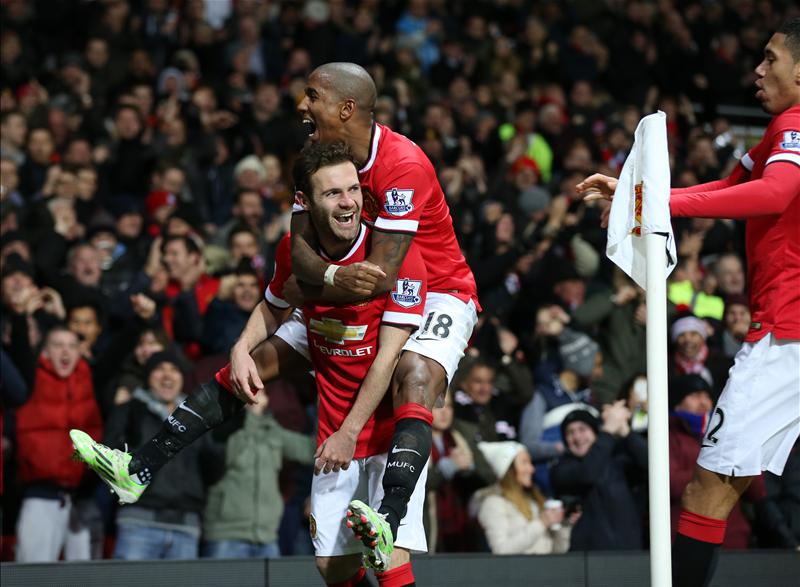 Image: Squawka Football
Other notable player ratings
Marouane Fellaini, 8.9: While he didn't have a direct impact on Herrera's goal, he can rightfully take a lot of responsibility for it. The presence alone of the Belgian just opened things up and throughout the game he was a prolonged influence in goal.
David de Gea, 8.3: Sidelined towards the end by an injury, he showed remanants of what United fans will remember him for, should he leave at the end of the season. He made a crucial save to deny Giroud and kept another clean sheet.
Aaron Ramsey, 8.2: Despite a slow start, the Welshman was Arsenal's best player and his perfect assist is a great testament to that. It also prompted a late fightback for the Gunners.
Radamel Falcao, 7.0: Nothing special from the Colombian once again, but it wasn't anything too bad. He'll be remembered for far worse performances as his tenure with the club is expected to end.
Alexis Sanchez, 6.3: The Chilean typified the woes for his side, losing the ball early in the game and lashing completely off target later on. A subdued performance didn't help him fulfill his role as the spark of the outfit and he was lost of ideas. Even a late spell of pressing couldn't make the impact that he has struggled to fabricate in big games.
Gunners capitalise on Devils' complacency
Arsenal looked lost in the first half. Manchester United were shades apart in the respect that they had more hunger and more flare when going forward and even defending the few attacks that Arsenal could create. Yet, the story looked oh so different by the sound of the full-time whistle.
Manchester United hardly rested, but they definitely weren't as thorough in their cleanups allowing the visitors to have their chances. And, thanks to Aaron Ramsey's peach of a pass, and a timely deflection from Blackett, they earned a point on the day.
It wasn't a complete performance for Manchester United because they didn't maintain it until the final whistle. The same goes for Arsenal, because they only began playing late.
More:
Toure doubles up as City sink Swans