Image: UEFA.com
The 2014/15 La Liga Season is up there with one of the best ever seasons I've witnessed in Spanish Football and its climax showed why it continues to be the best league in the world.
Eibar and Almeria were relegated yet both could survive via the courts, Los Che climbed into the Champions League, Bilbao reached Europe, Atleti secured third and Sevilla will rely on Warsaw. There was also a goodbye to a legend, Xavi.
— FC Barcelona (@FCBarcelona) May 23, 2015
We started off with Levante vs. Elche which ended in a dull 0-0 draw as Barral most likely waved goodbye to Levante and Jonathas who won't be at Elche next season wasn't even included in the 18 man squad that travelled to Valencia.
Fifteen minutes after that game had concluded though we came to eight games being played at the same time where the real action, drama and excitement truly began as the big issues were resolved.
Eibar got the drama underway with pure delight for every viewer including myself and anyone who wasn't a Deportivo, Granada or Almeria supporter was praying Eibar could survive and the Ipurua was bouncing before kick-off.
Eibar started full of nerves and Cordoba came close to scoring early on but fluffed their lines at the back post and after putting Eibar under early pressure Eibar soon responded and a long ball into the box reached Capa who knocked it across the face of goal for Arruabarrena to head home after just six minutes and the Eibar fans went absolutely nuts.
Just five minutes later the dream of survival looked well and truly on Lara's corner from the right was headed home into the top left hand corner by Navas and Eibar wrapped up their end of the bargain eleven minutes before the break when Capa produced a great strike from outside of the box to thump past Saizar into the bottom left hand corner.
Gutted for Eibar. An incredible effort from them this season. An amazing story, and despite regelation, they should still be really proud.

— CHAMPIONS (@Neymarred) May 23, 2015
Almeria knew that if they were going to go down in their final game at home they had to do it with fight but nine minutes in a superb free-kick from Thomas found its way in and although Alves probably should have done better Almeria had a shock lead and survival looked likely.
Nineteen minutes later though Almeria's poor defending from set pieces of late continued as Otamendi headed home but Almeria just didn't give up when Thievy's shot was parried out by Alves, Soriano lofted the ball into the left hand corner to give Almeria the lead yet again.
Los Che knew the dangers of doing into half-time behind though and a ball into the box saw Almeria unable to clear their lines as Fuego at the back post poked the ball across the face of goal towards Feghouli who fired home and it was 2-2 at the break.
Image: UEFA.com
The next goal was vital in the Almeria game and ten minutes from time with Sevilla with the three points in the bag at Malaga Los Che knew it was now or never and Paco Alcacer pounced a defensive mistake from Almeria to fire home and see Los Che return to the Champions League but only just and not without a scare, even Parejo's sending off in stoppage time for a second yellow card couldn't hamper their celebrations with the travelling Los Che faithful at the end.
Granada's 0-0 draw with Atleti meant that they were safe and that Atleti would secure third spot meaning they qualify for the Champions League group stages without the need for a play-off but only just in the end.
Granada's great escape is complete and it's the greatest escape I've seen for some time and full credit to Jose Ramon Sandoval who has recorded more wins for Granada than any other manager for Granada has this season, he's also produced back to back wins for them which they hadn't done before his arrival and picked up ten points from the remaining four games to keep them up.
Barca's weakened team were 2-0 up and looking comfortable in Xavi's last game but after a superb strike from Lucas Perez Depor knew they had a chance and when Barca couldn't clear their lines inside the box the ball fell to Salamao with less than fifteen minutes remaining he fired the ball towards goal and it flew into the right hand corner past Masip to send Depor to safety.
Image: DailyMail.co.uk
Bilbao secured a comfortable 4-0 home success over Villarreal to return to the Europa League and hopefully they'll be able to come closer to the final stages of the tournament unlike this season.
Celta's 3-2 success over Espanyol saw Celta secure 8th place whilst Espanyol finished 10th securing a top ten finish with Malaga finishing ninth after their 3-2 home defeat to Sevilla in the Andalusian Derby whilst Sevilla end a point outside the top four with their highest La Liga points total ever.
La Real showed they'll be much better on their travels next season as they turned up at Vallecas to win 4-2 and still manage to win a game after giving a 2-0 lead away and with additions in those attacking areas in the summer Moyes's men will be a much stronger outfit next season.
Los Blancos played out a thrilling Madrid Derby by beating Getafe 7-3 as Casillas received a mixed reaction from the Madristas at the Bernabeu on Saturday evening in what could be his last game for the club and most likely Ancelotti's last as manager of the club despite support from the players including Ronaldo's publicly!
Ronaldo sealed the pichichi with 48 goals and Aduriz edged Bueno of Rayo to the award for top scoring Spaniard in La Liga this season.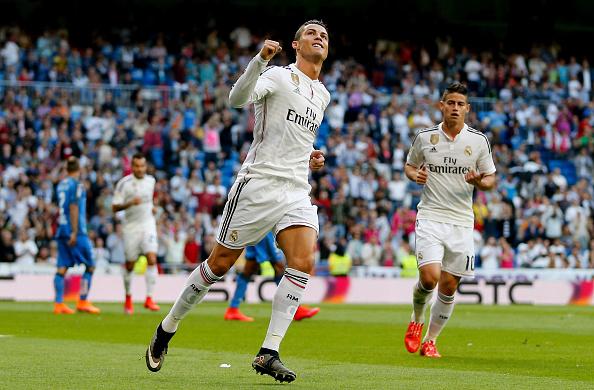 Image: Getty Images
Congratulations to Barca on their 23rd La Liga title which was fully deserved in the end and the celebrations to Xavi were spine tingling and emotional and it was a truly great send off for a player who formed a midfield duo with Iniesta that is the best I've ever seen.
Congratulations to Atleti for securing automatic qualification to the Champions League qualification but next season simply has to be an improvement because third spot was secured only just and of course congratulations to Bilbao for securing seventh spot to reach the Europa League after what has been a difficult season.
Full credit to Los Che too who despite being behind twice against Almeria showed great spirit and belief to come back and win late on to climb into the Champions League but don't forget Sevilla who pushed them to the end on the final day in the race for fourth whilst being in the Europa League and it's a great achievement but they now rely on Warsaw and the Europa League Final to secure their Champions League qualification.
Congratulations to Deportivo on their survival who show that with one win in sixteen games you can somehow survive and to Granada too who produce a thrilling great escape and survive despite being the second lowest scorers in La Liga.
Image: UEFA.com
Eibar and Almeria are relegated and it's such a shame to see Eibar go down after their wonderful success story and Almeria too after such good performances under Sergi but lack of home wins for Almeria before Sergi came in killed them in the end.
Eibar deserved to stay up but sadly they drop down to Liga Adelante at the first attempt and it will be a monumental miracle if we see them return to La Liga ever again or anytime soon but what a story and what a pleasure it was to see them in La Liga.
But is the season over yet? Are Eibar and Almeria really relegated or will Getafe's and Elche's financial troubles off the field see Eibar and Almeria survive thanks to Getafe and Elche being thrown out of La Liga by the LFP?
And of course we the threat from UEFA and FIFA of Spain and its clubs being banned from all Competitions including the World Cup, European Championships and any international matches for the national side and the possibility of no La Liga sides in either the Champions League or Europa League until 2017.
That's without mentioning the fact that next season may not be even start on time as another strike is planned but stand by for a very turbulent end to May with Elche facing possible expulsion this coming Friday and a turbulent June spent in the courts and FIFA and UEFA bringing their threats closer.
But what a season in La Liga and one I've really really enjoyed, thanks for reading and see you next season.
Image: Reuters
Follow on Twitter:
@AdamHOwl