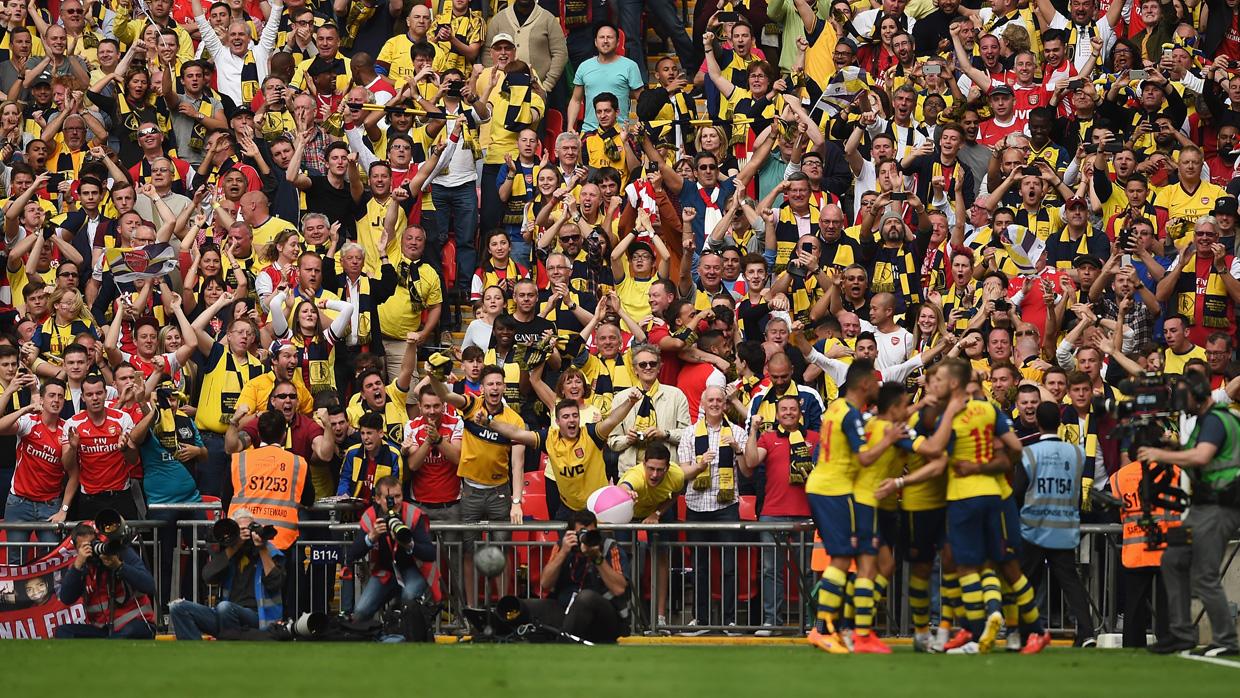 Image: The FA
Arsenal 4 - 0 Aston Villa
Theo Walcott (40'), Alexis Sanchez (50'), Per Mertesacker (62'), Olivier Giroud (90+4')
FA Cup Final
Saturday 30 May 2015
5:30pm BST Kick-off
Wembley Stadium, London, England.
Referee: Jon Moss
Arsenal decimated Aston Villa in the FA Cup final to secure back-to-back wins of the prestigious English cup, after Sanchez, Walcott, Giroud and Mertesacker guided the Gunners to jubilant celebrations in the English capital.
Theo Walcott pencilled in Arsenal's first-half dominance with a blinder of a strike, catching onto Sanchez's head-on to fire past Shay Given to conclude a half which was all Arsenal.
Any attempts of a comeback would soon fade entirely, when Alexis Sanchez unleashed one of the goals of the tournament, swerving away from Given and blasting into goal. Per Mertesacker, the captain on the day, would head home a third.
Down and out, Olivier Giroud would prey on Aston Villa who were awaiting the final whistle, gliding on Chamberlain's low-cross for a fourth and final goal.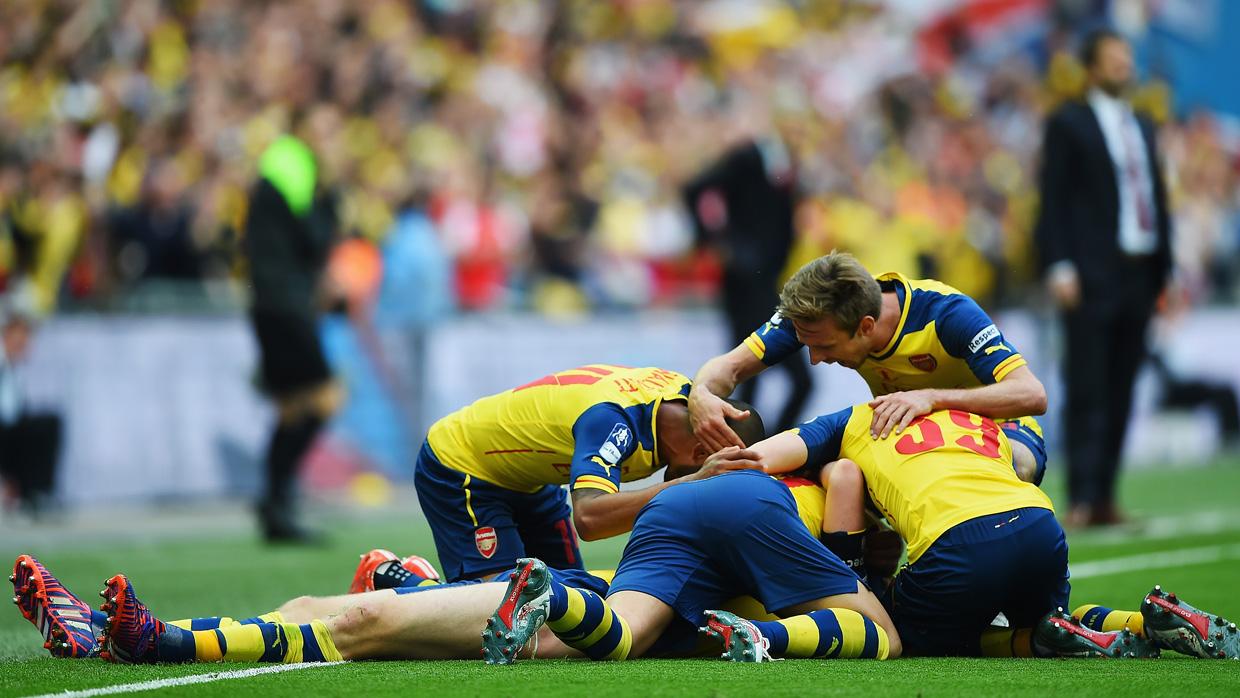 Image: The FA
Wembley Stadium was rocking to it's core with a dynamic mix of the raucous voices of the Gunners, and the fuelled Clarets who looked to relish the occasion in a sequence of pre-kickoff festivities that seemed to last an eternity.
When the ball eventually began rolling along the crisp turf in the English capital, it was the yellow-clad Arsenal who seized an early initiative—not altering the scoreline from the outset, but certainly threatening to do so.
Ron Vlaar dispatched Alexis' early cross into the box, Laurent Koscielny glanced wide with a header and Christian Benteke was forced to spend more time defending than his usual allocation, as Wenger's men pressed early in order to take the sting out of the deafening flock of Aston Vila supporters.
Far from a one-sided beat down, however, the Midlands contingent were forced to relinquish a majority of possession to Arsenal; and they made good of it at times, with Koscielny once again getting a clean header towards goal, but this time it was on target. To his chagrin, one Shay Given was waiting in the goal-mouth to make an acrobatic stop and keep the contest scoreless.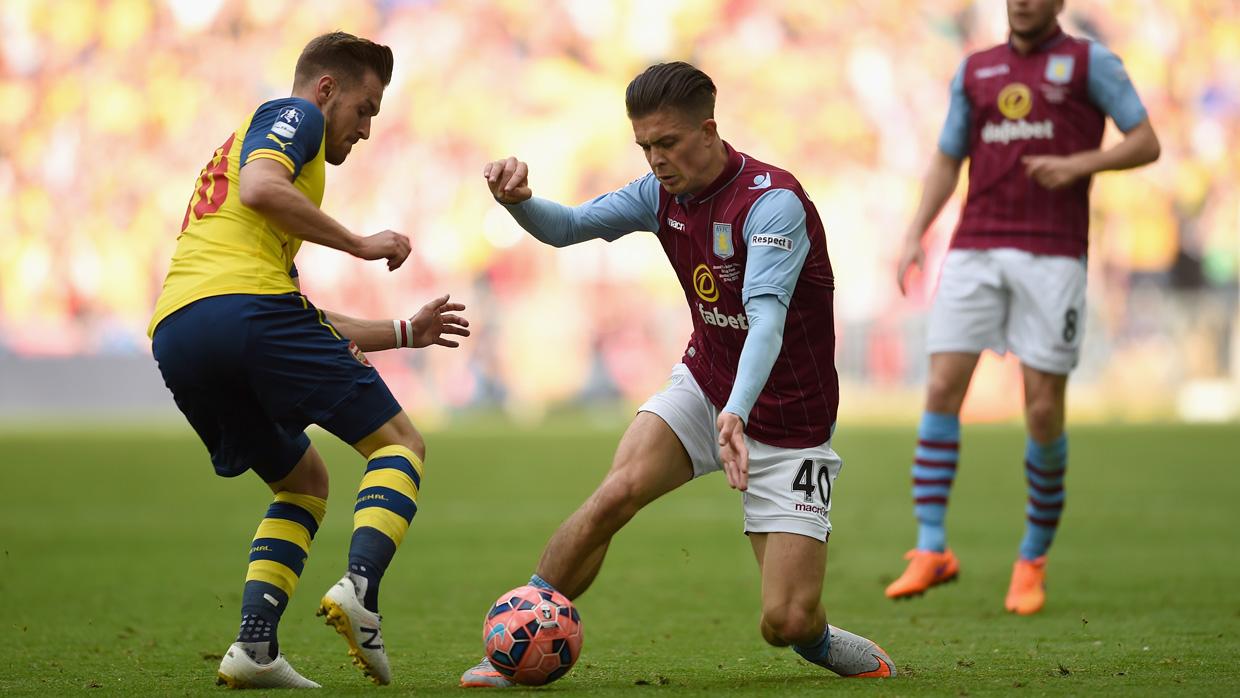 Image: The FA
Mere moments later, a nervous looking Royal Highness would epitomise the emotion—Arsenal were more than unlucky to not be ahead, as Aaron Ramsey found space in behind, but his shot ricocheted off Vlaar and over the crossbar.
Determination was strong in the back-line of the Lions, for their opponents' trio of magicians in Cazorla, Sanchez and Özil were growing in comfort to fabricate more opportunities. Theo Walcott had his head in his hands, and rightfully so, when he was thwarted by an off-the-line blockage by Kieran Richardson, stopping his side-footed attempt.
Tim Sherwood's troops managed to weather the storm as the volume of Arsenal attacks began to decrease. It was some 38 minutes until the game was played at an even footing, but through that vehicle would last season's winners would take the lead.
Emanating from the core principles of which Arsenal had controlled most of the first-half, from the captain Mertesacker it would find its way to Walcott, darting down the left-wing to serve Nacho Monreal. Sanchez would be found in the box, nodding it back to Walcott who unleashed a lethal left-footed strike to give the Gunners a deserved lead.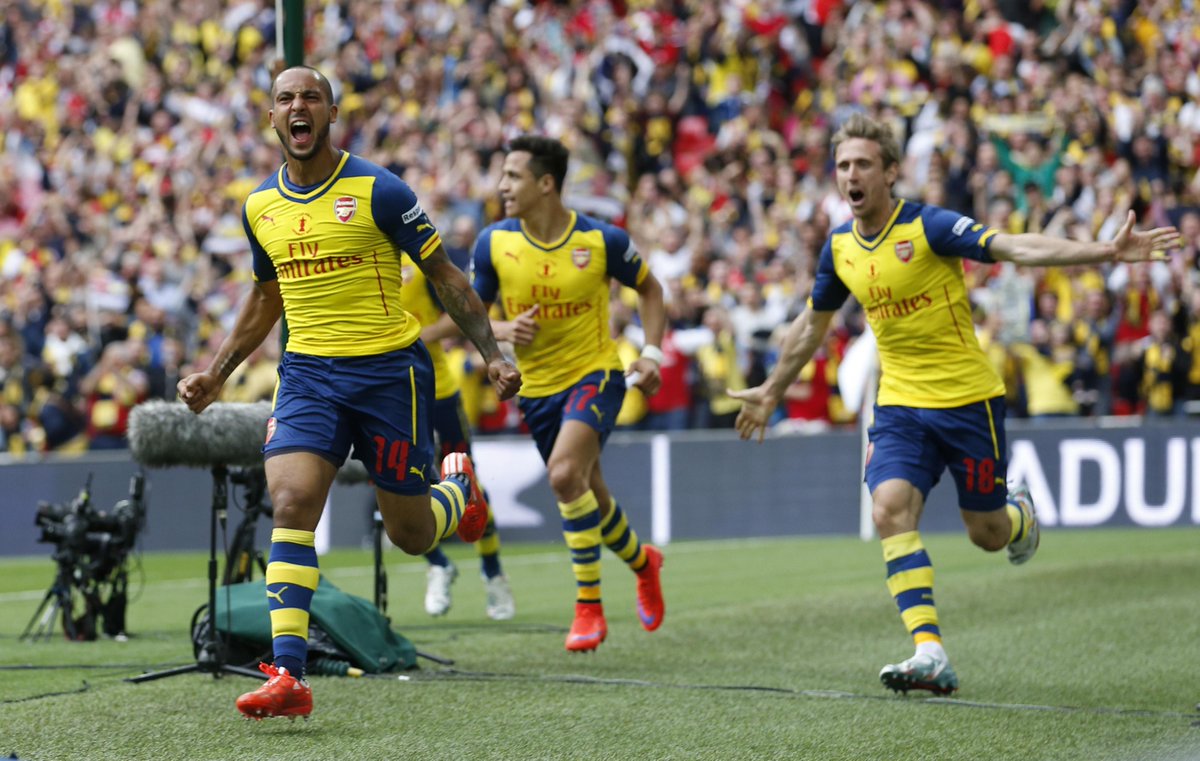 Image: FOX Soccer
It took them quite a while, but they managed to break through, finishing the first phase on a high note and if Villa's play was concerned, they could have had many more. Grealish and N'Zogbia were just some of the handful of players vanishing in the game and new ideas were required following the interval.
Drastic changes were needed—but they were hard to spot as Arsenal once again enjoyed control of the second half early on. But the real exclamation mark would come some four minutes in through Arsenal's very own Chilean magician, Alexis Sanchez.
Holding the ball up from around 25 yards from goal, he turned it on to his right foot, took one stride before unleashing a sweet strike swerving well away from Shay Given's reach right into the top of the net. Celebration from his fans were delayed—probably because their jaws had just dropped at the spectacular goal they had witnessed.
— TheSportMatrix (@TheSportMatrix) May 30, 2015
With that goal, the morale further dropped and now it was a case of Arsenal closing it out. After a wait of around 12 minutes, the game was surely killed off when Per Mertesacker rose above the rest to head home their third goal.
While they weren't entirely giving up, a cluster of penalty shouts that followed, ultimately called off by the referee, were small glimpses of an attempt for a fight back. Agbonlahor surged into the box and was taken down by Coquelin in the process before Grealish went crashing down tot he floor at the hands of Bellerin.
Yearning for the full-time whistle, Olivier Giroud finished it off with a fourth deep in extra-time, flicking on Oxlade-Chamberlain's low cross to put the icing on the cake for a quite outstanding performance from Arsenal under the watchful eyes of spectators at Wembley Stadium.
— TheSportMatrix (@TheSportMatrix) May 30, 2015