WRITTEN BY ALEX LEE (@AlexIsTheeName)
"By the Script"—A review of Gennady Golovkin vs. Willie Monroe, Jr.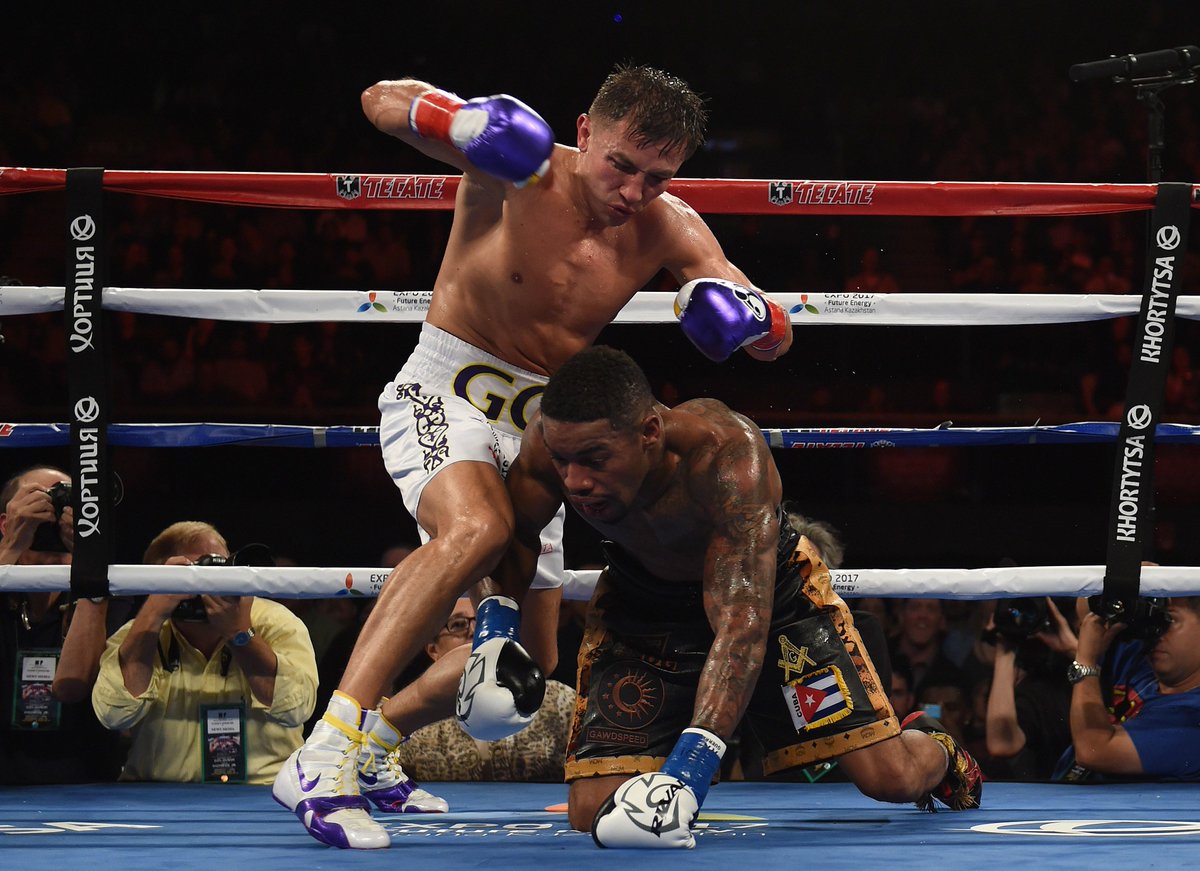 Image: SportsCenter
As they wanted. HBO is rejoicing, for they are not impartial. There were two feature attractions whose duty was to get a sensational knockout to please the casual fan, as there are more casual fans whose understanding of "boxing" is hitting while getting hit, a de-evolution to the caveman days.
The fact that Willie Monroe, Jr. was a southpaw did not matter. For Gennady Golovkin is a two-fisted puncher with power in both hands, with any punch he throws. Again, the formula: his opponent does not have concussive power, so Golovkin comes forward, unconcerned about what is thrown at him.
In round one, Monroe did the right thing in using his jab to control distance, trying the occasional check right hook as he slipped to Golovkin's right. However, because Monroe's was not a hard, stiff jab, he flurried with it inaccurately hoping that his busy-ness would stave off Golovkin. On the other hand, Golovkin was able to be more accurate because he did not have to waste jabs to work his way in, and everything he threw had the power to hurt his opponent, thus allowing him to be selective and efficient.
A left hook dropped Monroe 1:15 into round two. Monroe had attempted to move to Golovkin's left while he was against the ropes. With one minute left in the round, Golovkin put Monroe down again with a right hand while Monroe was against the ropes. During this round Monroe attempted to allow Golovkin to throw hoping to counter him, which worked for him against Brian Vera. However, rather than trading, Monroe should have been using his hand speed to lead, keeping Golovkin off balance and out of position, thus causing him to miss, at which time he could counter. Monroe's tactic actually allowed Golovkin to get off well delivered shots in good position.
Monroe's only good round statistically was the third, in which he out landed Golovkin based on activity. Again, lacking effective power, Monroe hit Golovkin with straight left hands that did not phase Golovkin in the least.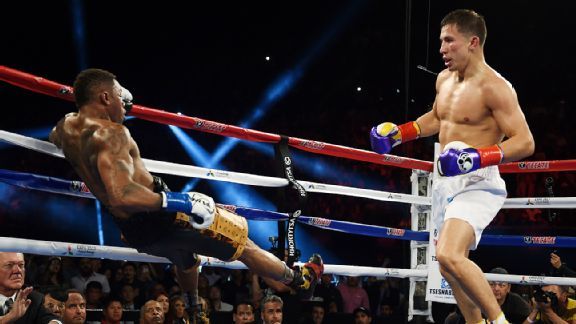 Image: ESPN.co.uk
Golovkin regained control in round five. Nothing remarkable, simply landing the cleaner and harder shots.
Thirty seconds into round six, Monroe is hurt by a right uppercut, followed by a combination of hooks, followed by a straight right hand as Monroe fell backwards towards the ropes, where he then went down from an accumulation. Monroe gets up at 9.99 seconds in what appeared like an attempt to purposely miss the count controversially. Referee Jack Reiss warned Monroe that he cut it extremely close, then asked Monroe if he wanted to continue. Monroe said no, the end.
Max Kellerman asked Golovkin whom he wanted to fight next. The crowd roared with approval when Kellerman offered the names of Miguel Cotto and Saul Alvarez, but, of course, booed the name of Andre Ward, an African-American, thereafter. Most recently, Floyd Mayweather was vehemently booed court side at an NBA basketball game in the past week for his domination of Manny Pacquiao. Amir Imam was booed on showtime after defeating a Mexican challenger by decision. Booing and discrediting African-American fighters is now le vogue du jour. Golovkin welcomed a fight with Cotto or Alvarez but was disinterested in fighting Andre Ward.
Cotto and Alvarez appear to be sweet meat for Golovkin at this time. Cotto is too small for the best middleweights and is too old to fill out any more, whereas Alvarez is young enough to continue growing into a full-fledged middleweight, but is not there yet. Likewise, Golovkin is probably too old to fill out into a super-middleweight for the likes of Andre Ward.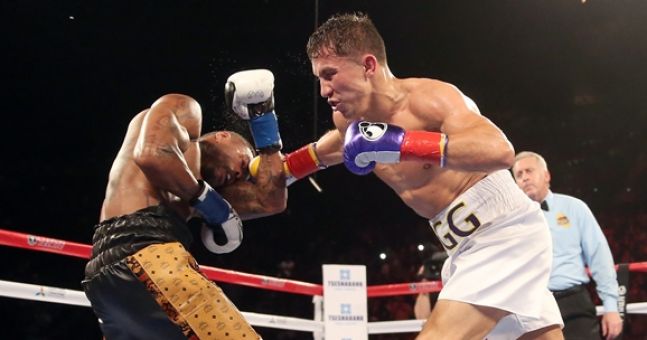 Image: SportsJOE.ie
Roman Gonzalez vs. Edgar Sosa
The second showpiece was Flyweight champion Roman Gonzalez, who was also expected to walk through his opponent in a "sensational" mismatch. Gonzalez looked good, jabbing and bobbing and weaving to get inside, then throwing with power in both hands. Gonzalez scored a TKO in round two by knocking his opponent down three times. Gonzalez was deliberate in his manner on this night, his HBO debut, attempting to draw attention to his division which is often ignored by the public. At least for himself, he succeeded.
More:
Boxing