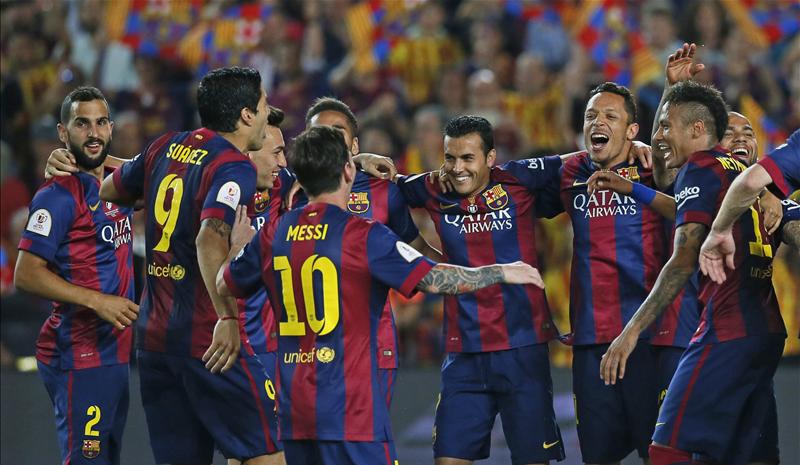 Image: Squawka Football
Seven days after winning their 23rd La Liga Title Barca have lifted another trophy by winning their 27th Copa Del Rey after seeing off the side from up North in the Basque Country Athletic Club Bilbao 3-1 at Camp Nou.
This final lived up to its billing and all day the atmosphere in the Catalan Capital was building as each hour passed on with 70,000 Bilbao supporters in the city aswell as 40,000 plus back at San Mames for a beamback.
The Spanish national anthem was without much surprise loudly whistled from both sets of supporters and Del Bosque the manager of La Roja just didn't know where to look and despite the threats from the authorities to suspend this final due to the whistles they always knew their threats were empty and that the whistles were and will always be inevitable as the hatred towards Spain from Basques and Catalans continued.
The fanzone in the city was bouncing with both sets of supporters whilst Las Ramblas and its nearby bars and restaurants were a sea of red and white and Bilbao fans travelled in hope more than expectation but they once again proved why they are one of the best supporters in Spain.
The mosaics of both end before the game were a sight to behold and you knew that if the game matched the atmosphere we'd be in for an absolute cracker and to be quite honest we were treated to a superb display by Barca yet again.
The game started at a fast pace with both sides threatening to create goalscoring chances early on but it didn't take long for Barca to find their way to goal and after 20 minutes Messi produced his usual magic by beating four Bilbao defenders to fire the ball into the bottom right hand corner of Herrerin's goal to send Barca into an early lead and send the Bilbao end at the opposite end completely silent.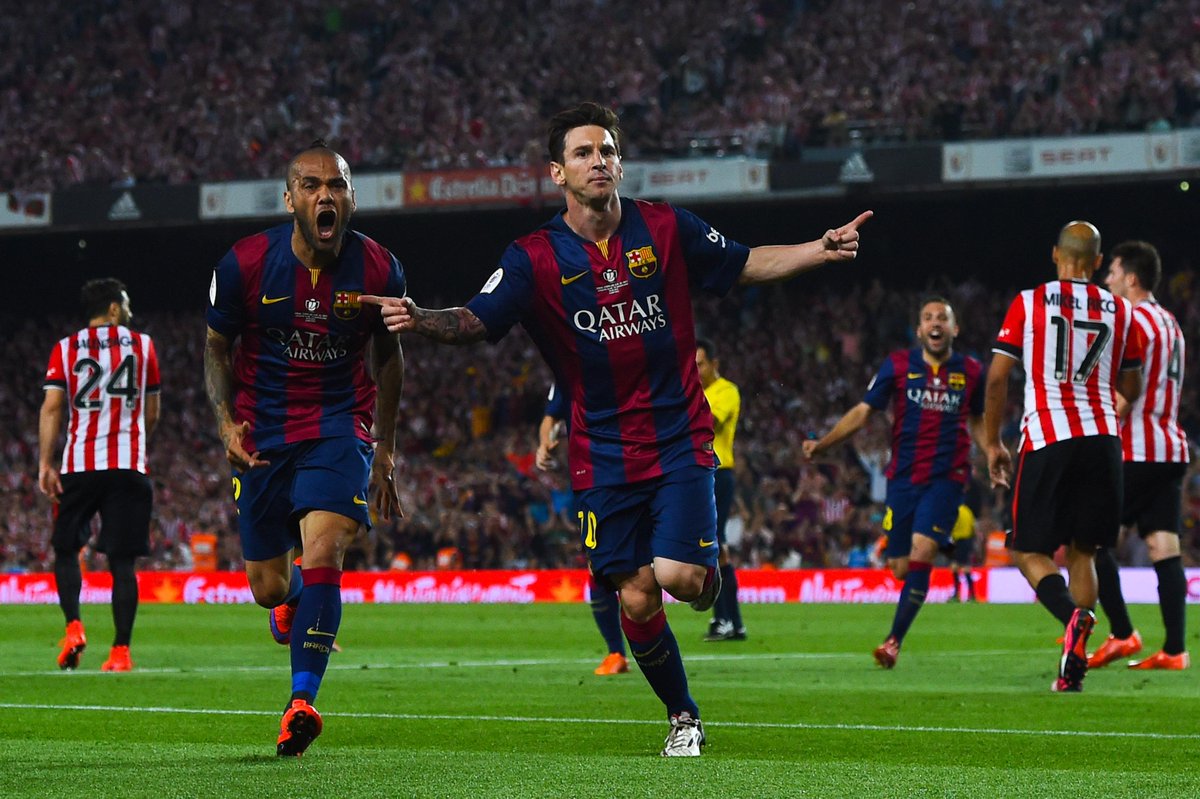 Image: SportsCenter
Bilbao looked shot after Messi's magic and looked to be lacking in ideas to get back level and their task get tougher when their attempt at playing Barca offside backfired horribly as Suarez got clear of the Bilbao backline and simply put the ball across the box to Neymar who tapped home to send Barca 2-0 up after just 36 minutes.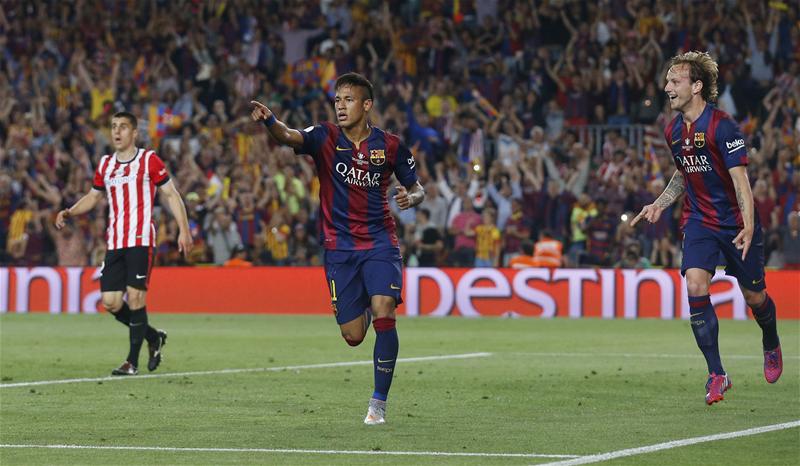 Image: Squawka Football
Bilbao tried desperately to get the ball towards Aduriz and Williams their two biggest threats but eventually it became predictable and far far too easy for Barca to stifle and cope with which they did well.
If the game wasn't over with 73 minutes on the clock Messi made sure it was as Alves's low cross from the right reached Messi who poked past Herrerin to seal a 27th Copa Del Rey for Barca.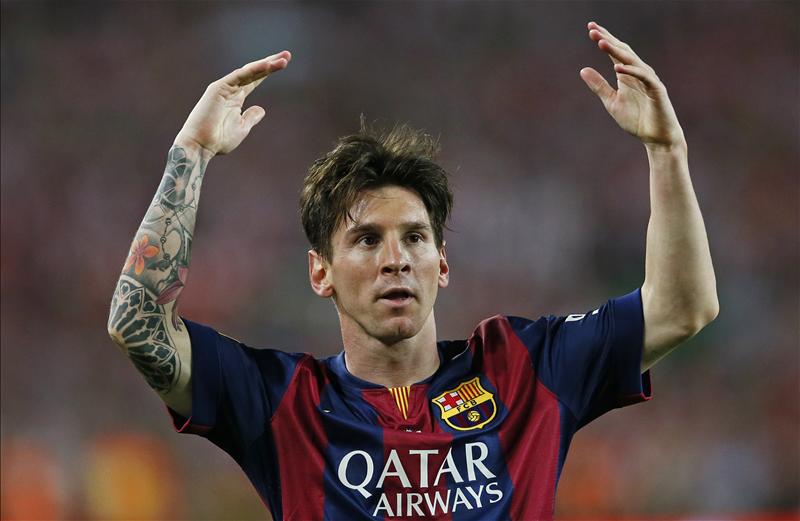 Image: Squawka Football
Bilbao seem to have gave up at this point and poor defending for Barca's third goal summed it up really but their fans who were superb all day in the city and all night inside the Camp Nou got something to cheer about when Ibai Gomez's cross into the box was headed home by Inaki Williams with ten minutes remaining to give Bilbao some hope of getting back into it.
Williams hit the bar and Aduriz had a half chance early in the first half but even though Bilbao did well they just lacked ideas and poor defending/mistakes for Barca's second and third goals didn't help them but it was Barca who were celebrating at the end and it was fully deserved.
Valverde's comments after the match summed it up really when he said that he doesn't know how to stop Barca and when Messi produces things like he did tonight you need a miracle and have very little chance and he's got it spot on.
Bilbao can be proud of their performance and their supporters should be proud of the effort their players produced too and accept that they played against the best team in the world right now who have the best front three the game has ever seen and that when Messi produces magic no-one can do a thing about it.
Bilbao will be in the Europa League next season, they will face Barca again in the Spanish Super Cup Final sometime in August or Early September and have an absolute gem in Inaki Williams and will look forward to next season now with hope and excitement and so they should.
Barca however have just achieved not only their 27th Copa Del Rey title but their sixth ever double in Spanish Football breaking a new record and their front three of Messi, Suarez and Neymar have scored 119 goals this season combined which is the most for any front three in the history of Spanish Football beating the record of 118 set by Real Madrid's past front three Ronaldo, Benzema and Higuain.
Xavi has waved goodbye to Spanish Football by winning La Liga and the Copa Del Rey showpiece and what a fitting touch at the end when instead of normally heading up in a lift to get the trophy to bring down to the rest of the players at pitch level Iniesta joined him and they brought it down together to pitch level and the celebrations began.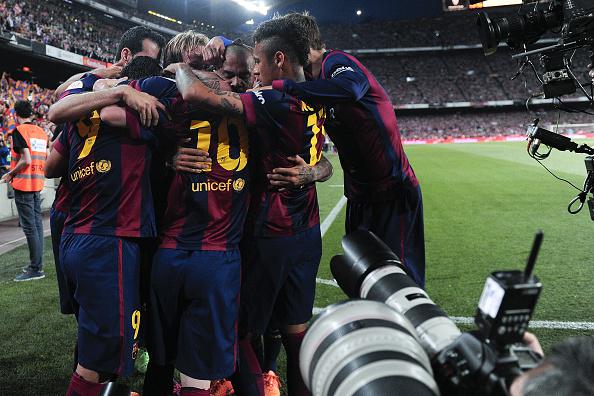 Image: UEFA
Xavi and Iniesta are the greatest midfield duo I've ever seen and in my opinion the best football has ever seen and will ever seen and I'm really going to miss Xavi and to see him lift that Champions League trophy in Berlin next Saturday would be what he really does deserve.
Barca now head to Berlin next Saturday for the biggest club final as they take on Italian Champions Juventus in the UEFA Champions League final as they look to win a treble for only the second time ever in their history and in the process become the first ever European club to win a treble twice.
It's been a thrilling Spanish Football season and it was fitting that it ended here with a cup final between the two most successful sides in the history of the competition and the Champions of La Liga win another Spanish showpiece.
Goodbye Xavi and thanks for everything you did for Spanish Football. Goodbye from me, Adam Howl (@AdamHOwl), and see you next season—which starts on 15th August!
More:
Wolfsburg lift DFB Pokal for first time
FA Cup:
Arsenal triumph over Villa