Real Madrid 1 - 0 Atletico Madrid (Aggregate: 1-0)

Arda Turan sent off (76'),

Javier Hernandez (88') UEFA Champions League

Wednesday 22 April 2015

7:45pm GMT Kick-off

Santiago Bernabeu, Madrid, Spain.

Referee: Felix Brych

Quarter final (Second leg) [First leg match report available here]
Javier Hernandez scored a massive late goal as Real Madrid topped their rivals Atletico Madrid; sending Los Blancos to the Champions League semi finals.


The always-raucous Santiago Bernabeu roared at full volume as the Madrid derby kicked off. Sergio Ramos replaced Modric in the midfield, while Isco and Hernandez filled the gaps left by Benzema and Bale. Atletico Madrid, lined up with a 4-4-2 formation with Mandzukic and Griezmann starting up top.


Both sides started quietly; reluctant to fully commit on any counter attacks. Real bossed possession in the middle of the park early, but missing absentees would take its toll as they lacked the cutting edge early on.
Real's best chance occurred when Rodriguez, scampering down the right flank, fed Hernandez on the edge of the byline but the Mexican's shot clattered into the side netting. It was always going to be hard covering from that position, and with a cut-back also available, Chicharito stupidly wasted a decent opportunity.
Moments later, Ronaldo latched onto Rodriguez's short flick-on, however his left-footed effort dragged wide of goal.
Rodriguez was the only Madrid player moving forward with real energy, and also creativeness. On several occasions he assisted Ronaldo, Hernandez, looking quite dangerous himself in the process.
Image: UEFA.com
For the first time in the game, Atletico began to control possession, match-tempo and create chances. Gamez slipped a clever ball through to Griezmann in the area, but a solid block prevented him from making a dangerous cross in enemy territory.

Ronaldo's dazzlifn footwork outside the box provoked a foul, but the free-kick following up from it saw Rodriguez curl his effort just over the crossbar.

Casillas made his first solid save of the match; plunging down low to deny Jesus Gamez after the Spaniard initially dispossessed Rodriguez outside the box.

The first half an hour was very open, with both sides equally creating chances. Real made the more positive start early on, but Atletico began to grow into proceedings once twenty minutes passed.

Rodriguez hot in lines of Atletico's midfield to swing in a cute cross, which Hernandez almost converted at close range if it wasn't for a deflection.

Long range king Ronaldo thumped a low, hard effort from his free-kick but Oblak got down low to parry away. It was the type of game turning out to take either a wonder goal or set-piece to draw first blood.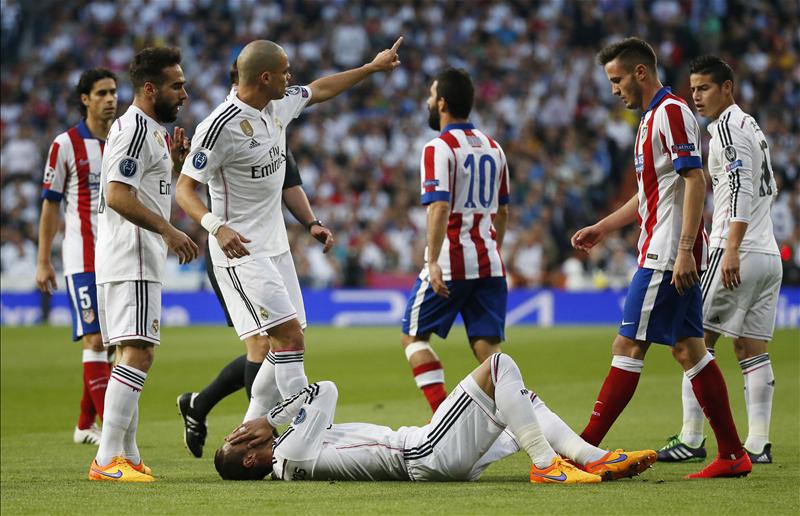 Image: Squawka Football
Ancelotti's decision of starting Ramos in midfield was paying off, as Mario Mandzukic became restricted of movement and lost the ability to win any headers when dropping deep.
Moments later, the Spaniard did a good job to safely head back to Casillas following a promising Atletico set-piece.
In easily Real's best chance, Oblak denied Ronaldo of breaking the tense deadlock. Isco started the move, picked out Rodriguez, who stabbed a through ball to the Portuguese man but his effort pummelled against his opponent.
From the following corner, Varane's header drifted over the crossbar as referee Felix Brych concluded first half proceeding. Both teams were jabbing, however failed to land a knockout blow.
Both sides went into the interval level.

Image: UEFA.com





Real made some decent chances in the first half, and they continued that after the interval. Isco leaped forward and sprayed a fantastic through ball to Hernandez inside the area, who took it on his left but frustratingly missed the target once again as the effort spiralled wide of the post.
Every single corner was a replica of WWE's traditional Royal Rumble match. Bodies clustered everywhere, pouncing at every opportunity.
Carvajal whipped in an inviting delivery, which resulted in Hernandez falling to ground appealing for a penalty. The Mexican claimed he was pushed over, but the referee shrugged off his case as the Bernabeu began to rile up in noise.
Real upped their whole tempo as a unit. Link-up play was much quicker, and Atletico were taking it at full pelt. Ronaldo, Rodriguez, Isco and Hernandez all combined in numerous attacking sequences but the latter had failed in several attempts to convert chances.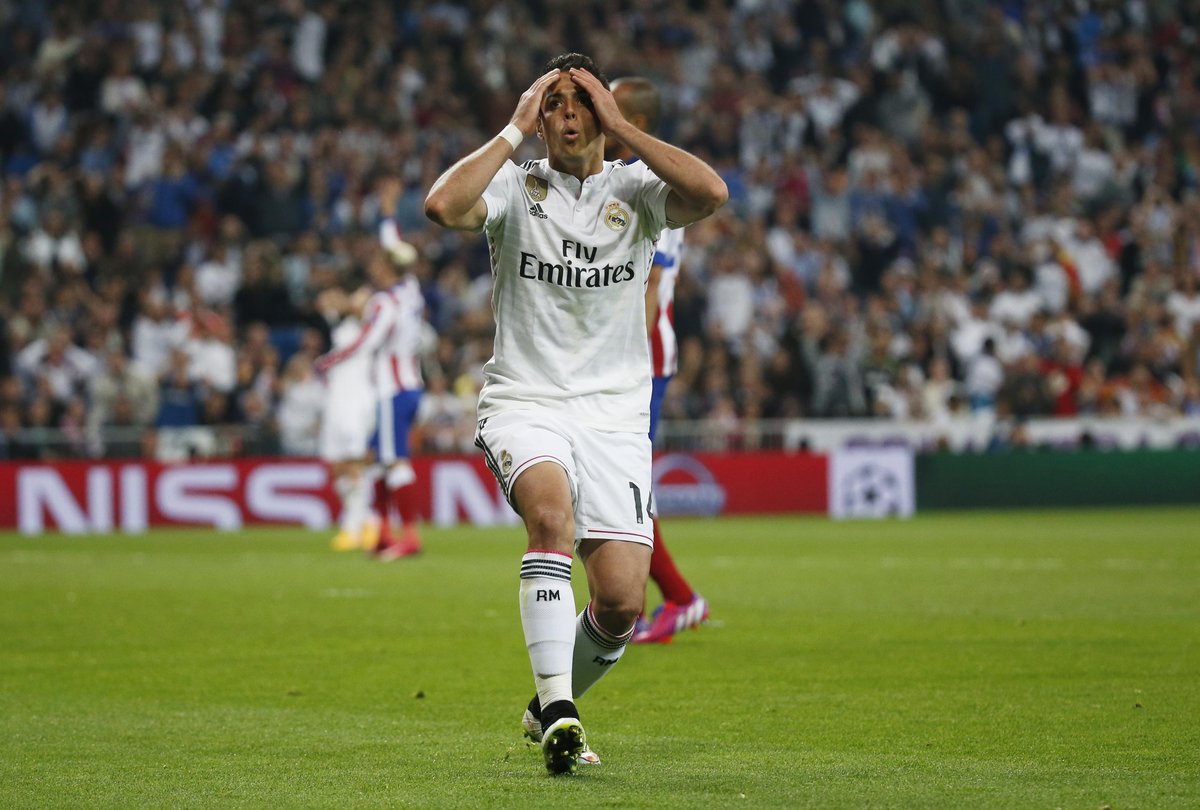 Image: Squawka Football
Ramos' midfield position not only allowed him to cover Mandzukic in the air, but also join the pack up top. This time, he planted a solid header at goal, however it lacked direction to take it past the firm Oblak.
With twenty-five minutes remaining, extra time looked even more likely. Despite the hosts creating a catalogue of chances, they just couldn't convert anything. Atletico absorbed plenty of Real attacks, and nothing was coming from them up the other end.
Ancelotti's mean were pouring the attempts on goal. Desperation was beginning to creep through, and Ronaldo failed to break the deadlock as his left-footed strike on the edge of the box fell into Oblak's grasp without any danger.
Madrid's missing absentees, such as Benzema, Bale was clearly the final component needed. The Frenchman especially. Hernandez had been flat all night, and with plenty of chances being created but none taken, Los Blancos could have easily dispatched Atletico earlier in proceedings with a sharper attacking edge.
All the balance swung into Real's favour when Arda Turan received his second booking for an unnecessary prod with his studs on Ramos. A sense of optimism was ringing around the Bernabeu with just over ten minutes remaining.
The home side were once again denied as Hernandez's torrid night in front of goal continued. It was Rodriguez who threaded a ball through to the Mexican striker, who held off Godin well to put himself in on goal. However, it still wasn't to be for Ancelotti's loanee as Oblak glances up and managed to stick a vital leg out and turn the shot around his post.
Image: UEFA.com
With almost twenty attempts falling short of conversation, Real finally got their reward and broke Atleico in half. Ronaldo exchanged passes with Rodriguez on the edge of the area, blistered inside and fed at close range Hernandez who tapped home past the already-committed Oblak.
'Better late than never' they say - and that was the story at the Santiago Bernabeu. Real had been pushing all game for that one vital goal, and after Hernandez's back luck earlier in proceedings, he certainly made up for it at the death.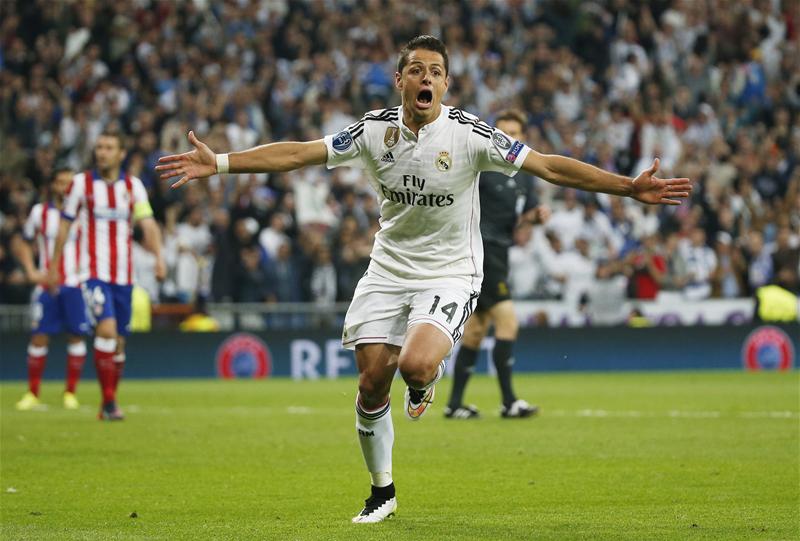 More:
Champions League latest
Champions League match reports:
- Monaco 0-0 Juventus
-
Bayern Munich 6-1 Porto