Image: FOXNews.com
Others may have survived, but there was no running from the Washington Wizards, Cleveland Cavaliers and Golden State Warriors when game 4 of the playoffs' first-round swung in.
Here is all the action.
Image: OrgeonLive.com
Bulls 90-92 Bucks
Jerryd Bayless ensured his Milwaukee Bucks wouldn't be swept by the ruthless Chicago Bulls, and in the process, gave the hosts their first playoff win after five long years, edging their first-round playoff combatants, 92-90.
Despite Jimmy Butler, again exceeding his playoff career best, the night ended in frustration from Tom Thibodeau's side. Conceding 28 turnovers in a night where they couldn't keep focus maintained throughout the duration of the game, the final buzzer would prove the definitive moment.
With the ball in Chicago's hands with the game tied at 90, Derrick Rose was on the dribble only for Khris Middleton to tip away the ball with a steal. The Bulls' talisman would then be outwitted by Bayless, as he surged across the baseline with a layup just as the buzzer sounded.
But, while it was a play of true class, Bayless didn't take all the credit. O.J. Mayo, who scored 18 points on the night, hit a 3-pointer with under two minutes left really bringing the game back into question. Through the game winner, the series was all open again.
Notable stats: Jimmy Butler 33 PTS 3 STL; Pau Gasol 10 REB 2 BLK; O.J. Mayo 18 PTS.
Image: SI.com
Cavaliers 101-93 Celtics
LeBron James and the Cleveland Cavaliers held off a young and fighting Boston Celtics side as a 27-point contribution aided them to complete the first-round playoff sweep.
While a progression seemed all the more likely as the game progressed, Cleveland were dealt an early setback as Kevin Love went off injured midway through the first quarter. A tangle with Olynyk ended up with Love dislocating his arm and ruled out of potentially the rest of of the playoffs.
He wasn't the only one Cleveland would be missing though as JR Smith was ejected singing his arm back down on Jae Crowder and a suspension may be looming.
LeBron's inevitable impact didn't all click early either; going 4-12 in the first half but fortunately, the Celtics' poor shooting and other Cavaliers holding up the fort gave them a comfortable 57-36 lead at half-time.
An improved approach and attitude in the third quarter saw Boston outscore them 25-13 cutting the lead down to 9 points, but that would be the final positive takeaway as the fourth quarter explosion put it at 99-89.
Still, there was no putting Boston away until the very final buzzer. Thomas' layup, a foul from the hosts and Bradley's free throws set up for an interesting climax but when Datome was off target, Irving capitalised from the free-throw line and it was all over.
LeBron James 27 PTS 10 REB 8 AST 3 STL; Jared Sullinger 21 PTS 11 REB; Isaiah Thomas 21 PTS.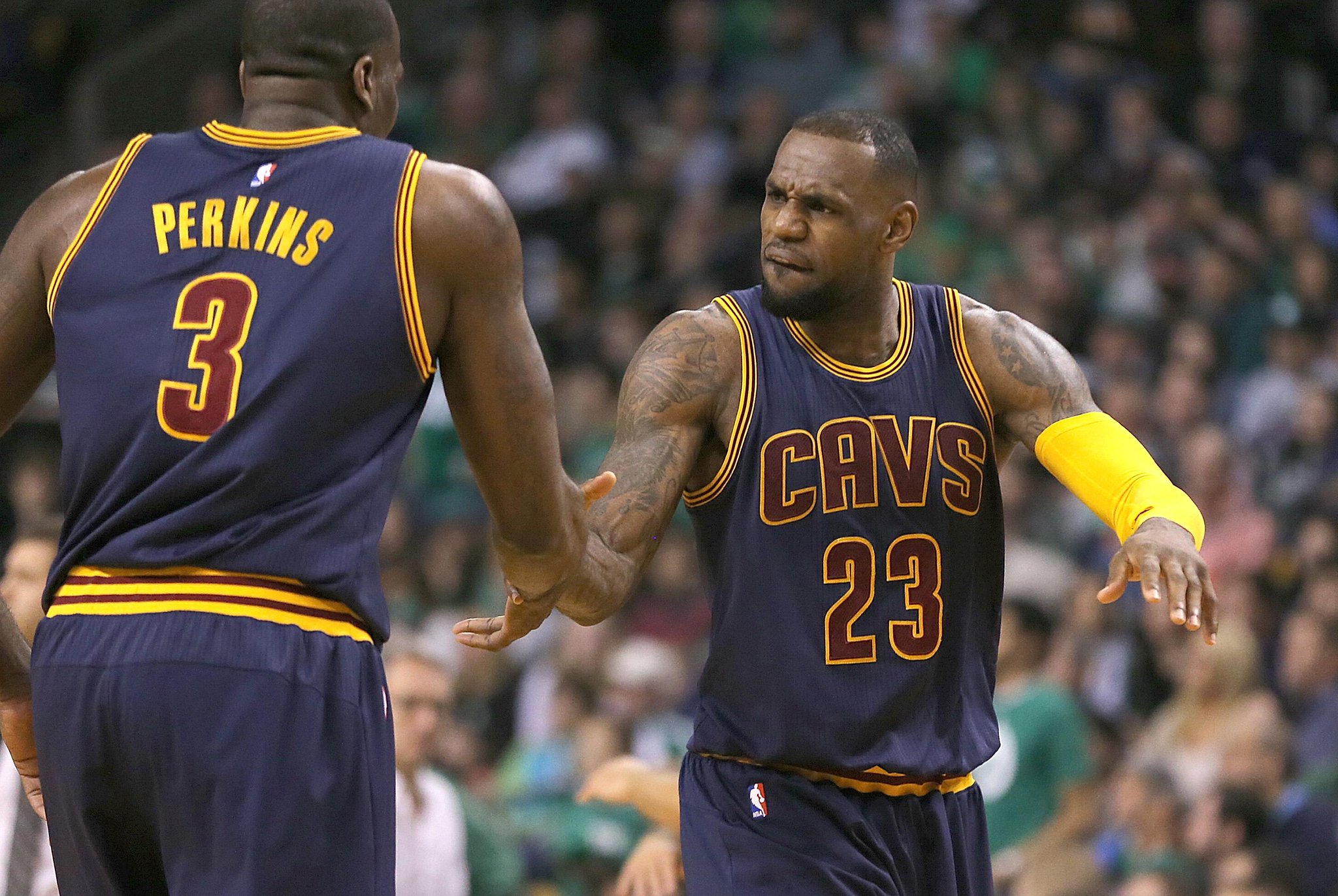 Image: SportsCenter
Raptors 94-125 Wizards
Bradley Bela and John Wall delivered magical performances once again as the Washington Wizards easily brushed aside the Toronto Raptors to complete their first-round playoff series sweep on their home court.
Hardly a tough encounter as once predicted, they propelled ahead to a 16-point lead in the first quarter, beffore exceeding that to 20. A dramatic escalation as they didn't let up in the second helped them accelerate to a 32 point lead when the fourth quarter began.
With all the Wizards on double figures and Paul Pierce once again yielding the best quality of his playoff-prime, it was a polar opposite for what Toronto's Patrick Patterson described as "horrific" and a "let down".
A top quality performance using their players as a cohesive unit to dismantle the Raptors on four-straight occasions—showing they could just be contenders, after all.
Notable stats: Bradley Beal 23 PTS 4 AST; Marcin Gortat 21 PTS 11 REB.
Image: SI.com
Hawks 115-120 Nets
Brooklyn Nets pushed the flying Hawks to overtime as they grinded out a 120-115 victory to tie the series up in the New York suburb.
From the early stages both teams were going all out from a defensive standpoint, with the visitors racing ahead to an 8-0 lead, but eventually the Nets would pull things back.
Deron Williams spearheaded the freshened Nets, who came out fighting in the second. Somehow though, that would unravel, as a three-point barrage saw them to a 12-point lead by halftime.
In the third, they were looking to race ahead but they couldn't remove the Nets who continued to linger in the contest. Sloppy turnovers kept the victory out of reach, and a burst in the fourth tied it at 85.
Nets then began to run away themselves, before a dunk from Millsap forced overtime. Surging forth, they held their nerve from the free-throw line and victory belonged to the Brooklyn Nets.
Notable stats: Deron Williams 35 PTS 7 AST; Paul Millsap 12 REB 3 STL 3 BLK.
Image: USATSI
Warriors 109-98 Pelicans
Steph Curry once again dug into his wealthy playoff-ability resources to give the Golden State Warriors an early break before the second round, cruising past New Orleans to complete their sweep and keep their dreams on track for that illusive NBA Championship.
Albeit in vain, the Pelicans set out with a strengthened aroma of competition and drive to keep their playoff hopes alive and well. Successes with around half of their attempts in the opening frames, they kept up a good pace—just not good enough to hold out against Golden State.
With the game, and series, already slipping well out their restricted reach, a strong third quarter was needed, but it didn't come, allowing Steve Kerr's high-flyers to gain more leverage, extending the lead to 21 by the end of the third, after Harrison Barnes dunked with authority.
It was a cruise from the start, pretty much. Steph Curry dished out 9 assists and 8 rebounds to go along with his stellar 39 points—just shy of a triple-double, but in the way the Warriors played, he should have plenty more opportunities to do so in the postseason.
His comrade
Klay Thompson put 25 points up there, once again proving too hot to handle. Anthony Davis scored 36 points and 11 rebounds, providing us a glimpse to the future ahead, just a future that wasn't planned for the weekend's game 5 clash.
Notable stats: Steph Curry 39 PTS 9 AST 8 REB; Anthony Davis 36 PTS 11 REB 3BLK; Klay Thompson 25 PTS.
Image: Stacy Revere / Getty Images
Clippers 114-105 Spurs
Chris Paul helped the Los Angeles Clippers recuperate from a disastrous loss in game 3 by posting a whopping 34 points as the Clippers wrestled back the series to tie it at 2-2 in a 114-105 victory.
Shooting 54% from the field, it was a far improved performance by Doc Rivers' troops; while San Antonio struggled from downtown with just 6-25 three-point shooting. Kawhi Leonard again posted a stellar total showing his worth, but this time with the combination of Duncan's respectable workload, it wasn't enough.
Racing away with an early lead, Chris Paul hit jumpers over the towering Duncan and his counterpart Parker to accelerate them further into safety in the fourth quarter, leaving the series well up in the air.
Notable stats: Chris Paul 34 PTS; Kawhi Leonard 26 PTS 5 AST; Tim Duncan 14 REB STL 3 BLK; Blake Griffin 19 REB.
Image: AP Images
Rockets 109-121 Mavericks
A rejuvenated Dallas Mavericks thwarted their fellow Texans' attempt to complete the first-round swweep as J.J Barea and Monta Ellis kept the postseason hopes alive.
It was a game in which the Rockets once-unstoppable 3-point form just evaporated, missing 17 straight shots bridging over half-time.
But all eyes were on the Mavs who were just a class apart on the night.
Image: Jerome Miron / USA TODAY Sports
Grizzlies 92-99 Trail Blazers
Portland Trail Blazers avoided elimination as they rallied to keep their postseason hopes alive. Clawing back from trailing by 10-points as late as the fourth quarter, Aldridge, Lillard and teammates looked to turn the tables, in which they emphatically did.
Image: OrgeonLive.com