WRITTEN BY MIKEY AND NISAR
We review the biggest and best sports storylines and events from the month.
From the grandeur of WrestleMania, to the Cricket World Cup and El Clasico, things would indeed spring into action in March's sporting action.
Here, we review the biggest and best storylines, news and events from March 2015 in sport.
Football
Drama was on prominent display in Europe while March even had a slice of International action served up while leagues across the continent got all the more intense.
On the first Sunday of the month, Chelsea would take home the first major silverware of the campaign after ousting cross-city combatants Tottenham for a comfortably victory at Wembley Stadium. John Terry smashed into goal at the stoke of the half-time whistle, when the ball ricocheted in his path to fire the opener. Soon after, Diego Costa—whose game was plagued with reckless moments of anger and fouling—initiated the second, as it deflected of Kyle Walker into goal.
Image: SayelbaTimes.com
The day would be sweeter for Mourinho's men in the knowledge that their chief-challengers for the Premier League title would fall at the hands of Philippe Coutinho's magic at Anfield. A screamer from the Brazilian dented Manchester City's title bid while elsewhere, the Gunners steered to success past Everton through Rosicky and Giroud.
Image: Ian Hodgson
Another portion of Premier League football was in store just days later as the top seven were all triumphant in their respective midweek fixtures. In a game where Jonas Guitierrez made his return to the pitch, Van Gaal's men side left it late to strike Newcastle. A scare to Bafetimbi Gomis also occurred at White Hart Lane as the Frenchman collapsed during Swansea City's 3-2 defeat to Tottenham. Thankfully, the Frenchman would return to training around one week later.
Image: GOAL.com
Over in Germany, Dortmund would open the month with back-to-back goalless draws against FC Köln and Hamburger. But, the Bundesliga leaders Bayern Munich would continue to certify their dominance, destroying Hannover and Werder Bremen. Before the International break, though, that coin would be flipped - with Munich falling to Mönchengladbach while BVB found it in them to top Hannover in a thriller.
Image: BVB.de
With a pause for domestic tournaments came the quarter-finals of the FA Cup. Danny Welbeck came back to haunt Manchester United at Old Trafford, while Aston Villa fanatics raided the pitch at the full-time whistle of their victory against West Bromwich Albion.
Image: Mirror.co.uk
It was then time for the European tournaments to take centre-stage once more. A heroic performance from Schalke at the Bernabeu would spark boos in the Spanish capital, but the Germans would fall short of transcendence on the same night which Porto ripped apart Basel. The next night was a magical one—David Luiz and Thiago Silva rallied Paris Saint-Germain to an extraordinary extra-time victory against Chelsea at Stamford Bridge while Bayern bludgeoned Shakhtar Donetsk.
Image: TheGuardian.com
A week later, Arsenal fell just a goal short of upstaging Monaco at the Stade Louis II while Diego Simeone's Atletico Madrid nerved the nail-biting spot kicks to send Bayer Leverkusen out of the Champions League, before an impressive Juventus doused Dortmund and to end things, Barcelona were a class apart from Manchester City.
Image: ForzaItalianFootball.com
In the Europa League, Everton's run came to an end as they were crushed by Dynamo Kyiv, but Wolfsburg continued their march. Fiorentina, Zenit and Napoli were also a handful of teams who made it to the Quarter-Finals.
Image: GOAL.com
Following the weekend off, Manchester United hit the ground running in the Premier League as they ripped apart Tottenham Hotspur at Old Trafford to reverberate both their class and claim for a top-four spot. Arsenal went further in securing their Champions League with a domination of West Ham also.
Image: Ian Hodgson
An outburst from Zlatan Ibrahimovic would spark controversy all over France following the Swede's rage in a 3-2 loss to Bordeaux. Offending his adopted country and the referee after the loss, he apologised although his sentence left the Parisiens reeling.
Image: TheGuardina.com
In La Liga, it was all coming to a head with El Clasico. Real Madrid's struggles ensued as they fell to Athletic Bilbao, but Luis Suarez's rampant form continued to steer Barcelona forward, seeing off Rayo and Eibar. At the Nou Camp for the Clasico, the Catalans would prevail through Suarez and Mathieu's goals against a below-par Real Madrid.
Image: Iberita.com
During the International break, Harry Kane scored within less than a minute of football as he entered the pitch for England's clash with Lithuania. Netherlands meanwhile once again got a one-up on Spain, this time easing past them with a 2-0 victory. Other games saw Brazil pip France and Selecao would top Chile too in a bad-blooded affair at the Emirates.
Image: Mirror.co.uk
With a selection of football from all formats, it remained another intriguing period. In April, things will continue to blossom.
Cricket
Australia sealed their position as the kings of World cricket rising at the end of a terrific Cricket World Cup down under.
England's woes would unravel early, as they let a lead slip to Sri Lanka, before crashing and burning out of the entire tournament at the hands of Bangladesh, sparking another catastrophe for the Three Lions in the tournament.
Throughout the competition, Kumar Sangakkara continued to power the Lankans with inspired tons, but that would come to an end against South Africa. The Proteas would book a clash with New Zealand, who blew away West Indies.
Meanwhile, Australia ended Pakistan's run to book a meeting with India - and the Aussies would prevail in that semi-final to set up a collision with their fellow co-hosts, New Zealand;
A ruthless bowling display made for a simplistic chase for the men in Gold, and they went on to lift the Cricket World Cup at the MCG.
Image: CNN
Boxing

Kell Brook returned to the ring after being horrifically stabbed in the leg on holiday celebrating his big win over Shawn Porter to become IBF welterweight champion.

His mandatory challenger, Jo Jo Dan, absorbed so much punishment to the point he failed to get off his stool for round five. He had been on the floor twice by brutal shots from a pumped up Brook who's class completely overwhelmed him.

The first knockdown would occur when Brook caught the Romanian flush on the chin with a crunching uppercut. Not only was the champion carrying power, but also sharp movement and snappy hands.

Brook floored his man in the fourth as a relentless barrage of hurtful shots pummeled through the guard of Dan; sending him down once more. The Romanian recovered but yet another big shot would drop him. In a desperate attempt to survive, Dan became wreckless and walked onto a punch-perfect left hook that was the final straw for him. Despite persuading the referee he was fine, the Romanian's corner pulled him out due to excessive punishment received.
Fight report
Fight preview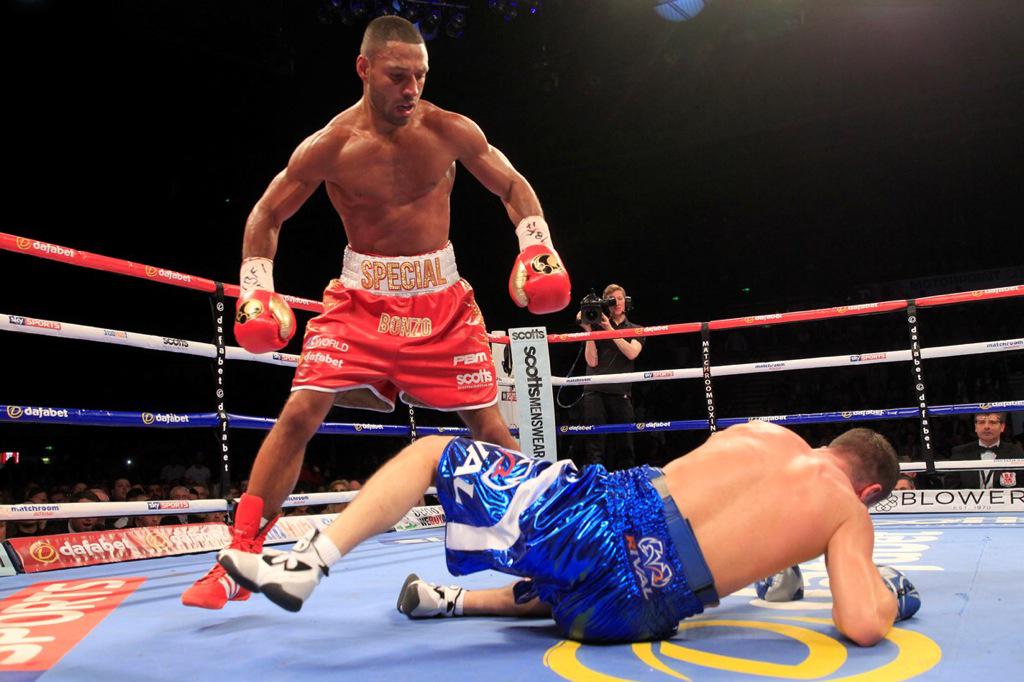 Image: SportsViewLondon
Sergey Kovalev continued his destructive ways after being the first man to beat Jean Pascal inside the distance.
It wasn't the usual routine of blasting opponents out in a couple of rounds, though, as Pascal's toughness shone through. Kovalev's brutal punches that had previously blown previous fighters away didn't seem to faze the Canadian early on. That was until a real stinger smacked him flush. The legs faded, he tumbled backwards onto the ropes and absorbed brutal barrages. But, what nobody has previously tried with Kovalev was crisp counter-punching.

The Russian brute didn't expect any at all and he was in for a surprise when Pascal regularly answered his shots with counter right hands. It certainly piqued Kovalev's attention and with a raucous Canadian crowd behind Pascal, the fight all of a sudden seemed winnable.

Kovalev would wobble his man in the eighth as ruthless rights, followed by a sickening left hook sent Pascal tumbling back to the turnbuckle. Later in the round, Kovalev battered the tough Canadian with more grueling punches that pummeled his head; forcing the referee to call a halt to proceedings.
Fight report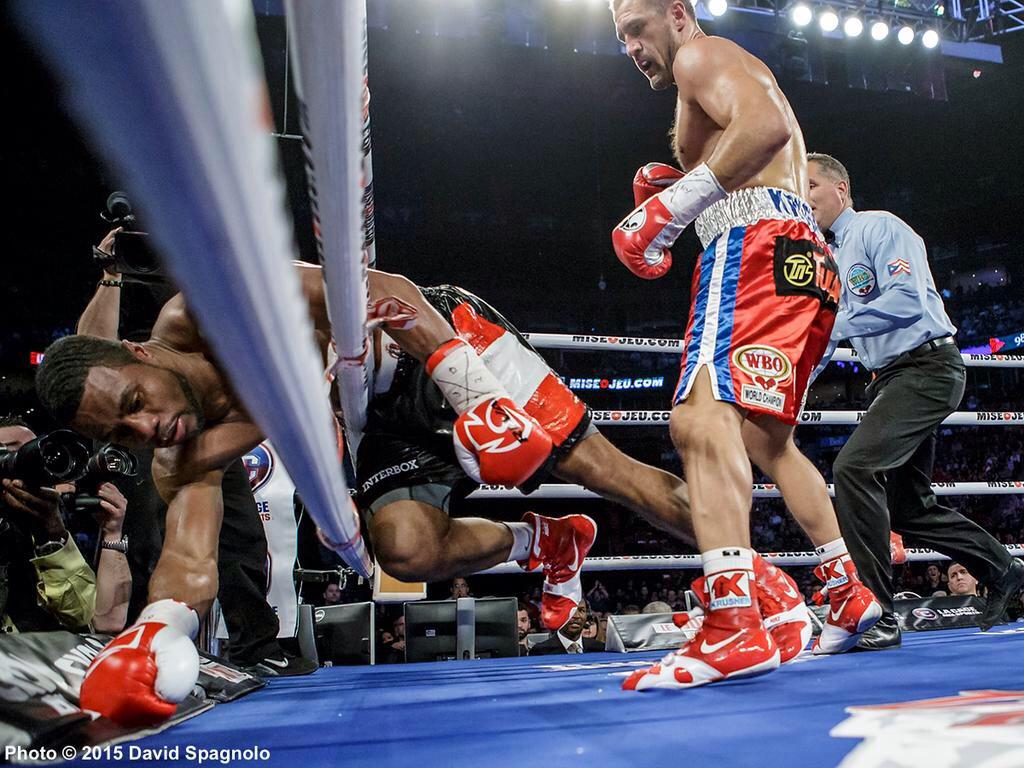 Tommy Coyle and Luke Campbell were both successful in their respective bouts at the Ice Arena, Hull to set up a massive domestic showdown in the summer.
Firstly, the IBF international champion Coyle knocked off Martin Gethin as a bust eardrum prevented the lightweight from proceeding after dropping his Hull opponent earlier in the fight. Coyle's erratic style of fighting opened a pleasant opportunity for Gethin to land a counter punch and he did just that. The hometown favorite's senses were badly shaken but he survived the round. It was a real shame for Gethin though because he made a really bright start but previous problems with his ears ensured it wasn't to be his night.
Luke Campbell remained unbeaten as he dispatched Levis Morales in three rounds to also set up one part of the summer showdown against Tommy Coyle.
The problems would soon come tumbling down for Morales when Campbell struck with his speedy two-punch combination. The visitor certainly felt the wrath of it and tumbled backwards as his Hull man closed in looking for the stoppage. Morales covered up in the corner but the viciousness of Campbell sent him straight to the floor and Howard Foster had seen enough and waved the fight off.
Formula 1
Sebastian Vettel outwitted Lewis Hamilton and Mercedes to win the 2015 Malaysian Grand Prix and offer a breath of fresh air to F1 fans as new competition has arrived.
Vettel would hold his position in the getaway, while Hamilton stormed off up front. But, when the early safety car came out Mercedes chose to bring their two drivers into the pits; trying to take advantage of the bunched up pack.
Vettel's first stop occurred on the 17th lap but just seven outings later, Hamilton made his second visit to the pitlane which sent him backpedaling even further. With Toto Wolff's team already making two stops for Hamilton, and Ferrari only bringing Vettel in once, the balance tipped in the Italian team's favour with a stop in hand.
Ferrari, overall, managed their tyres much better than Mercedes as the aggressive style of the German-based team prevented them from making longer stints out on track.
Raikonnen also recovered to an impressive fourth place, just behind the two Mercedes drivers as the deserving Vettel took top spot; mounting a new challenge to Toto Wolff's team.
Basketball
From the college spectrum and the association, March Madness to the playoff frenzy, on the court and off it, it was another one to remember.
With the superiors of the East and West edging ever closer to etching their name as the first seeds for the playoffs, one team who couldn't do as such were the Cleveland Cavaliers, who once again saw a re-emergence of a lack of chemistry in Ohio. Eighth seeds were also heating up.
Image: SkySports.com
Meanwhile, an injury-plagued Oklahoma City campaign got all the more, well, plagued. Kevin Durant underwent surgery to repair his bone fracture while Westbrook somehow managed to hold the fort in his absence.
After plenty of drama in the college baketball scene, the final four was set. From the other regions, all the first-picks in the Wildcats, Badgers, Blue Devils - but joining them would be the Michigan State Spartans, who put it all on the line to represent the East.
With the playoffs right around the corner, and the championship emerging, more spectacular basketball moments are on tap in April.
Image: ABC News
UFC
Greeting a warm Welcome to the Show in March was the Octagon, with two events on the cards and a huge UFC 189 World tour proving to steal many headlines throughout the month.
UFC 185 saw two new Champions crowned leaving the fight world stunned. Joanna Jędrzejczyk destroyed Carla Esparza to take the Strawweight crown, before Anthony Pettis was overwhelmed by the incomparable pressure of Rafael dos Anjos to take the Lightweight strap.
Image: CagePages.com
Demian Maia outwitted Ryan LaFlare over 5 rounds, while Erick Silva submitted Josh Koscheck within the very first round of a fun card in Rio de Janeiro for UFC Fight Night a week after.
Image: TheScore.com
Taking it's course around the World was the UFC 189 World Championship tour. Jose Aldo and Conor McGregor stole the headlines as they took their bad-blooded feud through numerous cities and press conferences.
Image: DailyMail.co.uk
WWE
WrestleMania 31 took all the headlines from March in WWE - and we ended with a new WWE World Heavyweight Champion in Seth Rollins.
Image: WWE.com
At the grandest stage of them all, in front of a record breaking 75,000+ in Santa Clara, California, three new Champions were crowned. The first saw Daniel Bryan capture the belt in a pulsating ladder match for the Intercontinental Championship before a spirited John Cena effort extinguished Rusev to capture the US title.
Image: DigitalSpy.co.uk
Before the dramatic ending, we saw the return of The Undertaker, as he defeated Bray Wyatt, while there was a ceasefire in the Monday Night Wars, with DX and the NWO settling it all in Triple H's victory over Sting.
Image: AllWrestlingNews.com
Then, in one of the most brutal WrestleMania main events in history, Roman Reigns and Brock Lesnar threw it all at each other during an incredible contest. But after Brock Lesnar nailed a fourth F5, and both men went down to the canvas, out came Seth Rollins, entering himself into the match and curb-stomping Roman Reigns to capture the most coveted prize in sports entertainment.
It's been another sublime month in sports. 2015 is shaping up to be one to remember.