WRITTEN BY ALEX LEE (@AlexIsTheeName)
"
Puncher Contra Puncher"—A review of Matthysse vs. Provodnikov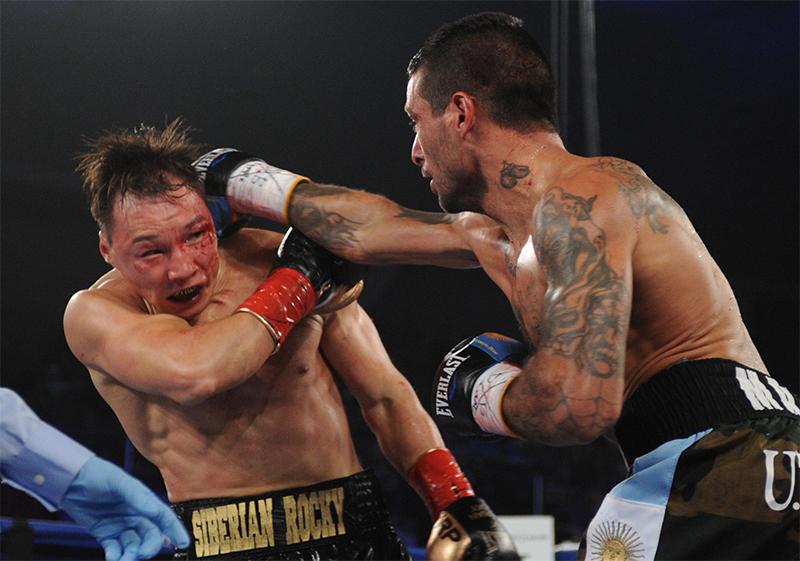 Image: BoxingInsider.com
It was doubtful that this hyped slug fest would actually be a slug fest, see the preview. Stated: Matthysse will use his reach and attempt to control the fight with his jab and straight right hand. Fact: Matthysse primarily controlled with his jab and and straight right hand, his corner urging him not to brawl with Provodnikov. Stated: Provodnikov will look to go to the head and body with his left hook. Fact: Provodnikov would plant his feet, brace himself, and throw wild left hooks that usually missed, although he produced some mild swelling in Matthysse's right eye later in the fight.
Indeed, the brawling style of Matthysse and Provodnikov is simply result of their limitations in reach and speed. These limitations are considerably offset when matched against each other. Matthysse's is regarded having heavy-handed power in both the left and right, but he never had a reputation as a left hooker until he stopped Lamont Peterson in 2013. Timothy Bradley, who sparred with Matthysse in preparation for Juan Manuel Marquez, was most impressed by Matthysse's left hook. However, the use of the left hook for Matthysse would have involved being at closer range and essentially trading left hooks with Provodnikov. Rightfully, Matthysse limited his use of the left hook, neutralizing Provodnikov's own left hook by moving away from Provodnikov while landing triple jabs and straight right hands. Matthysse could have matched Provodnikov's left hook, but why risk it?
Image: BadLeftHook.com
Provodnikov disappointed by not using more head movement with a jab to work his way in to inflict damage on Matthysse while Matthysse was pinned against the ropes; he knows to do this.
In rounds through three, Matthysse began his work on messing up the face of Provodnikov landing the jab and straight right like any master class boxer. He moved and avoided the ropes. A clash of heads opened a cut on Provodnikov's left eyelid, but it was indiscernible by the end of the fight from all the bruising surrounding it. Round four was the first time that Provodnikov out landed Matthysse, having similar success in round five. Matthysse regained control in round six with a 30-point differential in landed punches; Provodnikov did close to nothing this round as Matthysse battered him to the head. Provodnikov had another good round in the eighth. In rounds nine and ten, Matthysse controlled most of the round but Provodnikov would finish strong in the last thirty seconds or so, stealing rounds on Harold Lederman's scorecard. Matthysse almost threw away the fight in the last two rounds by being inactive; his corner had told him he was way ahead.
The final scorecards were 114-114, 115-113, 115-113 in favor of Matthysse by majority decision. Punch stats revealed that Matthysse out landed Provodnikov in total punches 327 to 201, mostly head shots. Matthysse edged Provodnikov in both jabs and power punches as well. Since Matthysse's biggest round was the sixth, landing +30, the final differential would suggest that Matthysse dominated the fight more than the scorecards suggested.
By the end, Matthysse had mild swelling in his right eye from a single left hook from Provodnikov. Provodnikov was bloodied & bruised all over from constant punishment. Even though a knockdown never occurred, the wear and tear to Provodnikov is unquestionable. A rematch is a bad idea if Provodnikov wants to last several more fights incurring permanent impairments from brain damage. To be sure, the tissue damage to his face leaves no doubt about the impact of Matthysse's punches. Moreover, Alfredo Angulo took repeated head shots from Saul Alvarez without ever being knocked down but showed little punch resistance and was knocked down by a lesser puncher in his next fight.
Jim Lampley suggested that Matthysse take on Terence Crawford next, after Matthysse stated that he wanted the winner of Mayweather-Pacquiao.
More:
Crawford overpowers Dulorme