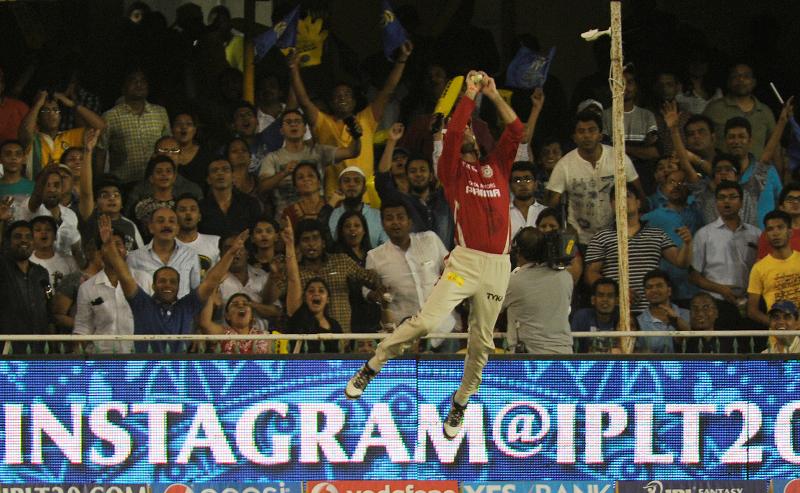 Image: Cricket NDTV
While it may have seemed at times that a capitulation was on the cards, it was the Kings who sustained their throne as they edged Rajasthan Royals in a thriller in Ahmedabad.
Kings XI won the toss, electing to field with the pitch having a hint of dampness. Rahane and Watson were off to a solid start, with Watson climbing to 45 while his partner trailed by 3 runs.
Things were running extremely drought for Kings XI—as in drought-levels—at 94-0 after 11 fantastic overs from the crease.
It was in that spell which the Aussie began to get through his gears, hitting it on a somewhat half-volley, and the casual bowling of their opponents didn't help the issue. After a somewhat "even" start, the breakaway was on.
Mitchell Johnson forced an appeal early in the 4th over to rattle the cages of Rajasthan, going for the stumps but instead finding pads and a rejected appeal from the umpire. Mitchell then restricted Watson further after Sandeep's slow over, before he got back into things from the outset.
Tactical tweaks were forced, eventually they found their rewards, with Watson dismissed shy of a half-century, running down the track to sweep away for a boundary, instead was stumped at ease by Saha.
Hooda was then on strike, Kings were cautious, and they had every reason to be—as he emphatically hoofed the ball away into the stands before momentum increased as Rahane exceeded a half-century in the subsequent over.
Rahane would stay strong, Hooda didn't, slogging recklessly and missing to be cleanly bowled out. The runs seemed limited, with Maxwell dismissed for a golden duck, picked out on midwicket. Nair got a couple on the board but it was then Rahane's time to go at the hands of Johnson, a slow ball leading to his exit.
Faulkner came in to replace him, but he didn't last long either, acring a shot to long-on but merely finding a fielder. Rajasthan were done with 191-6 after 20 overs.
Although they had it all to do, Kings XI started slowly, with Vijay getting a double from an impressive shot after a cluster of dot balls. Binny was threatening from the other end, and it was wobbly to say the least.
Those concerns were solidified when Sehwag was run out by Steven Smith. Vijay struck mid-off, and as they went to steal one, Steven Smith hurled it down the stumps and caught him before he touched base with the crease.
They managed to do some steadying in which ultimately helped them to keep alive, with Tambe putting on another tight over, with no wickets to go with it though. Vijay struck a six and was looking like the only hope to pick the Kings out of this pickle. Consider that, a harder task, with Vijay run out as the day got worse.
Some spectacular fielding worth crediting saw Marsh retrieve the ball and set up Tewatia to take down the stumps. The pattern continued. Every time Punjab got some form going, there was a wicket, and a setback.
They fell to 59-3 in the 10th over, as Maxwell was caught by Tewatia, as Maxwell swept away with a big shot. Marsh though had meanwhile built up a strong score of his own, and just as people looked to that as a saving point, Marsh was bowled by Rahane at Kings' score of 117. Needing 72 runs from 30 balls, it seemed all over.
The run rate was mammoth but an over of cutting the deficit down by 18 definitely helped them along. At 152-4, things were looking positive, but match-winning celebrations, albeit premature were being acted on the pitch when Saha was bowled.
Miller though continued to surge, and in the 18th over he celebrated a half-century from just 29 balls. His days would also be numbered, and there was a lot of work to do. Miller was caught by Hooda at 54, meaning Kings required 25 from 12. An over to get along helped them though, and by the 19th they needed 14 from the final over.
With a few doubles, they had gotten to the incredible point of a 4 tieing the game and a 6 winning it. Patel stretched on the final ball, shy of a six, but enough for a four. 40 overs were played, there was some more in store. It was time for a super over.
Punjab would bat first in the super over, and they were stunned from the first ball when Miller missed and was given out. In the second, they grabbed a single. The third saw them win a free-hit, and then it was clubbed away for a four. Punjab scored 15 from their super over.
It was an all-Aussie affair. After some time contemplating, Mitchell Johnson stepped up to ball against Faulkner and Watson. Johnson, determined, would stride straight at the pitch and landed a perfect yorker to send out Watson. The second though saw him concede a no ball with a high ball. 10 were needed from 4 when just a single was gained, but they would not even complete the end of the over. It was a full ball missed by Johnson, and Saha ran him out immediately. After reviews, Punjab had done it, against all odds, they took the victory.
More:
Indian Premier League