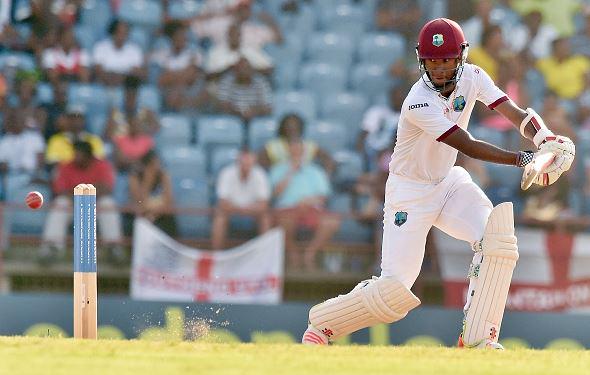 Image: BBC Sport
A terrific ton from Kraigg Brathwaite frustrated England as West Indies fantastically fought back to conclude Day 4 on 202-2.
England began the day on 374-6, with Joe Root in the crease with a solid 121, alongside Jos Butter on 9 runs.
Just a few overs into the morning session, West Indies struck with a sweet stumping of Buttler. The Englishman attempted a huge slog but was the victim of sharp reactions as Ramdin smashed his wickets to earn Bishoo a crucial wicket.
Chris Jordan joined Root at the crease, and by the 131st over, England reached the 400 run mark.
Image: BBC Sport
However, a solid partnership that the Three Lions had in mind was thrown out of the window when newcomer to the crease as Jordan ran himself out. At that point, England had a score of 425-8.
All of a sudden, straight after Jordan was sent packing, Broad found himself in deep trouble and up against the wall. The fast bowler was caught by Smith, but a review soon followed. Finally, after a couple of technical issues, Billy Bowden turned down Broad's appeal and sent him packing after replays showed the ball trickled off his glove.
After a long, hard 145 overs of cricket, the Windies finally dismissed England for 465. The final wicket fell when James Anderson bizarrely jogged back to the crease, but didn't bother putting his bat over the white line; thus causing a run out as Holder knocked the bails off. Root seemed frustrated on 182 but Cook's men had still knocked up a solid lead of 165.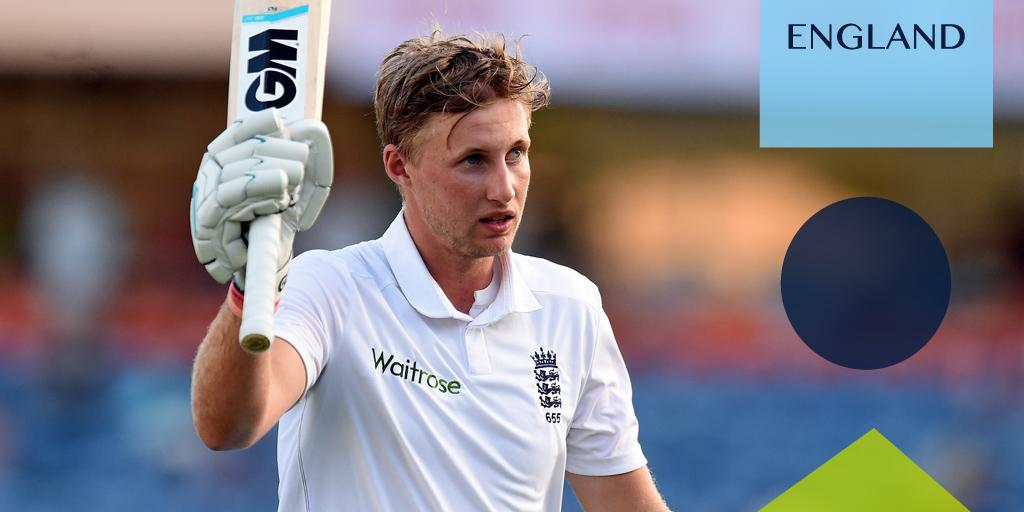 Image: HomeOfCricket



West Indies had 165 to chase and surpass, so a quick start was needed.




To their disappointment, they didn't get one as opening batsman Smith was sent straight back into the pavilion by Anderson. The Windies man wanted to leave the delivery, but an agonizing edge off the bottom of his bat would send the ball crashing onto his own stumps. Torrid start for the hosts.




West Indies managed not to lose another wicket before lunch and headed into the interval on 22-1. England, though, had made a big breakthrough early - but could they push on?




They couldn't, as a solid partnership between Brathwaite and Bravo ensured The Windies would reach triple-figures without losing a second wicket.




At tea time, West Indies were cruising on 122-1 and trailed England by just 43 runs. After a disastrous start, Brathwaite and Bravo built a stable second wicket partnership; denying England of tearing through the top order.




During the mid 40's, Anderson and Root teamed up in an attempt to break the current partnership, however both were unsuccessful. So then, Cook gave Broad a chance to make his mark.




In the 51st over, he did. Bravo unwinningly nicked to Buttler just outside off stump and England had finally broke the big partnership of Brathwaite and Bravo. It was a much-needed wicket, but plenty of overs were taken out of the day for them to push on and put the middle order in the crease.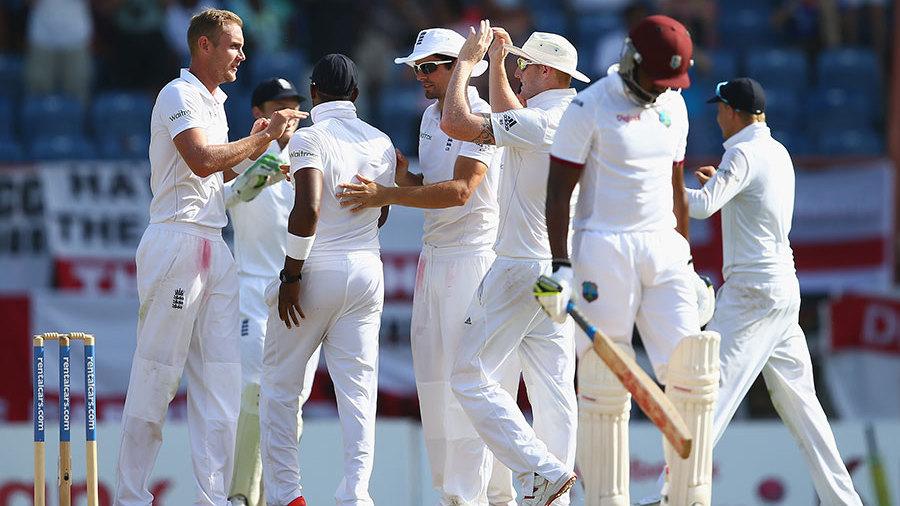 Marlon Samuels filled in for Bravo, as the impressive Brathwaite edged closer and closer to a century.
And after facing over 200 deliveries, the West Indies man got his well-deserved award. Anderson dropped a ball wide of his stumps and Brathwaite punished him for a quick two runs. He reached a terrific 101 from that, and that innigns allowed his side to conclude Day 4 on a solid 202-2.
With a very flat pitch in Grenada, Cook's men have a tough day ahead on Day 5 looking for 8 wickets with hardly any lateral movement available.