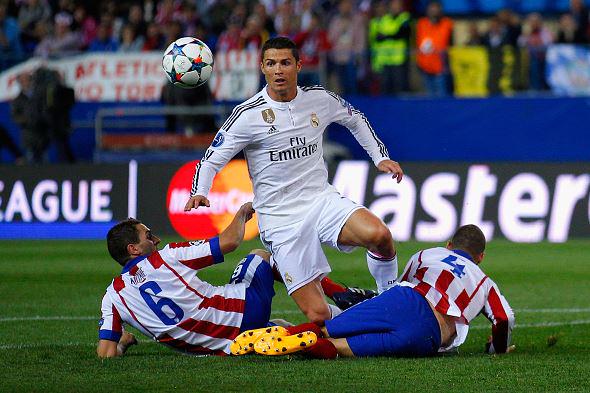 Image: BBC Sport
Atlético Madrid 0 - 0 Real Madrid
UEFA Champions League
Tuesday 14 April 2015
7:45pm BST Kick-off
Vicente Calderon Stadium, Madrid, Spain.
Referee: Milorad Mažić
Quarter Final (First leg)
Many chances fell, but in a tense, often hard-hitting battle between two Spanish heavyweights, neither Atletico or Real Madrid were able to draw first blood in the Champions League Round 16.
The importance of a Champions League 16 was clear within the Vicente Calderon Stadium as a raucous atmosphere surrounded the two Madrid heavyweights in a mouth-watering Spanish derby.

Not even five minutes into the game, Madrid's first clear-cut chance occurred. Godin's mishap was taken advantage of by Bale who robbed the centre-back and scampered towards goal with a one-on-one with Oblak in sight. The Welshman positioned himself to slot past his opponent, however Oblak spread himself across his line well and managed to parry Bale's effort away.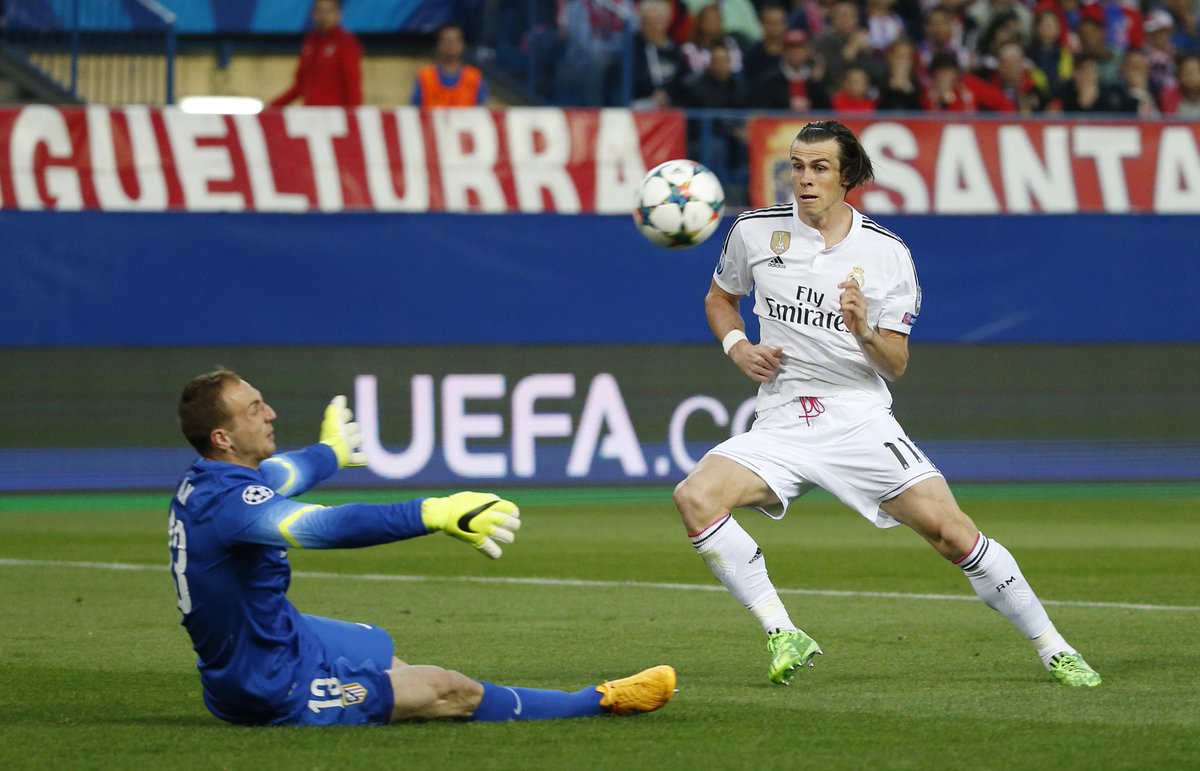 Image: Squawka Football
Madrid had made at terrific start. Pressure and tension was within Atletico's back line as Ancelotti's men continued to attack. Carvajal assisted Bale in the area, then the Welshman crossed a dangerous ball across to Ronaldo but a scramble prevented him from testing Oblak in goal.
Atletico just began to mount some attacks and implement their usual style of play into the game. Koke stabbed a through ball over for Mandzukic but the superb pace of Varane allowed him not only to hold off his man but blitz past him as Casillas scooped up possession.

The hosts just couldn't handle Real's blistering pace during counter-attacks, despite large numbers behind the ball. Bale and Ronaldo continued to create chances but the away side were often forced to take long shots due to Atletico's tight back-line.
Just past the half an hour mark, Simeone's men began to mount some offense and created several combinations up top. However, the partnership of Ramos and Varane remained firm to block out any danger coming from the likes of Mandzukic, Koke and Griezmann.
Kroos whipped in a dangerous corner, however soon headed out of danger until Rodriguez received possession in the centre but just as his heavy touch looked to be taken advantage of, the Colombian struck a beautiful left-footed shot with the outside of his boot. Atletico were lucky that Oblak was in form as he got down low and parried away. The rebound from Varane would only be blocked in its path.
Real had almost been dominant, but Ramos' horrible clearance almost threw it away. Gabi headed down to who Griezmann controlled the ball for a brief moment, however the pressure from Varane forced him to shoot early and it lacked power. Casillas got down and saved comfortably.
The half time drew to a close and both sides remained in deadlock. Chances poured away for Real, but the superb efforts of Oblak prevented Ancelotti's team from being three or four goals up.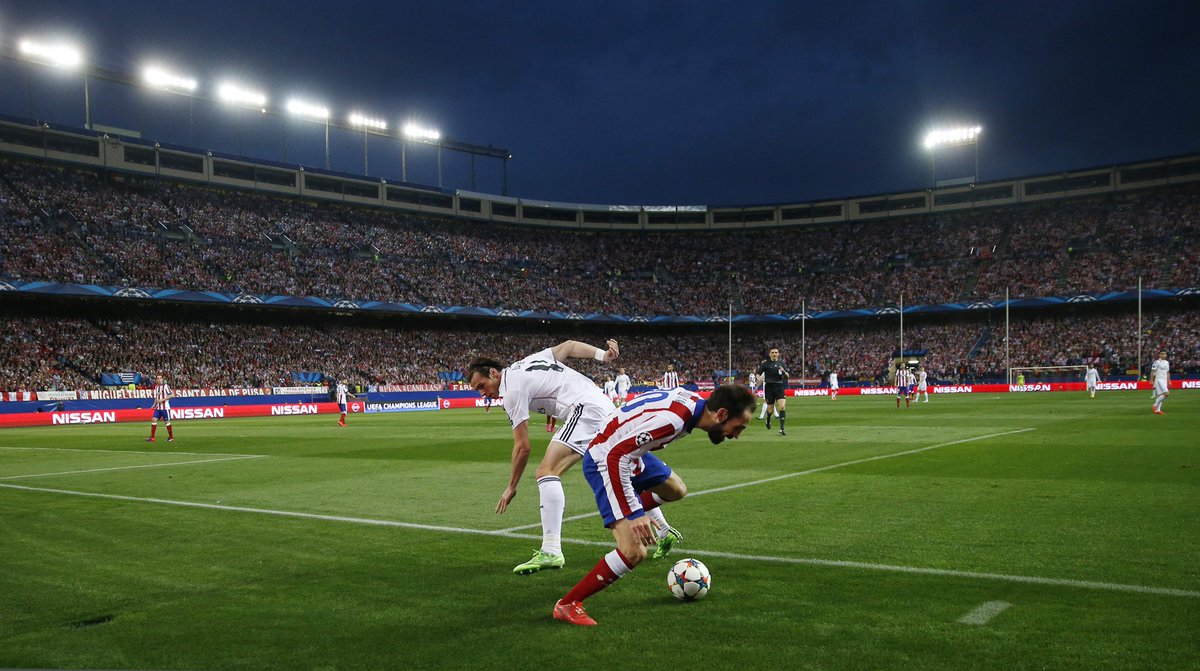 Image: Squawka Football



Simeone's half-time influence had worked wonders on Atletico leading up to the second, as they seemed like a re-energized side going forward. Griezmann made sharp movement across Real's area until he dinked a cross, destined for Mandzukic. However, a nasty but also unintentional elbow by the rising Ramos sent him to the floor with blood pouring out of his eye-brow.




Proceedings

were tense. The players, managers and fans knew it. Any chance that occurred had to be taken. Simple as that. Marcelo set off down the left and assisted Benzema in space outside on the edge of the area. The Frenchman couldn't make enough of it, neither could Ronaldo and Bale who both had their efforts blocked.




Mandzukic's ongoing battle with Real defenders continued as Carvajal was sent to the floor after an alleged elbow to the face. The visiting fans wanted him off but the referee kept him on thin, thin ice about to crack.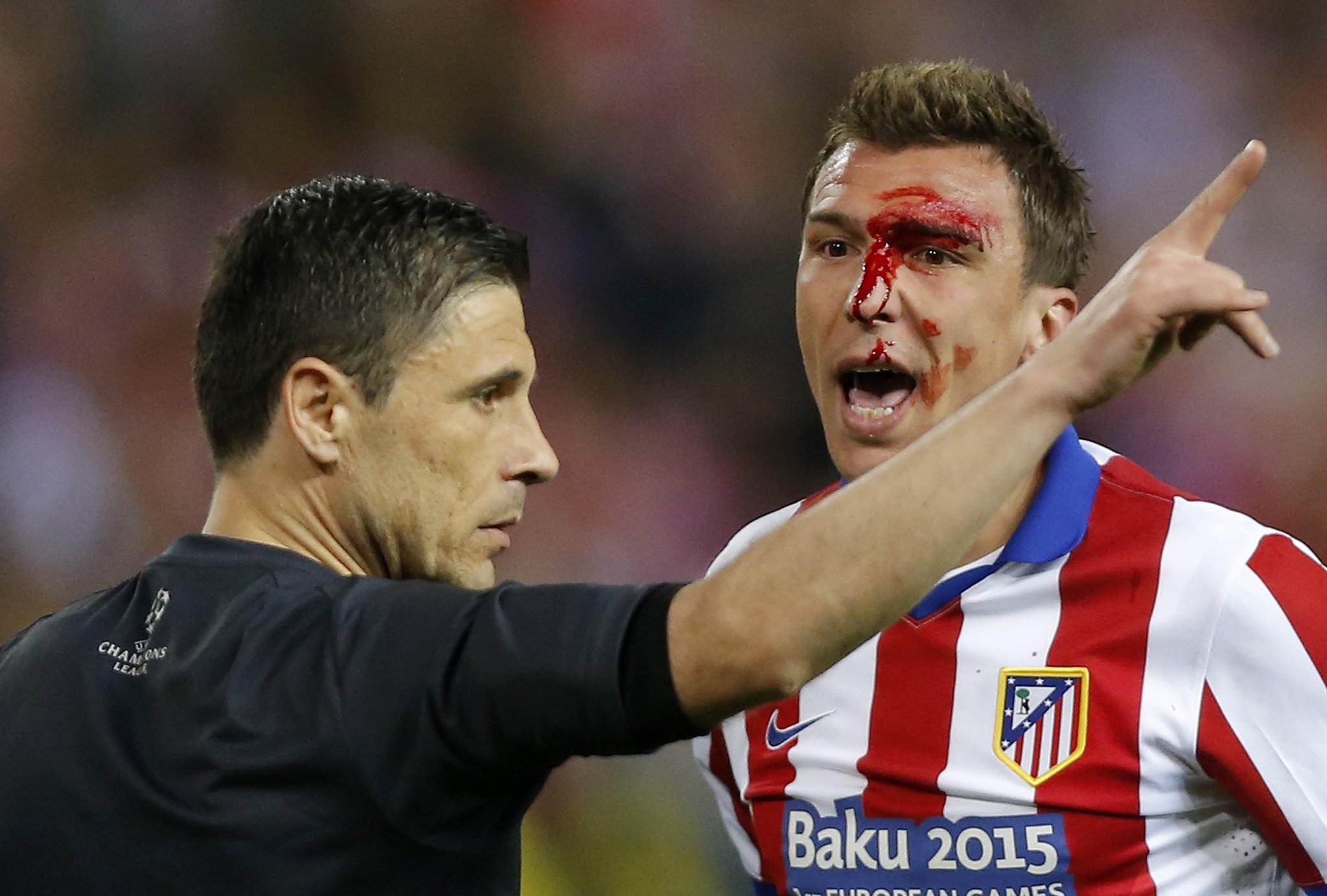 Fernando Torres made an appearance late in Diego Simeone's attempt to snatch a late winner from a Real side who were unarguably better in the first half, but less active after the interval. Atletico grew back into proceedings following a flat start.
Torres scampered forward and took the fight to Ramos; skipping onto his right and back again until he plunged down appealing for a penalty after an alleged elbow. Nothing given, as Serbian referee Milorad Mazic only awarded a corner.
Neither side were clinical enough to really deserve the win, but it would be fair to say Oblak saved Atletico from falling several goals down in the first half with terrific efforts. The return at the Real Madrid's Santiago Bernabeu shall be intriguing.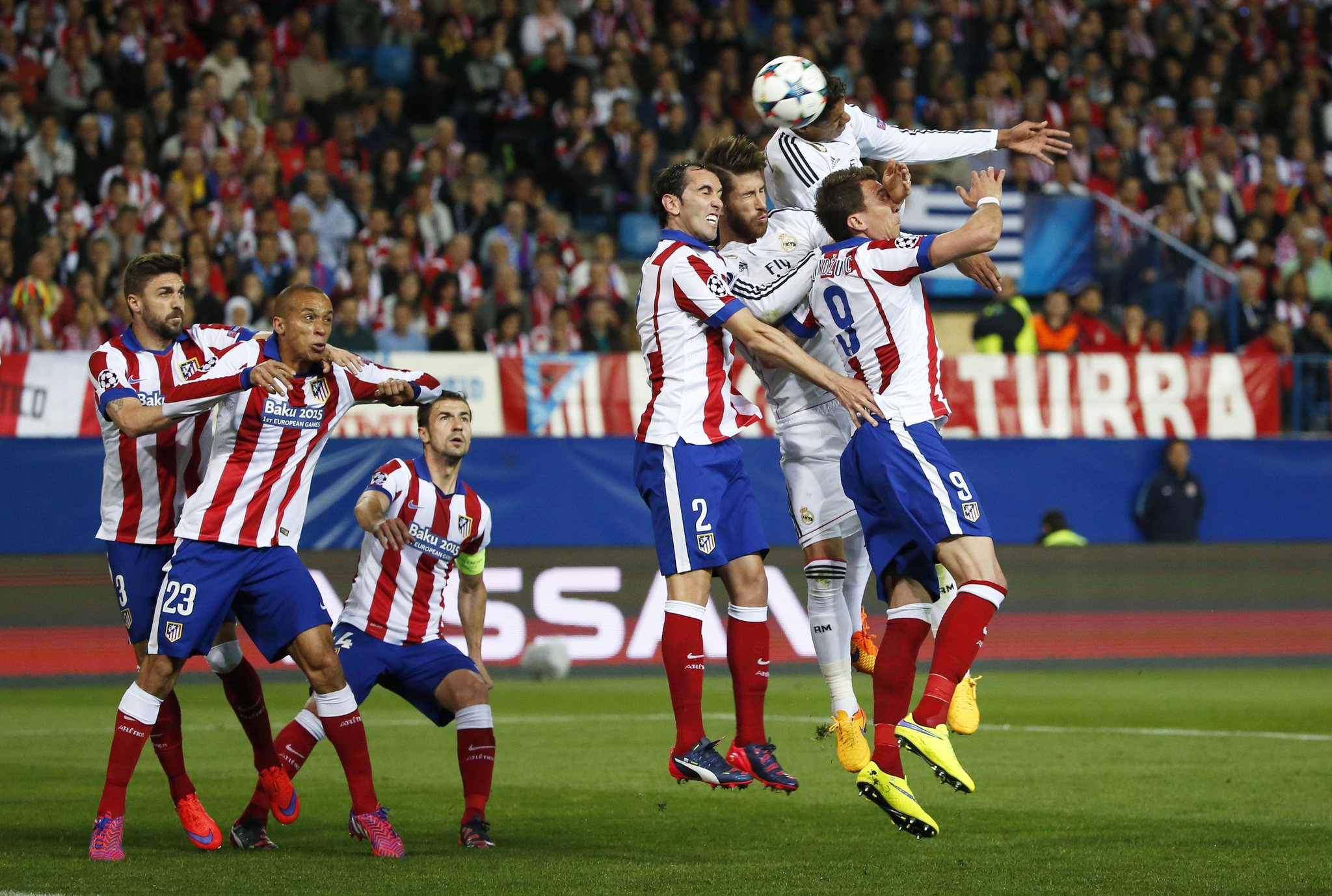 More:
UEFA Champions League home
Match report:
Juventus vs. Monaco