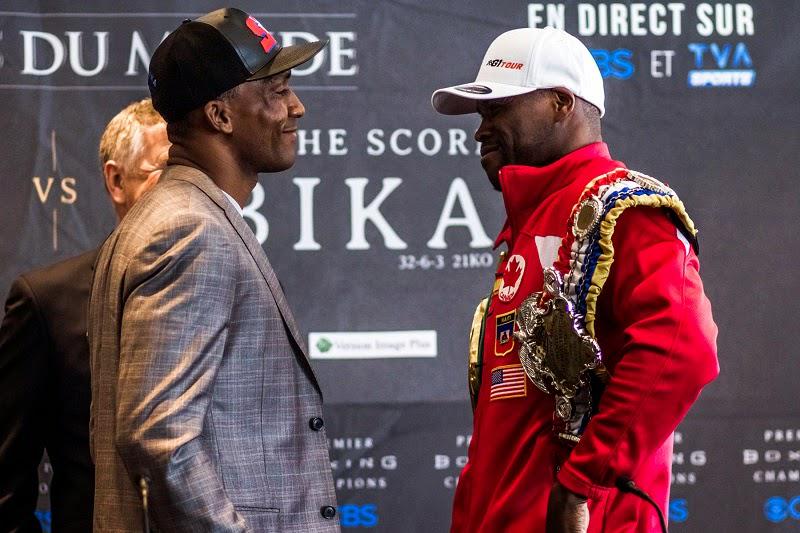 Image: WBN Boxing Feed
Current WBC Light-Heavyweight champion Adonis Stevenson (25-1, 21 KO) faces former WBC & IBO Super-Middleweight champion Sakio Bika (32-6-3, 21 KO) from Quebec City, Quebec, Canada on Saturday, April 4, at 3pm US Eastern time. This will be the first installment of Premier Boxing Champions on CBS.
Perhaps Sergey Kovalev will make an appearance, as is the custom these days. For Stevenson has just been mandated in the past week by the WBC to fight Kovalev next. A purse bid has been set for April 17.
Kathy Duva, CEO of Main Events and Kovalev's promotor, alleged that there was a verbal agreement for a Stevenson-Kovalev match in early 2014 after each got past their respective opponents: Kovalev defeated Ismail Sillakh as part of the undercard to Stevenson and Tony Bellew. These fights were intended as a prelude to Stevenson-Kovalev.
Then Adonis Stevenson disappeared from HBO and went into obscurity as part of his reneging of this supposed verbal agreement. Stevenson re-appeared in May of 2014 with Al Haymon, and so too, Showtime Championship Boxing. With Showtime's then close alignment with Golden Boy Promotions, Stevenson sought to make history in defeating elderly Bernard Hopkins, only to seem foolish as Hopkins and Golden Boy Promotions left Showtime for HBO, resulting in Hopkins-Kovalev. Stevenson also lost his opportunity for a big event in Canada against Jean Pascal, who was subsequently defeated by Kovalev only weeks ago.
Adonis Stevenson is now scorned for seemingly avoiding Sergey Kovalev. But, from Stevenson's prespective, coming from humble beginnings, becoming a sensation after knocking out Chad Dawson in the first round…. Even if Stevenson can beat Kovalev, the outcome of the fight was a toss up for him at best, and surely HBO would have trashed his name in defeat, which happens regularly; he would have lost his drawing power and any ability to make potentially big money for HBO, even in a rematch with Kovalev. After flattening Chad Dawson in round one, Max Kellerman snidely remarked, "He's lost before and he will lose again," in reference to Stevenson. He also said, "I think [Andre] Ward beats him," in reference to Gennady Golovkin.
Sergey Kovalev was not worth it.
Now the light-heavyweight division revolves around Sergey Kovalev. Nothing in the world of light heavyweights is of significance, except in the context of Sergey Kovalev – except, of course, until Sergey Kovalev is perceived as an underdog against another light-heavyweight.
Image: Sky Sports
Alas, Sakio Bika is only relevant in the world of light-heavyweights in the context of a measuring stick for Stevenson's chances against Kovalev. Bika most recently lost his Super-Middleweight title to Anthony Dirrell. Bika was not in any conversation of interesting fights at 168lbs. Any of the top fighters at super-middleweight would be favored against Bika. At his age, 35, Bika's frame has not grown into that of a light-
heavyweight in the past eight months. Stevenson will have a 6" reach advantage, and Bika is always easy to hit. As no one would have entertained Bika as a serious challenge to Kovalev, every round this fight goes on will make Stevenson look more vulnerable against Kovalev.
Look for Stevenson to walk through Bika with ease. More importantly, look for Stevenson to land something other than a right jab and straight left hand. For Stevenson has developed the reputation of a "one-handed puncher", seen as a major handicap in an upcoming fight with Sergey Kovalev.
The undercard features Artur Berterbiev against Gabriel Campillo. Berterbiev defeated Sergey Kovalev in the amateurs and may be a future opponent to either Stevenson or Kovalev.
More:
Russell storms Gonzalez
Boxing:
Brook destroys Jo Jo Dan