Image: David Ramos / Getty Images
Weighted shoulders shrugged in sorrow as the final whistle blew at the Nou Camp on Wednesday—and for the second straight year, it was the light-blue-clad visitors who bared the ever-excruciating agony.
Ivan Rakitić
's
perfectly-crafted lob over Joe Hart was the final nail in the coffin to Manchester City's
UEFA
Champions League in the midweek.
For a second successive season, the Citizens stumbled into the ferocious force that is FC Barcelona, and they were the recipient of another wake-up call - more must be done, even more than a Premier League title, if they want to be considered among Europe's elite.
Manuel Pellegrini's men found fight in them to escape the stranglehold of Group E, and converted some of that grit into their tie with Blaugruna. Unfortunately, that was in short supply, and they learned the hard way as their run in the tournament was cut short.
Counter-balancing the hope inducted with Joe Hart thwarting Lionel Messi from the penalty spot and Sergio Agüero providing another lifeline came the crushing disappointment when it couldn't come into fruition. While Joe Hart remained at the top of his game with a phenomenal performance in between the sticks, City's feared Argentine couldn't convert the spot-kick when he was given the chance.
Distraught: Sergio Aguero rues his missed penalty.

Image: SkySports.com
Luis Suárez spear-headed the attack which came close to ripping City completely apart. Likewise, the gulf in class was shown in true colours with Luis Enrique's men out-performing the Sky Blues over the course of the tie. Excuses of Barca's play can only account for a slight proportion of what is to blame.
In a season that has undermined in terms of league potential with ambitions of retaining continuing to dwindle, City down spiralling from their tall ambitions to the dreaded depths of an early Europe exit is a major hit to the job security of Manuel Pellegrini.
Each passing week in the Premier League, it's been a simple formula for Chelsea's gain. Either the league leaders' unparallelled quality has shifted them further, or that the reigning champions have been a victim of themselves, their inconsistency and the disappearance of their cutting-edge that looked all-so-prominent in the previous campaign.
Even though a win over West Ham United would give them their second Premier League title in three years last May, that same season saw them fall in Europe. How long before it becomes agitation for the board? With so much money being injected into the club, losing to Barcelona—as good as they are—cannot be employed as a tactic to override their failures.
Not any manager can beat Barcelona—but when you've got world-class talents in your ranks to potentially match them, it clearly suggests something isn't right.
One startling statistic epitomises the erosion of the side's invincibility. Since 2011, a staggering £327 million has been thrown into transfer window expenditure, only for two changes in the starting XI to be made.
Poor Budgeting: Manchester City have changed just two of their regulars since 2011.

Image: Getty Images
On their day, Manchester City's regulars can be up there with the best in the World. Running in correlation to the reducing frequency of those players having their day is the deceleration of Manchester City as a wrecking machine.
It's hardly been a catastrophe in relative terms, but when you have the demand and desire for success in which the owners clearly do, considering the amount of money spent on the club, struggling to retain the title and get at least one foot through the door in Europe, without even mentioning the two domestic cup misses in a season, it does not bode well.
Following the game, a subdued Pellegrini told the media: "At the end of the season we'll see what we analyse [and what] is the future but I don't have any problems or am worried about that. Maybe it is not the moment to try to explain different things. It's very important for this team to try to win something every year.
"
But I don't think it is absolutely necessary to think that you [have to] improve because there are a lot of things that you must analyse in the right moment. I repeat, last season was a very good season," he added.
While it's never wise to shut off the unthinkable in such a sport like football, thinking in realistic terms tells us that the Chilean's days in charge at the Etihad are numbered.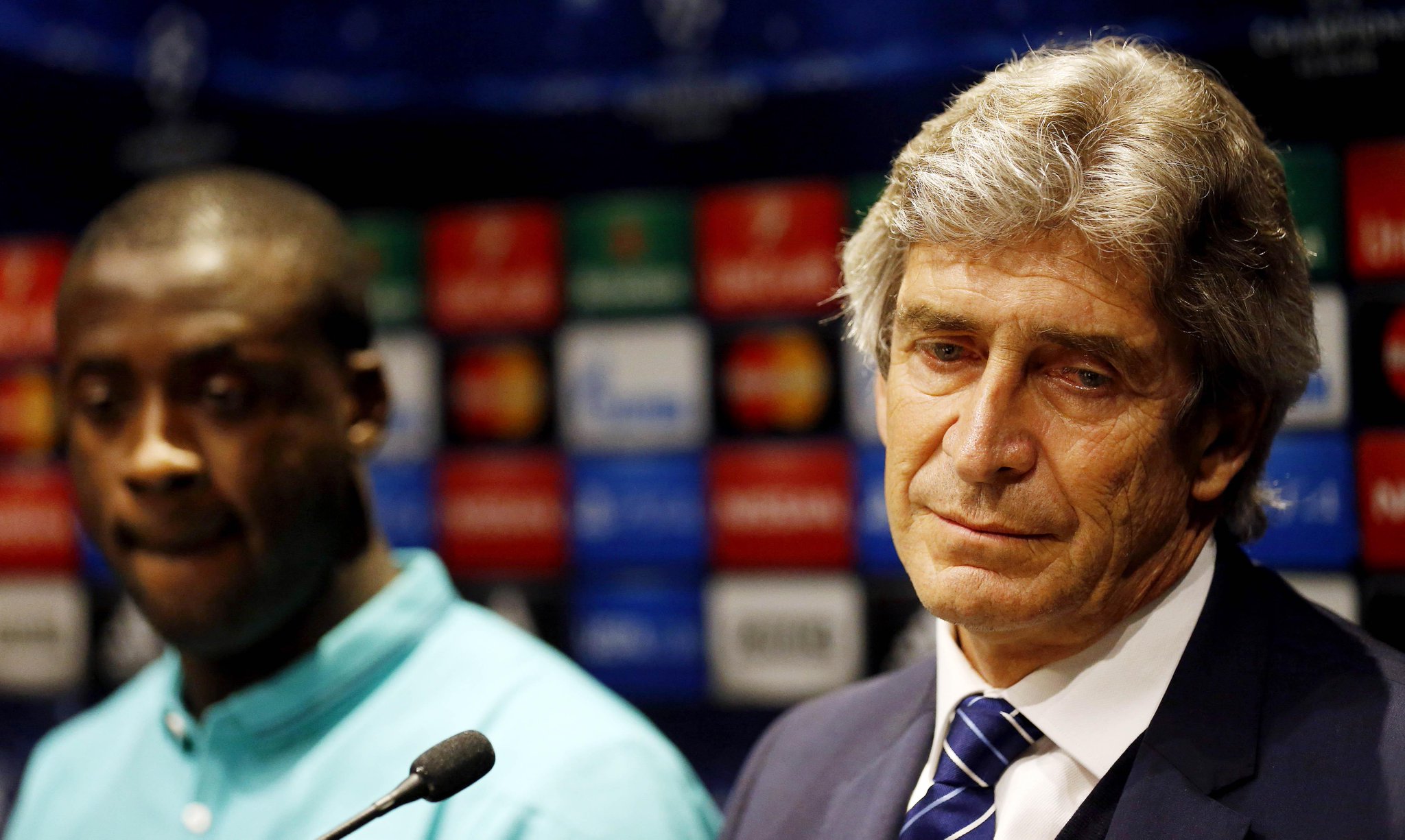 Image: Squawka
So, thinking realistically, the "2014-15" section of Manchester City's trophy cabinet is on course to be empty by the end of the season. With a backlog of star talent, it will rub off as insipid to fans holding such big expectations.
Fresher, younger players need to spice up things and add another dynamic. Even the very best teams have to change and move on from era-to-era, the size of those eras depends on what time you find yourself in.
Xavi and Iniesta couldn't keep the Barcelona kingdom upheld forever, new players were needed. While City haven't exactly emulated that fortress in Manchester, the same principle abides.
One of the hottest properties on the market, and consistently cropping up in columns everywhere, is Paul Pogba. The young Frenchman is one of the most sought-after midfielders in Europe and he could be the best investment in a long time, for any team.
Whether City will need to move Yaya Toure on and wave off other players to afford his inevitably-sizable price tag remains to be seen, but changes like that must happen. Wilfried Bony has proved to be an understudy to Sergio Agüero as off now, and the Ivorian may go down as another signing that hasn't proved effective.
With City's main hitman committing until his team win the Champions League—and while the temptation is resisted to make whatever joke—providing some insurance, he'll need some fresh faces around him for a bigger chance.
Vincent Kompany, the renowned voice of leadership for the team, has been far from his best as of late. Errors are more persistent and it's another blemish to their confidence.
Troubled: Vincent Kompany has struggled to find his best after returning from injury.

Image: Eurosport
There's always room to improve, but it seems like Manchester City have found out the hard way that no matter how much talent you have, it cannot last long especially with the game evolving so rapidly and able to expose any vulnerabilities.
His centre-back partners have varied from Demichelis or Mangala, but both those fall under the "ineffective signings" umbrella, with neither defender managing to find the true form that got them there. They may have improved, but it's not as defensively strong as it first looks.
Poll: Should Manchester City keep faith in Manuel Pellegrini?
There's always room to improve, but it seems like Manchester City have found out the hard way that no matter how much talent you have, it cannot last long especially with the game evolving so rapidly and able to expose any vulnerabilities.
Knowing that a title run is becoming unlikely, not just because of Mourinho's men's advantage but because of the inconsistency they've had and failure to capitalise may keep Pellegrini on to the end, before a major reformation in the summer.
Patience is a virtue though, and at the end of the day, a new manager could be lining up as we speak.
On and off the field, it's time for change. Fresh faces are needed, bigger operations are required and sustainability must be implemented.
When that happens will truly make or break their future.
Football moves on, and now Manchester City must learn to move on with it.
Image: Getty Images
More:
City fall to Rakitic, Barca
Nisar Khan:
Latest articles from this author
Champions League:
Full coverage for this week's games
Comment:
Arsenal - Title contenders?
Germany:
Can Joachim Low lead Die Mannschaft to fifth World Cup title?