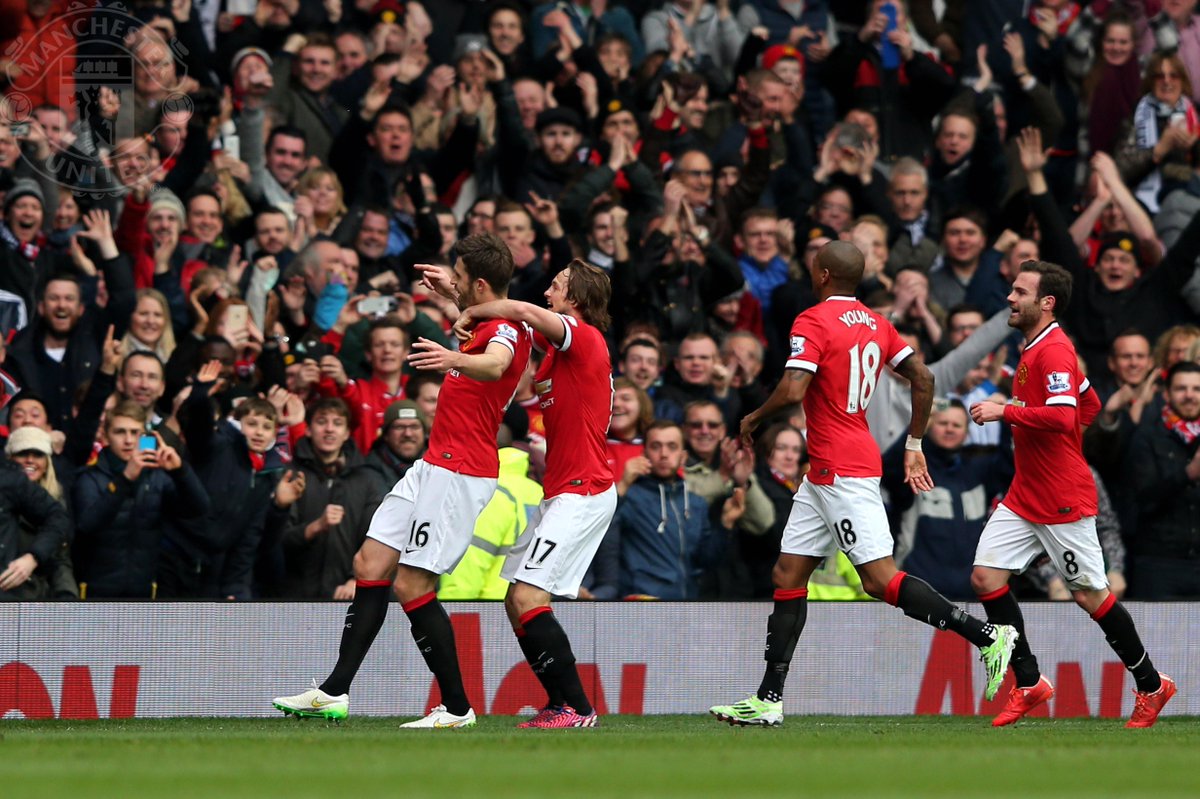 Image: ManUtd.com
Manchester United 3 - 0 Tottenham
Marouane Fellaini (9'), Michael Carrick (19'), Wayne Rooney (34')
Barclays Premier League
Sunday 15 March 2015
4:00pm GMT Kick-off
Old Trafford, London, England.
Referee: Mark Clattenburg
Matchweek #29
A first-half display of domination from Manchester United picked apart Tottenham as the Red Devils took a major boost for their top-four hopes.
Marouane Fellaini found the net just 9 minutes in as he arrowed into the far corner following an excellent pass from Michael Carrick.
10 minutes later, the assister would turn scorer, as Michael Carrick headed powerfully from Fellaini's blocked header to double the lead.
And to make matters worse, by the half-time whistle, Spurs trailed 3-0 after Wayne Rooney capitalised on a Bentaleb error to score before celebrating accordingly.
Tottenham managed to ease things down in the second half, but they would come nowhere near to threatening De Gea's goal.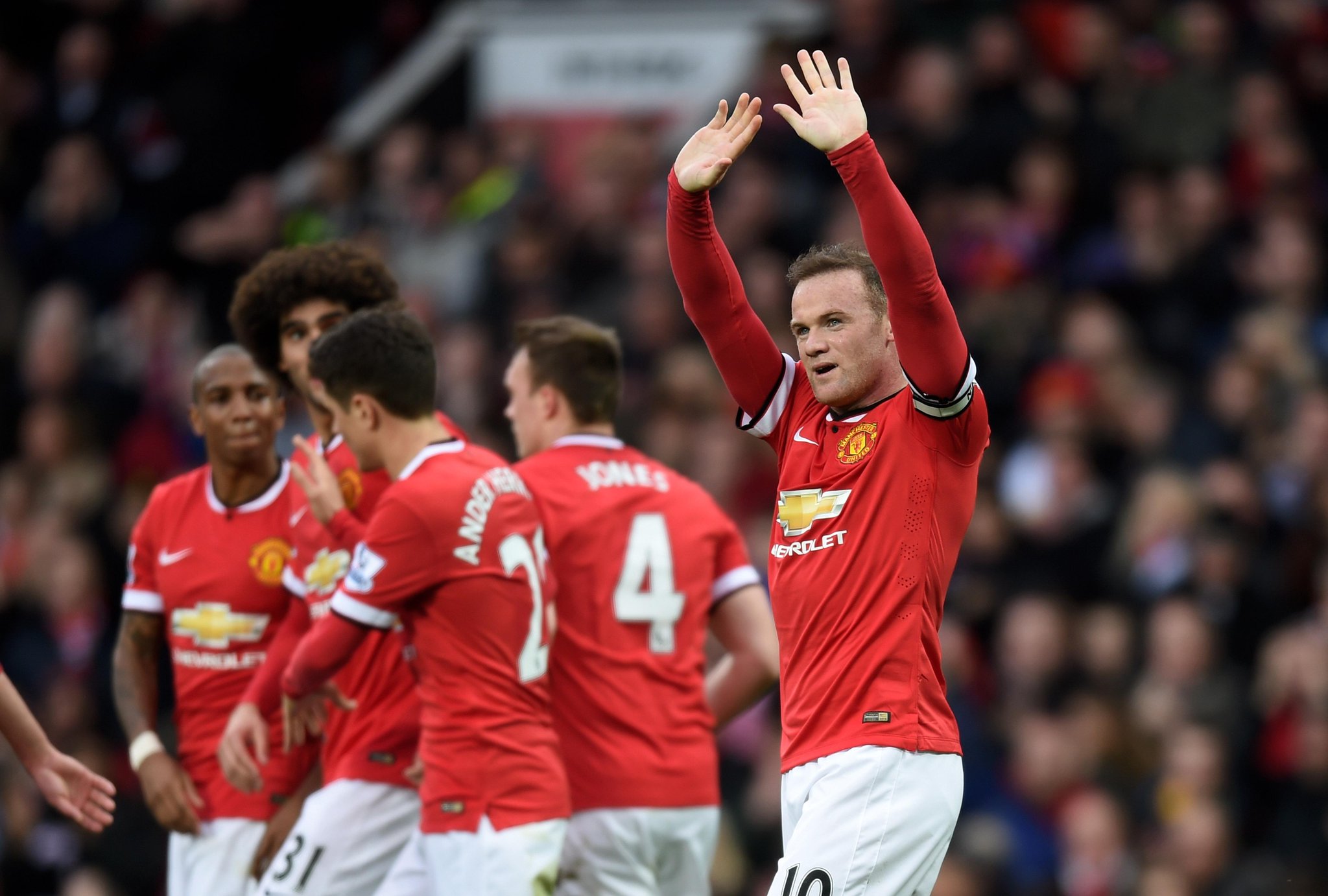 Image: FOX Soccer
A crucial clash in the race for Champions League football began at the sound of Mark Clattenburg's whistle. Ashley Young—playing on the left-wing with further changes to the lineup—tried to clip a cross into the box but it rolled into the path of Hugo Lloris.
Things were far complicated for the Frenchman's counterpart though, as a nervy Phil Jones forced David de Gea to block a back-pass out for a corner. Frantically, Manchester United cleared a corner after Harry Kane's touch took the ball away from him. Had the prolific Spurs man let it go past him, Jan Vertonghen was waiting in the wings to fire a tap-in.
Louis Van Gaal's men almost amended their slow start when Wayne Rooney escaped down the left. With more attention on a video of him getting knocked out in a kitchen boxing match than playing as striker in the game, he cut the ball-back just behind the surging cavalry and Spurs got rid.
Michael Carrick's sublime pass unlocked the stagnated Tottenham defence—and the game—as the hosts came again. Finding Fellaini, the Belgian still had the work to do, striding into the box before unleashing a perfect hit drilling into the far corner to provide a major boost for their top 4 hopes.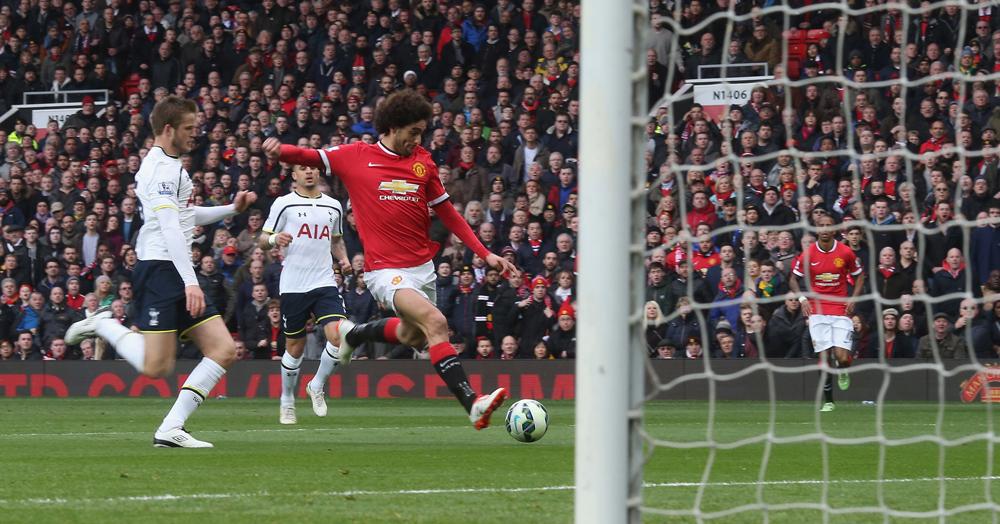 Precise finish: Fellaini arrows into goal.

Image: PremierLeague.com
With the wind behind their sails, the red-clad side would be intent on further compiling the pressure. Eric Dier and Danny Rose hesitantly cleared, but United were looking to stack the deck as much as possible. For the time being, they were held at bay, but that wouldn't last long as Manchester United received a corner.
Juan Mata's elivery from the left was met by Marouane Fellaini, but a block thwarted him of getting his second and doubling the lead. When the ball popped back up in the air, Michael Carrick met it with full-force as it blared into goal with a thumping header. It was a dream start for Manchester United, meanwhile for their opponents, they had struggled to get out of the blocks and were being outrun one too many times.
Manchester United were having a field day. Spurs looked lethargic, exhausted and off-the-pace. Marouane Fellaini managed to sneak through on the offside trap to cut the ball across the face of goal, but Juan Mata was beaten to it by Danny Rose. Tottenham just couldn't stop the flow and wave-after-wave of attack followed.
Mousa Dembele replaced Andros Townsend after just half-an-hour, a tactical change made by Mauricio Pochettino who was not happy with the way they had started. Townsend, playing his first ever game at Old Trafford, was a liability on the flank and Dembele was brought in to provide some well-needed structure and support of the holding midfielders.
Whatever advantages it looked to reap were hardly seen and Spurs were all over the place allowing Manchester United to find a third inside 34 minutes. Nabil Bentaleb's loose pass fell into the lethal path of Rooney who slotted it easily into the bottom left, before a superb celebration, where he did a boxing combination before falling to the ground—addressing the viral video whereby the forward appeared to get knocked out by Phil Bardsley.
A tutorial in how to celebrate a goal and address a viral video of you getting knocked out, by Wayne Rooney: http://t.co/SrCc4YBjzW #mufc
— TheSportMatrix (@TheSportMatrix) March 15, 2015
Some urgently needed rest bite would be provided for Spurs as their catastrophic first-half came to an end. After Rooney's goal, they were still being pushed back and were completely outplayed. Meanwhile Manchester United looked like they'd put out one half of their best performance of the season.
Tottenham were far more structured and distributed throughout the pitch much better as the second half commenced. After a dominant spell in possession, Dembele struck well over the bar for the first chance of the second 45.
While they were hardly in trouble with a three-goal cushion. Manchester United were restricted by the tactical changes Pochettino had made, or shall we say Pochettini like Louis Van Gaal. Bentaleb was far more focused on the task at hand and stayed with the runners.
They had hardly forced the game in their favour though, more so just take United's attacking sting out of it. They were yet to really get into the box and Harry Kane was unable to really get a lot of time on the ball.
Wayne Roney was even pitching in on his defensive duties when he cleared away for a corner. In fact, all United players were chipping in to maintain a cleansheet and really exemplify their terrific performance.
Reaction, analysis
Man of the Match: Marouane Fellaini
Set the tone for the game from the start with his 9th minute strike and influenced the midfield. A fantastic display from the Belgian, he was determined in all the battles.
Manchester United were at the pinnacle of their form this season, while Tottenham, at least in the first half, were the polar opposite. Wayne Rooney's celebration is icing on the cake to what really gives United a major boost in the Champions League race.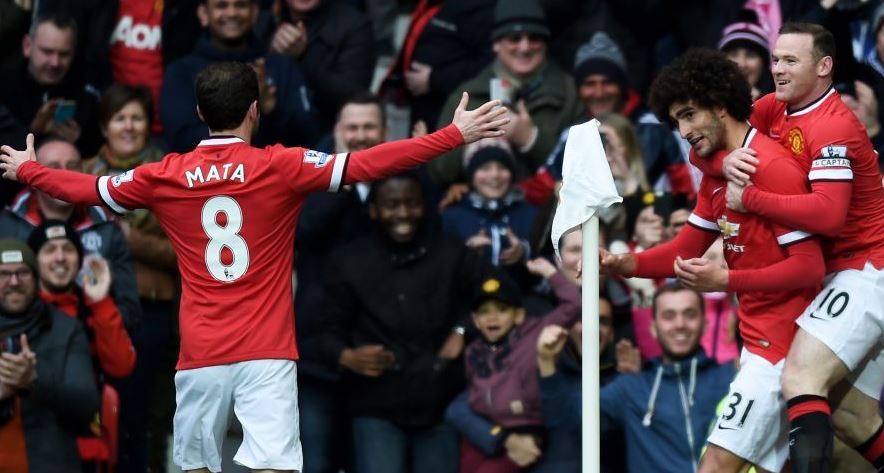 Image: MailOnline
Latest:
Chelsea 1-1 Southampton match report
Comment:
Can Low lead Germany to fifth World title?
PSG:
Can Parisiens win Champions League?