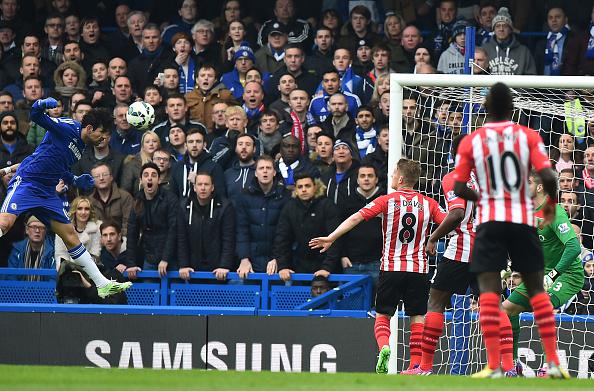 Image: Champions League
Chelsea 1 - 1 Southampton
Diego Costa (11'), Dusan Tadic pen (19')
Barclays Premier League
Sunday 15 March 2015
1:30pm GMT Kick-off
Stamford Bridge, London, England.
Referee: Mike Dean
Matchweek #29
Chelsea were held to a 1-1 draw with visitors Southampton after a Dusan Tadic penalty cancelled out Diego Costa's 11th minute headed goal at Stamford Bridge.
Chelsea got the ball rolling at Stamford Bridge as a raucous roar erupted in London ahead of what promised to be a terrific scrap.

Willian started promisingly; stabbing a ball through to Hazard during a Chelsea counter. The Saints ended the brief attack, however Oscar recycled the play and exchanged slick passes with Hazard who then released Willian down the right channel. The Brazilian crossed but Southampton cleared any danger.
Both sides committed to attacks early on, but Southampton failed to offer any real danger as Bertrand demonstrated with his cross finding no Saints player.
Chelsea's quick, energetic start to the game was rewarded by a man lacking form. Diego Costa. The move initially began with Hazard down racing down the flank; cutting back to Ivanovic who whipped in a great cross that found it's destination courtesy of Costa's ability to squeeze in between Fonte and Alderweireld and plant a solid header past Forster. Simple, yet so brilliantly constructed.
Koeman's men were reluctant to absorbing any more attacking play from Chelsea after conceding early. They charged forward on many occasions, one where Tadic crossed low to an unmarked Mane inside the area. He battered a strike at goal, only to be denied by a class save from star goalkeeper Courtois who got down well and palmed the shot away.
Southampton's classy response to going down early was rewarded; to Chelsea and Jose Mourinho's frustration. Mane played a promising one-two with Wanyama, recieving the flick on and scampering into the box with real intent. He drifted past Matic who had no choice but to lunge in and prevent any goal-scoring opportunities. Unfortunately for the Serbian, he caught Mane rough from behind and clattered into his ankles. Straight penalty.
Tadic stepped up, drove the ball down the middle but his heart surely pounded when Courtois stuck a leg out; causing it to take a deflection however it remained on target and fizzled into goal.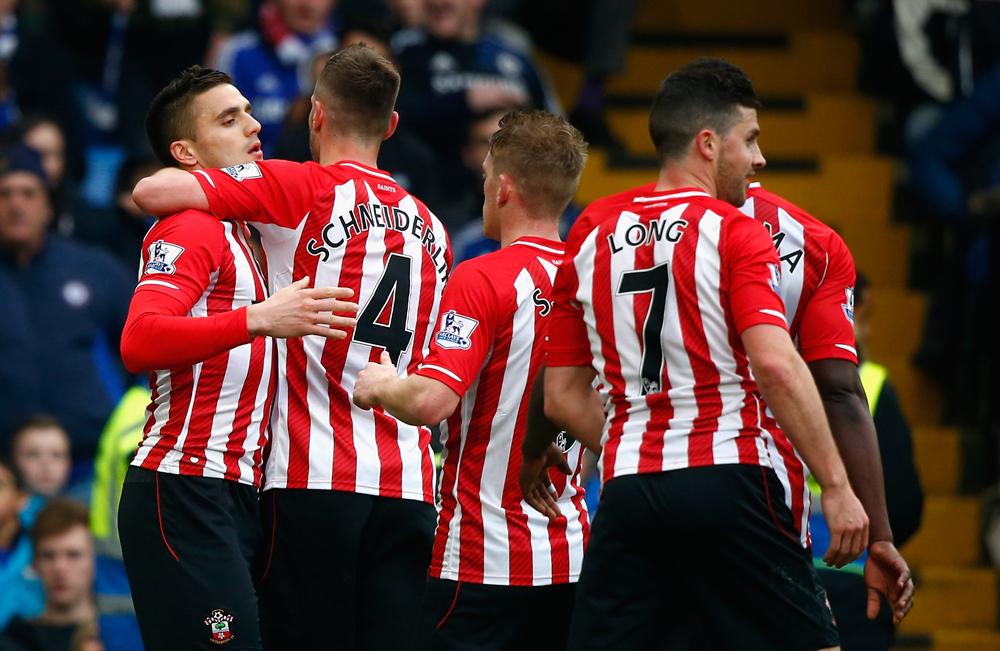 Tadic embraces with his Southampton team-mates. Image: Purely Football
With a move occurring almost identical to Southampton's penalty reward; Ivanovic played a one-two with Costa and burst inside the area. He escaped Tadic but dramatically dived which changed the referee's views on the appeal due to such an overreaction. Replays would show that Tadic clipped his man and it could easily have been a penalty if Ivanovic simply fell to ground and quit the dramatic fall.

However into proceedings and Southampton were the side looking even more dangerous and likely to score. They had Mourinho's men pinned back in their own half for lengthy periods. Cramped around Courtois's area; Tadic unleashed a strike at goal but the Belgian goalkeeper was switched on and saved well.

The ball was recycled in Southampton's favour as Bertrand dangerously swept down the left and sprayed a terrific low ball across the face of goal. Long was unable to latch onto it but neither was Courtois. The home side looked to be in brief danger until Fabregas cleared as huge sigh of relief sounded from Chelsea fans in attendance.

Southampton continued to pile on the pressure as Mane curled an effort at goal. Unfortunately, his feet got stuck under the ball and Courtois comfortably caught his shot.

Koeman would have been happy heading into half time. Schneiderlin and Wanyama did a fantastic, committed job of keeping Hazard and Oscar quiet with no room to work with.

Mike Dean blew the whistle for half time and judging by Jose Mourinho's body language his players were in for a brutal telling off at the interval.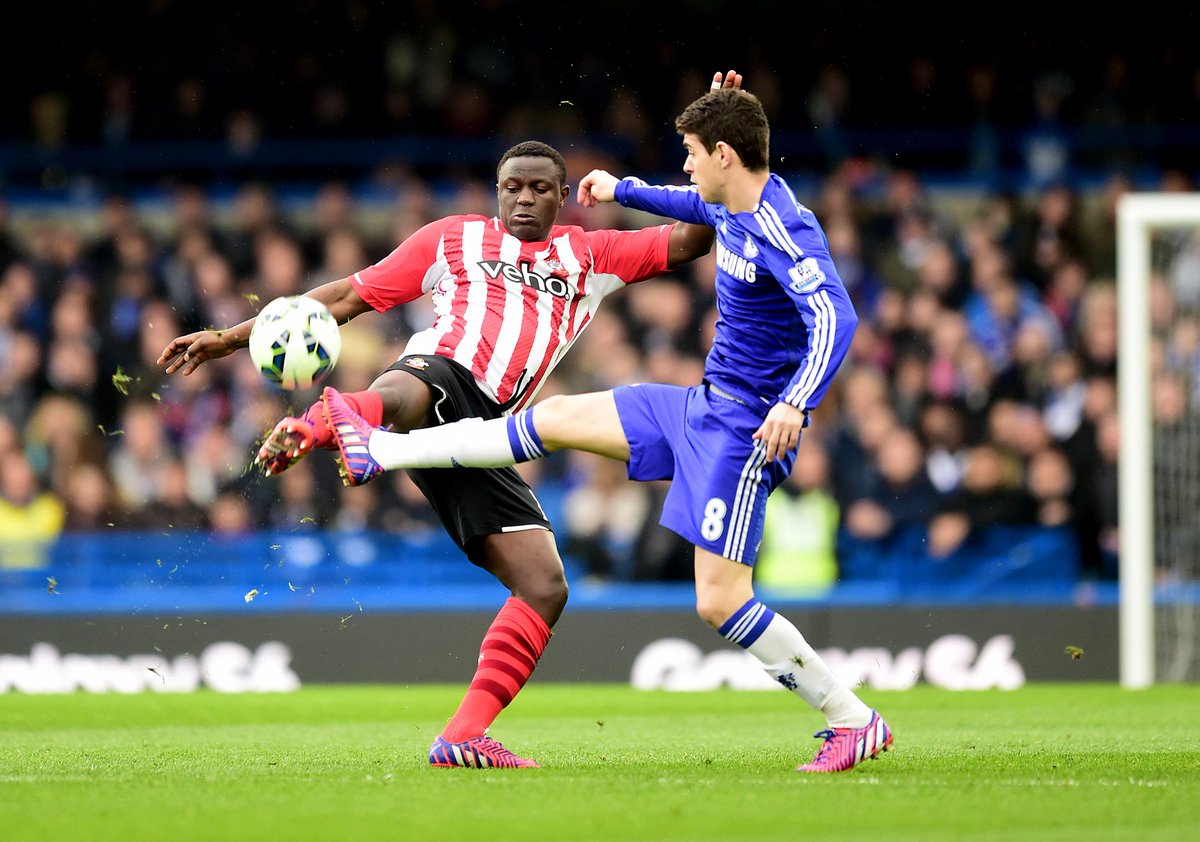 Image: Chelsea FC
Ivanovic, not even a minute into second half proceedings lost the ball due to a sloppy throw-in. Mane intercepted well and scorched forward, where the already-booked Matic stuck a leg out and sent his charging opponent tumbling down. The Serbian was in real danger, but to his relief Mike Dean let him off the hook.
From the free-kick won; Alderweireld battered a ferocious strike at goal and it looked promising. Swaying to the right, Courtois prevented what would have been a magnificent goal as the Belgian impressively thumped it away with a glove.
Chelsea began to take control as Southampton perched back in their own half. Willian lashed a pile-driver, initially meant for goal, in the area which found Costa at the back post. His header clattered the woodwork and Southampton hoicked any further danger clear.
A brief moment of danged occurred for Chelsea at the back. Tadic zigzagged his way in between defenders and slipped a pass to Long on his left. The summer signing toe-poked a shot, vitally blocked by Cahill who surely saved a goal.
A sense of urgency crept into Chelsea's play with just over 10 minutes remaining. Willian knocked a wonderful cross towards Costa who battered a header at Forster; where the Englishman parried away well. Hazard latched onto the re-bound only to be denied again as his shot struck Koeman's goalkeeper at a tight angle.
Mourinho's men piled on the pressure late on in desperate need of a winning goal. Cahill flicked a header down to Costa at close range, however the Spaniard lacked real balance and his deflected shot blootered over the crossbar.
In the first minute of stoppage time a chance went begging for Chelsea. In a massive scramble, the ball was headed down to Azpilicueta who lashed a fierce strike at Forster. The Englishman parried away for a corner as tensions grew in stoppage time.
From the resulting corner, Terry found himself with a glorious opportunity to snatch all three points for his side. He battered a left-footed strike, hoping to ruin Southampton's day but his effort agonizingly sprayed wide of goal.
The final minute of stoppage time was played and Southampton held off Chelsea's late onslaught; earning a valuable point away at the league leaders.
Ronald Koeman will be pleased with his side's performance, they did a fantastic job in keeping Chelsea's top stars relritvly quiet. The Blues' late surge forward wasn't enough in a performance that wasn't eye-catching at all from Mourinho's men.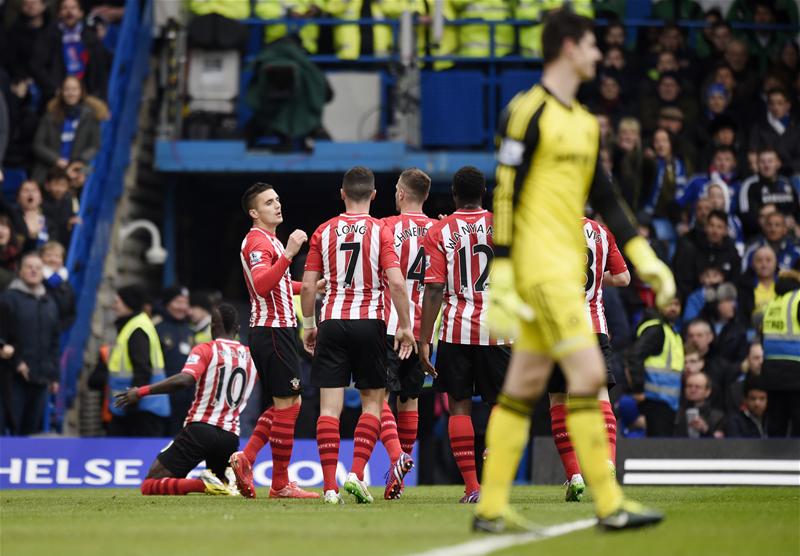 Image: BBC Sport
More:
Can Low lead Germany to fifth World title
PSG:
Can Parisiens win Champions League?