Seven matches, seven teams, seventy wickets. This is the 7th time Team India emerged victorious in the World Cup 2015. With M.S.Dhoni becoming the first non-Australian Captain to guide his team to 100 wins, and India confirming their berth in the semi finals of this tournament, today was certainly a special day for every Indian supporter.
India outplayed Bangladesh in every way today, may it be their fielding, batting or bowling, the defending champions overpowered their neighbours. Bangladesh failed to chase down the total set by their opposition and folded up at 193 runs in 45 overs.
Earlier in the day, MS Dhoni had won the toss and elected to bat first on what looked like a good surface to bat on. Shikhar Dhawan and Rohit had put on a 50-run partnership before Dhawan and Virat Kohli were dismissed in quick succession.
Dhawan(30) then departed a little later, and in came Suresh Raina who was instrumental in the Indian triumph.
The Rohit-Raina pair found the ropes with ease as they got the momentum going and collected 50 runs in the five-over duration.Rohit, who has had a patchy tournament so far, made the best of the day and scored a 137 before falling prey to Taskin Ahmed.
Good comeback by Taskin Ahmed. http://t.co/pSSmf5uINR #NDvBAN #CWC15 pic.twitter.com/O1LUBOs4ih
— FOX SPORTS Cricket (@FOXCricketLive) March 19, 2015
The calm and composure with which Rohit moulded the Indian innings made this 137 knock even more special for him than his world record. The game today saw a "Mature" Rohit Sharma, and he himself admitted in the post match presentation that he didn't play any silly shots in the match.
Though Rohit may have grabbed the man of the match award but Suresh Raina played an equally significant role in India's conquest. He allowed Rohit to take the stand and become the hero while Raina silently played the big shots once in a while. The MCG crowd relished some magnificent stroke play served by the R duo. Not to forget the significant 20 runs that Jadeja added in the penultimate overs.
Bangladesh were unable to get a good start and were 33/2 when Soumya Sarkar and Mohammad Mahmudullah came in and added 40 runs at a steady pace until swig king Shami wove his magic and Dhawan juggled the ball and pulled off an acrobatic catch at the ropes. The Indian skipper marshaled his bowling resources well never allowing the batsmen to settle down.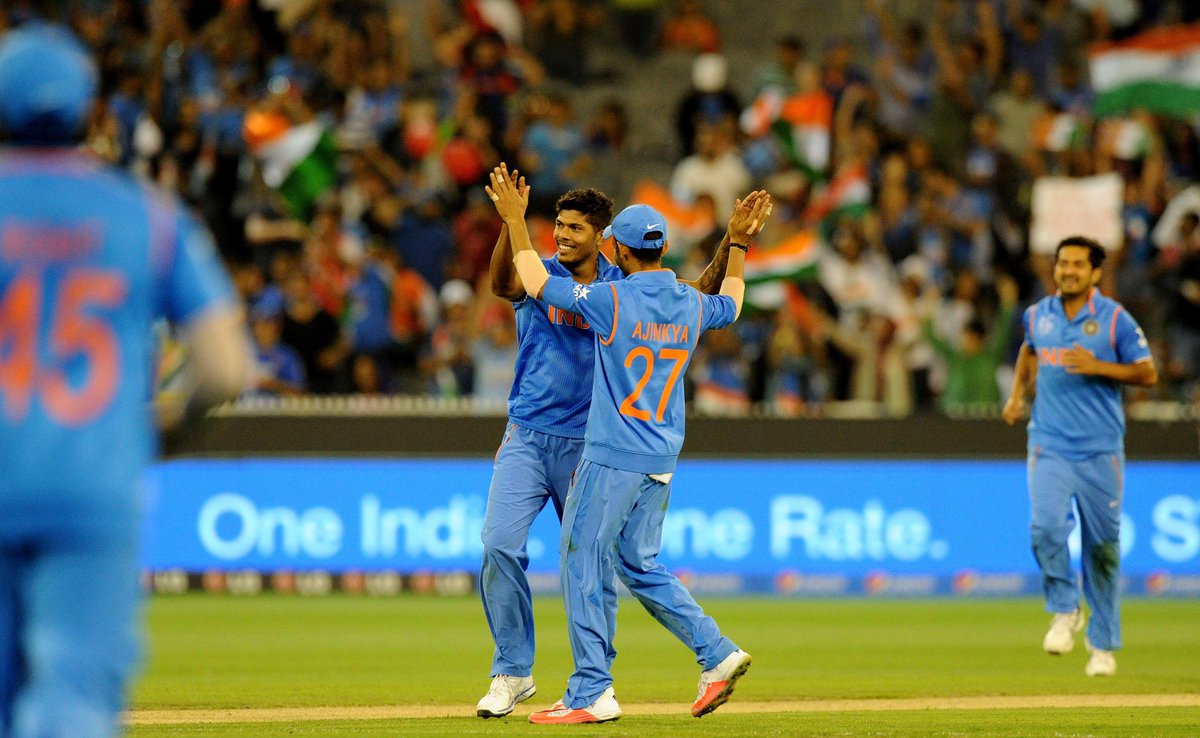 Image: BBC Sport
A little over three overs later, Dhoni took a one-handed catch diving to his left to send back Sarkar and give Shami his second scalp. The smile on Dhoni's face was certainly worth a million dollar and it was a rare glimpse enjoyed by the Indian supporters. The bowling unit took recurrent wickets and bowled out their opponents for 193.
The Men In Blue now advance to the semi finals of the World Cup 2015, and will take on the Winner of Australia and Pakistan on 26th March at Sydney.
Review
Bangladesh exerted superiority in only for a glimpse in the game after the departure of Virat Kohli and Shikhar Dhawan. Rohit Sharma played a pulchritudinous knock, which was driven by admirable cover drives and magnificent pull shots. Suresh Raina's contribution was the feather in the cap to India's emphatic win.
Bangladesh seemed to have lost their self-confidence from the very beginning, and without self-belief nothing is achievable. The bowlers allowed the Indian batsmen to get the better of them and the batting line up collapsed like a pack of cards. As Bangladesh head back home, they should be proud of their performance in the tournament as large-scale improvement was seen in their performance and should aim to have a better World Cup in 2019. India are just two wins away from repeating History and they should continue their journey with the same spirit.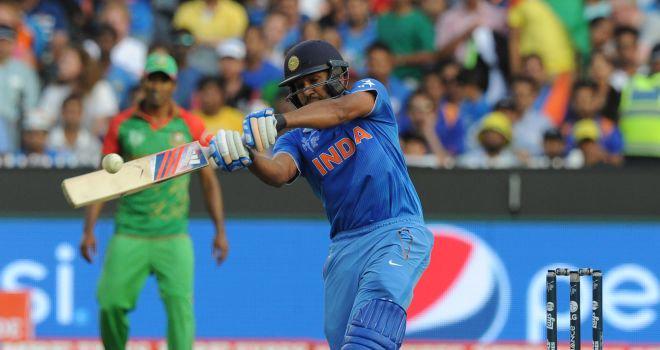 Image: Sky Cricket
More:
Proteas pummel Lankans in first Quarter-Final
Comment:
Shikhar Dhawan - India's Double Edged Sword
India:
Men in Blue on course to Final?
England:
Breaking down Three Lions' World Cup embarrassment