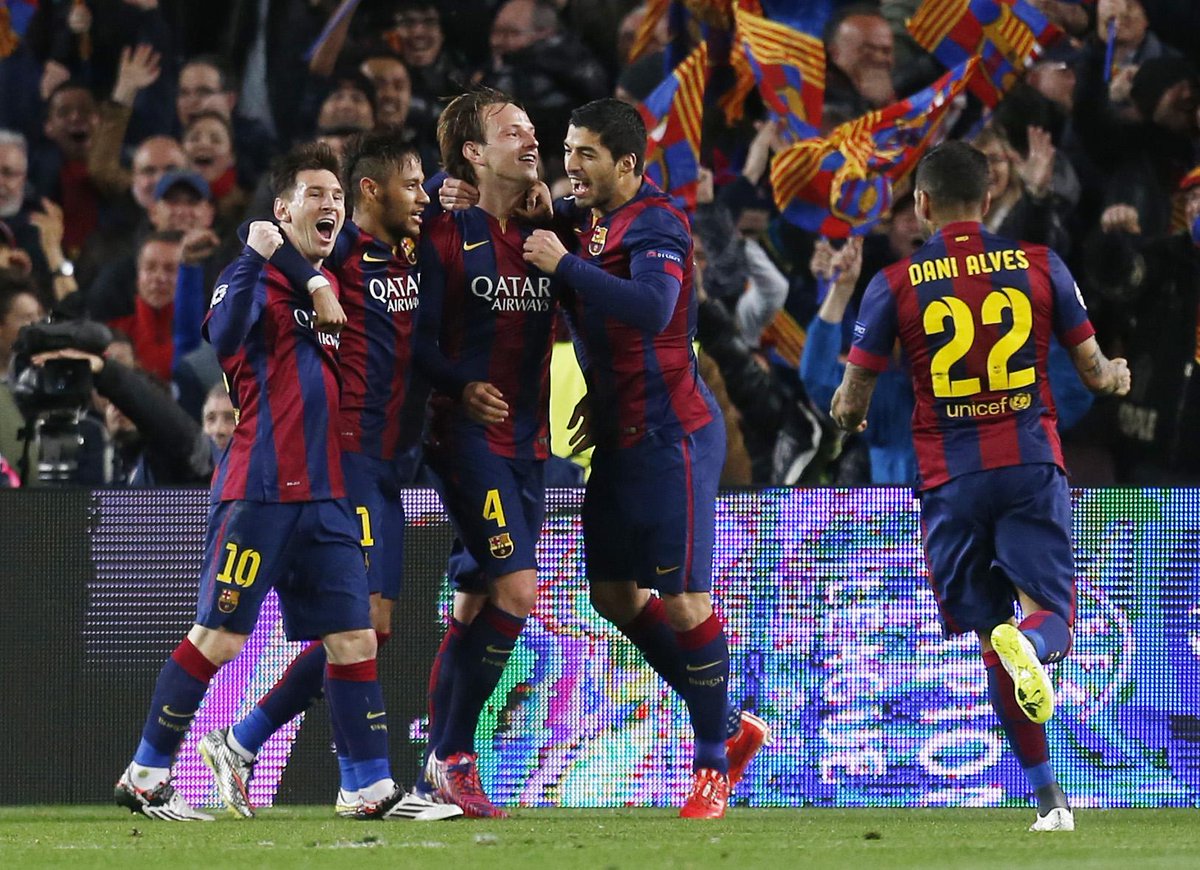 Image: Squawka Football
Barcelona 1 - 0 Manchester City
Ivan Rakitic (31'), Sergio Aguero penalty saved by Ter Stegen (78')
UEFA Champions League
Tuesday/Wednesday 17/18 March 2015
7:45pm GMT Kick-off
Venue: Nou Camp, Barcelona, Spain.
Round of 16 (Second leg)
[First leg match report available here]
Ivan Rakitic's sublime first half goal helped the brilliant Barcelona past Manchester City as Luis Enrique's men charge into the quarter finals.
The Nou Camp, a cauldron of boisterousness incited the ever passionate fans in attendance of what promised to be a scintillating tie between two Spanish and English heavyweights.

The visiting side got the ball rolling in requirement of two goals in order to, what would have been a huge shock, knock out Barcelona after their 2-1 loss at the Etihad.

An early chance occurred for Barcelona as their pressing around City's area resulting in Alves dispossessing a slack Kompany and feeding the unmarked Neymar in a one-on-one with Hart but the Brazilian agonizingly struck the post with his effort from close range. Poor defending from City's captain which almost lead to a torrid start.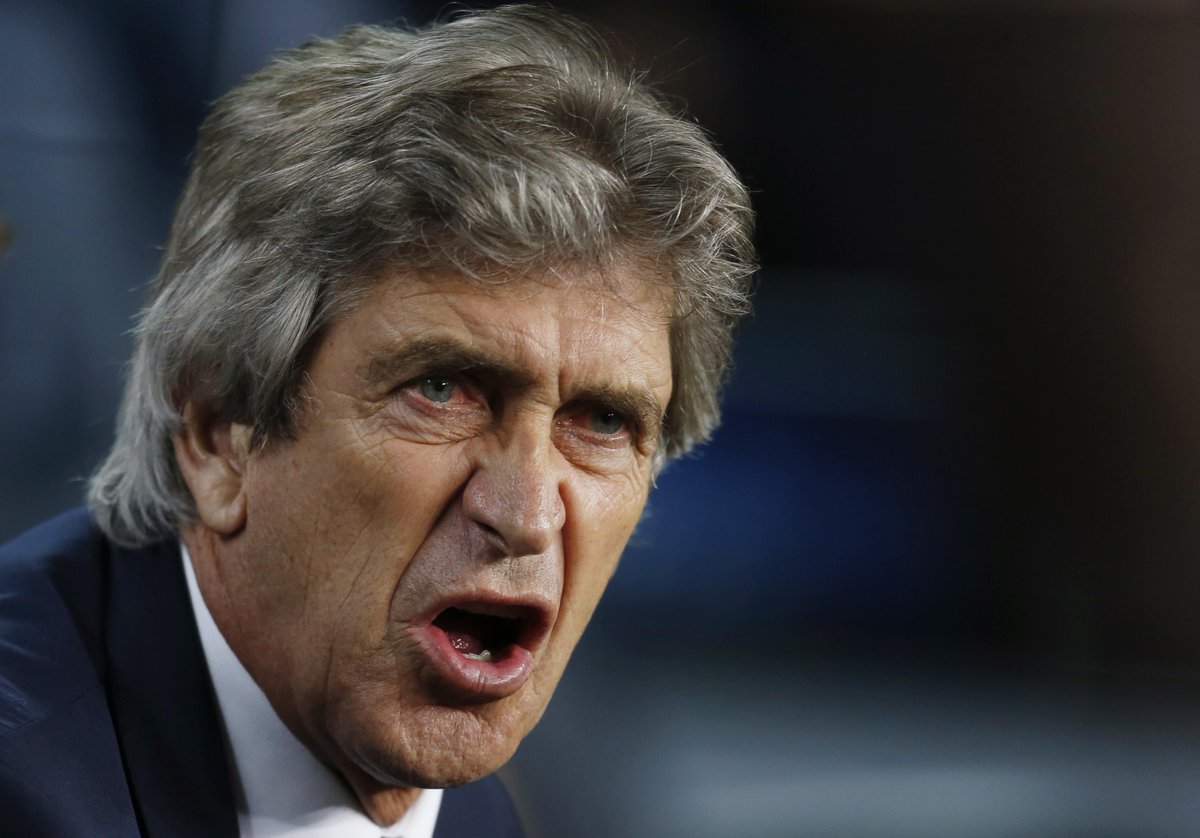 Image: Squawka Football
An ounce of pure class would almost crush City as quick, sharp play inside their box would see Iniesta beautifully flick Messi through on goal but a superb block from Hart denied the Argentine. Sensational move that was so easily constructed.
City replied with a decent move to say the least. Toure, using his utter speed and strength, blitzed down the right towards the byline before cutting in to Milner awaiting a golden assist square on from goal. Unfortunately for the visitors; a superb sliding tackle thwarted a potential goal-scoring opportunity as Ter Stegen claimed possession.
It was clear from the opening whistle that Hart would be in for a torrid night of goalkeeping especially with the presence of Messi and the Argentine kept his opponent busy with a sharp free kick; only just curling over the bar and onto the roof of his net.
City were reluctant to absorbing any dominance from Enrique's men, though, and perhaps they could have made a promising chance of precious possession against a Barcelona side as they knocked it around their box looking for an opening. Kolarov, however, decided a firm shot at goal could disrupt the home side's rhythm. It didn't, of course as Ter Stegen retrieved the ball down low.
Messi was looking dangerous early on; drifting in and out of City's defence with uncounted confidence. His lay off to Neymar looked dangerous for Pellegrini's men, but then his attempted return to the Argentine was thwarted by Kompany and cleared.
Yet again, the ever frightening presence of Messi occurred as the dazzling Argentine blistering centrally on the brink of City's area. With only Demichellis to beat; Silva took an understandable risk and clipped Messi's ankles. With a dangerous free kick in place; the Barcelona captain took it himself for a second time but like the first, it was just slightly too high and skimmed the roof of the net.
With just over half an hour played, and with City still well in the game, Barcelona's incredible class struck. Messi, running at pace down the right flank cut in and launched a sublime long ball over to Rakitic making a run into the box at Hart's back post. The Croatian took a wonderful touch, and clipped into the right hand corner as a raucous explosion of celebrations blew the roof off the Nou Camp.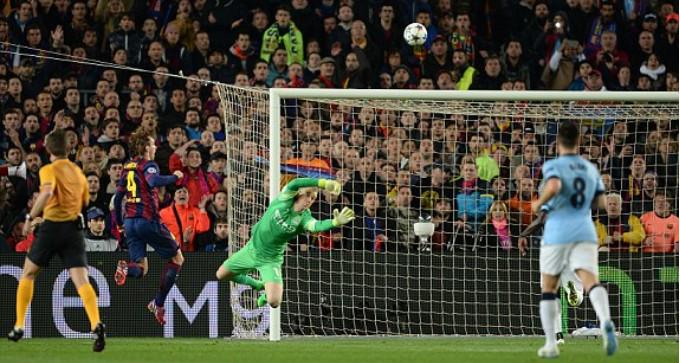 Image: BarcaStuff
City's movement going forward was almost 100% cancelled out as a dominant Barcelona side took control and dominated proceedings in their opposition's
half. More dazzling footwork from the sensational Neymar provoked a kick of the ankles from Nasri which could have easily seen red for that challenge.
Enrique's men almost doubled their lead as Messi continued his brilliant play. Blistering past City players and approaching the area, he stopped, turned but also paused until Neymar made a short run. The Argentine chipped over to his team-mate but Neymar's unselfishness of cutting back the ball back central was briefly dealt with. From the resulting corner, Suarez planted a free-header agonizingly wide of goal.
In one of the few attacking runs forward, Aguero blistered through Barcelona's half after latching onto a long ball but relentless defensive pressure from the home side would make the Argentine settle for a corner, in which nothing came of.
The half time whistle sounded as a vibrant Nou Camp praised their team's first half performance; they could have easily been three or four goals up as Neymar and Suarez both came tantalizingly close with shots hitting the post. City needed to re-group and go all out attack in the second half as Pellegrini's men had nothing else to lose.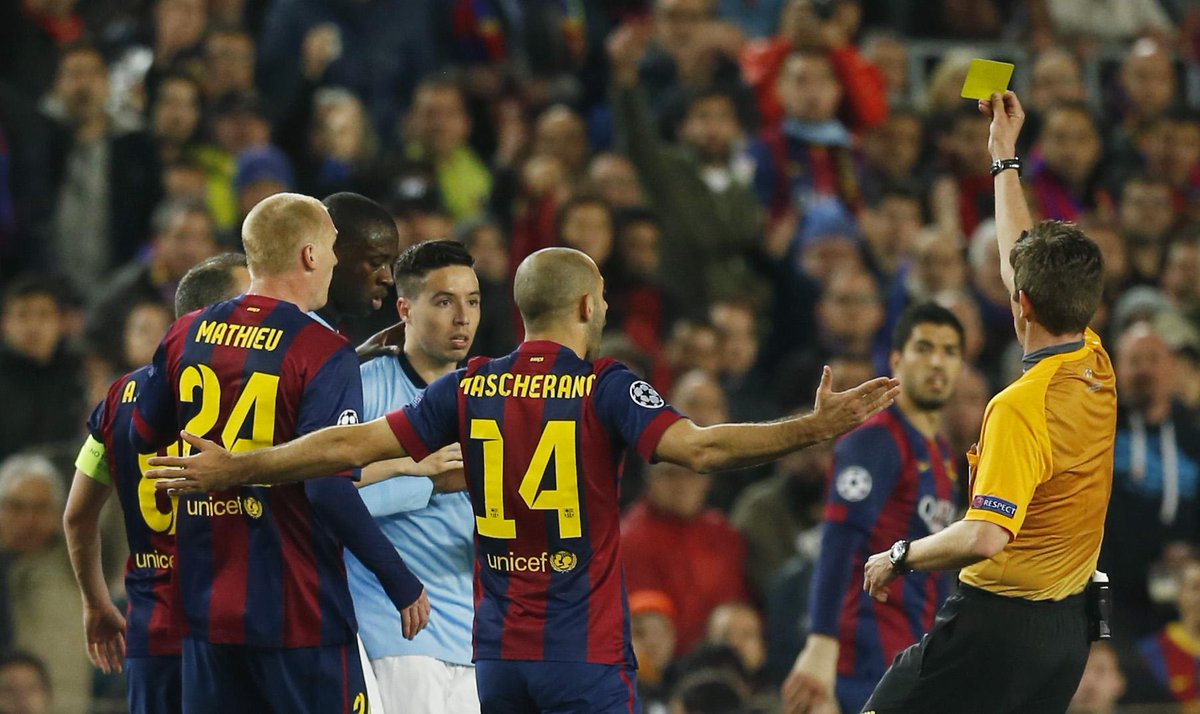 Nasri was booked to conclude his miserable first half.

Image: Squawka Football





Barcelona opened second half proceedings in search of a repeat half, however City were in for another busy 45 minutes with tons more defending to do and problematically hunt for four goals.




A moment of madness occurred only a few minutes following the break as Ter Stegen marched down City's left wing to try and retrieve the loose ball. Battling the mighty Aguero, he was barged away and forced to scamper back to his goal out of possession. Luckily for the Barcelona goalkeeper, Aguero's attempted long shot was blocked and calmly dealt with by Enrique's defence.




City played with a much quicker tempo as Silva exchanged slick passes with Aguero, however a move unable to develop. With the ball recycled, Navas scampered down the right, and while approaching the byline he crossed low in attempt to assist a potential goalscorer but to no avail. Kolarov retrieved possession on the outside but his fierce strike was comfortably saved by Ter Stegen.




City had no choice but to give this game a real go and that's what they did. Toure, from a solid 25 yards out took no hesitation in blasting a strike at goal. He came close as the ball skimmed the roof of the net.




Toure was deep in possession again and left Mathieu for dead down the left flank. The Ivorian romped towards the area. Alba came across well though and denied him of making anymore progress.




Barcelona thought they had a second goal bagged with just under 20 minutes remaining. Suarez crossed to Neymar as the Brazilian stuck a leg out to try and guide a flick past Hart. To no avail, the ball fell to Alba who struck home from close range but the offside flag prevented him of doubling his side's lead.




A small glimmer of hope occurred for City as a penalty was awarded after Aguero tumbled over while nudging past Pique. With a chance to at least put himself on the scoresheet, the Argentine agonizingly failed as his effort, guided towards the left hand corner was impressively parried away by Ter Stegen.




Barca had chances to wrap it up, but Messi's close range shot was blocked, Suarez's re-bound struck the post and moments later, Neymar saw his left-footed effort stopped by a resilient Hart to conclude proceedings at the Nou Camp as Barcelona toppled Man City 1-0 on the night and 3-1 on aggregate.
More:
Can Arsenal win the title?
Match report:
Monaco vs. Arsenal
Match report:
Atletico Madrid vs. Bayer Leverkusen
Match report:
Juventus vs. Dortmund
Champions League:
Full coverage