Image: FOX Sports
Managing to hover in the realms of relevance, Arsenal are often not too far from the title talk, with that being said however Wenger's men haven't tasted the unrivalled glory of winning the title for more than a decade.
But now, even if Chelsea are surging ahead of the pack, momentum is pivotal, and that's exactly what the Gunners have in abundance. Plus, Mourinho's side are beginning to show more blips than usual when it comes down to scraping down all the points—a far different story to their rapid jumpstart from the beginning of the campaign.
Likewise, Manchester City's ship may be sinking. The second place Citizens' inconsistency has taken their chances of retaining the championship further away than expected when Pellegrini triumphed at the Etihad last May.
Olivier Giroud spearheads the progressively-lethal attack of Arsenal. Easy on the eye is an understatement for the North London contingent, who are putting together performances of such a good standard as the season really heats up.
Proceed with caution though - with teams situated in such close proximity of one another within a nail-biting race for European football, Arsenal's top-four chances aren't even guaranteed. At this rate though, the probability of them missing the mark is ever-decreasing.
Image: Eurosport
Mesut Özil has hatched a spell of form that seemed only imaginable when he first stuttered into filling the large—and expensive, £42.4 million to be exact—at the Emirates. Now though, his hard-work has reaped a plethora of rewards for both his self-confidence and the whole Arsenal outfit in general.
Since the start of February, the German has created the most chances out of any Arsenal player with 21, beating Giroud's 13. A positional change putting him in his beloved No.10 role has clearly worked wonders.
Graphic: Sky Sports
We've seen an exponential increase in his vision—barring the questionable pass he made across the face of goal when he could have shot straight into goal—as he glanced over his shoulder to execute the final nail in the coffin or goal so to speak, and bundle the operation as a cohesive unit.
When the midfielder is finding his rhythm, he'll need good people to convert. Enter Olivier Giroud, who has scored plenty since he returned from injury.
His detractors may still be lingering around, but Arsenal hammering the Hammers was another demonstration of what Arsenal's ferocious Frenchman is capable of. A disappearing act can be costly, like we saw against Monaco and Tottenham, but when he's on his game, there's few that can stop him.
Winning the Man of the Match award for the majority in Saturday afternoon's clash, Giroud utilised himself elegantly as a target man, but also one who can ram down defences at ease.
Alexis Sánchez, since returning from injury, hasn't been able to really push forth after he was shelved with an injury, but when he inevitably does, Arsenal can find that next gear, and that spells trouble for the rest of the Premier League opposition.
And while they've enjoyed the bludgeoning of Aston Villa and others, not all components to their game in all competitions have flourished. They were dreadful against Monaco, and while they could pull that back on Tuesday night, setbacks have hardly hindered their form.
Poll: Where will Arsenal finish at the end of the season?
Attacking football, as majestic as it is, hasn't stole all the headlines, either. Defensively, they are taking shape, with 6 clean sheets in their last 10 league games. Partially responsible for that is the evolving Per Mertesacker, who has managed to fill in the voids left behind by a seemingly diminishing Calum Chambers.
Between the sticks it remains somewhat a fluctuation with the keepers. Szczęsny and Ospina continue to tip-toe ahead of one another alternatively, and that needs stabilising if Arsenal want to endure the strenuous nature of the title race.
Momentum is pivotal in the game, Arsenal have plenty of it and now it is a case of keeping that going and patching up the frailties or the wheels could come off.
Wenger has a good thing going here, but before title talk descends the Gunners must first address the situation of securing top-four, as submerging themselves in too much title talk while situated in the race for Champions League football could leave them with a sour taste in their mouths when the season closes. But after all, there could be some FA Cup winning champagne at Wembley to sweeten that up.
While that remains a bump in the road, many see Arsenal far from their best. A lot of talent is still to really yield the qualities and there is still a lot of space to venture in terms of development and potential.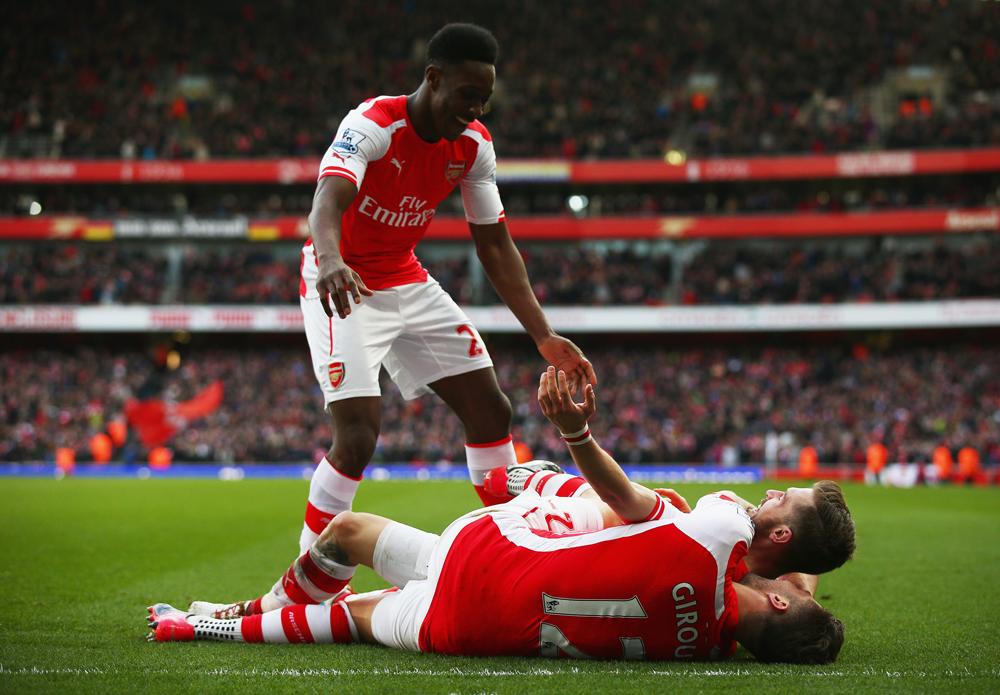 Image: PremierLeague.com
There's still a lot of football to play, meaning Arsenal can either really get in to it, withholding the ability to endure the race, but also it's enough time for their ambitions to cave in.
Arsenal will need to keep the run going, but like many things in football, it's possible. That can be considered both negatively and positively, but at this rate, the latter is looking the most likely.
Plenty of time also leaves Chelsea to get ahead of the pack, or possibly be pulled back within the rest. Time will tell.
If Arsenal keep up this rate, then they will now rely on luck - and by the measures of the Gunners, that is now long overdue.
Image: ESPN FC
More:
Premier League weekend action
Comment:
Can Low lead Germany to a fifth World Cup victory?
Football:
PSG's chances of winning the Champions League
Aston Villa:
Belief back for Clarets?
Nisar Khan:
More from this author