Pride. Passion. Paris.

Chelsea 2 - 2 Paris Saint Germain (Extra time / Aggregate: 3-3) Zlatan Ibrahomovic (31'

red card

), Gary Cahill (81'), David Luiz (86'), Eden Hazard (96' penalty), Thiago Silva (114') UEFA Champions League

Wednesday 11 March 2015

7:45pm GMT Kick-off

Stamford Bridge, London, England.

Referee: Björn Kuipers

Round of 16 (Second leg) [First leg match report available here] Thiago Silva powered Paris into the quarter-finals of the Champions League as they overcame Chelsea with 10-men as unbelievable events unfolded in extra-time at Stamford Bridge.


He added to his Brazilian teammate David Luiz's bullet as Chelsea squandered a lead on two occasions in a phenomenal contest.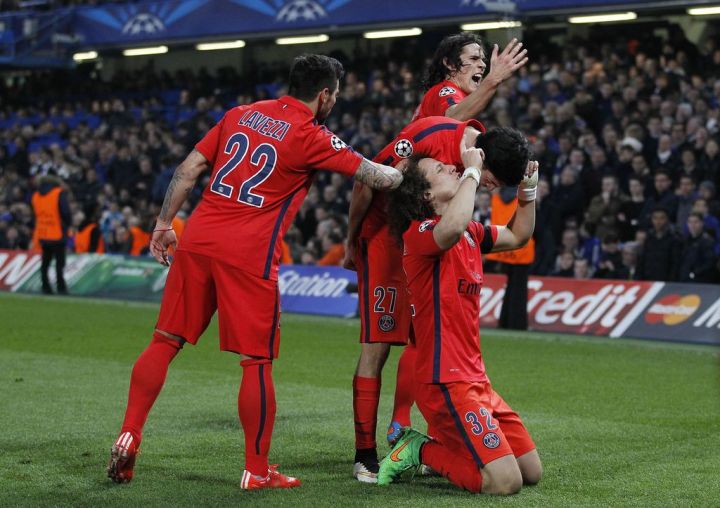 Incredible scenes.

Image: LeParisien.fr
That added to David Luiz's bullet against his former club in a bad-blooded albeit incredible meeting in London.
An intense first-half would see Zlatan Ibrahimovic controversially given a red card for a foul on Oscar but under a lot of pressure, Laurent Blanc's men continued to put out the work.
Gary Cahill first made no mistake as Diego Costa's sliced shot fell out to him to smash through in the area, but 5 minutes later, a familiar face would come to force extra-time.
David Luiz on his return to Stamford Bridge powerfully headed off the frame of goal and in and 30 more minutes were reserved.
A woeful piece of defending from Thiago Silva conceded a penalty to Paris early in extra-time and Eden Hazard calmly stroked it away into goal.
But, PSG would have the fight in them to get things back - Thiago Silva, after being denied by an incredible stop from Courtois, beat the Belgian and made it 2-2.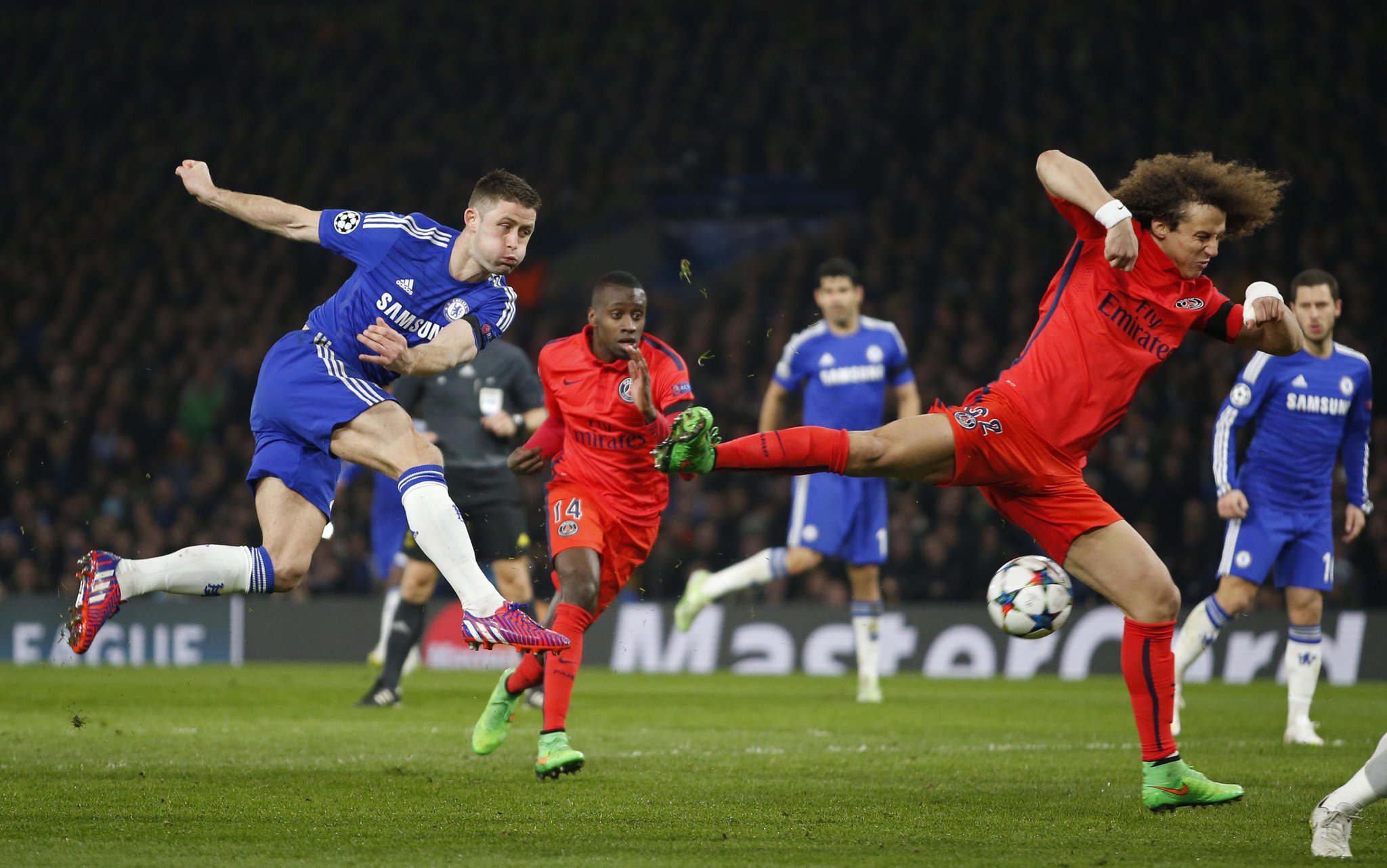 Scorers: Defenders Luiz and Cahill in the thick of the action to determine the regulation scoreline.
Chelsea fans were in full voice as Cavani and Ibrahimovic got things rolling to embark on a huge quarter-final at Stamford Bridge. Within seconds the Parisiens' all-Brazilian back four—including David Luiz returning to face his former club—was bombarded by a high wave of Blues' pressing.
On a difficult turn, Edinson Cavani registered the first attempt of the contest as his shot deflected out for a corner kick. His Chelsea counterpart Eden Hazard then waltzed past Marquinhos and David Luiz before trying to find a Blue shirt as he curled in to the box. While the shot was cleared away, one person who definitely wouldn't have got to it was Diego Costa, who needed to take a minute off to recuperate from an injury.
Under a lot of pressure was Paris' coach Laurent Blanc, knowing that failure to transcend to the best heights of European football for another season could bring the end to his role in charge. But that pressure would soon be converted from the shoulders of the manager to Chelsea's players on the left as the French made sure that no crucial gaps were left.
Diego Costa's antics would make their expected appearance after 10 minutes of football in the English capital. A coming together with David Luiz after an incident with the other half of the visitors' central defence Thiago Silva would rev up some tension with the former reluctant to accept an apology. There'd be more work for referee
Björn Kuipers to skim through when Verratti went down softly in the area with Ramires chasing him.
In the middle of the park there was plenty of space to run for both sides, but the final passes on certain attacks would cheaply surrender possession. Both counters looked ferocious but Chelsea had the pace to their game while their opponents stacked the deck in terms of numbers. Negligible were those factors, though, as both back-lines remained rigid.
Ibrahimovic was dismissed in the first half.

Image: UEFA.com
Blaise Matuidi's relentless box-to-box play epitomised the game's intensity so far. But after the pass ran too far from him, Chelsea once again began to enjoy themselves when going forward. Similarly to Hazard's link-up play however, Diego Costa's shot would be jammed by a defender and the risky albeit crucial offside trap kept the Blues at bay.
After half-an-hour at the Bridge, neither keeper had made a save yet it remained compulsive viewing. Following a frantic start Chelsea's pressing decreased as the game calmed down. Nevertheless, one unique spark of quality would see either Courtois or Sirigu forced into action. Ramires burst through and was stopped by Luiz before the game really took a turning point.
Oscar and Zlatan Ibrahimovic went in for a loose ball in which the Swede would receive his marching orders following a controversial decision that really raised temperatures on the pitch. Chelsea's maestro went down in a heap before irate teammates surrounded the referee with appeals, and the official dug deep into his pockets to show PSG's star the red.
An almost sympathetic pat on the back from Laurent Blanc as he headed for the tunnel would be followed by commotion as the players got heated. Motta would receive a yellow. But now, on enemy soil and following a harsh red card, PSG had their backs up against the wall.
Zlatan Ibrahimovic sent off for this... #CHEPSG pic.twitter.com/MfJg1YzL7O
— TheSportMatrix (@TheSportMatrix) March 11, 2015
The wind was out Paris' sails for a few moments but the game would soon speed up once more and soon it would all revolve around Diego Costa. After he was down with another injury he would be beating the floor in rage as Cavani clipped him in the area, a strong penalty call waved off by the referee.
Both teams headed back into the tunnel for the interval with the game still curiously poised goalless while the red card overshadowed the first 45 minutes. Chelsea came out pressing but PSG racked up the intensity until the incident. Oscar made way for Willian as in-phase claps welcomed the second half.
Eden Hazard was getting more active and going through his gears, while Top Gear host Jeremy Clarkson—in a whirlwind of controversy at the moment—watched on at the ground. The Belgian won a free-kick in which Willian forced Sirigu to palm away, the Ligue 1 Champions' keeper of who was nervy in the box and hesitant to mark his authority in the area.
Chelsea's Brazilian winger then troubled again with a setpiece as it came out to Cahill whose shot was blocked in traffic. Paris were in real need of ideas with their hopes fading. It wasn't looking bright either as after Maxwell won a corner, the Blues were in control as the vibrant shirts of PSG awaited a ball in.
Edinson Cavani came agonisingly close as the visitors undid Chelsea with a swift counter attack catalysed by Verratti. It was slotted through to Cavani as Ramires was caught wondering, and with just the keeper to beat, Cavani decided to take it past Courtois. The angle was closing, he went for a shot and it smacked off the post.
An influx in pressure and belief had Chelsea scrambled while Paris got closer. Marquinhos grew in prominence down the right flank, while Verratti and Motta were bossing the midfield. Jose Mourinho's men were looking extremely fatigued.
Image: UEFA.com
Some great play saw Pastore squander another huge opportunity with Courtois goal gaping at the backwards approach of Chelsea's defenders. Cavani held it up after Pastore's first shot was blocked, but when it game out from wide, he smashed it out for a goal-kick.
Chelsea's hitman was signalling to his manager in a plea for inspiration, questioning what had put his side on the backfoot. But seconds later, just like a typical Diego Costa would, he hacked away at Thiago Silva's feet and was booked, David Luiz approached the referee angrily to appeal and received a yellow also.
The bad-blooded nature of the game would carry on when Verratti was booked for dangling a foot out to Eden Hazard. Cavani and Terry had a spat too and it was a lot of counselling for the man with the whistle to carry out and defuse the situation.
Things were far more open with fatigue taking it's toll, and Ramires broke through to force a save from Sirigu at the near-post. In the subsequent corner, the ball bobbled out, Diego Costa sliced at the shot and it bounced for Cahill to half-volley a rocket into goal as Chelsea took the lead.
Lavezzi's header was stopped straight at Courtois, but PSG's objective remained the same. They needed to score to force extra-time. Nerves were settling in, even for the most calm, as Courtois tipped over Pastore's cross.
From the corner-kick, it was none other than the former Chelsea man David Luiz who headed home a bullet. He rose above the rest and it smacked off the woodwork into goal to spark madness as the visitors nabbed an equaliser.
Tensions were running high as Diego Costa again claimed that Maxwell fouled him as Chelsea looked to crush their opponents with a winner. Behind the referee's back he violently reacted to Marquinhos, in what could've given him the same fate as Zlatan Ibrahimovic.
Chelsea were digging deep to win before extra-time but they couldn't. PSG remained resolute and Willian was next to see his effort go out for a corner in which was cleared. Hazard was stopped on the left, and PSG got rid of the ball. That was the last act of regulation, we were in for 30 minutes more.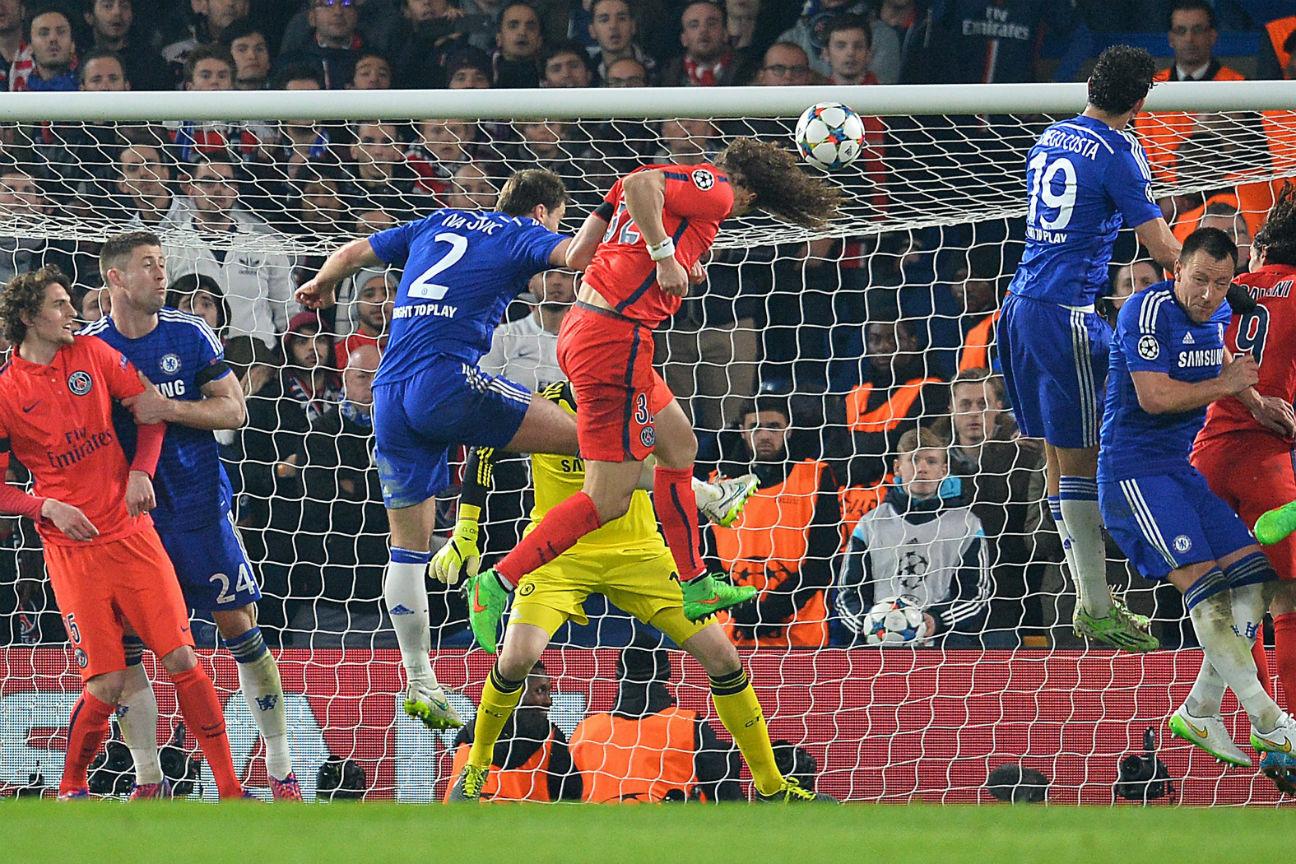 Bullet: David Luiz heads an equaliser past his former club to force extra-time.

Image: ESPN FC
Drogba replaced Ramires as extra-time began. Chelsea would look to seize the initiative but both sides were looking resilient.
A moment of madness, from captain Thiago Silva of all people, would squander the lead to Chelsea from the penalty spot five minutes into overtime. Contending for the ball as it bounced high in the box, he stuck his hand in the air and the referee deemed it a handball.
Eden Hazard stepped up and calmly sent the keeper the wrong way, rolling it to the right as Chelsea were back in front.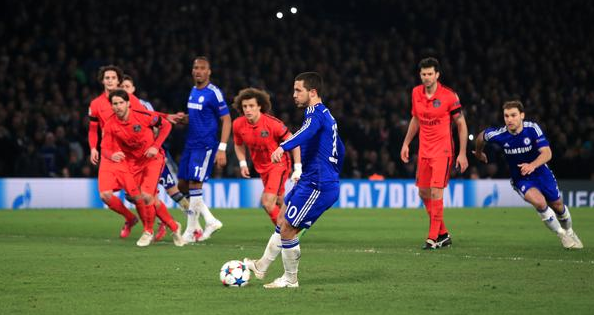 Composed: Hazard scores the penalty
Clearly a big blow to the visitors, Chelsea almost took the advantage again as Drogba found Hazard but Sirigu got there first.
David Luiz then came close with a long-range free-kick which soared through the air and forced Courtois to tip it over the crossbar.
In the second-half of extra-time, Chelsea looked to wrap things up. But their opponents remained resolute, not with the same quality though as David Luiz's dreadful delivery sparked a counter attack.
Diego Costa snatched at the opportunity and struck it well wide. Anything could happen at this point.
And just that - an incredible save from Thibaut Courtois to deny Thiago Silva's header from a corner was crucial. He dived across goal to deny him and force a corner.
From that corner, Silva would get another header, from far out. This time things would be different. His header went over Courtois and PSG were back in it.
It was now about running down the clock. PSG did, and the final whistle blew. Paris went marching on. What a game. Paris have done it.
Analysis, reaction and player ratings
Taking the 120 minutes of football into account, here are my ratings for the match.
| | | | |
| --- | --- | --- | --- |
| | | | |
| | 8.7 | | 8.8 |
| | 8.2 | | 8.3 |
| | 8.3 | | 8.9 |
| | 8.2 | | 9.0 |
| | 8.1 | | 8.1 |
| | 8.0 | | 8.2 |
| | 7.8 | | 8.3 |
| | 8.4 | | 8.9 |
| | 8.1 | | 8.4 |
| | 8.1 | | 8.6 |
| | 8.0 | | |
| | 8.2 | | 8.1 |
| | 8.3 | | 8.3 |
| | | | |
"↓" indicates that the player was substituted OFF
"↑" indicates that the player was substituted ON
"-

" indicates

that a clear rating could not be generated due to small playing time
Jose Mourinho's disappointment, evident from his post-match interview showed how bemused he was at Chelsea's poor standard. For the opposing manager in Laurent Blanc, it's a huge weight lifted off his shoulders.
Paris Saint-Germain were the better team and deserve to go through. Chelsea will rue the things they did, and how they thought sitting back on that was sufficient.
Football is wonderful #CHEPSG pic.twitter.com/VFIwq442ds
— PSG English (@PSG_English) March 11, 2015
It was a bad-blooded affair from the outset, but the work rate of both sides is something that deserves credit. Referee
Björn Kuipers will be grateful that the game didn't hinge on the red card to Ibrahimovic, which for much of the game, looked like it would have.
There's no doubting that the sending off to Ibrahimovic was controversial. Screenshots and images back that up. It was a harsh red to say the least and maybe the players' bombardment of the referee forced his hand to send Ibrahimovic off the pitch.
Never should have been a red card for Ibrahimovic. Yellow at the most. Big break for Chelsea.


— Gary Lineker (@GaryLineker) March 11, 2015
Chelsea didn't find their rhythm in the game. They were too inconsistent, at times they wanted to push forward then the next minute they had no inspiration whatsoever, quite puzzling.
Edinson Cavani may have been haunted for the rest of the season if Chelsea went on to win, deciding to take it past Courtois and shoot when he could've easily slotted it under the onrushing Belgian shotstopper.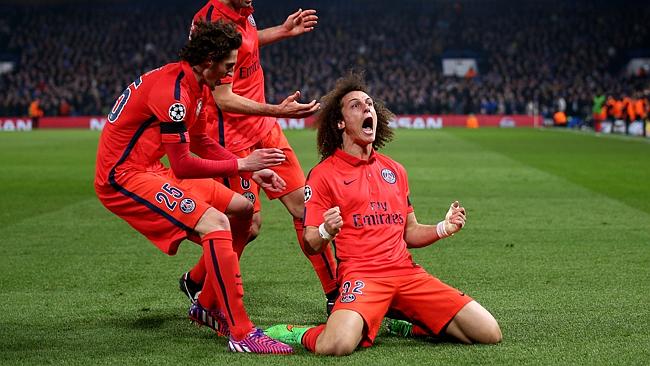 Image: Herald Sun Sport
There was no better time for David Luiz to score than then. A superb header beating Terry in the air with such power ricocheted off the crossbar and into goal and his celebration is justified, emotion is no better shown than in football.
Thiago Silva, barring the moment of madness to concede the penalty, had a solid game. David Luiz was the only one better on the pitch in my opinion. Eden Hazard was isolated and Diego Costa was shifted on the left at the pressure from the opposition.
Oscar and Fabregas was a major clash in midfield, making it far too soft. This game shows they cannot be played together. Further back, Matic struggled to influence the game like he would at his best.
As for PSG, Verratti wanted the ball, had the desire and got his rewards with a superb performance.
It was a well-deserved goal leading to a well-deserved win. Paris rise high. How far can they go in the UEFA Champions League?
***
A truly special 120 minutes of football to treasure. What a sport this is, and what a team Paris Saint-Germain are.
Image: GOAL UK
More:
Bayern Munich 7 - 0
Shakhtar Donetsk match report
Champions League:
Porto pummel Basel
Champions League:
Schalke stun Real