Everton 0 - 0 Liverpool
Barclays Premier League
Saturday 7 February 2015
5:30pm GMT Kick-off
Goodison Park, Liverpool, England.
Referee: Anthony Taylor
Matchweek #24
Bitter rivals Everton and Liverpool shared the spoils as yet another Merseyside derby concluded in a draw but Rodgers' side will be frustrated they were unable to snatch a win considering their threatening play going forward. A draw, though, may be fair enough.
Goodison Park was revved up with a raucous atmosphere as two of the world's biggest rivals locked horns. Everton were looking to bounce back from a poor run of form while Rodgers' Liverpool side were seeking another match unbeaten.

The Reds made a quick start, looking to silence the hosts and Ibe began the attempt. Scampering down the right flank, he cut back to Sterling central but instead of shooting the 20 year-old nudged it over to Moreno who blistered into the area. His effort to pick out a red shirt came to no avail and the ball was cleared.
Just 15 minutes into proceedings, Rodgers was forced to make a substitution. Lucas, with an injured thigh made way for Joe Allen.
Ibe strolled down the left flank, but with a defender backtracking well he opted to cut in. Still on his strongest right foot, the youngster battered a thunderous strike at goal; coming tantalizingly close to breaking the early deadlock as the crossbar denied him of a dream goal in such a big match.
The best chance of the game fell soon after, as Sterling lashed a low, driving ball across the face of goal and Ibe met it at Joel's back post but the youngster was unable to capitalize on an almost open goal and Everton survived the brief threat.
Sterling, Coutinho and Ibe all linked up well and scuttled around the Everton box; creating pressure. The Toffees dealt with it well, and saw off the danger.
The half time whistle blew with both sides locked in a stalemate. The best chance of this hard hitting scrap came when Ibe clattered the crossbar with an absolute pearler of a strike from long range. Everton, though, failed to even land a shot on target which tells you an awful lot about their chances. They played with a decent tempo, but attackers were restricted of a lot of movement that was key to breaking Liverpool down.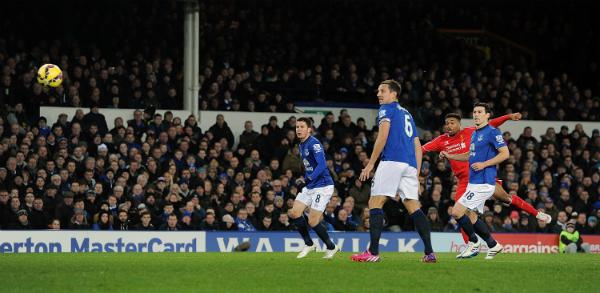 Ibe was denied by the crossbar early on. Image: Premier League





Proceedings began with scrappy play, and not a lot of composure. Allen unnecessarily clipped Naismith's ankles and conceded

a free kick from which Mirallas hammered towards goal from 30 yards but just fell wide of Mignolet's bottom post. Terrific effort to say it was from that far out.
Barry was cheaply dispossessed by a charging Coutinho who had several options. Ibe and Gerrard supported his attack on the right but the Brazilian stalled while choosing whether to shoot or pass and Stones, the only Everton defender back, retrieved the ball.
Liverpool explored different routes in The Toffees' half but the not usual tight defence of Everton kept the visitors out.
Coleman scorched down the right, and exchanged passes with Lennon until receiving possession again and crossing to Lukaku but Skrtel's solid headed clearance ensured Everton weren't robbing anything from Martinez's men.
Ibe walloped past Oviedo down the right and pulls back to Sturridge but the Englishman was unable to unleash a powerful enough strike at goal.
Barkley made an immediate difference for Everton, with his quick, energetic tempo. He sliced a beautiful pass through to a charging Coleman who got in a fantastic position but his powerful strike was impressively knocked away by Mignolet.
The full time whistle sounded and both sides left the pitch with a single point each as neither sided were unable to capitalize on any opportunities. A hard hitting scrap, but ended in yet another draw.
Conclusion
Premier League:
Tottenham 2 - 1 Arsenal match report
Football comment:
Lack of signings could haunt Manchester United
Month in Review:
January 2015
International:
Zouma, Varane to fly the flag for France?
Juventus:
Could Paul Pogba become first £100 million player?