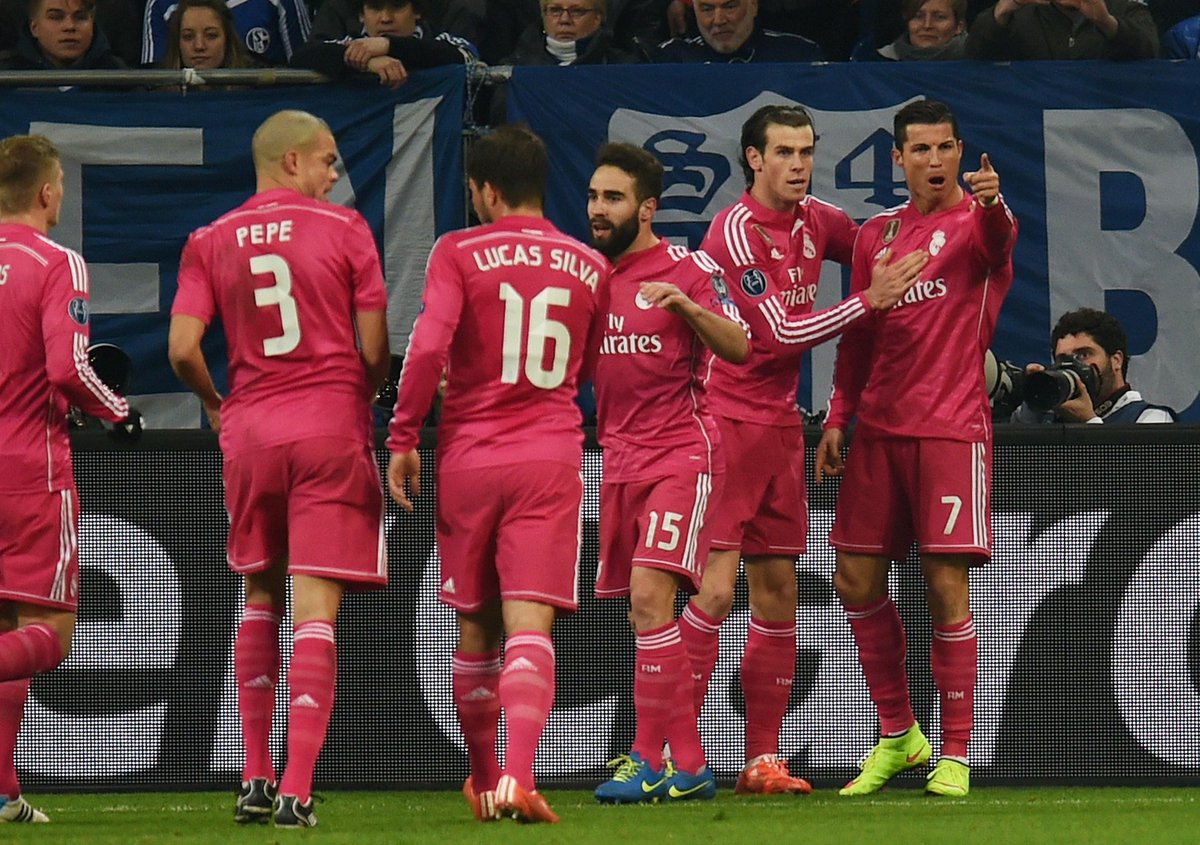 Ronaldo passionately celebrates with his team-mates after heading Real into the lead.

Image: BBC Sport
Schalke 0 - 2 Real Madrid
Cristiano Ronaldo (26'), Marcelo (79')
UEFA Champions League
Veltins-Arena, Gelsenkirchen, Germany.
7:45pm GMT Kick-off
Referee:
Martin Atkinson
Round of 16
A first half header from Cristiano Ronaldo plus a cracking top corner strike from Marcelo were enough for Real Madrid who dispatched Schalke in the Champions League.
A vibrant atmosphere filled the rafters of Schalke's stunning Veltins Arena with plenty of support echoing from the home fans; passionately supporting their team ahead of a fierce clash with reigning champions Real Madrid.

The hosts were definitely giving it a good go in the opening ten minutes. Choupo-Motig scampered in on the left channel where he would lay off to Boateng but his hesitation to shoot or pass resulted in Madrid robbing him of possession.

Surprisingly, Schalke were looking most likely to break the early deadlock. The hosts tumbled forward a couple of times in attempts to fully break Madrid's defence down but to no avail.
The hosts continued their impressive start and Huntelaar's superb effort reflected that. The Dutchman, positioned on the edge of the area, twisted and turned past Madrid defenderd and unleashed a low, dashing strike that Casillas did well to push around his post.
25 minutes soon flew by but Madrid's failed efforts to get Ronaldo in the game were being combated by a determined Schalke side.
However, just a minute later The Portugese star didn't only get involved in a piece of play; he took full advantage of it and scored. Carvajal whipped in a terrific cross from the right and the lacklustre defending from Schalke allowed Ronaldo to steam around the back of them and guide a free header past Wellenreuther. All of the home side's efforts were shut out due to lazy defending and that is a deadly consequence against Madrid.
Ronaldo rises high to dart a header home.

Image: Real Madrid FC
Madrid almost doubled their lead a few minutes later as Benzema recieved a through ball but the Frenchman hesitated to see if he was offisde which slightly delayed his run. Nonetheless, it was later shown that Ushida played him on, however Benzema's strike was lackluster and retrieved by Schalke goalkeeper Wellenreuther.
Just as matters couldn't appeared to be worse for Schalke, their star man Huntelaar was forced off the field after a heavy collision with central defender Varane.
Moments later after Ronaldo was clipped outside the area, Madrid earned a free-kick in a very dangerous position. The Portugese man battered a ferocious effort over Schalke's wall but Wellenreuther did a fantastic job in thwarting Ronaldo with a superb block with his gloves and the ball trickled away. That could have easily been two.
Madrid began to take control, and yet again Ronaldo found himself on the end of a terrific through pass. This time, delivered by Kroos, the Portugese man scorched onto it and managed to flick one around Wellenreuther but a hesitant clip of the ball resulted in it tumbling over the line and out for a goal kick despite Ronaldo's sliding efforts to maintain possession.
The referee signalled the end to first half proceedings and Ronaldo's headed goal was what separated the two sides heading into the break. Schalke had their fair share of chances and efforts at goal but they wouldn't have conceded if Carvajal, the man who assisted Ronaldo, wasn't allowed so much time on the ball to cross.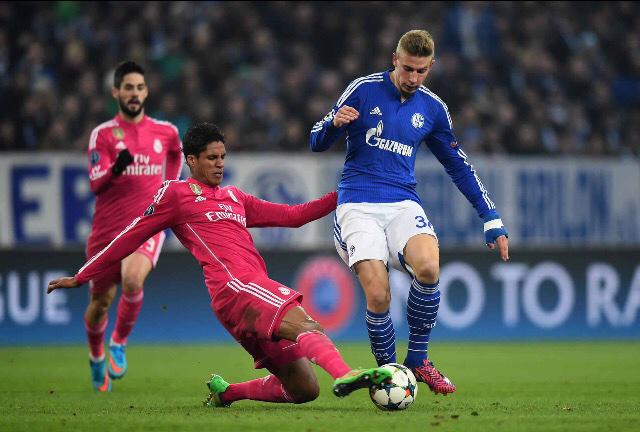 Image: The Guardian
Madrid's magnificent attackers were in action again as Bale scorched down the left, and while his left foot flick on to present himself with an opportunity to assist one of his team-mates was superb, the actual pass to Ronaldo wasn't as it waywardly tumbled past the Portugese man.
Bale linked up with Isco superbly with the Welshman recieving possession from a charging Isco and a cheeky back-heel back to his Spanish team-mate presented him with an opportunity to shoot. He did, but it dashed well over the crossbar.
Schalke would come tantalizngly close to levelling things up after a counter-attack was seized upon after Ronaldo's free-kick struck the wall. Boateng initially bashed a ball over to Uchida who cushioned it down to Platte who fiercly unleashed a cracking strike that battered the crossbar. Uchida picked up the scraps, but his shot lacked power and was retrieved by Casillas.
With ten minutes remaining, it seemed Madrid were satisfied with a one-goal lead heading back into the second leg but Marcelo emphatically ruled that out. Ronaldo did well to dribble his way through a line of defenders and his lay-off to the Brazilian left back was smashed straight into the top right hand corner. Absolutely brilliant strike which was hit on his weakest foot. Game over.
The full-time whistle sounded and Ronaldo, Marcelo's goals were enough to see off a resilient Schalke side who weren't intimidated one bit. Overall, the visitors will be happy with their performance as Portugese star man Ronaldo ended his mini goal drought and a destructive strike from Marcelo sealed it.
Player Ratings
| | | | |
| --- | --- | --- | --- |
| Schalke | | Real Madrid | |
| | 8.1 | | 7.9 |
| | 8.0 | | 8.1 |
| | 7.4 | | 7.8 |
| | 7.8 | | 7.7 |
| Nastasic | 7.8 | | 8.9 |
| | 7.5 | | 8.0 |
| | 7.7 | | 8.0 |
| | 7.6 | | 7.9 |
| | 7.8 | | 7.9 |
| | 7.9 | | 7.8 |
| | 7.5 | | 9.1 |
Cristiano Ronaldo might just be back to his best after tonight's performance as he grabbed a goal and assist. Madrid, overall, were great against Schalke who just couldn't handle their sheer class.
More:
Danilo penalty seals Basel vs. Porto
Round of 16:
Cavani salvages draw for PSG against Chelsea
Champions League:
Shakhtar too tough to break for scoreless Bayern