WRITTEN BY ALEX LEE (@AlexIsTheeName)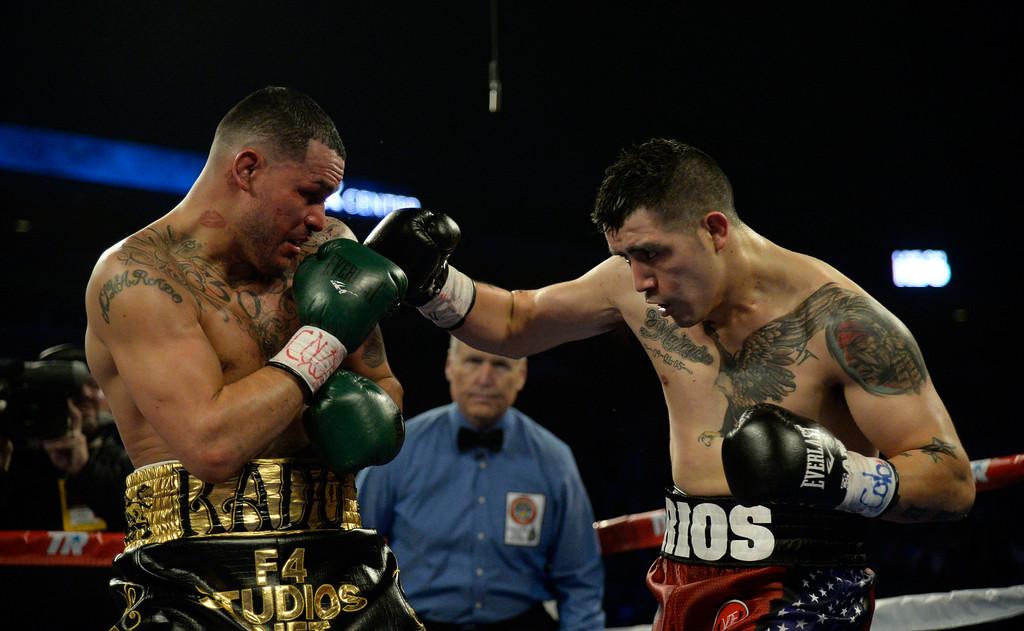 Image: TheFightCity
Mike Alvarado was beaten up without contest for three rounds before refusing to come out for the start of the fourth. Alvarado's corner entertained stopping the fight after round two. Had the fight continued as it did for several more rounds, Alvarado's head trauma might have become life-threatening.
After the fight, "Mile High" Mike Alvarado, was viciously scolded with uniform boos from his hometown Denver crowd. Whether to tease the crowd, or simply not caring, Alvarado stated to Jim Lampley in his post-fight interview that "I didn't give it all I got," inciting even more scorn.
The first half of round one saw neither fighter throwing punches, mainly due to Alvarado's movement and Rios' inability to throw punches against fighters who move. By the second half of the first round, Alvarado moved less and Rios began to throw punches to the head and body without pause. From then until the end of the fight, Alvarado maintained a high-guard from which he was open down the middle for jabs and uppercuts, and from the sides for hooks; his defense was an optical illusion. In round two, Alvarado took a knee from an accumulation of punches, though mainly hurt by a right uppercut. Alvarado continued to be battered until the fight was called off after round three.
This was not quite HBO's script, for they had wanted the bloodbath to be more even-sided and to last into the later rounds. To be sure, as both fighters were suffering losing streaks in non-competitive fights where neither performed well, the sole merit HBO saw in this fight being a headliner was the presumption that both fighters would give and take severe punishment – the loser, having lost again, likely not being invited to appear on HBO Boxing except, perhaps, as a tune-up for a young rising star in an undercard bout.
Indeed, Rios has been on record claiming that HBO refused to televise another of his fights after his loss to Pacquiao unless he fought Diego Chaves, who was known for a compettive fight with Keith Thurman on Showtime. Rios' dwindling popularity probably made HBO see him as a sacrifical lamb for Chaves. After the fight tonight, Rios again stated that if he lost to Alvarado it could be the end of his career, only because HBO would no longer feature him. We can infer that the same applied to Mike Alvarado.
All the advantages appeared to be with Rios. It was Alvarado who had taken the most punishment in their recent fights. Last year, Alfredo Angulo suffered a TKO loss to Saul Alvarez in round ten. In that fight, Angulo was never knocked down and took clean shots to the head for all ten rounds. In his next fight, Angulo was wobbled in the early rounds by De la Rosa, showing a noticeable decrease In his punch resistance from the Alvarez fight. Thus, a shopworn Alvarado would not likely last for a twelve-round war. He was either going to win boringly or lose quickly.
Alvarado claimed after the fight that he is "far from being at his best." I see in Alvarado a guy who does not have the punching power to brawl, but who also lacks the quickness and reflexes of a pure boxer. For the sake of his health, Alvarado should retire. Lampley spoke with condescension towards Alvarado following the fight, suggesting that HBO did not approve of his performance.
Follow me on Twitter:
@AlexIsTheeName
More:
Wilder tops Stiverne
UFC:
Johnson stuns Gustafsson in Sweden
Boxing:
Kell Brook to face Ionut Dan Ion