Another scintillating night on the court in London.
New York Knicks 79 - 95 Milwaukee Bucks
O2 Arena, London, England.
Last night all the way across the pond at The O2 Arena in London England, two of the NBA's Eastern Conference teams met in front of a rock-est London crowd. It would once again be another tough loss for the struggling New York Knicks but they sure did put up a fight in the games 4th quarter.
During the 1st quarter the Knicks would miss their first 10 shots. Carmelo showed signs of rust as well as he was struggling throughout the opening quarter. The Bucks on the other hand could not have started out any better. They got to a 14-0 lead which would only be the start of Milwaukee's dominance throughout the game. They would finish of the 1st quarter with a 18 point lead at 31-13.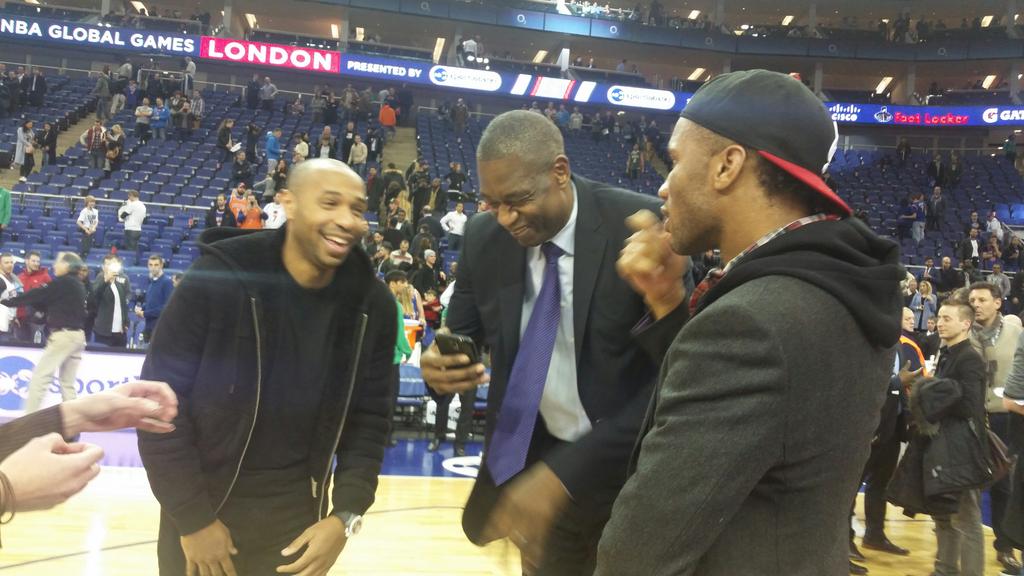 Footballing legends Thierry Henry and Didier Drogba joined a plethora of celebrities in London.
The Knicks would continue to struggle throughout the 2nd quarter, continuing to miss many shots and letting The Bucks get to many easy buckets. The quarter would be a repeat back and forth of The Bucks leading the score between 18 and 26 points.
Throughout much of the 3rd quarter much was repeated until the 4th quarter came around. The Knicks would start the quarter being 26 points down at 82-56. Amundson would give 4 points early on in the quarter with one being a huge dunk of the assist of Hardaway. The Knicks would shortly get the score difference down to 19 at 66-85. Then after a fantastic 3 pointer from Hardaway and a jump shot shortly to follow the game was now at 73-85. However The Knicks would fail to capitalize any more form this comeback as after Pachulia got the foul from Amundson, he was able to make the two free throws increasing the lead to 13 points. The Bucks would continue to dominate including a 3 pointer from Mayo just before the last 3 minutes. The game would finish with a Milwaukee win at 95-79.
Bucks 95-79 Knicks. Bucks, Giannis shine on another superb night of NBA in London. Till next year... #NBALondon pic.twitter.com/Xi649HHgpb
— TheSportMatrix (@TheSportMatrix) January 15, 2015
It sure was another tough loss for The Knicks and now they are at 5-36. The Bucks are now at 21-19 the 5th in the Eastern Conference. Carmelo would the high point player of the game with 25 points. Mayo would be the Buck's highest with 22. Both teams will be back in action on Monday night when The Knicks host the Pelicans and Bucks host Raptors.
More:
Rockets top Cavs
NBA:
Texas to dominate West?
Year in Review:
2014 in NBA