WRITTEN BY SCOTT STEEL-MORRIS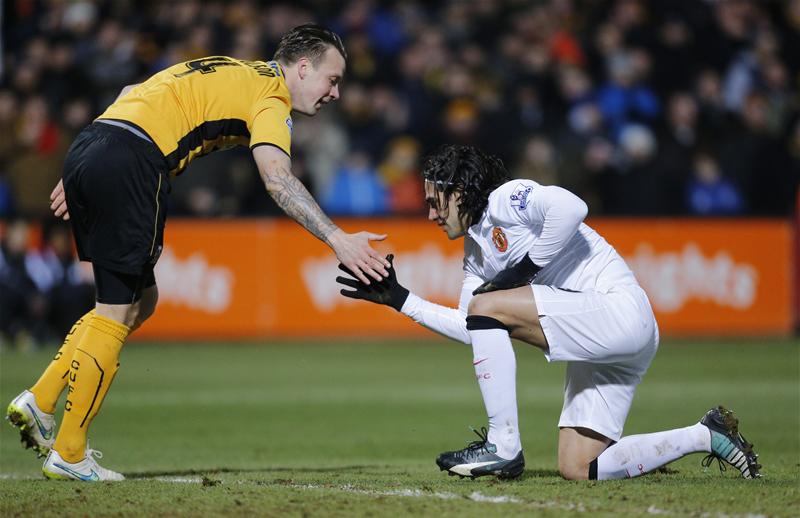 There were 75 league places between the two when they met on Friday night.

Image: Squawka
Cambridge United 0 - 0 Manchester United
Friday 23 January 2015
7:55pm GMT Kick-off
Abbey Stadium, Cambridge, England.
FA Cup
4th Round
Another poor performance from Manchester United plus a very resilient defensive performance from Cambridge United in the FA Cup 4th Round meant the encounter ended in a 0-0 draw and that will certainly leave Cambridge as the happier of the two sides.
Louis van Gaal had set his stall out early with his team selection including big names Angel Di Maria, Radamel Falcao and Adnan Januzaj, perhaps the biggest surprise was the 4-4-2 formation adopted by Man United, which would have come as a relief to many of their fans.
However, this failed to inspire The Red Devils and they looked lacklustre throughout , seemingly content to keep the ball rather than possess any desire to attack the home side, this often resulting in going backwards and sideways more often than forwards.
Cambridge did start well in the first half and carried a threat to the Premier League side, particularly from set pieces and from wide areas. As they game grew Cambridge retreated more and more into their own half and were more content to defend rather than push for a winning goal, which made it very difficult for Man United to break them down.
Why Cambridge want replay: MUFC have avg match income of £3.86m. Cambridge would get 45% (£1.7m). From ONE game. Their annual income: £1.6m.


— sportingintelligence (@sportingintel) January 23, 2015
As the game got towards the end, it came clear that United needed a change to force a result and they brought on Ander Herrera and Robin van Persie for Marouane Fellaini and James Wilson respectively, this brought some life into their play and they started creating more chances, in particular to Falcao, van Persie and Di Maria, however Cambridge more than capably defended these attacks and fully deserve to be still be in the competition.
Overall the Man United fans will be disappointed with the result and more importantly the performance as it isn't what they are used to and it will get increasingly frustrating to see them carry on like this.
Here are the match stats as Cambridge drew 0-0 with Manchester United last night #SSNHQ pic.twitter.com/9XMO6tMr9v
— Sky Sports News HQ (@SkySportsNewsHQ) January 24, 2015
It goes without saying that Cambridge more than deserve to be going to Old Trafford and it will be a momentous day in their history. It certainly will be interesting to see how the game goes in Manchester with the Old Trafford faithful roaring them on. Will definitely be worth a watch.
Follow me on Twitter: @scottmorris1991
More:
Will Suarez settle at Barca?
Manchester United:
Should Falcao leave?
Transfers:
United in 'Race for Reus'
Manchester City:
Citizens must fill Toure chasm