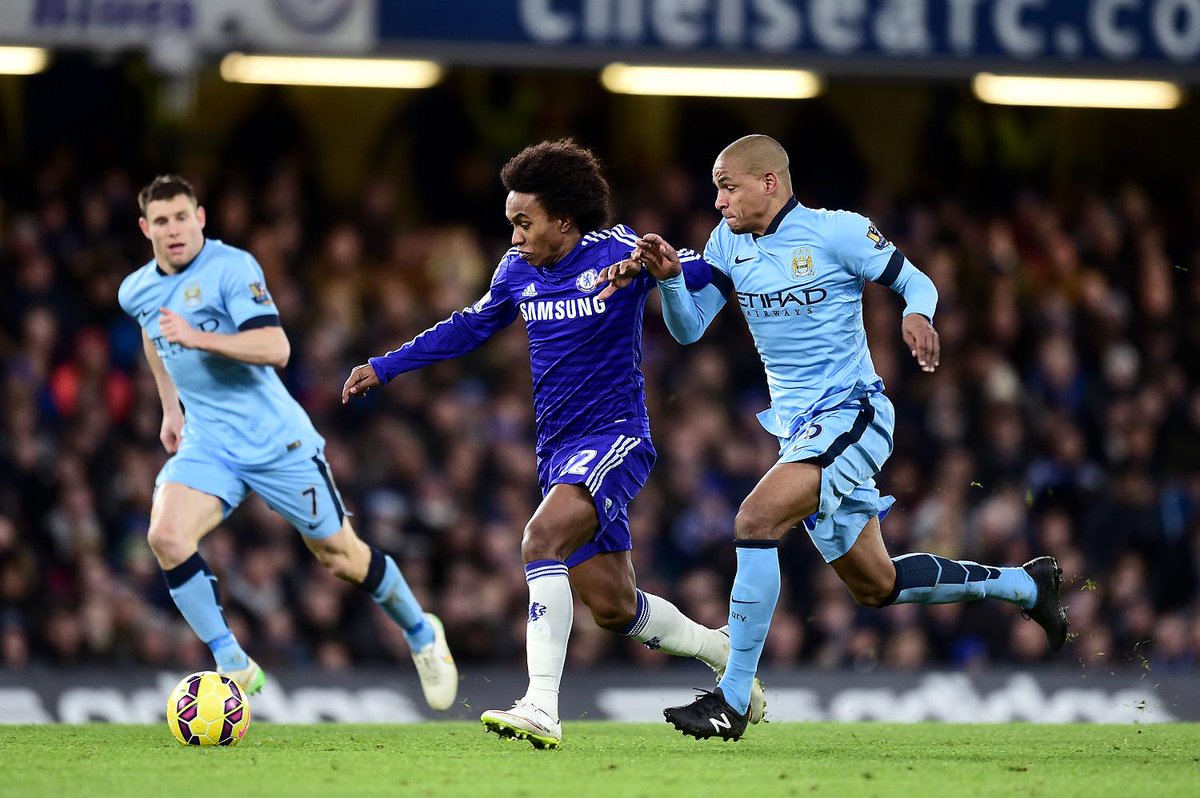 Chelsea 1 - 1 Manchester City
Loic Remy (41'), David Silva (45)
Barclays Premier League
Saturday 31 January 2015
5:30pm GMT Kick-off
Stamford Bridge, London, England.
Referee: Mark Clattenburg
Matchweek #23
Chelsea and Manchester City shared the spoils as David Silva's flicked goal cancelled out Loic Remy's opener to ensure Mourinho's men stayed five points clear at the top.
With a raucous atmosphere surrounding Stamford Bridge, plus millions watching around the world, Man City kicked off proceedings looking to catch Chelsea in the table, but Mourinho's men seeked to secure all three points and accelerate on in first place.

It was a lightening start from the visitors, as Milner scorched down the left flank and laid off to Navas who launched a thunderous effort at goal; clattering against Courtois' gloves and back out.
Chelsea responded, with slick passing and movement in an attempt to counter with the likes of Hazard. Terrific start to the game.
City one again countered, and Navas' lightening speed ensured he could scorch into Chelsea's half and lay it off to Fernandinho who drilled a low shot towards the bottom right hand corner but a deflection denied the ball of reaching its initial target.
Ivanovic made a mess of things outside his own area in which Milner capitalized on and slipped a pass to Aguero. The Argentine's shot was carefully saved by Courtous, though.
The first half an hour was arguably even, with both sides attempting breakthroughs but title back lines thwarted attacking moves. Chances fell at each end but none good enough to truly capitalize on.
An unusual poor touch from City captain Kompany was seized upon by the charging Remy and the Frenchman's lay off fell to Oscar outside the area but his curling left footed strike fell into Courtois' grasp without any trouble.
Out of nowhere, Aguero latched onto a long ball over the hosts' back line and tensions rose as The Argentine blistered through the center and approached the box. He turned to his left, but the low effort agonizingly rolled past the far post. That was City's best chance of the game, by far.
On the verge of half time, City silenced Stamford Bridge. The whole move began with the dangerous Navas who crossed into the near post but Courtois, rising above defenders uselessly punched it back to Aguero outside his area and Pellegrini's star striker fired a left footed strike that was initially going wide of goal but Silva's crucial flick on edged it past a bewildered Ivanovic and into goal.
Fantastic response form City, who arguably didn't even deserve the equalizer but that's the essence of the game.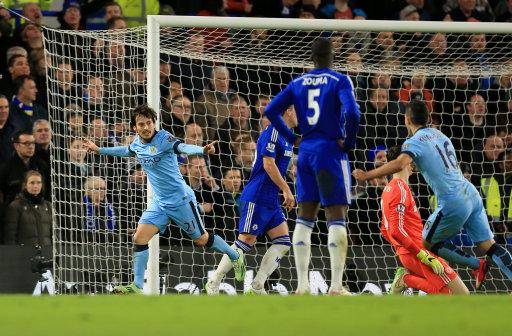 Silva's flick cancelled out Remy's opener. Image @MCFC on Twitter
Navas, just five minutes following second half kick off blistered down the right but his attempted cross laughably sliced over Courtois' bar.
Not much action happened in the first ten, but Navas shone yet again. He had a terrific game. The Spaniard linked up with fellow compatriot Silva, who would feed it back to Navas on the right and chipped a cross in the middle. Fernandinho met it outside the box and his curling effort forced Courtois to tip over the bar.
It was all City in the second half, with tight exchanged passes, slips the key to provoking high concentration levels of Chelsea's defence.
The hosts' sluggish play wasn't enough to silence the vibrant Bridge, who still made plenty of noise despite being pinned back by Pellegrini's men.
Once Chelsea did break out, Ramires found himself laid on the grass after a rough challenge. Mourinho's "invincible" team just couldn't advance up the field. A goal surely beckoned for City.
With just 15 minutes remaining, and both teams searching for that all important winner, Pellegrini brought Lampard on to a cauldron of noise. Well deserved too, the Englishman is still a Chelsea icon.
With a game of this magnitude, strikers found it difficult to break through back lines and it was evident. Although the visitors probed throughout the majority of second half proceedings, Chelsea's defence blocked out any clear cut danger.
Dzeko replaced Aguero with around ten minutes plus stoppage time remaining.
The full time whistle blew, and Chelsea did well to even earn a draw courtesy of City's high pressure throughout the second half. Chances fell for both sides but Mourinho and Pellegrini's men shared the spoils.
Man City were excellent, especially in the second half as they piled the pressure on Chelsea but the hosts held on after Silva's equalizer, cancelling out Remy's opener.
TABLE And a dramatic Saturday in the #BPL leaves the standings like this... pic.twitter.com/zQeIWdQqws
— Premier League (@premierleague) January 31, 2015
More:
Could Paul Pogba break £100m barrier?
Manchester City vs. Chelsea:
As it happened
Arsenal:
Bielik, Paulister bolster Gunners
FA Cup:
Tournament works it's magic once again