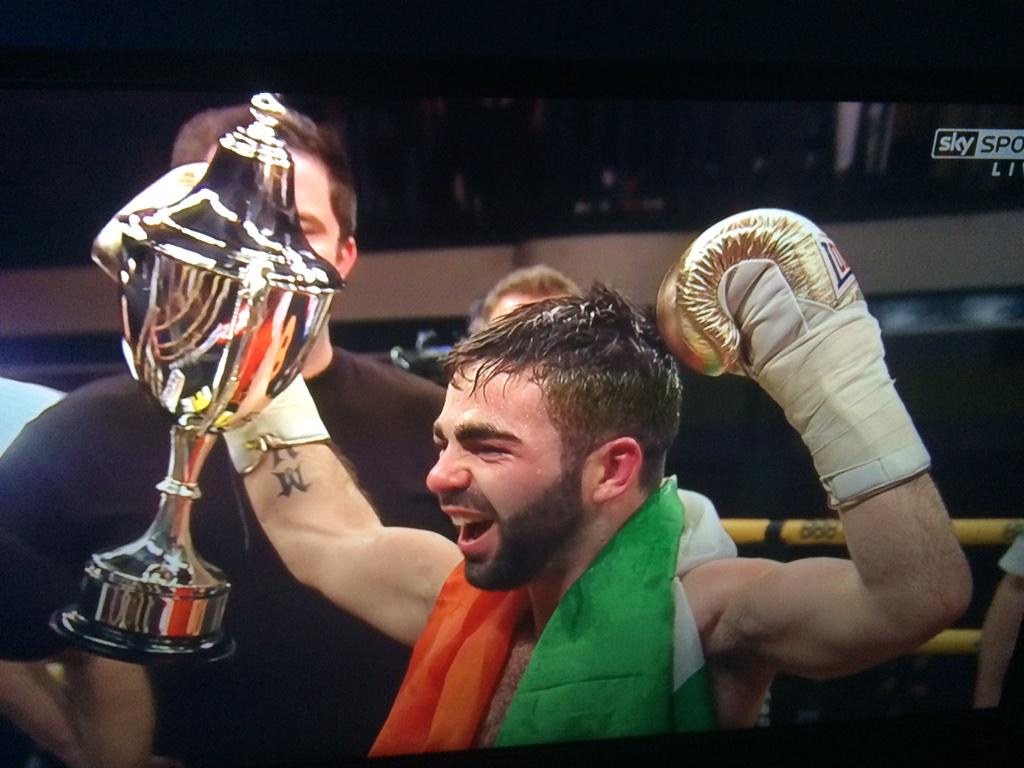 Carroll celebrates his amazing win. Image: Our partners, The Fight Buzz
Irish-born fighter Jono Carroll, with just three professional fights under
his
belt, claimed the Prizefighter trophy after beating big puncher Michael Devine by
unanimous
decision at York Hall.
Jono Carroll def. Michael Devine via. split decision. There was a vibrant atmosphere in the air ahead of the final. Devine came out swinging wild hooks, while Carroll stuck to smart boxing and picked some cracking shots, uppercuts mostly. The Irishman continued to counter Devine and by the end of Round 3, his man was gassed and had nothing left. It went the distance, and ALL three judges had it in favour of Jono Carroll, the new Prizefighter champion!
Semi Finals and Quarter Finals
Jono Carroll def. Gary Buckland via. split decision. Carroll started well, landed some terrific punches and made Buckland miss throughout the opening round. The Welshman proved why he is a former British champion though, firig back with some cracking shots in the second to earn a round. Possibly the closest fight on the card, Carroll edged Buckland in the final round and landed some crunching hooks which almost rattled his man. Dublin's own pipped Buckland to advance into the final against Michael Devine.
Michael Devine def. Lee Martin via. knockout. English-born fighter Devine displayed enormous power by flattening Martin in the first round. He landed a crunching left hook which shattered his opponent's skull and sent him crashing to the canvas. The referee stopped the contest straight away despite Martin's efforts to carry on.
Gary Buckland def. Floyd Moore via. unanimous decision. The Welshman started strong, landing quality punches, favouring the uppercut which bothered his opponent and took the first. Former Prizefighter champion Buckland continued his dominance in the second and third, enabling him to pick up a unanimous decision over Floyd Moore to advance.
Jono Carroll def. Steve Foster Jnr via. split decision. The opener was fairly even, with both fighters coming forward and exchanging blows. Carroll roughed Foster Jr. up and made him miss several times. At 14/1 before tonight, Carroll shocked everyone and took a points win over former European champion Foster Jr.
Michael Devine def. Danny Connor via. majority decision. Devine flattened Connor in the first round with a brutal right hand with bad intentions. However, the victim climbed to his feet and grinded through the opener. Connor fought back in the second and third but didn't do enough to take the win, and Devine advanced into the semi-final with a points decision (28-28, 30-26, 29-28, the latter in favour of the Englishman.
Lee Martin def. Craig Whyatt
via. split decision. The two lightweights went absolutely toe-to-toe in the opening quarter-final fight, many saw Whyatt ahead on points but it is what it is. Martin displayed some fantastic boxing pipped his opponent to progress.