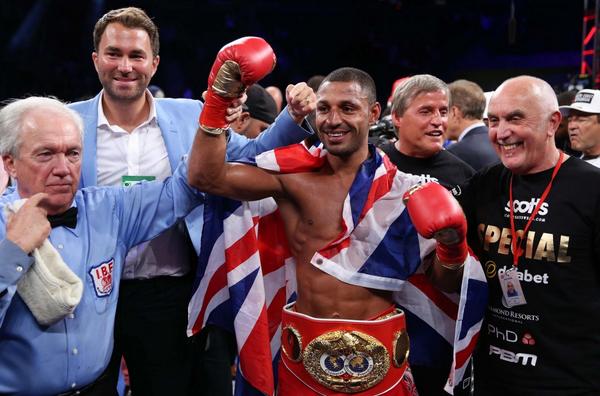 Brook was victorious in his world title conquest against Shawn Porter back in August.

Image: Boxing Observer
IBF
welterweight
champion Kell Brook has vowed to take his rival Amir Khan out if the two meet in a mega
showdown
next year at Wembley Stadium.
Brook won the IBF title from Shawn Porter back in August, and has announced his intentions to stage a world championship contest with fierce rival Amir Khan next year.
The British welterweights have been at each other's necks for several years now, but rumoured bouts between the two have fallen apart.

However, now the Sheffield-born fighter is world champion, he is confident a showdown with Khan will happen and has vowed to 'take him out' and do it for the fans.

Brook took to his Twitter account and posted:
I'm rooting for @AmirKingKhan Saturday then I'm gonna take him out in front of 80,000 at Wembley Stadium next summer! #AndStill #ChinaX
— Kell Brook (@SpecialKBrook) December 10, 2014
A side B side seaside I just love to fight and give the fans what they want!
— Kell Brook (@SpecialKBrook) December 10, 2014
The two battling welterweights met on Ringside two years ago, and exchanging heated words towards reach other, with Brook and Khan both insisting they won the sparring session contested years ago.
Sheffield-born fighter Brook would enter the fight as champion if he successfully retains before the rumoured fight, but Khan insists if they do stage a showdown next year it will be a unification bout.
I swerve towards Brook stopping Khan if the pair fight, because the Sheffield-man's power landing flush on Amir's chin will rock the Bolton-born fighter and potentially knock him out.,
However, Khan carries power and Brook would have to be in supreme shape to catch him clean, but the IBF world champion has lightening combinations.
It would be incredibly close to call.
Who would you pick to win this fight if it goes ahead? The power of Kell Brook or speedy Amir Khan?