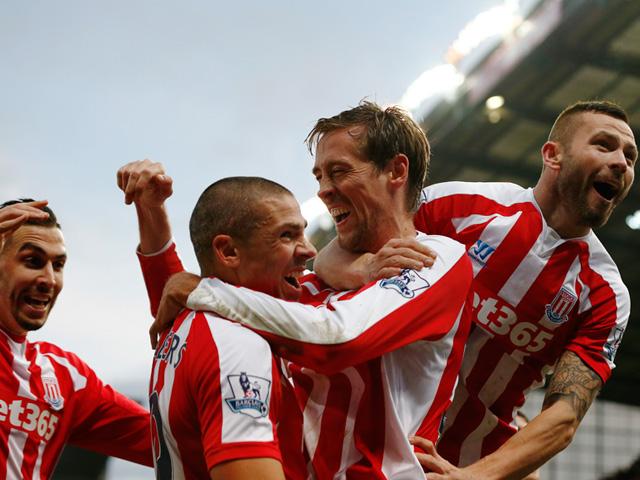 Stoke lead 3-0 at half-time in a stunning Potters' performance.

Image: StokeCityFC.com
Stoke City 3 - 2 Arsenal
Peter Crouch (1'), Bojan Kric (34'), Jonathan Walters (44'), Santi Cazorla (68' penalty), Aaron Ramsey (70')
Barclays Premier League
Saturday 6 December 2014
3:00pm GMT Kick-off
Britannia Stadium, Stoke, England.
Matchweek #15
Stoke City left Arsenal traumatised as a defiant 3-2 victory plunged Arsene Wenger's side into masses of doubt on Saturday afternoon.
This game was critical to Arsenal's chances to finish top four, Stoke stopped it from happening with a 3 - 0 half time lead vs. the stronger North London side.
It all started when Walters got the ball from kick off and sprinted down the right hand side. Bellerin mades a mistake, Martinez dived away and Crouch would tuck the the ball away into the bottom right hand corner of the goal.
Giroud nearly scored just after the Crouch goal, but his header went wide, losing the response that they so evidently needed.
Bojan was in the box, Walters was in this goal again, from the right wing, he swung the ball in, Bojan with a volley, underneath Martinez, it went into the middle of the goal.
Ten munutes later, Walters assisted two and then got a goal, a corner came in, it wasn't cleared, Walters was at the back- post, he then stuck the ball into the roof of the net! At half-time Stoke lead by three goals to nil in a shocking scoreline over the interval.
The second half was tepid to start before the activity increased on the part of the Gunners looking to assemble a comeback.
Chambers saw a yellow for a tackle on N'zonzi. Later on Flamini got taken down by Shawcross, and a penalty was given to Arsenal. Santi Cazorla slotted away to lift hopes.
Aaron Ramsey swept in a stunning volley from a corner kick two minutes later as Arsenal were flying.
In another Arsenal corner, Giroud got to the ball, Shawcross was in the way and Begovic had to stretch for the deflected ball. As Stoke were on the prowl, Chambers took down Bojan for a second yellow, the 19 year old defender was off.
It was full time and Stoke were winners, ending the Gunners 3 game win streak. Arsenal were quite simply bemused at how the Potters out-performed them.