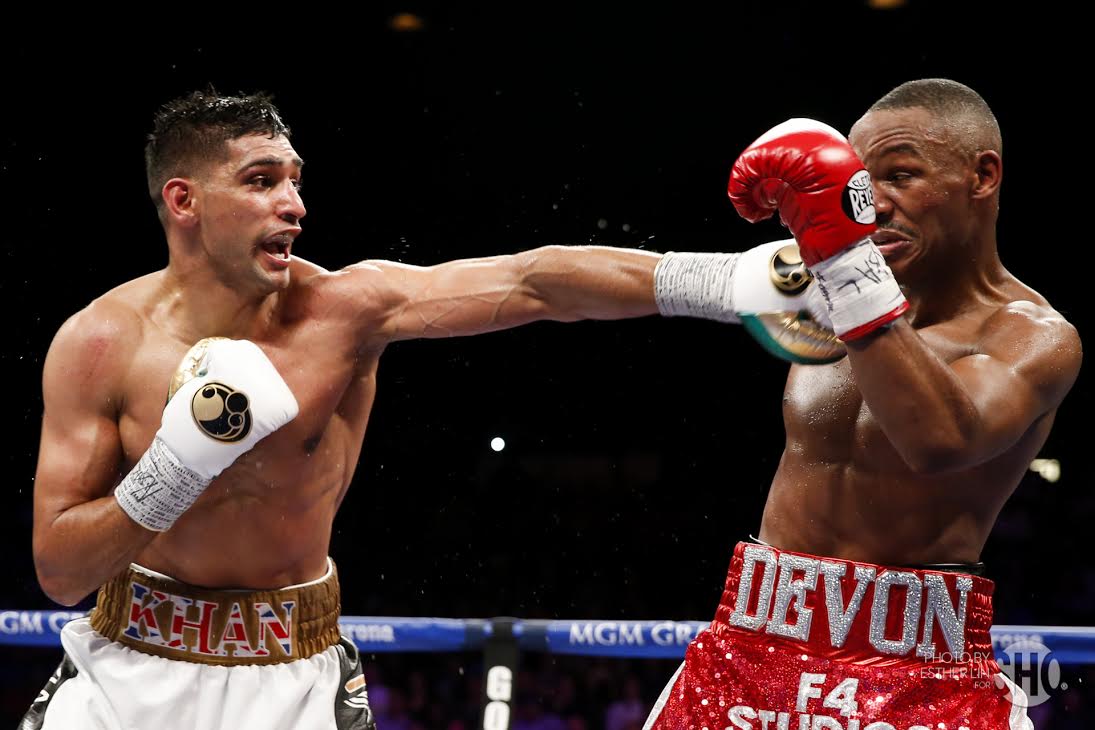 Khan's speed prevented Alexander from gaining any solid momentum. Image: Showtime Sports
Amir Khan
continued
his quest for a world
title
showdown with either
Floyd
Mayweather or Manny Pacquiao after he
dominantly
dispatched snappy southpaw Devon Alexander in a
unanimous
decision.
The fighters were ready. Off they went. Round 1 bell sounded and Khan made a quick, sharp start by cutting in and out of range using his lightening hand speed. Alexander was unable to challenge the Bolton-born fighter which really enabled Khan to work at his own rate.
Khan won the majority of the first five rounds, maybe around four if Alexander's odd flurry of punches were enough to beat Khan's classiness.
The Bolton-man used his speedy combinations, stepping in and out of Alexander's space which made it difficult for the American to do what he does best; counter punch to a big effect.
Ideas were running low in the Alexander corner, and with already six rounds in the bank, things weren't looking good. The southpaw fighter loves to stay on the back foot and counter punch his opponents charging in.
However, he was forced to go unorthodox and lunge forward himself because Khan's speed prevented the American from scoring at long range.

According to Jim Watt, the speed and classy combinations
of Khan were enough to bank him every single round from the opener to the tenth.
Alexander's
frustration
grew, as not only was he being
forced
to
lunge
forward
and do things he's not
comfortable
doing, he rarely scored while doing so. Virgil Hunter has done wonders with Khan; his defence has been close to
immaculate
.
In the 11th, Khan was however caught with a beauty bang on the chin. Unlike other fights, it didn't effect the Brit as Alexander failed to
capitalises
and put Khan on the canvas.
Khan's speed dominated the fight and earned him a well deserved
unanimous
decision over Alexander to prove he is at the top of his game.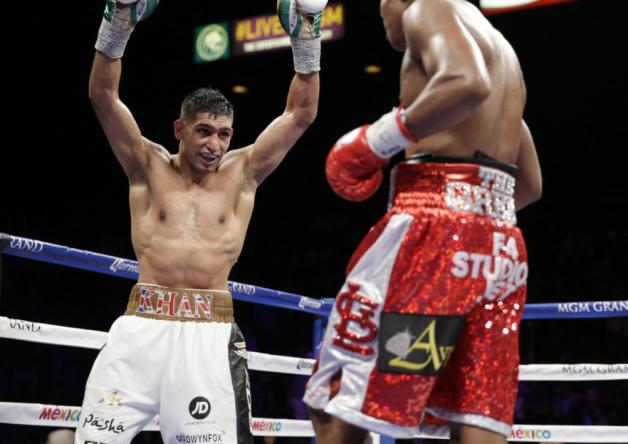 Khan dominated Alexander throughout the 12 round contest. Image: The Star Sport
UNDERCARD
Keith Thurman def. Leonard Bundu via.
unanimous
decision
Keith Thurman demonstrated unexpected, but also classy boxing skills and movement around the ring as he comfortably dispatched formerly undefeated welterweight Leonard Bundo by unanimous decision. The knockout artist Thurman dropped his man in the very first round with a brutal left hand at the southpaw stance. Bundu was tipped to get blasted out in a few rounds, but in fact he proved his durability and kept Thurman on his toes at all times. The crowd would actually boo the action, as they vclearl expected the undefeated American to bang Bundu out easy. Thurman came to box, with a tactical mindset instead of just thinking about his power. In fact, he hardly ever threw any big shots. There was very little offence from Bundu, and that proved as Keith Thurman picked up a dominant unanimous decision over 12 rounds.
After the fight, Thurman called out Marcos Maidana for a possible fight between two off the biggest punches in the welterweight division.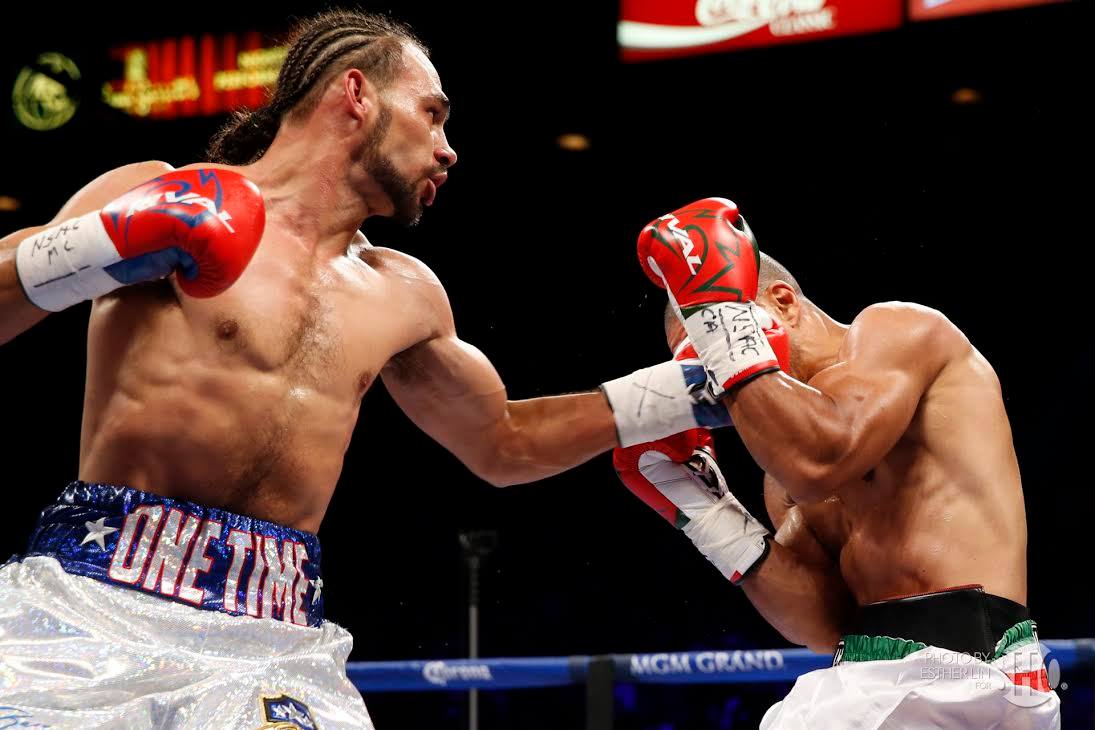 Thurman displayed excellent boxing skills as he dominated Bundu to a points win. Image: Showtime Sports
Abner Marel def. Jose Ramirez via. 5th round
retirement
Former super-featherweight world champion Abner Marel won a big punching shootout over Jose Ramirez after stopping his fellow Mexican in the fifth round to announce his intentions of a rematch with Jhonny Gonzalez, whom stunningly knocked Marel out to snatch the WBC title. The loser of that, Abner Marel went toe-to-toe with Jose Ramirez where he would floor his foe several times early on. The Mexican battered Ramirez with a crunching left hook which dropped him flat on the canvas. However, it wasn't all one sided as Ramirez would fire back with some offence every time Mares pounded him with shots. The former world champion enjoyed engaging in a dog fight more than Ramirez, and it showed since Mares' punches seemed to hurt the 26-year old. In a brutal war that lasted five rounds, Ramirez retired on his stool after receiving tons of punishment. There wasn't much point in transcending the fight according to his team and that decision sent Mares back into a high confidence level and more importantly, back to winning ways with a great performance. There is also talk of the Mexican moving down to the super-bantamweight division to fight world champions such as Carl Frampton and Scott Quigg.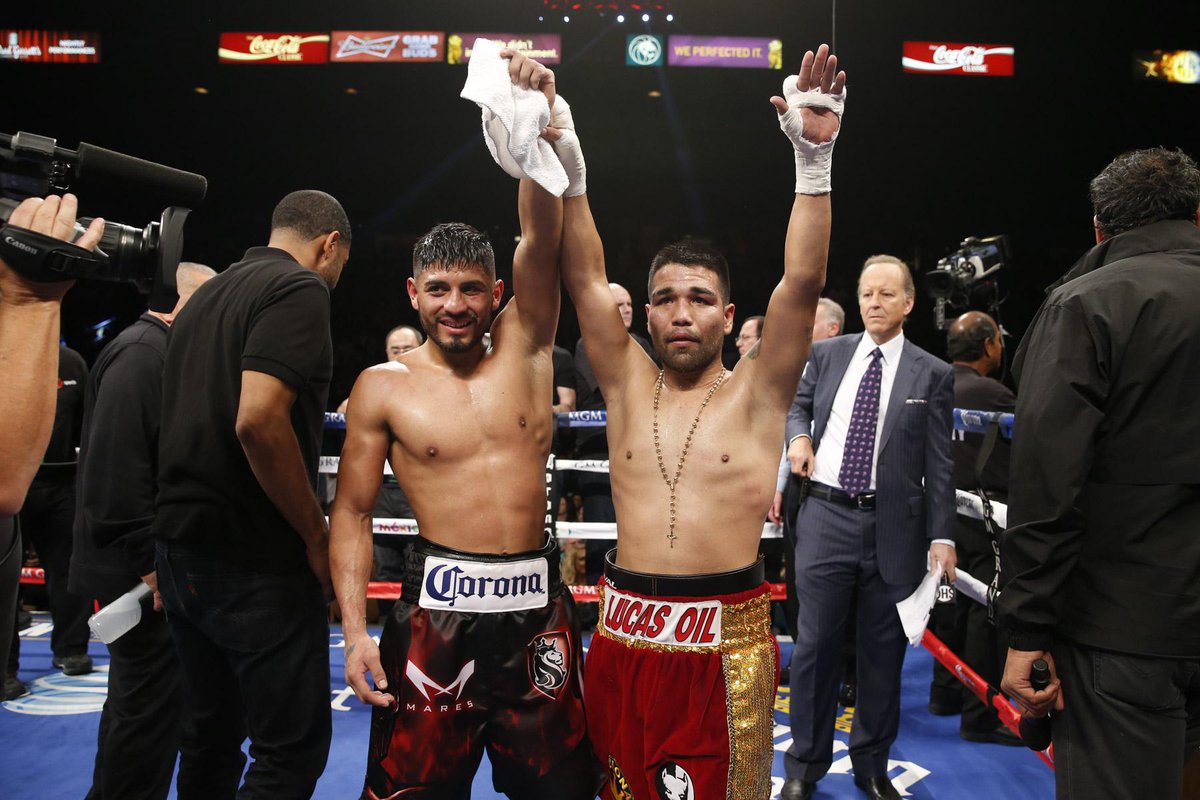 Jermall Charlo def. Lenny Bottai via. 3rd round knockout
Undefeated light-middleweight prospect Jermall Charlo emphatically stopped Italian veteran Lenny Bottai in the third round to continue his road to stardom. With twin brother Jermell watching on in the crowd, one half of the 'Texas Brothers' displayed some of his best punching power yet. It was a mismatch from the first bell, with Charlo landing brutal punches, slicing through the guard of Bottai which resulted in a cut eye. After two rounds of domination, the American would finish off his Italian opponent. Stood in an attacking stance, he smashed Bottai with a crunching left hook that sent the veteran crashing to the canvas, resulting in Italy's native falling in a devastating knockout loss. Charlo is now mandatory challenger to Cornelius Bundrage's IBF light-middleweight title.
Charlo displayed thunderous punching power against Italian veteran Bottai. Image: SB Nation