WRITTEN BY MMA GENIUS (@mmagenius05)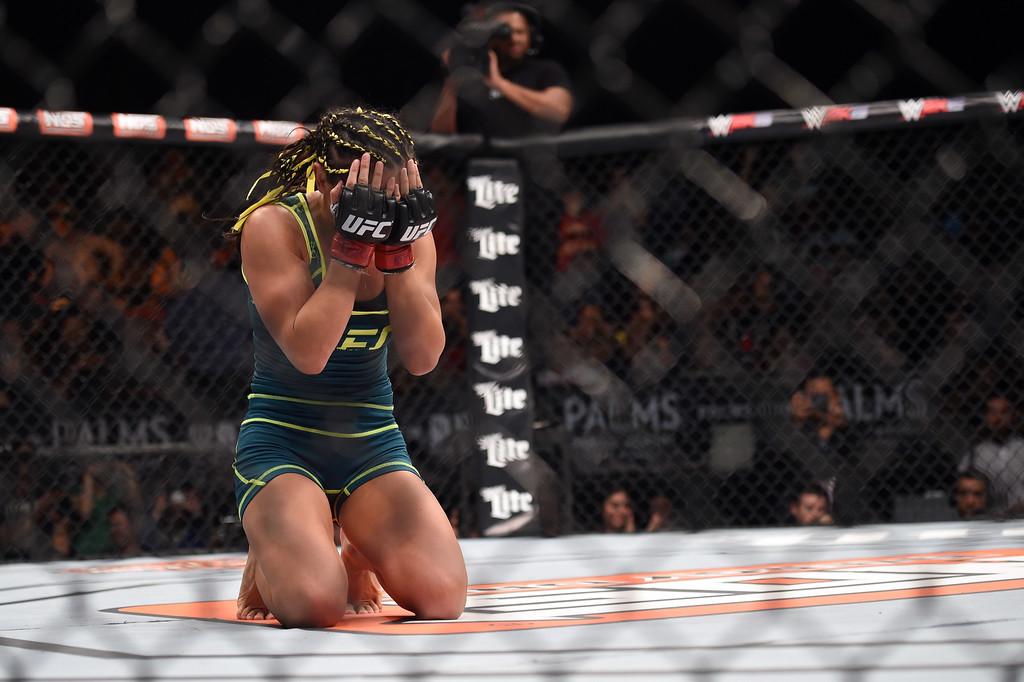 Carla Esparza became the first Women's UFC Strawweight Champion in history.

Image: SoCal Sports
Carla Esparza took home the Gold as she was crowned the first UFC Women's Straw-weight Champion in history after submitting fellow Ultimate Fighter contestant Rose Namujunas in Las Vegas.
In The Ultimate Fighter 20 finale, the gold hung in the balance with history poised to be made. Other entertaining fights included more contestants in the series.
Carla "The Cookie Monster" Esparza vs "Thug" Rose Namujunas
Carla Esparza put on a great performance and a shocking one. Everybody counted her out against Rose and she put on a dominant performance. Once Carla got on top she put on a crazy pace with the top pressure and control. She eventually broke Rose's will and got the tap via neck crank in the 3rd round.
Jeremy "Lil Heathen" Stephens vs Charles "Da Bronx" Oliveira
They come out quickly and Oliveira pulls guard against the powerful Stephens and slaps on an armbar. I don't know Stephens didn't tap but he survives but hes gassed. Oliveira lands some combos and wins the round. In Round 2, Oliveira bates Stephens again into a grappling match. Oliviera slaps on another nasty armbar but Stephens still does not tap out. Stephens lands some good ground and pound in round 3, but a little bit too late. Oliviera picks up the unanimous decision win.
Charles Oliveira with the decision victory.

Image: UFC.com
"Detroit Superstar" Daron Cruickshank vs KJ Noons
A very competitive 1st round. Cruickshank doing a great job of landing kicks at a distance, but everytime Noons gets inside he lands a combo. Cruickshank mixes in a couple of takedowns and probably wins the 1st. In the 2nd, Cruickshank lands a flying knee, then Noon blitzes him with a flurry but pokes Cruickshank in the eye. Daron claimed he cant see out of the eye and the fight is declared a No Contest.
Joe Proctor vs Yancy Medieros
Yancy comes out controlling the distance and landing long punches and spinning kicks to the ribs. Proctor hangs in there and lands some heavy leg kicks. Medieros pressures Proctor against the cage and lands a huge spinning back kick to the ribs of Proctor and drops him. Medieros slaps on a nasty guillotine and gets Proctor to tap in the 1st round.
Jessica Penne vs Randa "Quiet Storm" Markos
Penne lands a beautiful judo throw with Markos landing on her head and opens Markos up. Penne mounts Markos but Randa escapes. Penne controls most of the round and wins. In Round 2, Randa landed some great right hands and opened up with her striking and won round 2. Markos came out in the 3rd doing more of the same, landing some spinning back fist and good right hands. Penne finally gets a takedown and stays on top and wins the round and earns the split decision victory. Great win for Jessica.
Felice "Lil Bulldog" Herrig vs Lisa Ellis
Ellis takes Felice down right away and slaps on a quick guillotine that almost gets Felice to tap. Felice then takes Ellis down but gets reversed, but then Felice slaps on a Dustin Poirier armbar/traiangle combo but Ellis escapes. Felce lands some good ground and pound and wins the round. In Round 2, Ellis goes for another head and arm throw but Felice ends up on top. Felice throws up and carious armbars and triangles but Ellis defends, but not long enough as Felice lands a nasty armbar on Ellis. Great win for Felice! maybe a fight with Aisling Daly should be next.
"Rowdy" Bec Rawlins vs "Hurricane" Heather Jo Clark
In a back and forth 1st round, Clark comes out and lands a big right hand followed by a takedown. Clark does a little damage on the ground and pushers her against the fence where Bec landed some good elbows and uppercuts from the clinch. Clark controlled most of the round. Clark dominates the 2nd by taking Bec's back for most of the round. Bec comes out guns blazing in the 3rd and lands some good right hands and wins the round, but a little too late and Heather picks up the decision win. Great win for Clark as she fought with a torn acl.
Joanne "Badmofo Jojo" Calderwood vs Seo Hee Ham
In the first, they both come out exchanging leg kicks. Calderwood got the better of the exchanges in Round 1, but Ham landed 2 big left hands at the end of the round. In Round 2, it was more of the same. Jojo landed some nice sneaky right hands busting up Ham's eye. Calderwood gets lazy towards the end again and gets caught with another big combo but still wins the round. In Round 3, Calderwood opens up and looks great. Jojo catches Ham with a huge front kick to the face and then scores a takedown and beats Ham up for the remainder of the round. Great win and good showing from Jojo.
Tecia "Tiny Tornado" Torres vs Angela "Your Majesty" Magana
Tecia puts on a clinic in the 1st round and drops Magana. Tecia lands her right hand at will in the 1st round and Magana is basically shut down. More of the same happens in the 2nd round. Tecia landed her right hand at will and stunning Magana again. Magana was way too tentative to land anything. In the 3rd its more of the same. Tecia puts in her best round landing several head kicks and right hands. Dominating performance from Tecia in general, and Magana looked terrible. Tecia remains undefeated and should get a big fight next.
Aisling "Ash The Bash" Daly vs Alex " Astro Girl" Chambers
Alex landed an early takedown but Daly slaps on an armbar and sweeps chambers. Chambers defends and gets mounted but then makes a mistake and Daly transitions into a nasty armbar. Great win for Daly after she missed weight.
Emily Peters-Kagan vs Angela "Overkill" Hill
Angela Hill put on a striking clinic in this fight. Kagan was shut down for the most part until she got a couple of takedowns in the final round but Hill got right back up. Hill landed several knees opening several cuts on Kagan. This was pure domination by Hill. She has a bright future.
****
We have an all-new Champion, as an all-new division kicks off with a bang.