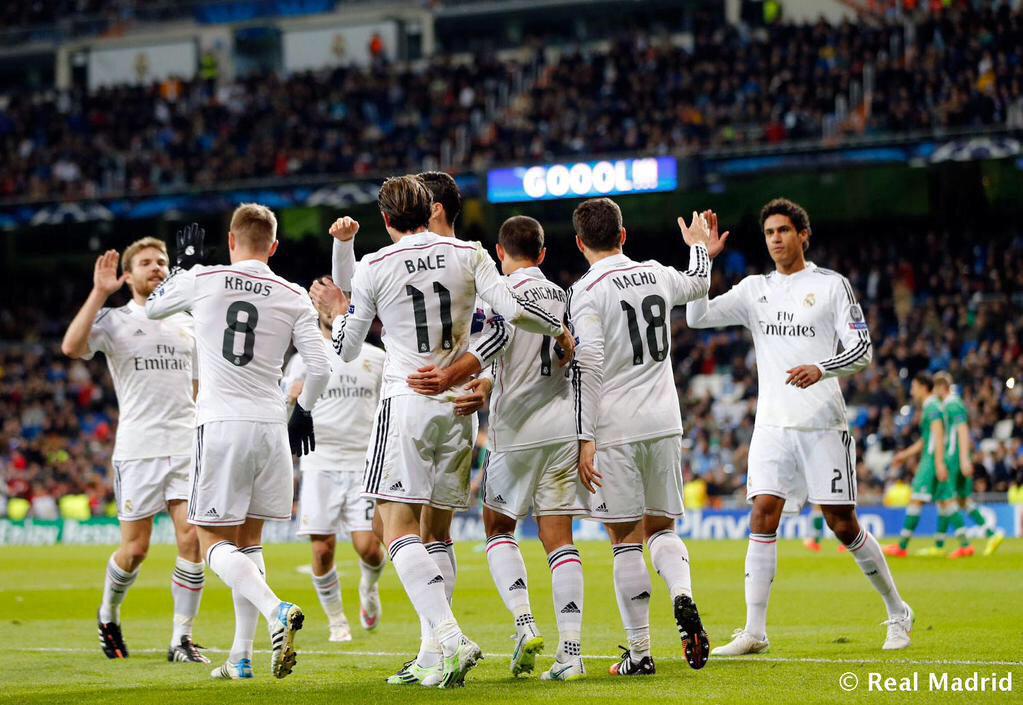 Real Madrid recorded a 19th straight win as they smashed four past Ludogorets.

Image: Real Madrid
UEFA Champions League
: Tuesday 9 December 2014, Matchweek #6
Another scintillating night in the Champions League saw the penultimate batch of games contested with some valiant displays, other's sublime as the knockout phase took shape.
Liverpool's draw with Basel wasn't enough, Real Madrid outclassed Ludogorets, Arsenal outclassed Galatasaray and more.
Here in this stacked article, you'll find the complete comprehensive review and roundup for the night in the Champions League.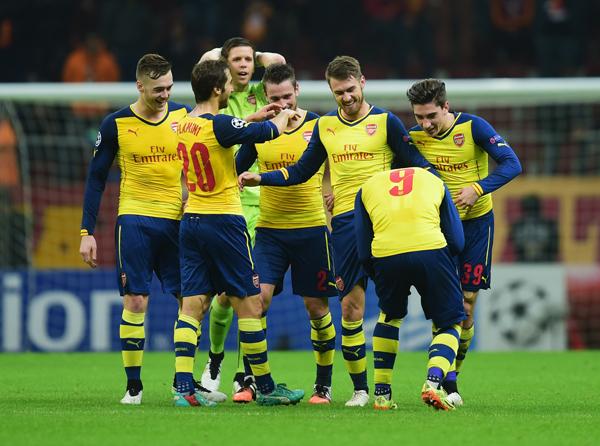 Arsenal top Galatasaray with a stunning performance.

Image: PremierLeague.com
Night at a Glance
Olympiacos 4 - 2 Malmö: Olympiacos edge Malmo in thriller
Juventus 0 - 0 Atletico Madrid: Stalemate between Italian, Spanish Champions
Liverpool 1 - 1 Basel: Gerrard free-kick not enough for Reds' transcendence
Real Madrid 4 - 0 Ludogorets: Madrid destroy 10-man Ludogorets
Monaco 2 - 0 Zenit: Monaco top Zenit to take Group C first place
Benfica 0 - 0 Bayer Leverkusen: Benfica, Bayer bore to draw
Galatasaray 1 - 4 Arsenal: Awesome Arsenal too strong for Galatasaray
Dortmund 1 - 1 Anderlecht: Anderlecht snatch late point at Signal Iduna
Olympiacos 4 - 2 Malmö FF
David Fuster (22'), Simon Kroon (59'), Alejandro Domínguez (63'), Markus Rosenberg (81'), Konstantinos Mitroglou (87'), Ibrahim Afellay (90')
Group A
Stadio Georgios Karaiskakis, Piraeus, Greece.
By the sound of the full-time whistle, both Olympiacos and Malmo had crashed out the Champions League—but that wouldn't stop either side from showcasing a spectacular and dramatic game whereby two late goals saw the Greeks to victory.
David Fuster headed Olympiacos into the lead after Malmo were unable to deal with a troubling throw-in. Kasami headed it across the face of goal, before Fuster was the final recipient to nod it on towards goal. It was a component of a dominant half for the hosts who could have easily bagged a few more.
For all their efforts though, the hosts were unravelled with a steadfast counter attack from a wayward corner. Forsberg ran a great distance before a low-ball came in towards Kroon smashing in for an equaliser.
But, the game would be even for just four minutes, thanks to Dominguez. Malmo defenders couldn't scurry to thwart the Argentine in time, before the ball bounced up for a looping, unstoppable strike into the top corner.
Markus Rosenberg resurged the game for the Swedish side as he slid it into the corner from Tinnerholm's low cross. The game was back where it started - in the melting pot.
Olympiacos looked to certify a knockout spot as they threw it all at their opponents yet other results would not go in their favour. It worked, as Konstantinos Mitroglou fired in from Alberto Botia's set up. Three minutes later, Ibrahim Afellay would, once and for all, put the game out of reach, slotting away from Kasami's assist. With the game pretty much over, a red card to Malmo's Adu cut off all ties to any further goals.
After astonishing group character displayed by Olympiacos, they will now feature in the Europa League.
Breakdown: Olympiacos thought they were in for an easy night against Malmo but some resilient defence proved otherwise. Exhaustion is probably the factor as to why they did inevitably run out of gas allowing the Greeks to trample over them in the final few minutes but regardless, a courageous display. For the hosts they know it could've been so much better, not necessarily based on this result but had they performed more ruggedly on previous occasions.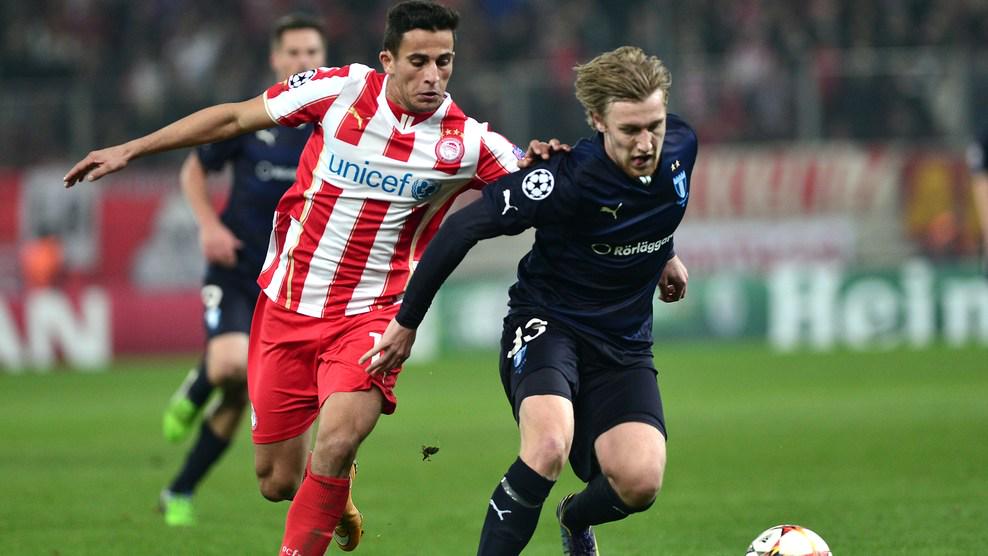 Olympiacos will feature in the Europa League, just short of qualification.

Image: Tiempo Extra
Juventus 0 - 0 Atlético Madrid
Group A
Juventus Stadium, Turin, Italy.
A goalless draw with away at Juventus ensured that Atletico Madrid topped group A, while the Italians came runners up as both teams qualified.
A first half diluted of action saw Atletico take more of the chances, but their lack of conviction with that end product was the ultimate shortfall of them not being able to construct a lead.
With both sides not wanting to risk a great deal in the full awareness that it hardly carried any urgent value, the time ticked out to a full-time whistle met by a subdued reaction of the supporters.
Breakdown: Juventus and Atletico looked like-for-like on the scheme of the game. With two midfields that, when on their best form, can be some of the best to watch in European football, it became more tactical, like chess, and it was always going to be goal-less.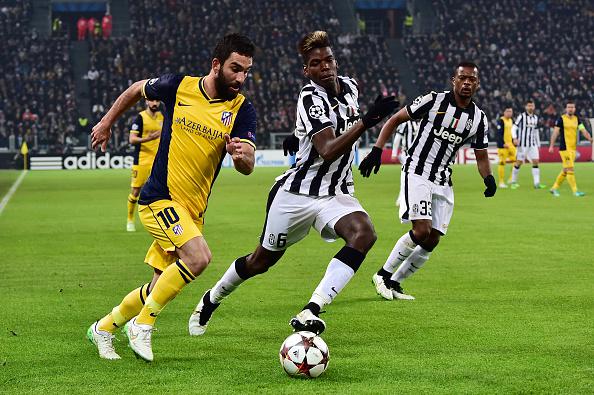 One of the rare full-on battles in the game featured Turan and Pogba.

Image: Goal Indonesia
Liverpool 1 - 1 Basel
Fabian Frei (25'), Steven Gerrard (81')
Group B
Anfield, Liverpool, England.
Full match report here
Steven Gerrard's incredible free-kick was not enough for the Reds at Anfield as 10-man Liverpool drew 1-1 in an edgy fixture with Basel to crash out of the Champions League.
A conservative early approach from Brendan Rodgers men made them susceptible to Basel's attacking display, and a fine strike from Fabian Frei from long range left Mignolet no chance of saving to fire the visitors ahead.
Evident shakeups were needed over the interval, and Lazar Markovic's introduction did just that. The Serbian went on some wonderful runs, caused trouble in the final third and cropped up for a few chances, but a moment of controversy would bring that to an abrupt end.
As he looked to race away from the chase of Behrang Safari, he stuck a hand out that sent the Basel player to the ground. Later replays showed it, at most, skimmed the Swedish-Iranian footballer, but Markovic saw red and they were down to ten men.
Sometimes drained, rarely upbeat were Liverpool for most of the game, but as the final 15 minutes crept in, a splendid free-kick from none other than Steven Gerrard provided high hopes for the Liverpool faithful.
The fans crammed in at the Kop were on their feet, Merseyside was rumbling, but it just seemed too late as time ran out and Liverpool were so close, yet so far, and were now facing Europa League football.
Breakdown: Liverpool will carry a lot of regret from this Champions League campaign. Knowing that just a few tactical tweaks or a bit more urgency would have seen them through. Raheem Sterling progressed into the game but it all would have—would—if Markovic didn't receive the sending off. It was a major talking point to say the least but in hindsight the Serbian could have inflicted his presence on the game even more and possibly won it. Let's give plenty of credit to Basel here though, they were tough throughout and didn't really give that clear-cut late chance that the hosts were searching high and low for.
Liverpool 1-1 Basel Report: Gerrard Rocket Not Enough as Reds Fall Short http://t.co/86uK3W6AK4 #lfc #basel #ucl pic.twitter.com/WUsrI3FpbP
— TheSportMatrix (@_TheSportMatrix) December 9, 2014
Real Madrid 4 - 0 Ludogorets
Cristiano Ronaldo (20' penalty), Gareth Bale (38'), Alvaro Arbeloa (80')
Group B
Estadio Santiago Bernabéu, Madrid, Spain.
Carlo Ancelotti's Real Madrid breezed past Ludogorets to maintain a 100% record in the Champions League group stage, dismissing the 10-man Bulgarians to pit them fourth in the group.
Despite some early resistance by the Bulgarians it would all be gone to waste by the twenty minute mark. Raphael Varane met a corner with a thumping header, but as the ball crept towards the line, an instinctive block from Marcelinho saw him block it with his left hand resulting in a clear red-card and a penalty kick. Cristiano Ronaldo confidently dispatched the keeper, sending him the wrong way, for his 30th goal of the season as all was up against the visitors now.
Gareth Bale was head-and-shoulders above the rest as he soared to meet a corner kick, heading powerfully onto the crossbar and into goal, providing a predictable and imminent second goal for Los Blancos. Goal-line officials were quick to wave it in favour of the most expensive player in World football, despite the keeper trying to scoop it when bouncing back up off the crossbar.
Despite displaying some resilience, the one-man deficit eventually told. Alvaro Arbela slammed in a volley from a corner in the 80th minute that required goal-line officials to verify, before Alvaro Medran, the 20-year-old took a heavy deflection before creeping over the keeper.
Breakdown: Maybe a harsh scoreline on the visitors but they were facing what is the best team in the World right now. 19 straight wins isn't a recognition of an overnight evolution but the talent that seeps through their whole squad. Ludogorets fought, but it was ultimately valiant, they did extremely well to keep it to only 2-0 by around 80 minutes but after that it was an even taller order. Real Madrid are just unstoppable it seems.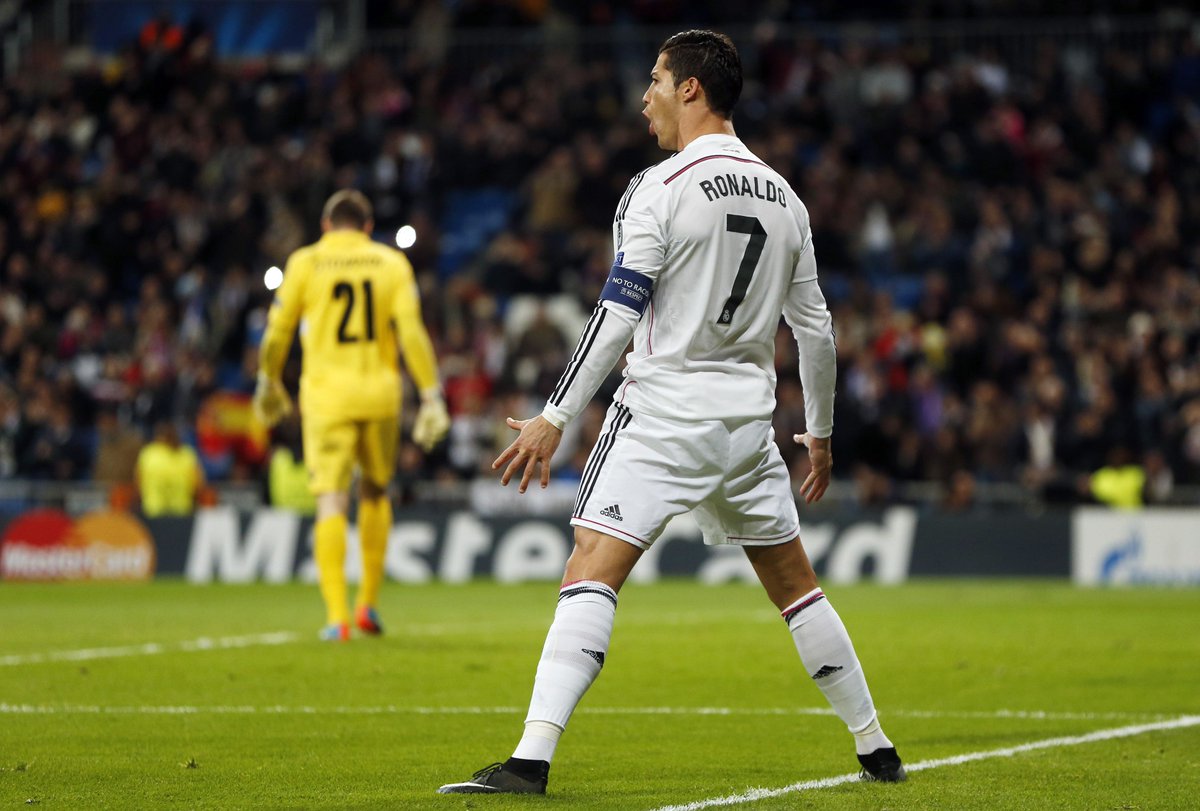 19 consecutive wins for the invincible Real Madrid.

Image: Squawka Football
Monaco 2 - 0 Zenit
Aymen Abdennour (63'), Fabinho (89')
Group C
Stade Louis II, Monaco, France.
Monaco qualified top from Group C as they fended off Zenit St Petersburg through a late goal secured by Fabinho.
Following a somewhat dull opening half, Monaco grasped a huge edge in the game managing to provide a much needed influx of energy into the contest. It came through the hosts' centre-half, Aymen Abdennour who thumped in a header off Ferreira-Carrasco's free-kick.
Zenit pressed with the one-goal advantage holding up till the late stages. Fabinho managed to dash any hopes from the Russians, though, as he swept the ball through the legs of the keeper to put Monaco at the top.
Breakdown: Watching Monaco over their six group games hasn't showed us that they play entertaining football, but the fact that they qualified without straining so many resources shows their established talent to get the results. Zenit knew things were hostile and wanted the game over with.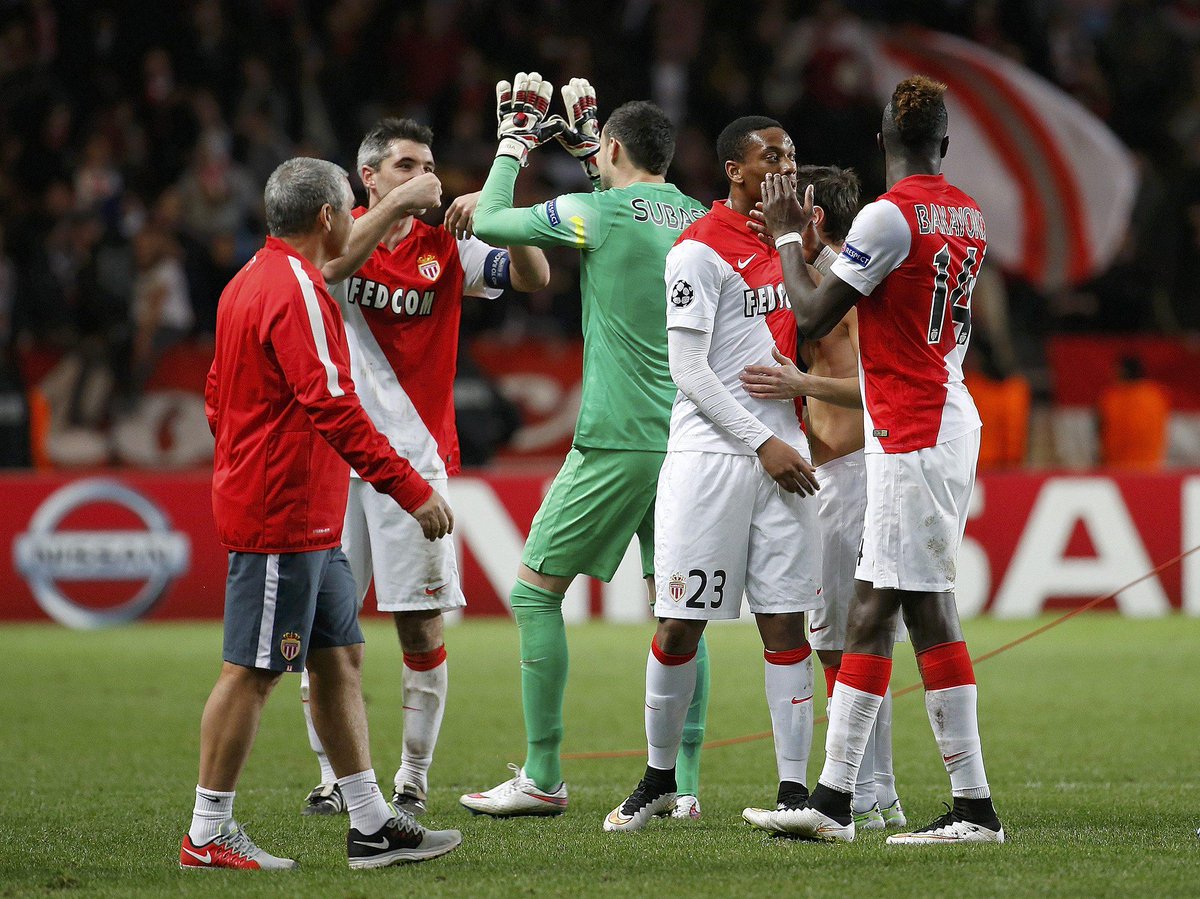 Four goals scored in six games, but Monaco top Group C.

Image: FOX Soccer
Benfica 0 - 0 Bayer Leverkusen
Goalscorers
Group C
Estádio do Sport Lisboa e Benfica, Lisbon, Portugal.
Benfica and Bayer Leverkusen limped their way to a goalless draw in the Portugese Capital.
Benfica's Lima was slumped in regret after missing a huge chance. Ola John troubled down the left wing to create the chance, but when his ball in was met close range by the Brazilian, but he scuffed his lines and it rattled the woodwork. The game would limp on with no goals being scored.
A dismissal to Ömer Toprak in the 90th minute after a second yellow but Leverkusen down to ten men, but it ultimately finished goalless.
Breakdown: Simply put, a lifeless contest. You didn't miss much here.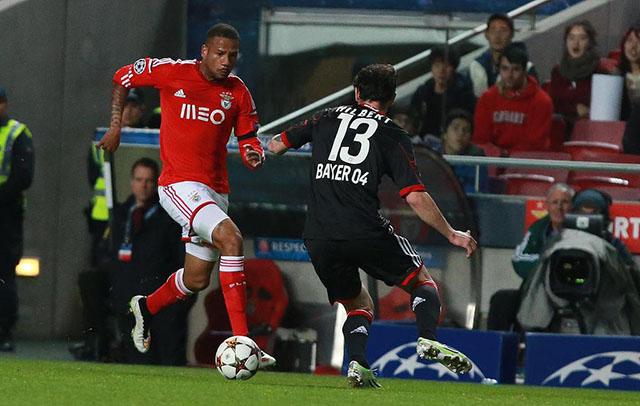 Goal-less in Lisbon.

Image: Bih Snp
Galatasaray 1 - 4 Arsenal
Lukas Podolski (3', 90+2'), Aaron Ramsey (11', 29'), Wesley Sneijder (88')
Group D
Turk Telekom Arena, Istanbul, Turkey
Arsenal completed their group stage journey in emphatic fashion as they outclassed Galatasaray with a 4-1 thumping in Istanbul, with braces from both Aaron Ramsey and Lukas Podolski.
Already qualified, Arsenal seized the initiative in stunning fashion over a deflated Galatasaray. Lukas Podolski breached with intent into the box towards the left, with a tight angle on goal. The German however unleashed a venomous strike that swivelled into the top corner of the near post.
A swift break from the Gunners eventually lead to a massive opening in which Aaron Ramsey took to double the lead after just 11 minutes of football. Before being clattered by the tackle, Alex Oxlade-Chamberlain managed to slot it through to the Welshman, who bombarded towards the left of goal and calmly tucked it past the keeper.
A second for him before half-an-hour had passed was a stunning one. Hakan Balta headed out Joel Campbell's corner and the ball bobbled, then sat up perfectly for Ramsey to set up an outstanding half-volley which resoundingly blistered in to the top corner.
Wesley Sneijder tarnished an Arsenal clean sheet, with a stunning free-kick flying past Szczęsny to signify a much improved display in the second half.
Lukas Podolski capped off the night with his second goal in the last play of the game. Joel Campbell fed through the German who danced his way past the Turk defenders and calmly dispatched to complete a 4-1 scoreline.
Breakdown: You never know what Arsenal you are going to get. They were a team shaded apart from the won that fell to Stoke, so much more. Mertesacker was the commanding voice that was lacking in previous occasions and it took a special free-kick from Sneijder to rupture the clean sheet. Podolski threw his name into the pot for a constant first team start, with a terrific opening goal and completing a double. Aaron Ramsey's strike was absolutely out of this World, take a bow.
A marvellous trip to Turkey for the Gunners with a dominant performance.

Image: UEFA.com
Dortmund 1 - 1 Anderlecht
Ciro Immobile (58'), Aleksandar Mitrović (84')
Group D
Signal Iduna Park, Dortmund, Germany.
Aleksandar Mitrovic snatched back a point for the eliminated Anderlecht as they restricted Dortmund in Germany.
Ciro Immobile fired Dortmund into the lead to ignite the atmopshere at the Signal Iduna Park. Nuri Sahin found him drifting in the box, before he picked up the ball, got past the defenders and arrowed a shot right before the hour mark.
Aleksandar Mitrović latched on perfctly to Vanden Borre's cross, a dipping header that crept past the keeper to give the out-going Anderlecht a point for their efforts in the European landscape.
Breakdown: Dortmund could've won five, maybe six out of six games. But the reason why they didn't showed. Lapses of concentration were the only reason Anderlecht could grab a point but in all fairness to Klopp's side they remained in control throughout. Gundogan was especially fantastic.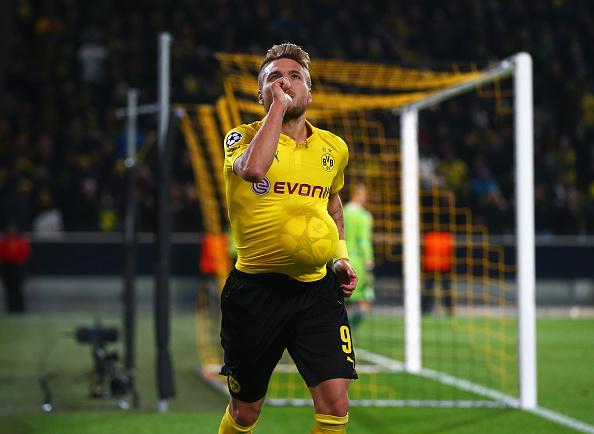 Immobile relishing life at Dortmund.

Image: Four Four Two
Just eight more games remain on what is proving to be an incredible Champions League journey.
The night belongs to the class of Arsenal and the invincibility of Real Madrid.