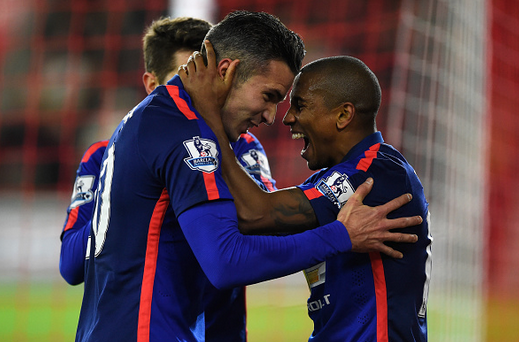 Double Delight for the Dutch: Van Gaal has lead United to five straight wins thanks in part to exponential improvement from Robin van Persie.

Image: Red Mancunian
Southampton 1 - 2 Manchester United
Robin van Persie (12, 71'), Graziano Pelle (31')
Barclays Premier League
Monday 8 December 2014
7:45pm GMT Kick-off
St. Mary's Stadium, Southampton, England.
Matchweek #15
A delightful double from Robin van Persie saw Manchester United top a dull encounter with Southampton at St. Mary's Stadium for a fifth consecutive win.
United were down south at St. Mary's to battle a hefty encounter with the Saints who after this game have lost two in a row, versus Arsenal last Wednesday and Manchester United this cold Monday evening. For the visitors they extended their run as the most in-form team in the league.
After trotting about at an even pace, Manchester United didn't have possession of the ball, but when Fonte passed the ball back to his goalkeeper with no power at all, Van Persie got in, stole it and stuck the ball through Forster's legs.
Smalling went off injured and Evans was on to replace the injured full back.
Fellaini gave away possession in midfield, Davis dribbled to the edge of the United box, the ball bounced from shin to shin, before landing at Pelle's feet, the striker blasted the ball off De Gea and into the roof of the net.
The Red Devils had a free-kick on the left, Rooney sent it curling in, towards the far post, where Van Persie struck the ball through Forster's legs, into the net the ball went.
Louis Van Gaal's men flew into the top three, the first time since they won the league two seasons ago.