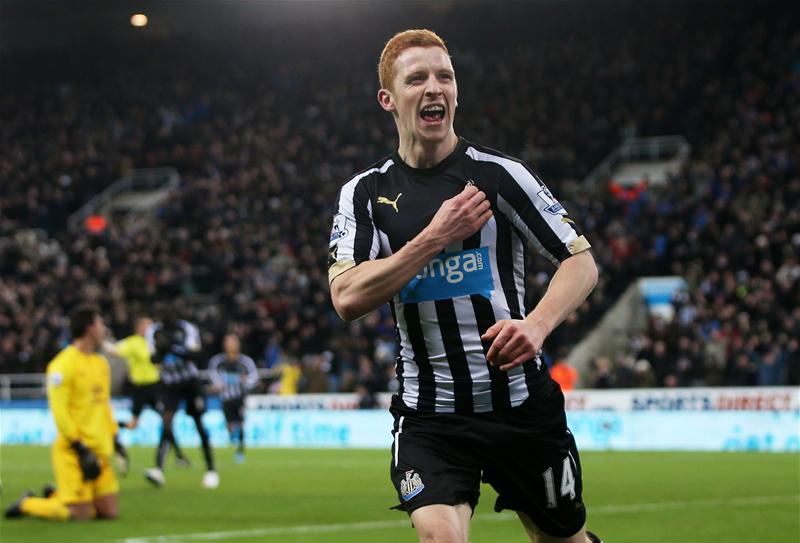 Jack Colback scored his first Newcastle goal which ultimately proved the difference.

Image: Squawka
Newcastle 3 - 2 Everton
Arouna Koné (5'), Papiss Cissé (34'), Ayoze Perez (51'), Jack Colback (68'), Kevin Mirallas (84')
Barclays Premier League
Sunday 28 December 2014
4:15pm GMT Kick-off
St. James' Park, Newcastle, England.
Referee: Craig Pawson
Matchweek #19
Newcastle ended their roller-coaster 2014 on a high note as they surged back into the top half of the table holding out against Everton following a late goal from Mirallas.
It was the visitors who exploded out of the blocks, but Papiss Cisse, who could have easily been sent off, found the equaliser. Ayoze Perez and Jack Colback bagged a goal each in the second half, but a late strike from Mirallas told for a nervy finish of which Pardew's side survived.
As the moon profoundly shone over St. James' Park for the final game of the day, Everton set out to replenish themselves ahead of the New Year. Martinez's side began at a frantic pace and the Magpies were treading in treacle when they made the first big move. Coleman was perfectly found on the right, before he delivered a sublime, low ball in to Arouna Koné who fired in at the first-time to give Everton a blistering start.
Newcastle wouldn't let them trample all over though. Cisse had an ambitious attempt which whistled over the crossbar and they were being encouraged to continue the positivity. Following the 17th minute applause for the fan who was on board the Malaysian Airlines' missing flight, a huge roar erupted as Pardew's men pushed on.
Over the first twenty minutes, Newcastle had showed glimpses of promise but none carrying enough conviction to really threaten the goalmouth of Joel. Everton meanwhile, looked closer, but their chances were far less abundant with the hosts wanting to take some control.
They did manage that, eventually. A long ball from the left flank appeared to be going out, but it was scooped back into Papiss Cissé who set himself before turning and directing his shot to goal as Newcastle found the equaliser.
As the first half drew to a close, Janmaat almost made Everton pay with an error but the ball fell into the hands of their keeper. Everton had seen their positive start fall to a disappointing one over the course of the first 45.
Everton were looking far the superior team to start the second half. McGeady delivered in a tantalizing ball that was hectically cleared, before Kone's short ball saw the same fate. Out of nowhere, Joel Robles was forced to tip out the ball as it trickled on course for goal. Alcaraz was uncertain and lost his man allowing the chance.
It would spark momentum for Newcastle and they delivered on it. A short pass forced Ayoze Perez to turn onto his right foot, guiding it through to the bottom left corner for the Magpies to take the lead. The visitors were looking out of sorts.
An uncharacteristic mistake from Ross Barkley lead to Newcastle's third. Colback was put through and simply slotted it past the keeper as Everton were silenced in shock. It could've been four just minutes later, but Cisse's powered attempt was beat out by Joel.
Everton were beaten, and it showed. There was plenty more space for Newcastle to run as Martinez's men looked so drained. That was until a long ball was slotted right through to Kevin Mirallas, and with the Newcastle defenders switched off, he composedly placed it to make it 3-2. The game was back open and we were in for a nervy finish in Tyneside.
Mirallas registered a good attempt from a free-kick which swerved wide. Time was winding down. Everton continued to search for a late equaliser, but left huge voids as Riviere's ball was just missed by Cabella. As pressure continued to come, Ayoze Perez struck the ball, it hit the post and came off Riviere. That would be that, as St. James' Park erupted in roars.
Newcastle finish 2014 in the top-half of the table, can they push on from that now? As for Everton, their problems further pile.
More Premier League festive football
- Chelsea 2-0 West Ham United: Match report
- Manchester United 3-1 Newcastle: Match report
- Arsenal 2-1 Queens Park Rangers: Match report
- Tottenham 0-0 Manchester United: Match report
- Southampton 1-1 Chelsea: Match report