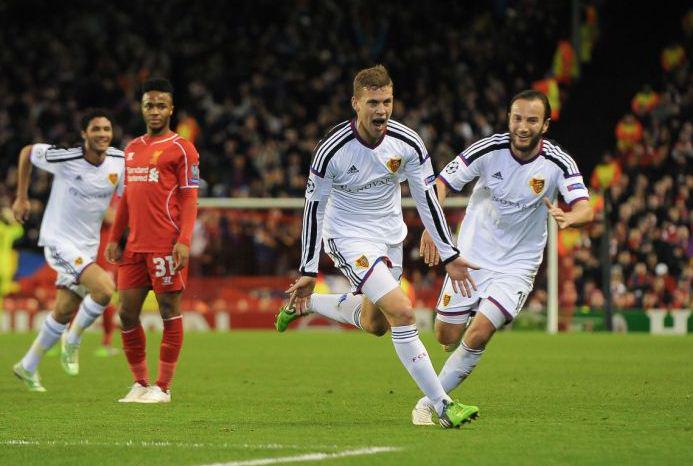 Frei's sublime finish added to Liverpool's mounting woes.

Image: MailOnline Sport
Liverpool 1 - 1 Basel
Frei (25'), Gerrard (81')
UEFA Champions League
Tuesday 9 December 2014
7:45pm GMT Kick-off
Anfield, Liverpool, England.
Group B
Matchweek #6
Steven Gerrard's phenomenal free-kick was not enough for Liverpool as they fell short of transcending through to the Champions League knockout stages in a cold, rainy night at Anfield.
A vibrant atmosphere inside Anfield revved up emotions and passion for Liverpool's players as they prepared to fight tooth and nail for their Champions League campaign to transcend past the Group Stages, needing nothing short of a victory.

The Reds made a quick, sharp start lead by hot prospect Raheem Sterling who scorched down the left, flashed over to his left into the area. Unfortunately for the England youngster, nobody with his jersey pounced onto the loose ball. However, Basel were unable to clear which lead to Gerrard attempting a high, curling strike into the top right, but Vaclik luckily blocked the effort.

Liverpool continued to pile on the pressure up Basel's half, this time Henderson broke down the left and found Lambert, however the veteran's flick-on header was directionless. The ball did however land inside the box, but Henderson's volley was hit with no power or certainty. Really upbeat start by the hosts, passing, moving around and threatening plenty of threatening chances.

An eventful first five minutes saw Basel also break down the flanks. Gonzalez and Streller doubled up to try and silence Anfield with a shock goal, however under scrutiny centre backs Skrtel and Lovren cover well and clear.

The hosts fancied this, as just a minute later they broke again, this time down the left channel. Suchy fired a cross in towards Streller, but former Southampton defender Lovren again saw to the danger with a powerful headed clearance.

Zuffi exposed Liverpool's liabilities in defence, as the Basel-man romped through the centre and slipped an attacking ball towards Gatti on the left. Luckily for The Reds, his shot fired well over Mignolet's goal.

Rodgers' back line really began to struggle, as Basel attacked once more. They were yet again let off the hook, as Frei smashed his effort far into the Kop stand. Liverpool so insecure.

Basel's high tempo and pressure thrown at Liverpool would then transcend into a goal. Frei blistered down the left, played in Zuffi who held up play until knocking the ball back to his receiver Frei at close range who fiercely struck home on his left to give his side the well deserved lead.
Rodgers' men attempted a quick fire comeback, as Sterling, Lambert and Gerrard combined down the right. The 19-year old's strike was calmly collected by Vaclik though.
However, play soon regressed for them as Basel romped forward again. Gashi's wonderful effort at goal slotted past Mignolet into goal, but it was ruled offside. The run being too eager.
Liverpool went into the break trailing thanks to Frei's terrific strike directed into the bottom right corner. The Reds mounted little pressure on the visiting side, and Basel's one goal may have proved to be the scoreline's deciding factor.
Rodgers made two stitches. Markovic replaced Lamber, while Moreno got his chance and slotted in left back while Enrique made way.
Questions surely have to be asked about Liverpool's positioning and format. Moreno fired in a marvellous cross but there were no Red shirts in the middle to convert. Rodgers thinking too defensive, perhaps.
Xhaka collected a loose ball on the right and sprung into the middle, where the Basel-man would unleash a beastly strike. His effort beat Mignolet, and the post on its way. Terrific run, just lacked the precise finish.
Disaster struck for Liverpool on the hour mark. Markovic saw red after he seemingly scratching Safari on the face. Rodgers' new signing was initially positioned a couple of footsteps ahead of his victim when the controversial incident took place. The referee didn't hesitate and stunned Markovic with a red card for his actions. Leaving the field, Liverpool fans cheered the dismissed man.
Sterling released Gerrard into the box, where the England-veteran advanced but soon caught up by charging keeper Vaclik, and the Basel-man makes Gerrard's fall look suspicious but it was in-fact a fair challenge as he got a finger tip to thwart his man.
Liverpool's hopes were boosted by none other than their beloved captain. After winning a free-kick just outside he area, fans bit their nails, chewed their gum in nervousness. Gerrard launched an unstoppable strike over the wall, and bang into the top left hand corner to begin Liverpool's resurgence. Absolutely sublime finish from the skipper.
The Reds pressed and pressed for the vital winner, as Sterling and Henderson were among the players almost tucking away chances. The former Sunderland midfielder's effort was cleared off the line to a raucous, but desperate sigh from Liverpool fans.
Gerrard's unstoppable free-kick wasn't enough for Liverpool, who fell one goal short of transcending to the knockout stages. Devastation mounted around Anfield.
Liverpool's confidence may have been dashed, despite signs of real attacking purpose. How will The Reds respond when they battle Manchester United?
Champions League coverage
- Roma 0-2 Man City: Match report
- Champions League roundup for 9 December
-
Arsenal: Cue for consistency
- Champions League home
-
Champions League roundup for 10 December