Another calender year has breezed past in boxing, and its been quite
extraordinary
. From Carl Froch's
devastating
knockout over George Groves in front of 80,000 at Wembley, Kell Brook's world title glory in America, the rise of the world's hottest prospects, and much more as we cover the best action from a
phenomenal
2014.
Yet again, its been another spectacular year in global and domestic boxing.
Froch stops Groves in devastating fashion at Wembley
The contest was neck and neck in the early rounds, with many boxing experts and ringside judges scoring them differently, some had Froch ahead, however others thought Groves nicked them. The battling super-middleweights stood off in a tactical style of fight, however bursts of punches from each guy were the key to scoring.
Groves began to gain some momentum towards the back end of the fight, scoring more regularly and slowing the four-time world champion down.
However, The Saint's late traction was brutally stopped by Froch in the 8th. While distracting Groves with a left throwaway punch, the Nottingham fighter let his right hand loose and shattered his rival with a destructive, sense boggling shot to crush Groves' world title dreams.
Carl Froch's hand was raised in victory as The Cobra reigned supreme over George Groves with a devastating right hand that sent his opponent crashing to the canvas in front of 80,000 at Wembley Stadium.
Under huge pressure on such a enormous stage, Froch delivered in dramatic style and proved he is still the super-middleweight king of Great Britain.
Breakdown & predictions
Fight report
Brook achieves life-long dream; wins IBF welterweight title

Kell Brook achieved his life long dream of becoming a world champion as he beat Shawn Porter by split decision to win the IBF title in California.
The first round was neck and neck, with Porter's quick footwork and slipping punches testing Brook, but the Sheffield man established his defence well. The champion grappled his challenger, roughing him around the ring which did put Brook under slight pressure.
Brook would grow into the fight as it progressed into the latter rounds as the champion began to slow down after such a quick, energetic start. The unbeaten welterweight caught Porter with a crunching uppercut; snapping his man's head back but was unable to truly capitalize and get the stoppage.
The fight progressed to a points decision, which saw Brook stun Porter and win the IBF welterweight title on points; thus causing the emotional embrace between the Sheffield-based fighter's team, plus Eddie and Barry Hearn.
Fight report
Mayweather outclasses Maidana to retain welterweight crown

Floyd Maywether, yet again proved his worth as The American dispatched a defiant challenger in Marcos Maidana to progress to 47-0 and retain his welterweight titles.
Previously, the Argentine challenger almost stunned Mayweather with a sublime performance but lost on points; however that was Maidana's key to a rematch with Money as he felt hard done by.
In the second fight, Mayweather started well and countered a lunging-forward Maidana to score regularly and gain momentum. The class of The American showed as the challenger was unable to break Money down and execute his game plan how he initially planned.
The late rounds saw Maidana cheekily catch Mayweather with a terrific right hand on the inside which stunned the champion, however his granite chin came in handy once again as he comfortably combated The Argentine's attack.
A stunning performance from Mayweather saw him dispatch Maidana by unanimous decision at the MGM Grand to retain his welterweight crown, and sublime unbeaten record.
Bellew avenges loss to Cleverly on points in rocking Liverpool
Tony Bellew avenged his loss to Nathan Cleverly in 2011 as The Bomber outwitted his fierce rival with a split-decision victory in a rocking Liverpool.
The early rounds were neck and neck, with Cleverly scoring with his jab alone; and doing a superb job in combating Bellew's big power shots early on, signifying The Liverpudlian was in a war.
However, speculation around the boxing world ran wild as Cleverly was reluctant to throw his right; causing abuzz to whether he injured it or not. Bellew took advantage of that, and for the latter part of the fight; pounded The Welshman with a draining assault perched on the ropes. Cleverly stood a tired man, with no passion to even combat Bellew's attack.
The fight stunningly went the distance, and announcer John McDonald announced it was a split-decision, with Bellew avenging his aggravating loss to Cleverly in front of his hometown. Bitter sweet revenge for The Bomber.
Kovalev dominates Hopkins to unify light-heavyweight straps
Sergey Kovalev trashed Bernard Hopkins in a one-sided demolition job to unify the light-heavyweight titles and remain an unbeaten force in world boxing.
Kovalev, 30, knocked his man down in only the first round, stinging Hopkins with a sharp right hand that dropped one of boxing's toughest fighters alive.
The Alien clawed back, but there was very little offence for him as Kovalev combated the champion's force on the inside with superb slip punches and brutal jabs at long range.
The unbeaten Russian grew more and more comfortable into the fight, landing his power punches at will. Hopkins tired without having even tested Kovalev to an extent of a knockout like some people expected.
Kovalev's power took its toll on the 49-year old veteran once more, staggering Hopkins with a crunching right hand that swayed every bit of offence in The Russian's favour as he unleashed a brutal barrages of shots on the ropes as the bell sounded to signify the end of proceedings.
Complete domination; Sergey Kovalev is an unstoppable force in the light-heavyweight division after utterly dominated Bernard Hopkins to unify three straps.
Klitschko destroys Pulev to retain world heavyweight titles
Wladimir Klitschko's 17th consecutive world title defense ended in dramatic style as he brutally stopped Kubrat Pulev in five rounds to retain his status as world heavyweight king.
The Ukranian floored Pulev in the first, landing a cracking left hook that badly rattled the challenger. However, he made it back up and tormented Klitschko by unpleasantly sticking his tongue out; emphasizing he felt the champion's power.
In the same round, the first, Pulev fell victim to Klitschko's ruthless power yet again. It was the same punch that shattered The Bulgarian; but this time a much heavier impact. With a busted, blooded eye, Pulev still found a way to his feet and survived the round.
The champion brutally halted proceedings in the fifth round, as The Ukrainian shattered his challenger with a crunching left hook to the eye. Splitting through Pulev's guard, he fell straight to the canvas; causing the referee to stop any further punishment and announce Klitschko victorious.
Fight report
Frampton becomes two-time world champion in Belfast
Carl Frampton became a two-time super-bantamweight world champion after The Irishman dominated Kiko Martinez to a unanimous points win in Belfast.
Frampton began nervously, as expected with tons of hope on his shoulders. Martinez's much improved movement from their previous meeting restricted The Jackal of establishing his jab.
However, a cut appearing in the champion's right eye provoked a greater work rate of Frampton in front of the already raucous crowd. The Irishman had found a weakness to attack; the cut. Both men exchanged punches, and on several occasions Frampton prevailed with brutal right hooks; deepening the cut of Martinez.
The Jackal began to slow down heading towards the seventh, enabling the champion to up the anti and attempt a real upset. Frampton's defence, however, was immaculate. Martinez used well needed energy to little effect on his determined challenger.
The final bell sounded and a raucous cheer from the home fans signified their feeling that there was to be a change of the guard. Frampton was announced the winner, and new IBF super-bantamweight champion.
Crawford outclasses Beltran and Gamboa to retain world title
Terence Crawford impressively dismissed two challenges of Raymundo Beltran and Yuriorkis Gamboa to retain his WBO lightweight title; thus remaining undefeated.
Crawford, 27, initially struggled to cope with Gamboa's quick footwork and flashy punches. The champion was caught clean, switching from head to body which provoked a change in stance. Crawford diverted to southpaw, however he still seemingly lost the first four rounds.
The American proved his class in the middle rounds though; landing some snappy, eye-catching shots on a tiring challenger who began to unravel late on.
Gamboa, searching for answers, plunged forward and fell onto a terrific right hand from Crawford that sprung a surprise to the Cuba fighter. He fell to his knees, however then made it back up a second later. Crawford intensely stalked his man and looked to land that perfect shot to halt proceedings.
The challenger would survive the round; however it wasn't his night as the undefeated champion shattered Gamboa's world title conquest. Stalking his opponent, with a cocked power shot ready to unleash, Crawford let loose a vicious left hook that floored the Cuba man. The referee stopped the contest in favour of The American, whom remained unbeaten.
Crawford vs. Beltran

The 26-year old concluded his year in a dominant way; comfortably dispatching Raymundo Beltran by unanimous decision to retain the WBO lightweight title.
The champion was delighted with his second successive defense, using his stinging jab to score regularly. Beltran, with formerly six losses, now seven, couldn't handle the speed and fancy footwork of Crawford throughout the fight.
The unbeaten American switched stances, however he favored southpaw; using his right hand as a jab, and left as a power punch to slowly unravel Beltran. Well, slowly, he was unraveled from the early rounds.
Crawford's superb boxing skills outwitted the 33-year old who couldn't withstand his hooks and uppercuts from range, plus the WBO champion's slip punches whenever Beltran closed the distance.
Crawford pounded the challenger with a flurry of clean shots on the ropes that energized his hometown crowd in the final few rounds. The American progressed to a unanimous points win over Beltran.
Knockout artist Golovkin batters Rubio & Geale to retain titles

Undefeated world middleweight champion Gennady Golovkin crushed Marco Antonio Rubio and Daniel Geale in a double demolition job to retain his titles in style.
Golovkin destroyed Rubio, but the first round saw the challenger establish his defence well; the champion's power, however, also came into play as he staggered The Mexican with a stunning right hand.
The second, Golovkin jabbed well and unleashed the occasional power punch which clearly bothered Rubio a lot. The champion would stalk his man on the ropes, and close the distance with a thunderous left hand. The direction Golovkin got was truly incredible. At a high angle, he swerved his glove in a downwards direction; thus landing on the top of Rubio's head with a shattering impact.
The challenger laid flat on his back, totally gone. He did, however, make it back up but he was clearly dazed and the referee called a halt to the contest, making it a 28th consecutive knockout in 31 victorious fights for Triple G.
Fight report
Golovkin vs. Geale

Earlier in the year, Golovkin blasted out the durable, and tough Daniel Geale in just three rounds; retaining his unbeaten status and world middleweight titles.
The trainer of Geale made it clear that it's key his fighter made a quick start and won the first four rounds to get on top of Golovkin and rack up momentum heading into the middle part of the part.
However the power of Triple G took its toll as the champion floored Geale in the opener, a quick, snappy right hand catching The Aussie flush around the back of his head. The challenger made it back up, and survived the round.
The knockdown halted the former world champion's plans of making a sharp start and gaining a foothold. Golovkin's power proved to be decisive, as he shattered a sorry Australian in the third.
During the process of taking a flush punch from Geale, the unbeaten middleweight king landed his own, clattering The Aussies chin and sending him to the canvas. He got up, but with a blooded nose, shook his head forcing the referee to stop proceedings. Devastating from Golovkin.
Pacquiao avenges loss to Bradley, batters Algieri to retain title
Manny Pacquiao avenged his hugely controversial loss to Timoty Bradley in 2012 as The Phillipine dominated his man. Later that year, Pacquiao cruised to a points win over formerly unbeaten Chris Algieri; retaining his newly won WBO welterweight title.
The champion dished out unimaginable punishment on the underdog, Algieri. He dominated the opening three minutes, with straight left hands splitting through the challengers guard. Another right hook, momentarily staggering Algieri, sealed an emphatic round for the Pacman.
Pacquiao floored his man in the 6th round twice. Firstly, he shattered Algieri's skull with a crunching left hook, and to put the cherry on top, floored The American once more with a beautifully timed right hand bang on the jaw.
The Philippine scored yet another hard knockdown in the 9th, landing a fierce straight left that sent Algieri straight to the canvas. There had been doubts over Pacquiao and if he still carried big power, those doubts were answered.
To really signify his dominance, Pacman floored The American challenger in the 10th round. A right hook-straight left combination sent his foe crashing to the floor, that being the sixth time. A truly battered Algieri would still grind on to take Pacquiao the distance. The American did extremely well to recover, but had very little offense in the fight itself and it showed as the champion retained in a one-sided unanimous thrashing.
Pacquiao vs. Bradley

Earlier in the year, Pacquiao avenged his controversial loss to Timothy Bradley with a unanimous decision victory over The American to win his WBO welterweight title.
Both fighters traded shots to the body early on, however Pacquiao and Bradley also establishing their defences well as their gloves absorbed punches.
Pacquiao really fancied it, through the middle rounds he strung sweet combinations together from right hooks to the face, and gassing shots to the body. The challenger made plenty of space, dancing around the ring making it difficult for Bradley to land clean.
The feeling at ringside; it was Pacquiao's fight to lose. Bradley just couldn't find enough traction in order to score regularly and win rounds. The Philippine's combination punches bothered the champion all night long.
The final bell sounded, and there was a change of the guard. Unanimous decision in favour of Pacquiao, as the judges scored the contest 116-112, 116-112, 118-110. Sweet revenge for The Pacman.
Abraham controversially dismisses Smith on points decision
Arthur Abraham beat Paul Smith by unanimous decision, however judges' ridiculously wide scorecards provoked a fuming response from hard-done by Brit and his corner.
Smith set a rapid pace ever since the bell sounded indicating round one, and scored shots regularly during 'the battle of the jabs'. Abraham's tight guard, with no head movement, his traditional defense blocked many of The Brit's straight lefts, and The German reddened Smith's nose with his own jabs early on.
There was a tense, but vibrant atmosphere in Germany as the battling super-middleweights played a cagey chess match through the middle rounds. Smith often pounded Abraham with some solid right hands, however the champion answered well by pausing his challenger's momentum with a stinging jab and occasional right hand.
As the fight progressed, Smith's corner grew more and more confident they had what it took to dethrone 'King Arthur', and the Liverpudlian scored regularly on the body, as Abraham's tight guard with no head movement enabled Smith to let loose some crippling body shots; obviously something he and his team worked on in camp,
The final bell sounded - with both fighters embracing in their own right. However, Smith was disgusted as he heard the announcer read judges scorecard's, one having the audacity to score the fight 119-109 in favour of Abraham. The others read 117-111, ridiculously wide considering the terrific efforts Smith gave. The champion retained, but to The Brit and his team's dissent.
Khan displays boxing brilliance; dominates Alexander in Vegas
Amir Khan defeated Devon Alexander by unanimous decision; displaying some of his best boxing yet to stay on course for a showdown with Floyd Mayweather next year.
The Brit controlled proceedings throughout, with his speedy combinations playing a huge part in combating Alexander's counter punching. He stepped in and out of range early on; making it difficult for The American to catch him and try expose his weaknesses.
Through the middle rounds, backup ideas were running low for Alexander and his corner. They diverted to different tactics, those were lunging forward in an attempt to put Khan under pressure and take it to the Bolton-born fighter on the inside as his speed made it incredibly difficult for him to sit back and counter punch.
Alexander's unorthodox style of fighting brought a small glimmer of hope when he staggered Khan with a beautiful right hand bang on the chin. He wasn't able to capitalize and grab a knockout as the fight transcended to the final bell. Khan, the obvious and deserving winner took a unanimous decision for his fantastic efforts.
Fight preview
Fight report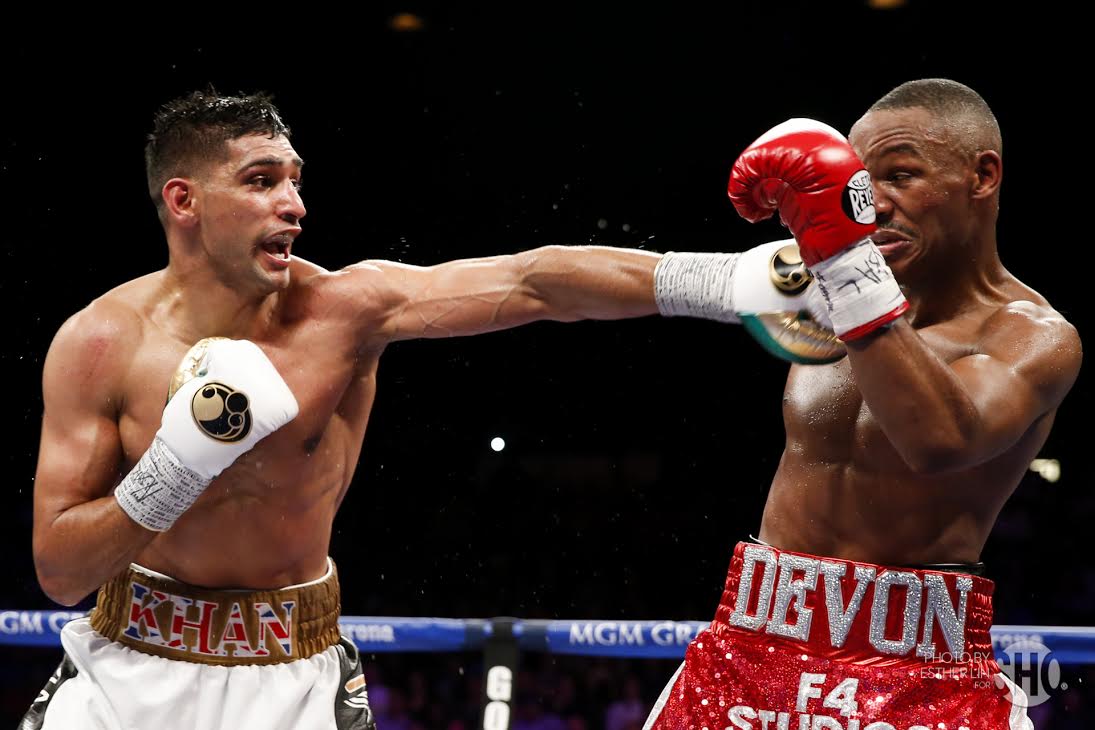 Stevenson decimation
WBC light-heavyweight champion Adonis Stevenson obliterated Dmitry Sukhotsky to retain his world title and stay on course for a unification fight with Sergey Kovalev next year.
Before the devastating knockout, Sukhotsky was floored several times courtesy of a left hook, and overhand right both to the head.
Stevenson brutally halted the challenger's hopes in the fifth round when he fiercely dropped his man with a crunching straight left bang on the chin.
The 37-year old is expected to face the winner of Sergey Kovalev vs. Jean Pascal next year in a mouth-watering unification fight.
British boxing provided yet another scintillating year of action
James DeGale continued his quest for a world title shot against Carl Froch after he smashed the durable, tough Marco Antonio Periban in three rounds. As soon as the first bell sounded, the Olympic-gold medallist swung for the fences and cornered his Mexican opponent. DeGale landed some brutal shots in his usual southpaw stance, with swinging, but vulnerable for the counter left hooks landing clean but Periban brushed them off for the first two round. It was all over in the third, though. DeGale stalked his prey, and unleashed a deadly bomb that sent durable super-middleweight contender Periban crashing to the canvas. Flush in the face, there was no way The Mexican could fight on and the referee in charge called a hault to proceedings.
Earlier in the year, DeGale battered formerly unbeaten Brandon Gonzales, sending The American down with a swinging left hook. He then transcended to finishing his man off with a barrage of shots in the middle of the ring, Gonzales in no condition to fight on.
Scott Quigg successfully defended his WBA super-bantamweight title after dispatching three challengers in Tshifhiwa Munyai, Stephane Jamoye and Hidenori Ohtake. He blasted out South African contender Munyai in fashion, sending him down with a destructive body shot. The challenger seemingly recovered, but then found himself on the receiving end of a hurtful barrages of punches with no response; thus causing a second round stoppage.
Stephane Jamoye also fell victim to Quigg's ruthless body shots, as the Bury-born fighter dropped his man with a brutal right hand to the mid section. Jamoye made it back up, but Quigg took no prisoners and bashed his groggy challenger until the referee intervened and called a hault to proceedings.
To conclude his year on a high, the WBA super-bantamweight champion took Japanese contender Hidenori Ohtake the distance after a draining fight that Quigg dominated for the most part with a perfect jab, plus solid right hands but Ohtake stood his ground and defended well. Late on, the champion began to unravel his man but the natural heart, will and determination of Ohtake served him well as he grinded on to finish the fight. However, the Japanese man was outwitted by an overall better fighter in Quigg.
Tommy Coyle reigned supreme over devastating puncher Michael Katsidis with a devastating second round knockout, plus earlier in the year he edged past Argentine challenger Daniel Brizuela in one of the best fights this year.
Coyle brutally stopped Katsidis in the second round of their bout, catching the brawling Aussie with a sharp left hook that shattered his skull and sent the challenger crashing to the canvas.
Many expected Katsidis to trouble Coyle in the early rounds especially as the former world champion but the great tactics of trainer Jamie Moore enabled Hull's fighter finished his opponent off in style. Coyle explained how Katsidis loves to lunge forward and engage in dirty brawls on the inside. The Aussie carelessly plowed forward and found himself on the receiving end of a crunching left hook that shook Katsidis' senses and sent him crashing down. Back to his feet, the challenger was all over the place; forcing the stoppage.
Back in February, the Hull fighter displayed his heart of a lion, recovering from several knockdowns to grind on and finish off Daniel Brizuela in the 12th and final round.
However, the IBF international lightweight champion was floored in the second round, on the receiving end of a sweet right hand from Brizuela to seriously question Coyle's chin.
The champion really struggled in the middle rounds, falling victim to two sickening body shots that both sent him down to the canvas. Coyle was in visible torture as he bravely made it back up and grinded one to survive the round.
Both fighters were deducted a point each in the 8th and 9th round, with Coyle and Brizuela low-blowing to cause even more controversy and mix up the scorecards.
It was a disastrous start to the 11th for Coyle, who felt the wrath of Brizuela's destructive, punishing body shots. On the sweet spot of the ribs, not many thought the man would recover. To a vibrant roar of the home fans, he did and showed incredible heart not only to continue but score a knockdown of his own. Within seconds of getting back to his feet, Coyle smashed Brizuela in the face with a brutal right hand; stumbling the Argentine and sending him down. However, things swung back in the balance of Brizuela as the champion was deducted yet another point for punching when told to break. To wrap the fight up, Coyle required at least another knockdown and he delivered. The final round saw the champion land a ferocious overhand right that shattered Brizuela's skull and sent him packing. The durable Argentine made it back up, however referee Steve Gray concluded the contest; thus handing Coyle a memorable win.
George Groves bounced back from his devastating knockout loss to Carl Froch in May as he dispatched durable Frenchman Christoper Rebrasse by unanimous decision, and forced a stoppage at Denis Douglin's expense on the undercard of Cleverly vs. Bellew 2.
The Saint forced a stoppage upon Denis Douglin, in a fight that honestly wasn't too impressive as Groves left himself open for counter punches quite often and the visitor punished him for that early on. The former world title challenger established his jab, but there was a lack of real power and venom in his punches compared to the two Froch fights. Despite the slowly start, he began to grow into the contest and apply some pressure to Douglin's chin. In the 5th, he dropped The American with a terrific right hand that sent him down, flat on his back. The tough challenger made it back up, but a savage assault on the ropes from Groves ensured him of a stoppage victory.
Earlier that year, Groves bounced back from his knockout defeat to Carl Froch with an impressive points victory over Christopher Rebrasse. Both fighters were in a feeling out process, but The Saint's jab seemingly bothered the Frenchman and restricted his movement. The champion, however, made key improvements in the second as he blocked Groves' punches and slipped a few of his own when the challenger moved on the inside. Heading past the middle rounds, it was clear the London-raised fighter was ahead on points, but he would bring Rebrasse's toughness into play; landing some ferocious shots with full intent. The Frenchman put up a valiant effort, but Groves' class transcended to the distance with dominance. Three unanimous judges scorecards read 118-110, 117-111, 118-110 in favour of The Saint.
Tyson Fury won the right to face Wladimir Klitschko for the WBO world heavyweight championship after he battered a sorry Dereck Chisora in a 10th round retirement.
The unbeaten Fury's size enabled him to combat the crafty punches on the inside coming from Chisora, and a switch to southpaw troubled the British, Commonwealth and European champion even more. The British-Irish fighter scooped the first four rounds emphatically, with one-sided southpaw boxing controlling Chisora's movement and enabling Fury to simply jab his way through each session with the occasional power punch. The fight became incredibly one-sided, absorbing boos from a let down crowd who obviously expected much more. Chisora, with a battered, bruised right eye would be saved from further punishment as promoter Frank Warren and trainer Don Charles retired the Londoner.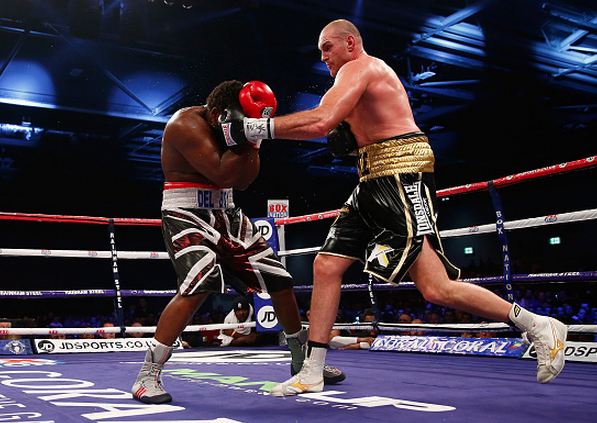 Billy Joe Saunders settled his grudge with Chris Eubank Jr. as the domestic champion edged past his fierce middleweight rival by a split-decision to draw ever closer to a shot at Andy Lee's WBO title.
The champion made quick start, moving swiftly around the ring and using his southpaw jab effectively. It seemed as though Eubank Jr's inexperience was showing as the Brighton man had never previously been hit on the chin or shared the ring with a class opponent like Saunders. Chris Eubank's son, the junior, didn't work hard enough in the opening part of the fight which enabled Saunders to establish his dominance and scoop the first four rounds, perhaps even five. The challenger would however grow into the contest late on; landing some ferocious uppercuts and beginning to put Saunders under slight pressure. It was too little too late, though. They went the distance and the champion's quick start and Eubank Jr's slow early rounds was the main factor in the decision which saw Saunders win in a split.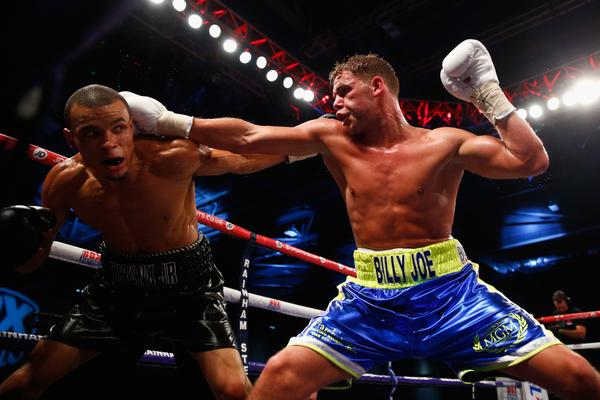 Hot prospects make their mark
Anthony Joshua

The Olympic-Gold medalist truly did make his mark on the heavyweight division, fighting seven times and fulfilling his staggering 100% knockout ratio in 10 professional bouts.
Joshua laid waste to Darch in two, Avila & Legg in the opener, Skelton in two, Airich in three, Bakhtov in two and most recently, Michael Sprott in the first round with a savage assault on the ropes.
The Londoner is being tipped as the biggest, best British heavyweight since Lennox Lewis and Joshua is living up to those tips by demolishing every opponent put in front of him.
It has been a phenomenal year for the Olympic-gold medalist and if he wipes out Kevin Johnson in January, there will be serious calls to step him up to a higher level. David Price has expressed interest in fighting Joshua next year which would be a mega heavyweight scrap in Britain.
Jermall Charlo

The American fought three times during 2014 and established himself as a serous threat in the light-middleweight division.
Hector Munoz would feel the wrath of Charlo in just five rounds as the unbeaten American retired his man with inflicted punishment taking its toll on Munoz, whom failed in an attempt to upset world contender Charlo.
Later that year, The Texan dismissed the challenge of Nortberto Gonzalez with an emphatic stoppage. Charlo was deducted a point in the fourth as he low blowed The Argentine but would make up for that with a brutal knockdown in the fifth. His power would take a huge toll on an already tiring Gonzalez who found himself on the end of a superb flurry of punches from Charlo, until his corner had seen enough and threw the towel in a round later.
Charlo further enhanced his reputation with a destructive knockout win over Italian veteran Lenny Bottai on the undercard of Amir Khan vs. Devon Alexander. A complete mismatch from the first bell, Charlo made quick work of his man as he brutally tagged him with a crunching left hook that was enough for one half of the 'Texas Brothers' to force a stoppage win.
Absolutely brilliant year for Jermall Charlo, brutally dispatching three solid opponents all inside the distance. After a IBF world title shot fell through, he handled business like a true professional and kept himself right in the mix for a championship fight which will undoubtedly take place next year.
Callum Smith

Undefeated super-middleweight Callum Smith fought six times this year, four of those being emphatic knockouts.
Smith, 23, is a ruthless body puncher and Tobias Webb felt the wrath of sickening shots to the rib cage in May. The Swansea fighter, with ambitions of his own, fell to the canvas several times and showed real guts to drag himself up. However, Webb proved to be too groggy and gassed as Smith closed in and clattered the mid-section that emphatically finished off the brave Tobias Webb.
The Liverpudlian enhanced his reputation with a devastating knockout (untelevised) of Alvaro Hernandez on the undercard of Kell Brook's world title glory. Smith unleashed a brutal right hand that launched his Uruguayan opponent half way out of the ring, completely wiped out.
Smith concluded his year with a big step up in class against Nikola Sjekloca, whom only lost to two former world champions. Many expected to see Montenegrin test the Liverpudlian's chin but it really wasn't the case. Smith's height and reach enabled him to control proceedings throughout with snappy jabs, big right hands to help him score. The super-middleweight contender scored an emphatic unanimous decision.
Amazing year for Callum Smith, whom gradually stepped up in class and proved himself time and time again. Many experts and fans expect to see the Liverpudlian in world title competition, and there have been talks of a possible bout against George Groves next year. Smith is set to shine in 2015, regardless.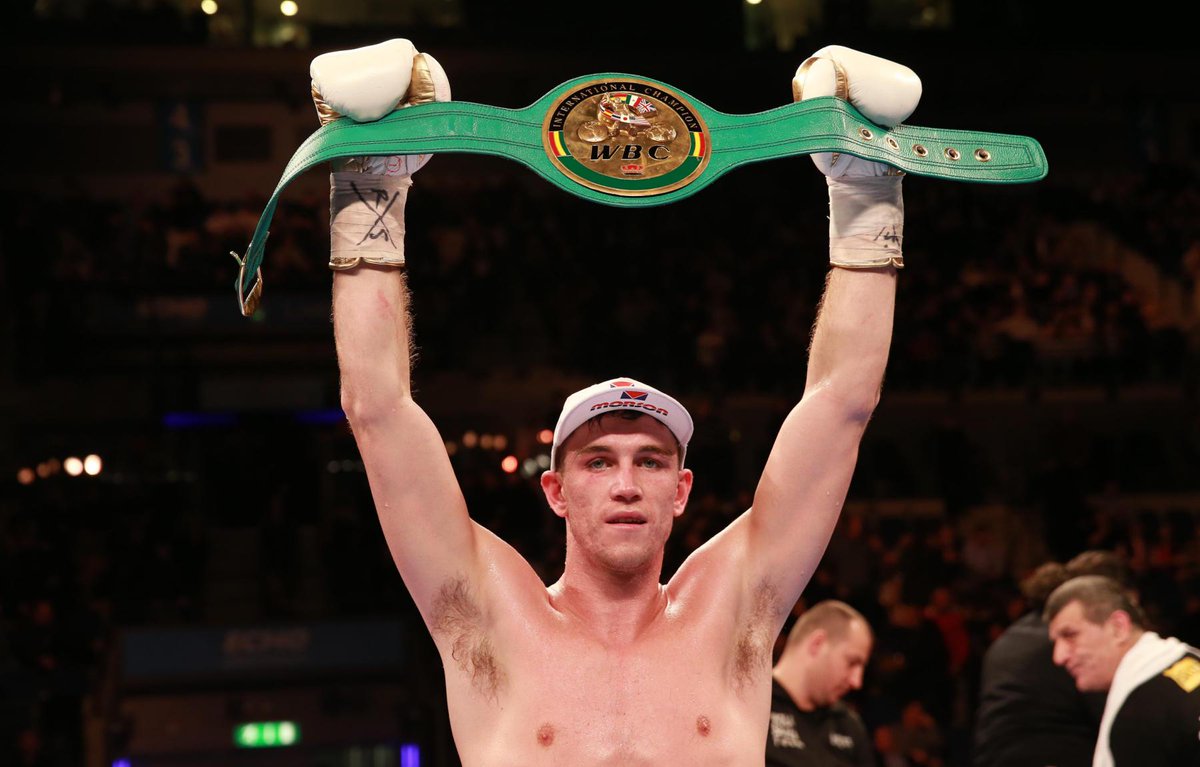 What a truly phenomenal year it's been for global, and domestic boxing. Thank you for reading, and stick with us for plenty more coverage next year.