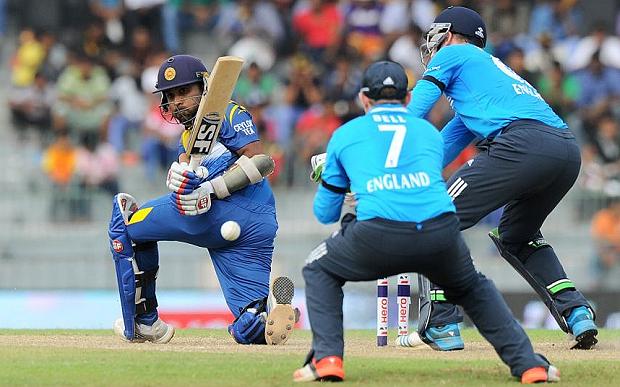 Sri Lanka scored 186-2 in 34.2 overs to emphatically beat England. Image: Telegraph Sport)
Sri Lanka
emphatically
dismissed
England by by eight wickets, despite Ravi Bopara's half-
century
in Colombo earlier today. What went wrong for The Three Lions?
Alastair Cook initially won the toss and elected to bat; therefore it's even more baffling as to why his team were unable to get the job done.

Maybe the England captain needs to reshuffle his batting order as they only scored a lackluster 185 all out in the rain-effected match in Colombo. The leader himself managed to knock a dismal 22 off 37 balls, which is a worry because if Cook can't score lofty, how can the rest of the team?

England may need to consider the 26-year old's position in leadership as its become quite clear his style of play doesn't blend in with 50 overs cricket. Kevin Pietersen agrees.
Dear Alastair, if you care about England's chances this winter, pls resign and just concentrate on Test cricket...#getHalesin
— Kevin Pietersen (@KP24) November 29, 2014
However, Cook wasn't the only one who failed to perform. Moeen Ali only scored two single runs, which is completely unacceptable for an opening batsman. We can base it on brilliant bowling from Sri Lanka, but this ODI and the all-rounder should not be dismissed so easily. Dilshan stopped both Cook and Ali in their tracks, and spin bowling is something the two English batsmen should focus on.

At 37-3, the middle order had a big job to do. Having said that, things got even worse. Morgan failed to build momentum as the "slogger" was caught out by Thirimanne from Perera's bowling.

One positive for The Three Lions saw youngster Joe Root score 42 runs from 57 deliveries which rallied the hosts up to 177-4, until he eventually fell LBW to Mathews. Only eight runs off a half-century, I think Root played well. He helped rally England past the 100 mark and got the middle order flowing nicely.

The star of Cook's team's innings was Ravi Bopara, who knocked a solid half-century, while Woakes added to that with a short, but sweet 17. Despite the poor batting performance overall, Essex-man Bopara has proved he deserves a chance in the team, and if the form continues to flurry, Cook may have no choice but to include him in England's World Cup squad early next year.
The latter part of The Three Lions' innings was quite dreadful, with Bopara, finally, Finn and Gurney all falling victim to the Sri Lanka bowling power.
Overall, yet another dismal batting performance from England, with no player even striking a 6, nor did anyone take full control and scrag their innings by the scruff of the neck.
And as for the bowling, that was no better. Having said that, the Sri Lanka openers didn't actually build a solid partnership to begin with, as Finn dismissed Perera for just 9 runs. At 37-1, The Three Lions struck again with Chris Woakes catching out Tillakaratne Dilshan for 26, which proved to be a vital wicket as the opener began to rack up a quick-fire attack.
However, Sri Lanka took full control, Sangakkara and Jayawardene racked up a phenomenal third wicket partnership of 144, that eventually rocketed the hosts to victory as no England bowler could break their partnership.
Sangakkara and Jayawardene vastly approached England's 185 target in 34.2 overs to complete the full demolition of The Three Lions in Colombo.
Cook and the team seriously need to sit down, re-watch everything and analyse different players' positions in their side. While all-rounder Moeen Ali picked up one of the two wickets, his batting performance was simply outrageous. He was dismissed for just two.
Will the England captain replace Ali with Alex Hales to open the batting innings? It's a question remained to be seen, but one thing is for sure, Cook needs to makes changes and quick.

How will England react to this heavy eight wicket defeat? What changes will Cook make? Share your thoughts in the comment box below!