Werdum became the fifth Interim Heavyweight Champion in UFC history.

Image: Ed Mulholland
Fabricio Werdum was crowned the Interim UFC Heavyweight Champion after a stunning second round finish to Mark Hunt in UFC's inaugural event in Mexico.
Concluding a main card that featured finishes throughout, a thrilling night of fights was on tap in UFC's first event in Mexico, ending of course, in stunning fashion through Werdum's knee.
Here's the full report from the action, featuring a preliminary recap, a review of the action and all the action from the main card fights, finished by the summary of results.
Preliminary action
Marking the occasion as the Octagon braced Mexican soil for the first time in history would be the TUF Latin America Finals which took the spotlight in the preliminary side of the spectrum. Alejandro Perez walked home with the 135 crown by topping Jose Quinonez in a fight that hinged over one ruling of a headbutt during the fight. While speculation was surplus on either side of the argument, it was the tipping point as a two-point deduction undermined his efforts. As for the other final, Yair Rodriguez edged a decision win over Leonardo Morales. A brutal fight with a gruesome end also featured on the undercard, as Women's Bantamweight Jessica Eye forced a doctor stoppage as Leslie Smith's ear was obliterated by the midpoint of the fight — we'll spare you the further details.
Crowned the Ultimate Fighter...

Image: UFC.com
Hector Urbina def. E
dgar Garcia
Welterweight division: Urbina wins via Submission (Guillotine Choke, Round 1, 3:38)
Hector Urbina overcame an early surge to return to the UFC on winning ways in his Mexican homeland as he dispatched Edgar Garcia within four minutes of the very first round.
A positive opening from Edgar Garcia saw him trouble his fellow Welterweight, almost getting his back but not managing to fully execute a rear-naked choke, after both traded with reluctance. After plenty of shifting, Hector Urbina almost managed to find his way up and a failed submission initially.
But, when both fighters squabbled up against the fence, Urbina managed to vice a guillotine choke forcing Garcia to submit. A jubilant Urbina expressed his happiness and pride to fight in and for Mexico post-fight.
Augusto Montano def. Chris Heatherly
Welterweight division: Montano wins via TKO (Round 1, 4:51)
Augusto Montano brutally finished Chris Heatherly in the closing stages of the first round to pick up a huge Welterweight win. As both went toe-to-toe, Heatherly's game plan to utilise the clinch was foiled as Montano was able to keep at a range.
When the fight did inevitably go to the ground, it didn't last too long. After a submission attempt was off, Montano found an opening for a barrage of knees, whereby Heatherly was unable to defend intelligently, forcing the referee to step in and stop the fight.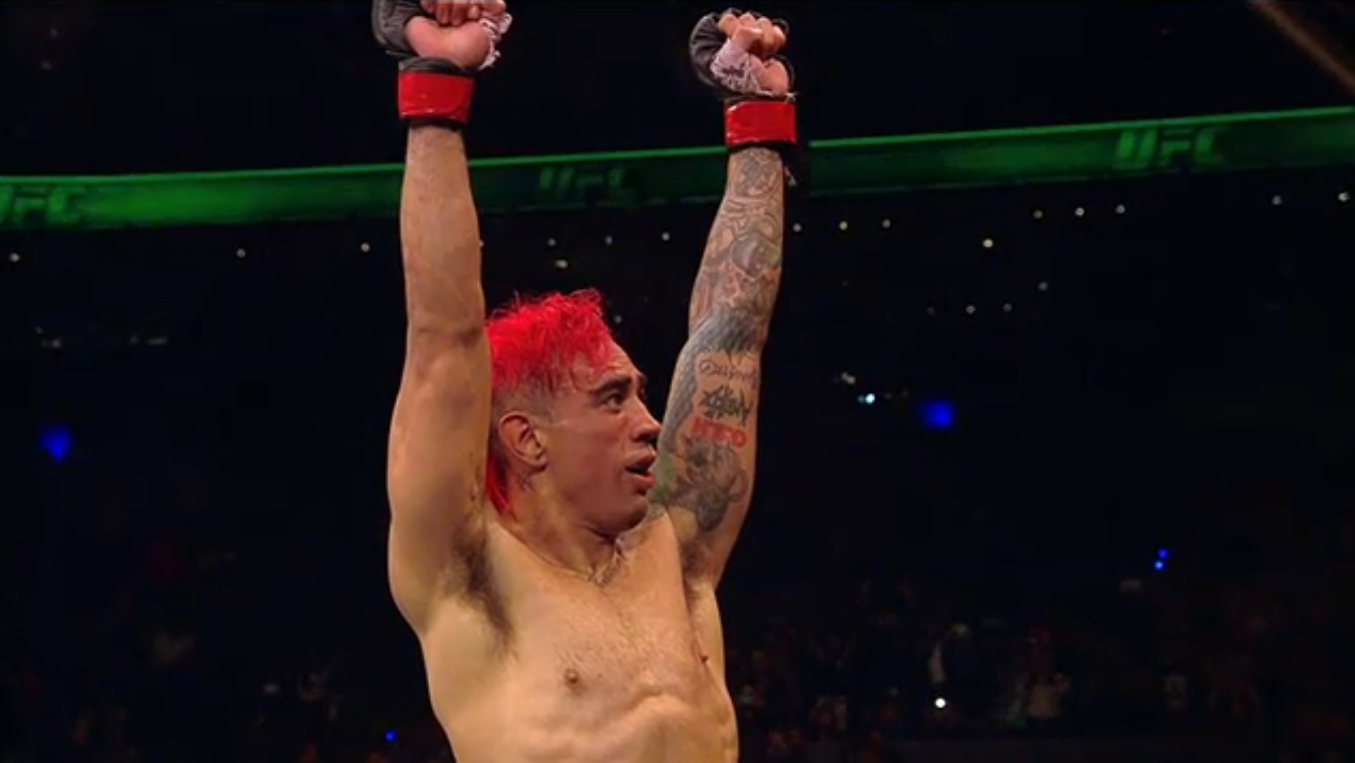 Montano hoists his arms in the air in celebration.

Image: UFC Latinoamerica
Ricardo Lamas def Dennis Bermudez
Featherweight division: Lamas wins via Submission (Round 1, 3:18)
Continuing the finish-frenzy would be Ricardo Lamas, seeing off Dennis Bermudez after just over three minutes of action inside the Octagon. An evenly-poised fight saw both impose their game early on but when it came down to it, Ricardo Lamas was able to demonstrate his top submission game.
The former contender at the division Lamas then floored Bermudez with a stiff jab, and immediately pounced for a choke that fended off any defensive attempts. Lamas picked up a seismic victory.
Ricardo Lamas celebrates his submission win over Dennis Bermudez at #UFC 180 in #MexicoCity Photo: @muls96 for @e... pic.twitter.com/qkz4d0ysD5
— Suzette Ceballos (@GabyyEstv) November 16, 2014
Kelvin Gastelum def.
Jake Ellenberger
Welterweight division: Gastelum via Submission (Round 1, 4:46)
A stunning performance from Kelvin Gastelum propelled him to new heights in the Welterweight division as he picked up a huge win over Jake Ellenberger.
Explosive out of the blocks, Gastelum looked to control early and swung wildly on a few attempts. Ellenberger however shifted to make his own impact with some vicious grappling, but the resilience of Gastelum came through as he rose up and got the back of Ellenberger before a lightning-fast transition to get his back and firmly lock in the rear-naked choke.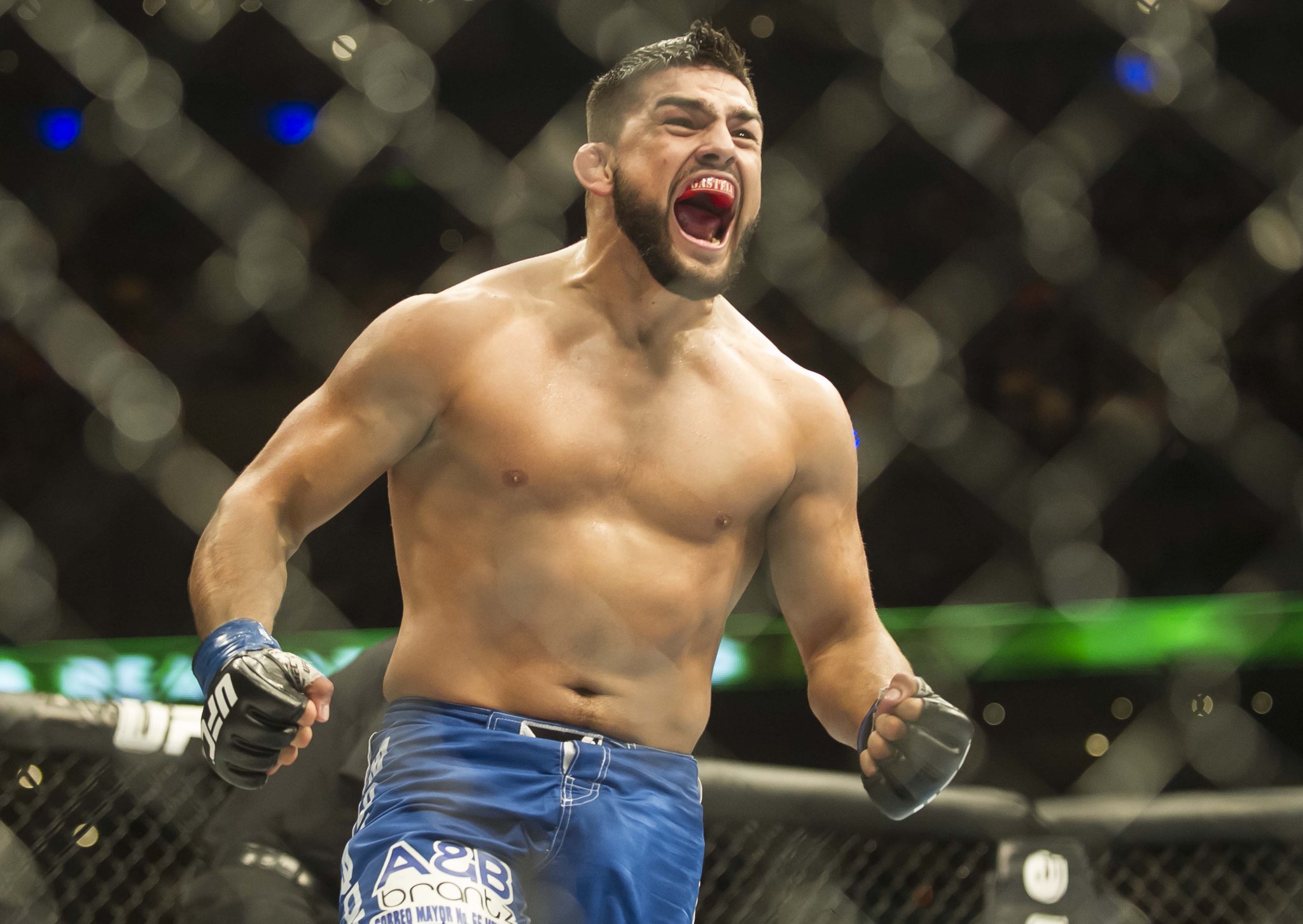 Euphoric: Kelvin Gastelum victorious after his win. Image: [Tweet]
Fabricio Werdum vs. Mark Hunt
Heavyweight division: Werdum wins via TKO (Round 2, ) to become UFC Heavyweight Interim Champion
Fabricio Werdum scored a second-round finish against Mark Hunt to capture the Interim UFC Heavyweight Championship.
A compelling opening bracket saw Mark Hunt sent Werdum to the canvas but only momentarily with a leaping right-hand. The New Zealand native continued to adjust his hands in search for the Brazilian, before a takedown saw Mark Hunt trapped in the World-class guard of Werdum. After some battling on the surface, Hunt was able to escape and land flush with a right uppercut, before Werdum responded by a kick at the sound of the Round 1 buzzer.
Mark Hunt found a few more big shots in the second round, and managed to stuff a takedown attempt from Werdum, too. But when moving out, Werdum landed a huge knee as Hunt moved forward, sending him crashing to the mat for Werdum to finish and get his hands on UFC gold.
"I'm very happy, he punched me very hard but I've been waiting for this moment" exclaimed Werdum post-fight. Hunt did protest Herb Dean's call for the early stoppage, but calling off the fight was well justified.
Winner by TKO and now Interim UFC Heavyweight Champion is Fabricio Werdum #UFC180 pic.twitter.com/5UYxAm0Te1
— FOX SPORTS News (@FOXSportsNews) November 16, 2014
The Take: Review of the Night
Fabricio Werdum's knee came absolutely out of nowhere, just terrific. Mark Hunt was able to find a plethora of success in the first round and some of the second, yet the Brazilian was able to seize the moment when he saw the opening through a thin gap. It's testament to Werdum's skills that many may easily overlook — he has unprecedented Jiu-Jitsu skills and enough power to put Hunt away too. The Velasquez-Werdum showdown just got bigger.
As for fights below, Kelvin Gastelum has now established himself as a contender in the Welterweight division. He overhauled Ellenberger's efforts in some fashion. Mexico has been welcomed to the UFC in style.
Complete Results
Main card
Fabricio Werdum def. Mark Hunt via TKO (Round 2, 2:33)
Kelvin Gastelum def. Jake Ellenberger via Submission (Round 1, 4:46)
Ricardo Lamas def. Dennis Bermudez via Submission (Round 1, 3:18)
Augusto Montano def. Chris Heatherly via TKO (Round 1, 4:51)
Hector Urbina def. Edgar Garcia via Submission (Round 1, 3:38, Guillotine Choke)
Televised Prelims
Yair Rodriguez def. Leonardo Morales via Unanimous Decision (29-28, 29-28, 29-28)
Alejandro Perez def. Jose Quinonez via Unanimous Decision (29-26, 29-26, 28-27)
Jessica Eye def. Leslie Smith via TKO (Round 2, 1:30)
Gabriel Benitez def. Humberto Brown via Submission (Round 3, 0:30)
Fight Pass Prelims
Henry Briones def. Guido Cannetti via Submission (Round 2, 1:44)
Marco Beltran def. Marlon Vera via Unanimous Decision (29-28, 29-28, 29-28)
*****
Fabricio Werdum is the Interim UFC Heavyweight Champion of the World, and the UFC has rocked Mexican soil, finally.
A clash with Cain Velasquez is now on the horizon, and its looking like a huge one.
Fabricio Werdum emphatically dismissed a resilient Mark Hunt as #UFC180 rocked Mexico. Report: http://t.co/zzafRAGrrC pic.twitter.com/84jJmlQtHK
— TheSportMatrix (@_TheSportMatrix) November 16, 2014