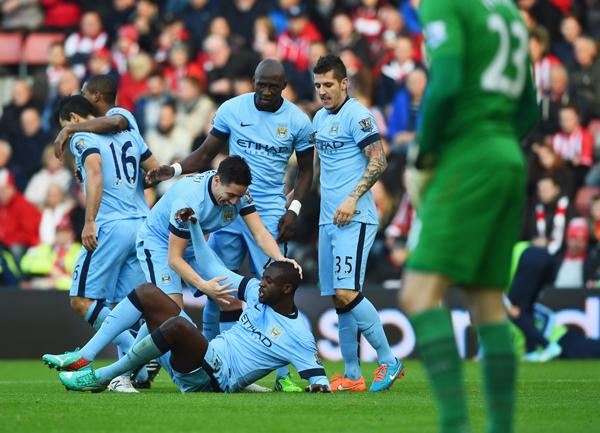 Despite being down to 10 men, Man City went on to overtake Southampton in the table.

Image: PremierLeague.com
Southampton 0 - 3 Manchester City
Yaya Toure (50'), Frank Lampard (80'), Gael Clichy (88')
Barclays Premier League
Sunday 30 November 2014
1:30pm GMT Kick-off
St. Mary's Stadium, Southampton, England.
Matchweek #13
Manchester City assuredly dispatched Southampton by three-goals-to-nil in a highly competitive match at St. Mary's.
It was one way traffic from kickoff to the first 15 minutes. City controlled the tempo and eased around the field against no type of pressure.
Toure pulled the ball back outside the area, and launched a curling effort at goal. Terrific effort, but Forster saw it off.
The hosts seemed very nervous and cautious of City who made the much more positive start, knocking the ball around at ease, creating chances while Southampton were still slumped in their own half struggling to break out.
On 50 minutes, Toure showed his class. Fernandinho slid a pass through to the Ivorian where he emphatically struck home into the bottom left corner from range.
Mangala saw red soon after when he fouled Shane Long charging into the City box, as the Frenchman carelessly lunged in, forcing the referee's hand who gave red.
Aguero missed a golden opportunity, looking certain to score and had lots of time. However, the Argentine stroked the ball around Forster and shockingly struck wide of goal.
Southampton's game was seemingly over when Lampard doubled City's lead, a goal that was poor for The Saints to concede. England's veteran was unmarked when he launched a low, but fiery strike into the bottom right hand corner from 18 yards out.
Clichy sealed the visitors' victory as the Frenchman scorched down the left, and stabbed the ball high into the Saints goal with his weakest right foot. Game over.
Ronald Koeman post match interview
More Premier League coverage
- West Brom 0-1 Arsenal: Match report
- 3pm kickoffs roundup
- Sunderland 0-0 Chelsea: Match report