Relive Europe: Fri. 31 October 2014 — Sun. 2 November 2014
La Liga, Serie A, Bundesliga, Ligue 1
Another top quality weekend of football in the leagues across Europe is in the books, and we have it all covered for you with Relive Europe, bringing all the action from the four big leagues in Europe.
Germany had the Derby of all Derbies where Borussia Dortmund travelled to Bayern Munich at the Allianz Arena.
Also in Italy Napoli and Roma battled in Naples to battle for 3rd place in the Serie A.
Friday
Deportivo De La Coruña 1 - 2 Getafe
Karim Yoda, Lafita, Postiga
Liga BBVA (Spain)
Lafita scored straight after half time but 10 minutes before the end of the half, Karim Yoda made the score Deportivo 0 - 2 Getafe at HT but 10 minutes before the end of the game Postiga scored but Deportivo couldn't find another goal.
Echièjilè, Moukandjo
Ligue 1 (France)
Monaco's season without Falcao is going from bad to worse in Ligue 1. But twenty minutes in Echièjile scored but to give Reims a point Moukandjo scored for Reims to stop Monaco from getting back to winning ways.
Schalke 1 - 0 FC Augsburg
Huntelaar got Schalke back to winning ways with his goal that was sweetly struck into the middle of the goal eight minutes before half time.
****
Just 7 goals where scored on Friday with at least a goal in all of the three games but surprisingly none of the players scored two goals in a game, there were just 7 different goalscorers around the continent.
Saturday
Granada 0 - 4 Real Madrid
Ronaldo, Rodriguez (2 goals), Benzema
Liga BBVA (Spain)
Madrid can't stop winning by big results this season but this tops it all off.
So Ronaldo started off the scoring and Rodriguez scored the BBVA goal of the season according to some papers worldwide. But when Benzema scored it was all over - but of course, the last word goes to Mr. James Rodriguez, Madrid are on a roll as of now.
Atletico Madrid 4 - 2 Còrboda
Pacheco (og), Ghilas (2 goals), Griezmann, Mandzukic, Raul Garcia
Liga BBVA (Spain)
Atletico Madrid where off to a flyer this season and to make it better Pacheco of Corboda gifted them with an own goal. Shortly after Ghilas made it a goal apiece and in the second half Mandzukic score after Griezmann, Ghilas scored again to quieten the Madrid crowd but just before that Garcia made it 4 - 1 but the final result was 4 - 2 to Atletico.
Barcelona 0 - 1 Celta Vigo
Larrivey
Liga BBVA (Spain)
The Nou Camp where shocked to see that Celta had actually tried in that game grabbing a goal just before half time to win at who else but Spanish Giants Barcelona. Messi must wait to break the record on another day while Suarez was muted on his home debut.
Real Sociedad 0 - 1 Màlaga
Jimenez Lopez
Liga BBVA (Spain)
7 yellow cards and one goal came in this game, Jimenez Lopez it's Màlaga's one goal and only goal of the game. Malaga are now looking like a Champions League side again with their performances.
Lorient 1 - 2 Paris Saint Germain
Guerreiro, Cavani, Bahebeck
Lorient opened the scoring with Guerreiro but Cavani cancelled out Lorients goal to draw the game level just before the hour mark but to put the game to bed, 2 minutes from full time Bahebeck was up from the back to give PSG a well needed win.
Frey, Gradel
Ligue 1 (France)
Lille went in front first with Frey who scored but 75 minutes came and Gradel got a goal for St. Etienne. 1 point for both sides mean Etienne are out of the Relegation zone, For now.
Montpellier 2 - 0 Evian Thollord
Berigaud, Mounier
Ligue 1 (France)
Are Montpellier looking to being French League Champions again. Well Berigaud and Maounier wanted that where both goals came outside the box as shots that where thought as being hit and Hope. Montpellier got all 3 decisive points in Ligue 1.
Puel, Malbranque, Lacazette (2 goals)
Ligue 1 (France)
Nice went in front but not for long 10 minutes later Malbranque scored and just as the game hit 80 minutes Lacazette grabbed 2 goals in 7 minutes to give Lyon a three goals to one win.
Bayern Munich 2 - 1 Borussia Dortmund
Reus (31), Lewandowski (71), Robben (85 pen)
Bundesliga (Germany)
Bayern kicked off but no goals where scored before 30 minutes until Marco Reus scored 31 minutes in and Xabi Alonso got a yellow card on the 34th minute.
Before we knew it it was half time because the match was so entertaining between two of the best teams in the Bundesliga.
The second half got underway and Pizszeck saw yellow early on and then Lewandowski scored and then Subotic took down Lahm and Robben tolled away the penalty to give Bayern Munich the win to keep there 100 percent record alive. When the players where on their way to the tunnel Reus completely blanked Lewandowski (Former Teammates) and that's because Lewnadowski celebrated his goal for Bayern vs. His old club. (Dortmund).
Okazaki, Di Santo (2 Goals)
Bundesliga (Germany)
Di Santo was on target twice but Mainz switched on the mains when Okazaki strikes first for the home side to lead 1 - 0 early on.
Hamburg 1 - 0 Bayer Leverkusen
Bundesliga (Germany)
Van Der Vaart is linked with Tottenham from Hamburg once again and his celebration to his goal was a sign to say "NO" to Spurs.
Bundesliga (Germany)
Hannover surprisingly won vs. Frankfurt when Madlung got the better of his own keeper to score in his own goal early on and kept there led for the remainder of the game.
Stuttgart 0 - 4 Wolfsburg
Perisic (2 goals), Knoche, De Bruyne
Bundesliga (Germany)
Wolfsburg took pole position from the get go when Knoche scored a header but before that Perisic opened the scoring early on.
After half time De Bruyne scored to make it 3 - 0 to the Wolfsburg and then Perisic scored two minutes from Full time to make it four goals to nil in Stuttgart but Wolfsburg got a win to get there season back on track.
Serie A (Italy)
Higuain scored 3 minutes in, Zapata got sent off for Napoli, Gervinho missed a penalty, Ashley Cole went off with a head injury and then Callejon scored a header from Insignes scuffed free kick.
Serie A (Italy)
Pirlo got his first goal of the season and his first goal in a year but it got worse for newly promoted into the Serie A side when Morata came on Llorente and scored his first Juve goal this season after joining in summer 2013.
Serie A (Italy)
Inter where shocked when they traveled to the south of Italy to see them selves get beat 2 - 0 by Parma. De Cegile scored 2 to end the streak of 5 unbeaten games for Inter.
Shocks, Goals, Surprises and Red Cards on Saturday. Real Madrid won 4 - 0 and Rodriguez scored a wonder goal, Barcelona and Inter Milan where shocked by lower table teams and Juve are unbeaten in 9 games.
Sunday


Atletico Bilbao 1 - 0 Sevilla
Liga BBVA (Spain)
Sevilla fought hard until the end while Bacca scored 2 goals but they where offside and 75 minutes hit the clock and Bilbao scored to win the game and scrape past Sevilla.
Triggueros Munoz (og), Mustafi (2 goals), Triggueros Munoz
Liga BBVA (Spain)
Munoz scored and early Own Goal but redeemed himself late on but it was already 3 - 0 to Valencia by then because Mustafi scored 2 magnificent goals to seal a needed win to get higher up the Spanish Liga table.
Borussia Monchengladbach 3 - 1 Hoffenheim
Hahn, Modeste, Hermann (2 goals)
Bundesliga (Germany)
Hahn struck for Hoffenheim to send them in front, but in the second half Gladbach got three goals. One from Modeste between to two goals that Hermann scored.
Di Natale, Marquese, Falque, Widmer, Matri, Kuoka
Serie A (Italy)
Udinese are getting worse and worse in the Serie A but Di Natale scored in side 1 minute but it went down hill on the hour mark, it was 3 - 2 to Genoa as the came from 2 down with Marquese scoring for Udinese but Falque, Widmer and Matri scoring for Genoa and to get a goal back Kuoka scored late but it wasn't enough for Udinese.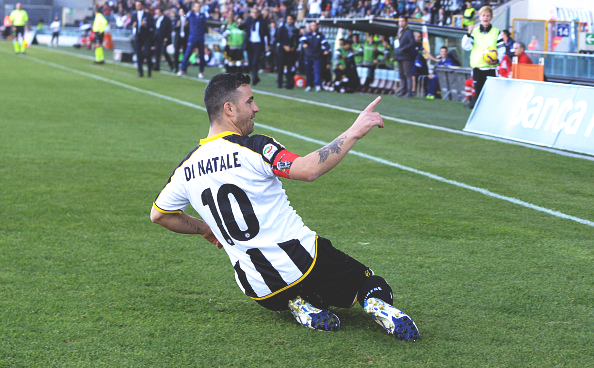 Sunday was short of good games but not short of great goals and a lot of goals.