Ayoze Perez's 74th minute goal sees Newcastle record a 1-0 victory over Liverpool to continue their brilliant form and Pardew's resurgence.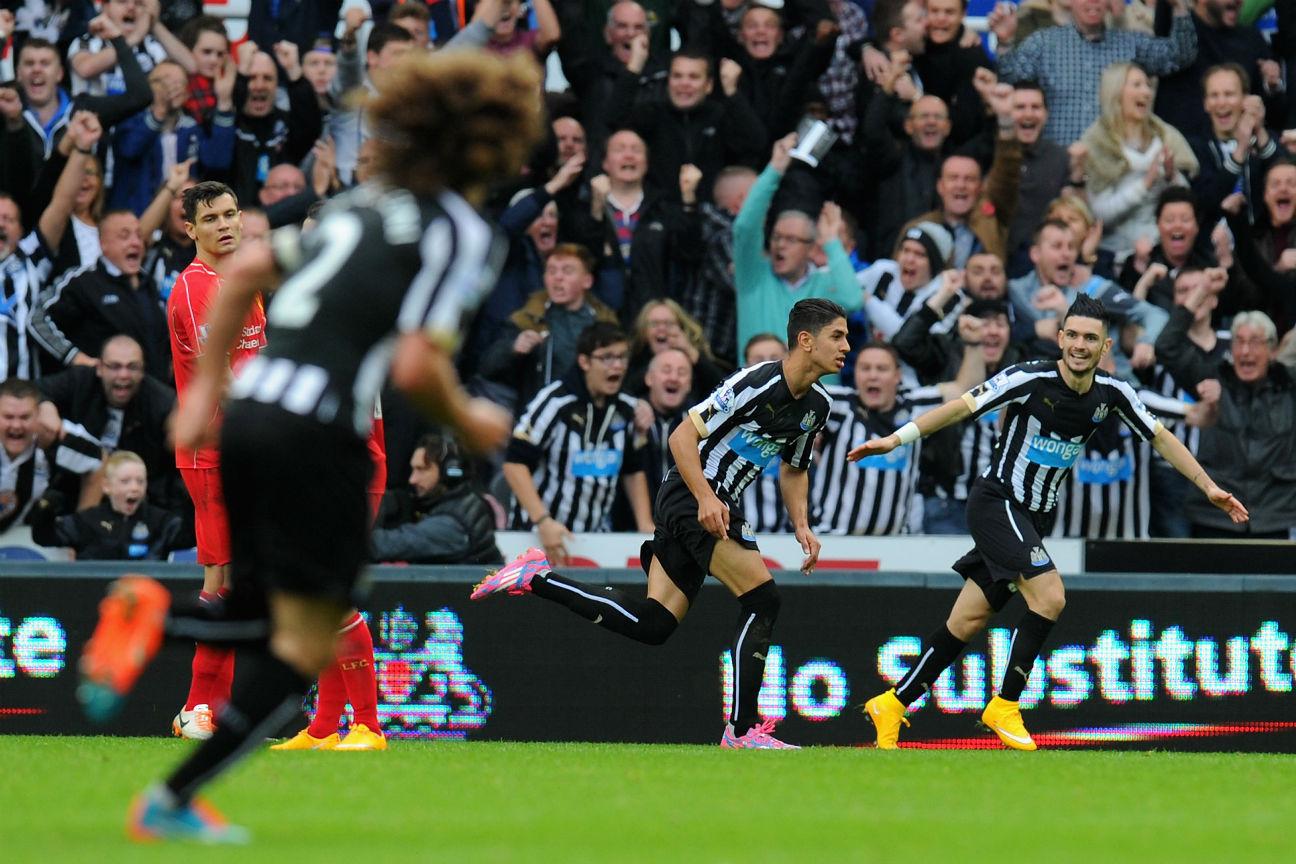 Newcastle recorded their fourth straight win in all competitions,

Image: ESPNFC.com
Newcastle 1 - 0 Liverpool
Ayoze Perez (74')
Barclays Premier League
Saturday 1 November 2014
12:45pm GMT Kickoff
St James' Park, Newcastle, England.
Matchweek #10
Alan Pardew's Newcastle picked up their fourth successive win, Liverpool suffered their fourth Premier League loss of the season. If there ever was a fitting time for a theme, it would've been Saturday afternoon as Alan Pardew, seemingly back from the dead, oversaw his side stun a
lackadaisical Liverpool at St. James' Park.
A late first half strike from Ayoze Perez saw Newcastle take the lead, while Liverpool's problems continued to arise all over the place. With the win, the hosts flew to the top half of the league.
Following an impeccably observed minute silence for Remembrance Day, St James' Park erupted in a huge roar as the anticipation for the beginning of week ten of the season skyrocketed. The Reds got the game underway and opened up with a lengthy spell of possession, looking to soak up some pressure, while also providing a platform for Rodgers to make a few early tactical tweaks.
Parched of some convicting tempo, there was a cause for concern for Liverpool when Newcastle swarmed the box at ease after the Reds squandered the ball. Especially on the left flank, vulnerabilities were there for all to see — Moreno was playing as a left wingback when going forward, pretty much morphing Liverpool into a 3-5-2 formation, and allowing Newcastle to really pack some sting onto their breaks.
Andre Marriner made a big decision early in the game after Sissoko went down in the box. The Frenchman got onto the end of a ball cut back from the right by Obertan, and in the motion of his shot, a challenge from Allen appeared to help him down. Later replays showed the referee was right in waving off the call and Sissoko went down rather too easily.
Despite a sublime string of play unlocking Raheem Sterling for an attempt, Liverpool's problems continued to arise — for all their possession, they couldn't do much with at as the Magpies either capitalized on their errors or consumed any moves forward. Rather than in fact taking the hosts by storm, Liverpool were deflating the game. A big opening for Rodgers' men fizzled down too, as Henderson couldn't find Balotelli when they broke out from a corner kick.
In the 26th minute, Newcastle were forced to make a change. Gabriel Obertan appeared to strain a muscle when accelerating at full throttle, making way for the exciting Rolando Aarons to be injected into the match. He made his name known early as he rolled past Glen Johnson on the left forcing the right-back to foul. Janmaat tried to flick the free-kick back in, but Liverpool cleared their lines well.
The Jamaican-born winger came again, this time winning a free-kick in promising territory after he raced away from Liverpool's skipper Steven Gerrard. Colback rolled it on towards Abeid but the shot deflected off the wall and wide. Gerrard touched it out from the subsequent corner before Ameobi's shot soared over into the stands.
Glen Johnson came to the rescue to stop the closest chance of the game so far. Yet again, Liverpool's frailties from set pieces were exposed, as Mignolet's attempt to punch the ball away failed and he fell to the ground. Cisse guided towards goal on the turn and it was Liverpool's full-back Johnson who headed out affirmatively.
What was now an established rarity in the game then occurred. Steven Gerrard's corner in found Skrtel, relatively free, but his powerful header went wide. The first half concluded after Cisse's free kick went right over, and it remained goalless at the interval.
A frustrated opening period saw both sides' formulaic approach come to no avail. While Balotelli's free-kick
— after arriving late for the second period
— found the gloves of Tim Krul, that was the closest encounter to a breakthrough. Even the crowd were feeling drained. The Italian registered another chance soon after, but his curling effort was held by Tim Krul.
Making key switches after the hour mark, both managers were aware that, with a change, the game was for the taking. Fabio Borini who was given the chance saw his shot fizz wide but the overall game was still lethargic.
A catastrophic error from Alberto Moreno would lead to the breakthrough for Newcastle. In the 74th minute, the hosts surged through, the ball low into the box was not cleared by Moreno, allowing Perez to smash it through Mignolet. Newcastle had taken the lead and the game had now burst into life.
Newcastle almost took the game away completely, less than one minute later. Liverpool found them in a tough 2-on-1 position, as Glen Johnson was forced to hold against Cabella and Perez played the ball to one another, and eventually Cabella broke through. However, Mignolet stuck a boot out and the ball trickled wide. Hearts were pounding left, right and centre.
Alan Pardew's substitutions had a massive impetus on the game. Cabella and Perez were turning the game on its head. Yet again the Frenchman had a decent attempt on goal, but drifted on target. There was no letup either, Sissoko was put through but squaring across Mignolet was there to stop.
As stoppage time ensued, Liverpool were trying to chase the game while Newcastle cut down the clock. Gerrard's efforts were in vein, Balotelli was isolated and the whole of the side were dejected and frustrated.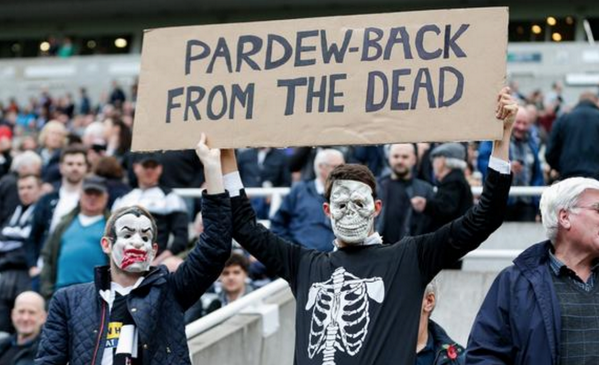 Happy Halloween.
Newcastle manager Alan Pardew:
"I was surprised he (Rodgers) played three at the back. We decided we would just let them have it and hit them with our pace. We have got a juvenile spirit around us."
On "Pardew Back From The Dead Banner": "I was surprised what it said, but this is Newcastle."
"You have to take notes that there are real highs and lows, but when the good times come this is as good a City to be in as any."
Liverpool manager Brendan Rodgers:
"It was a game that we had almost full control of. Maybe we didn't create as much opportunities as we liked but we were punished for a mistake that's what cost us the game. We passed the ball, but we probably lacked that bit in the final third of the field.
"The progress this season was going to be a slow process. We can only continue to work hard and we'll analyse today's game. It was fairly straight forward, we didn't create enough."