Liverpool fall to a third successive defeat as Chelsea topple the Reds at Anfield through a second-half winner from Diego Costa.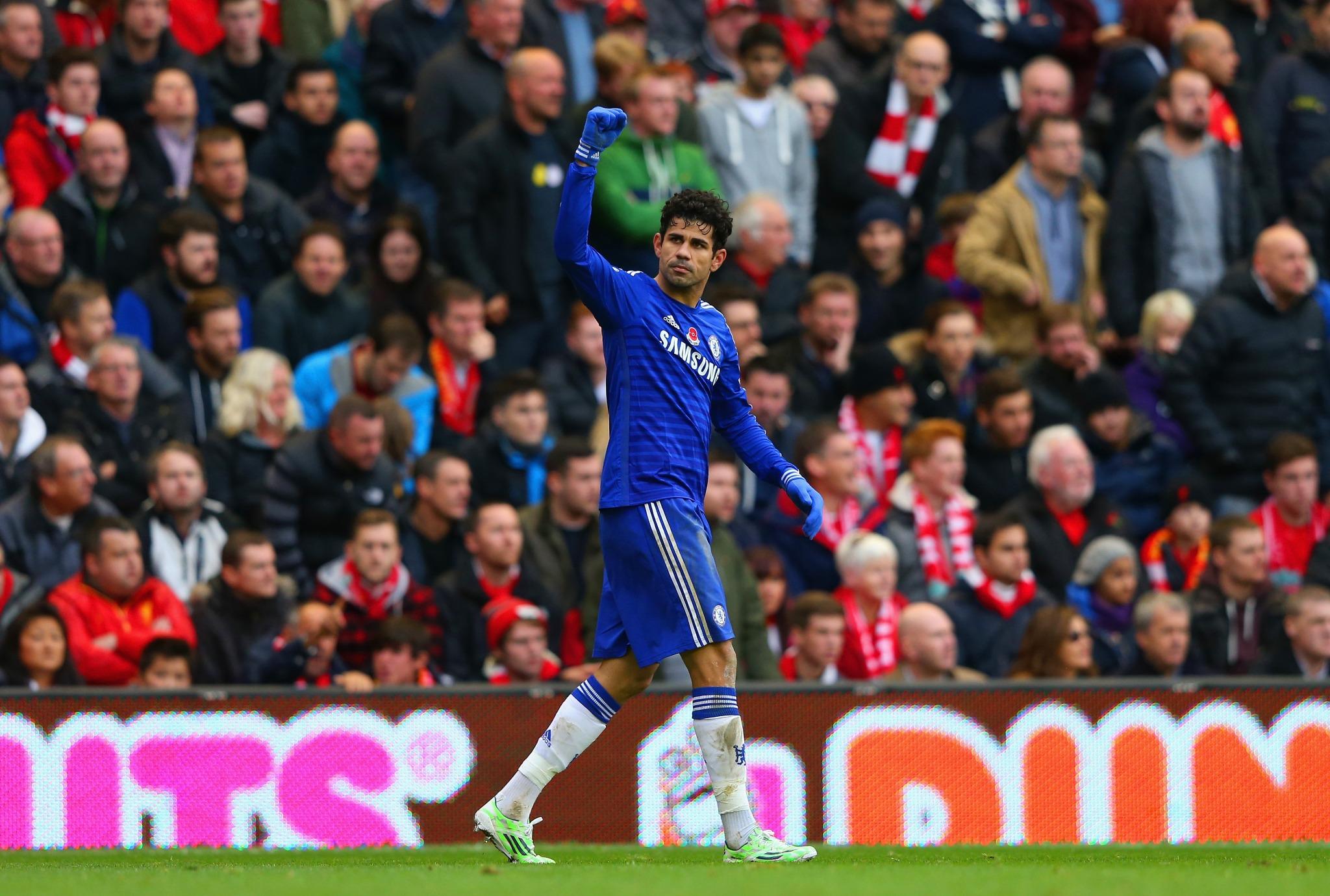 Chelsea were once again triumphant in their trip to Anfield, as Costa scored his 10th goal in 9 games.


Image: PremierLeague.com
Liverpool 1 - 2 Chelsea
Emre Can (9'), Gary Cahill (14'), Diego Costa (67')
Barclays Premier League
Saturaday 8 November 2014
12:45pm GMT Kickoff
Anfield, Liverpool, England.
Matchweek #11
Liverpool fell to their third successive defeat in all competitions as Chelsea toppled the Reds at Anfield through Diego Costa's second-half winner.
Despite taking the lead in the opening minutes, Gary Cahill was able to overturn the deficit before Diego Costa scored his tenth goal in 9 Premier League appearances to put a 15-point margin between the two clubs in the table.
Setting out for redemption early on, a packed Anfield was unified in anticipation — and galvanised in the emotion ahead of kickoff — as the ball got rolling. Emre Can delivered an early warning to the Blues, when his shot was deflected and whistled wide of the post. But, just minutes later, the German under-21 International was able to really make things count.
After Raheem Sterling picked out the midfielder roaming in plenty of space in the final third, he opened up for a shot, of which deflected off Gary Cahill's shoulder, taking the ball completely away from Courtois as it swerved into goal. The decibels in Merseyside skyrocketed to a new level with Can's first Premier League goal for the Reds.
With more pace and urgency, the Reds packed more in every one of their metaphorical punches, looking to surge forward. Gerrard closed Costa down before Raheem Sterling got the better of Eden Hazard. But, it was from that subsequent corner where Chelsea would throw themselves back into the mix.
Goal-line technology made the impact as Chelsea equalised from the corner kick. John Terry got the initial contact on the ball, but Simon Mignolet sprawled to stop the header. However, it fell back out to Gary Cahill who registered another attempt. Although the Liverpool's Belgian keeper rustled it out, the referee looked to his wrist and ruled a goal as Chelsea players jubilantly ran from the scene in celebration.
Brendan Rodgers saw his side wither following the goal
— and more calls for work to be done for Liverpool to patch up their set-piece vulnerabilities. Mario Balotelli did get the ball in the back of the net, but the Italian was offside. Then, Liverpool had rampant protests for a penalty after Cahill seemed to handle the ball from Raheem Sterling's attempt. Referee Anthony Taylor was quick to deny.
Diego Costa and Martin Skrtel got heated after Chelsea's super Spaniard shoved the centre-half to the ground when chasing the ball. It appeared that Costa shared some words with Skrtel after, forcing a retaliation in the form of a quick shove.
Chelsea, through the impetus of Eden Hazard, were growing into the game more as the first half progressed. Hazard was finding plenty of joy down the wings, but Phillipe Coutinho almost stunned Mourinho's men on the break. His low shot from outside the area was just kept out by the alert Thibaut Courtois.
Attempting to take some of the fuel to Chelsea's fire, Liverpool had a lengthy spell of possession after half-an-hour of play. Almost panicking at times, the ball was constantly coming back to Mignolet as the Anfield faithful urged them on. Diego Costa was also making an impact later on, but Martin Skrtel crucially deflected his shot over the bar.
Eden Hazard was blocked twice in quick succession as Glen Johnson did all he could to keep him from threatening. It would be the beginning of Chelsea's strong end to the first 45. Hazard once again saw his curling shot fall to Mignolet, before a free-kick came close. Raheem Sterling was booked, but Liverpool were able to hang on and keep it 1-1 at the interval.
Close Call: Mignolet saves the ball, but hawk-eye technology rules it in Chelsea's favour.

Image: Getty
Picking up where they left off, Chelsea swarmed their attacking third as they tried to take the game away. Oscar's shot was stopped before Diego Costa's overhead kick attempt went over the bar, but wasn't too far off. Then, Raheem Sterling exploded down the wing, cutting in and forcing another pivotal save from Chelsea's keeper.
Liverpool were lacking the edge needed to really overhaul Chelsea. They were struggling in the opening to the second half, but kept hanging on to keep the game in the melting pot. However, there was only so long it could last.
Cezar Azpilicueta skipped past Coutinho, but his cross was parried by Mignolet. It trickled out to Diego Costa to smash in from 10 yards for his tenth Premier League goal of the season. Chelsea propelled into a euphoric response as Anfield was deflated.
Knowing the task at hand, Liverpool began to open up more and conjure up their best efforts against the visitors. Jordan Henderson's volley went wide, as he couldn't permeate a strong and organised Chelsea back-four. If Liverpool were to get a threshold back in the game, it wouldn't have been through Mario Balotelli as he made way for Rickie Lambert.
Steven Gerrard was furious among other Liverpool players when a huge handball penalty appeal was waved off. His strike appeared to hit the arm of a defender roaming the box, but Chelsea were saved. Liverpool can feel frustrated, it looked like a certain penalty.
As the time neared the full-time whistle, Chelsea held on and Liverpool couldn't find the next gear. Yet again, Chelsea showed us all why they are the lone favourites to win the Premier League title.
Contrast of weaknesses
Liverpool have plenty of weaknesses
— Chelsea showed, yet again, that they have close to none. This was another demonstration that the Blues are the the title favourites, everything seemed to work. They stopped Liverpool from scoring by limiting them in already-limited areas. There is plenty of work to be done by Brendan Rodgers. As for Chelsea, more of the same and they are pretty much Champions.
More doubt on the forecast
Going into the International break, Liverpool have suffered three wins in the course of one week. They must evolve and emerge as a new team to stand any chance in any tournament when the International break draws to a close.
Post match interviews
Liverpool manager Brendan Rogers:
Chelsea manager Jose Mourinho:
Chelsea players Nemanja Matic and John Terry:
Liverpool may have been denied a penalty, but at the end of the day it was Chelsea who deserved victory all along.